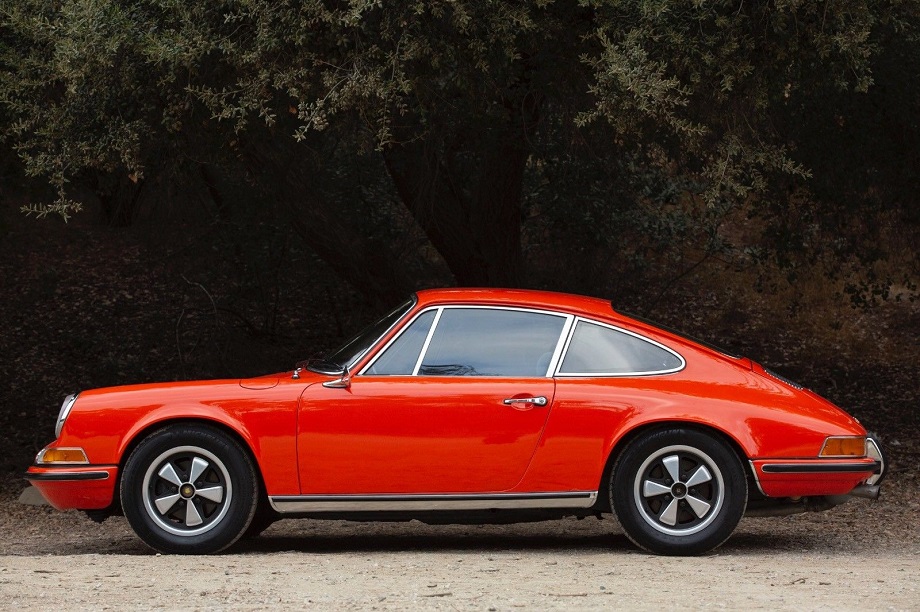 Update 10/21/18: This 911T sold for $63,600.
This is a Tangerine 1970 Porsche 911T Coupe located in Malibu. It has a black leatherette interior, 123,042 miles on it, and is up for auction without reserve. Next to Signal Yellow, Tangerine (also called Blood Orange at times) is my favorite of the early Porsche colors that isn't blue (it's hard to have just one 'favorite'). Tangerine is a color that is hard to pin down. In cases like the photos here, its red tones show up quite vibrantly and it almost looks like Guards Red. Truth be told I have many times checked out a 911 that looked like it might be Tangerine only to discover that it is Guards Red. The lighting in the photos just wasn't very good. In other cases the orange tones stand out and you're pretty sure you know what color you're seeing, but ultimately it does look like a bright orange car and not everyone likes a bright orange car.
However, it is precisely this mix of red and orange that I find so appealing about the color. Under the right conditions it looks absolutely phenomenal. It is definitely not for the faint of heart, but I can think of few better options on any long-hood 911.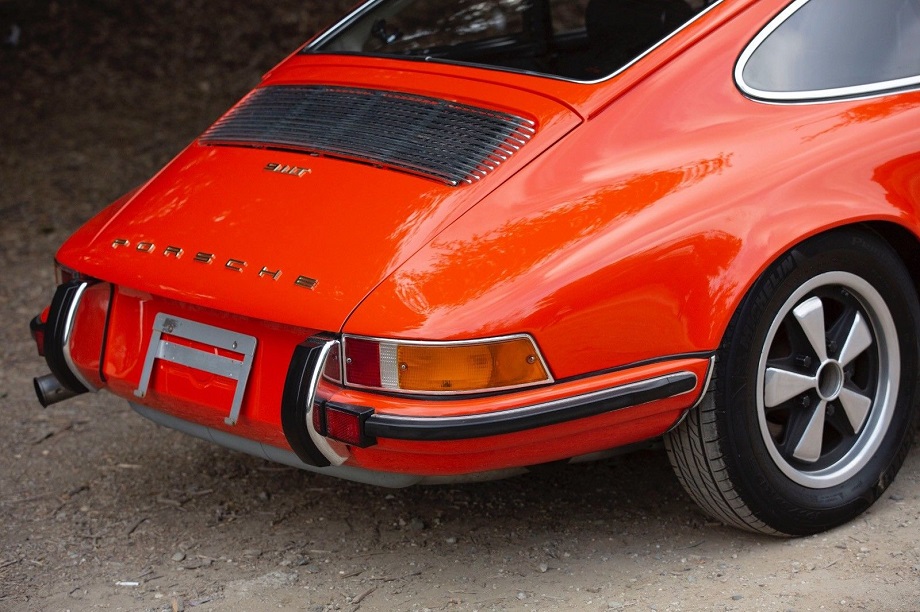 Year: 1970
Model: 911T
VIN: 9110121682
Engine: 2.2 liter flat-6
Transmission: 5-speed manual
Mileage: 123,042 mi
Price: Auction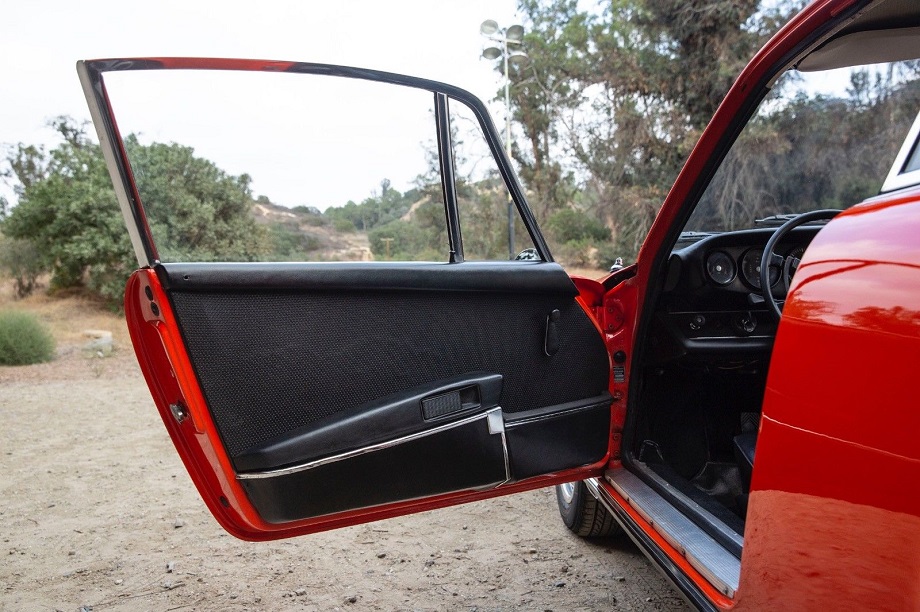 Hello! This is a beautiful 1970 911T in factory Tangerine, the paint is about 4 years old now and shows wonderfully. Matching numbers and all original body panels. Floors, front suspension pan and rockers are all in good shape. There's no rust on this car. The engine and transmission have been overhauled in the last 1500 miles. Not a single leak of oil anywhere to be found underneath, and zero smoke on startup.

Car starts everytime and the original Zenith carbs are tuned and trouble-free. The car feels a lot faster than a 2.2 in my opinion. Shifts through all the gears without issue, up and down. Tires are date coded from 2014, with plenty of tread left. Brakes are in good working order, no squeaking and excellent stopping power. The Fuchs are real and were refinished with a textured black that I don't like very much.

There is a crack on the dash to the right of the gauges. The rest of the interior is in excellent shape, especially the door cards and map pockets which aren't broken and look great. No damage to the tub at the front of the trunk and none anywhere on the car. Your chance to get a great longhood that I wouldn't hesitate to drive across the country tomorrow, before the snow falls!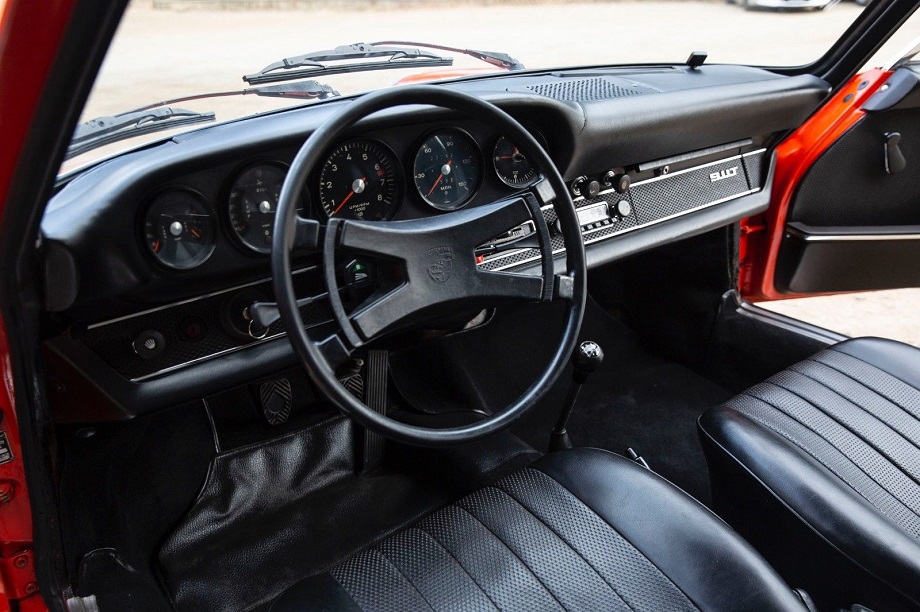 This is a wonderful looking early 911. Not in the sense of the various concours cars we see that you might fear to take on the road, but its overall appearance is that of a nicely maintained car that has been enjoyed. It sounds like it's gone through various stages of refreshing, though perhaps not a comprehensive restoration. We are told that the paint is not original though I believe Tangerine is its original color. That point will need verification. The interior looks in nice shape other than the crack in the dash. Admittedly it's a pretty noticeable crack so we can't write it off as not a big deal, but otherwise the interior looks nice. It's not clear whether these are the original materials or whether they have been replaced. Given the crispness of the leatherette on the seating we might safely assume there has been some reupholstery performed in its past. The engine and transmission both are said to have been "overhauled" not many miles ago.
As a 911T with plenty of miles and not in entirely original condition this isn't the sort of 911 we'd expect to hit a high price or serve as a fine investment. It should, however, offer excellent service for the 911 enthusiast in search of a brilliant and attention grabbing color and plenty of motoring pleasure.
-Rob