Warning!
This post is in our archives. Links in this post may have been updated to point to similar cars available to bid on eBay.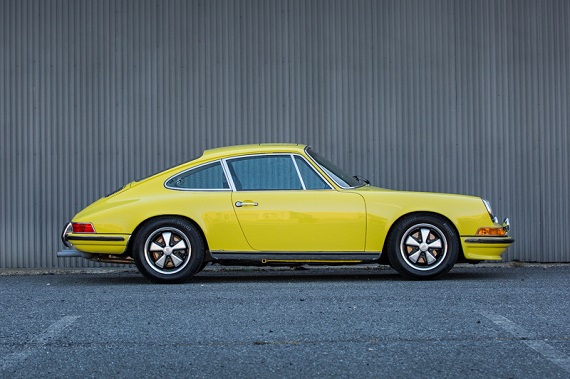 For most of us, the reason we read these pages – or write for them – comes from a certain passion for driving. Some may be in search of interesting cars for a collection, but even collectors began their hobby from that basic foundation of a love of cars. The desire for vintage cars then stems from a nostalgic longing for an idol from our youth, or a driving experience that is more analog, connected, and human. Or just a mixture of all of these things. No matter what the cause we always return to driving itself and vintage cars can raise an impediment: price. There is a price for nostalgia. Limited remaining supply mean that few vintage cars are cheap and all will need, or will have had, extensive work either to keep them in good condition or return them to good condition. For those of us who are fans of the 911, the iconic stature of the car itself raises those costs in every regard and for most the cost becomes prohibitive. But if you must have all the beauty of that original design married to the lightness and simplicity found in most any vintage automobile, then you've got to find a way around these problems of cost. The 911 we see here I think offers some nice possibilities, though given that it appears to be in turn-key condition the bidding has come up to a point where we'd hardly consider it inexpensive. Still, it has promise. Here we have a Light Yellow over Black 1971 Porsche 911T Sunroof Coupe, located in Philadelphia, with 80,959 miles on it.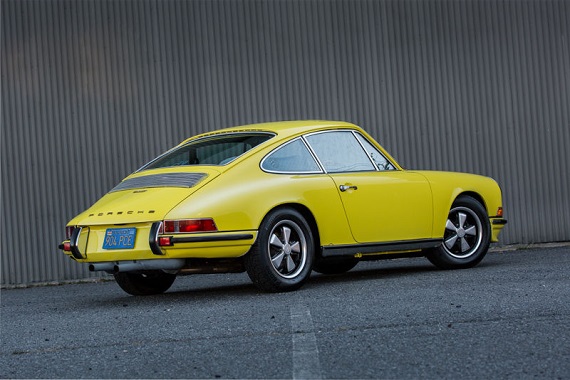 Year: 1971
Model: 911T
Engine: 2.4 liter flat-6
Transmission: 5-speed manual
Mileage: 80,959 mi
Price: Reserve Auction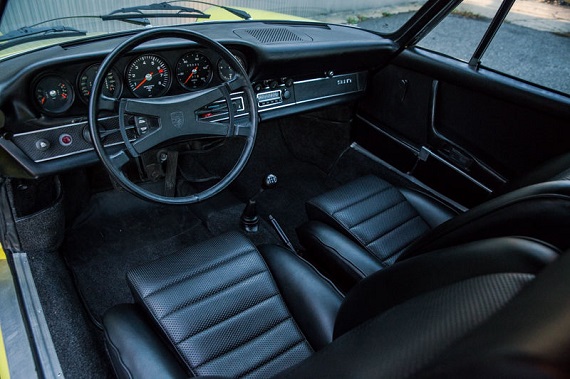 The first sketches by "Butzi" Porsche in 1959 were merely just that, an idea on paper. No one could have ever known that project 901 at Porsche would become the very root of their existence by which the rest of the company would be built on. Looking back, there were a lot of project numbers assigned to various works within the engineering firm that is Porsche. Most can only recite a few however, 356, 550, 911, 928, 964, 993 on and on. These are the ones that made it to the big time, the cars that made a difference and really worked. The 911 however is the one that changed the company forever, and with it the sports car world as we know it today. By 1968 changes were made, the SWB design of the 911 was about to gain a few inches and now T, E, and S models were introduced to the company's offering. Something for every price point and a car for the masses. Within these three sub-models were of course, targa variants, and even soft window targa variants. The one thing however that was emerging was the "options list". The options list today is what gives a vintage Porsche it's flavor and unique position in the line-up of options for collectors and enthusiasts alike. The more options the better, the odder the options, the better. Colors, accessories, interesting additions and exclusions all combine to make certain 911's special, very special.

The example on offer here, a 1971 Porsche 911T Coupe, Chassis Number 9111101963 is defined by its Certificate of Authenticity to be exactly what you see today: a Light Yellow (62) over Black Leatherette (16) Sport-seats Sunroof Coupe with US Equipment, Round Fog Lamps in the grills, and complete with tinted glass, deep six Fuchs, comfort equipment and of course Michelin tires. Quite the combination of available options and today, most definitely a valuable combination sought out by those who have been bitten by the 911 bug. It should also be noted that the COA also matches the engine and transmission numbers, that this is indeed a numbers matching example. While exact early history is not known, we do know that it was a long time California car, sporting it's blue-plates as late as 2012 before selling to a collector in Washington State. In early 2014 that owner had an unfortunate lift-off over steer incident that left the car damaged in the drivers-side rear corner. While it looked bad, it was superficial and simply cosmetic with nothing structural compromised. It should be noted however that prior to this incident the car received a total drive train rebuild by JC Motorsports in Midway City, CA. At this time the car was also painted, received all new leather and many improvements were made in a sympathetic restoration that made it excellent cosmetically, and perfect mechanically with no expense spared on the latter.

LBI acquired the car in 2014 and completed a total exterior cosmetic restoration including all new rubber seals and other related items where necessary. At a cost of $22,000 the capable hands of Knut Holzers British Motor Corp, who is no stranger to concours quality, work. Today this 911 shows as nearly impeccable cosmetically. The paint carries a glass like finish and is as close as one can get to the correct Porsche Light Yellow. All of the rubber is new throughout, gaps excellent and panels straight down the sides with excellent concours and nothing short of show quality. Some of the chrome items and lenses are perhaps slightly used in their appearance as is one or two chrome items, but nothing that warrants refinishing of any kind. It is, in total, very well completed and without any faults to be noted in the finish.

Upon opening the door the contrasting black sport seats immediately gain attention. The dash is nicely refinished and everything is correct in appearance, nicely trimmed and tended to. The headliner, dash face, carpets, front and rear seats, door panels etc… are all very nice and without any major issues. There are perhaps signs of use and minor blemishes upon close scrutiny but they are nothing that will be of major concern. The one item that should see tending to is that of the passenger side seat which only recently has seen a fault in its mechanism that allows it to adjust forward and backward. Additionally the side cover for the gears where one tilts the back has recently cracked and will require replacement or fixing. Both do no effect the cars ability to be immediately enjoyed, but both should likely be fixed at some point. Almost everything on the interior is in correct working order, including the sunroof, windows, lighting, all knobs, pulls and switches, heat, radio etc… the one item that we have noted as not working are the fog lights. Otherwise, the sports seats hug you in just the right way and being behind the wheel of this car and within the interior space is excellent, exemplary of a proper vintage 911 experiences.

The front trunk shows as rust free and accident free, while refinished is may lack one or two items here or there regarding correctness such as the black tar finish on the shock towers, the VIN number in black, and a few other little odds and ends that would put this car on the next level of correctness. It is however tidy, clean and without issues otherwise. The engine bay is of the same quality; clean, tidy, appearing correct for the most part but again could use the final touches that separate a great example from a perfect example. It should be noted however that the engine is very clean with lots of items cadmium plated as original and a great deal of time and care went into not only the rebuild but making sure it looked proper as well. All things considered opening the rear hatch reveals a very well presented engine bay. The underside is another place where the car proves it's west coat lineage. The original pans and metal present well throughout with no evidence of previous rust issues. There are signs of use here and there, and it could stand a detailing should one deem it necessary. In all, it is indeed a good underside that most seek in a 911. There are also no excessive or obvious leaks on the underside, as this is a well-sealed example and dryer than most.

The biggest point to be made about this car beyond it's unique color and options is the performance and attention to it's abilities as a machine. This 911 has undergone an extensive mechanical restoration with receipts to match. Just over $23,500 was spent on a total overhaul that also included other little odds and ends. Everything motor wise was completed to a very high standards with the use of all "S" internals and upgrades where available. Upgrades to 3.0L Valves were made along with 84MM High Compression Pistons by AA Performance products, and the classic switch to Weber Carburation was also made. The addition of aftermarket exhaust in the 911R Style not only looks great but it sounds superb. The culmination of these efforts to make this car exceptional mechanically are all abundantly clear if you get a chance to drive the car, or even watch it be driven. It is very fast, much faster than any stock S, and overall has a sound and acceleration that is beyond any other "T" we have driven to date. The performance of this car cannot be stressed enough. While not concours, this is indeed a 911 for the discerning driver who really wants to enjoy a long hood 911 at speed, often, and without desire for more as this really is well sorted, dialed in, and ready for action.

The Porsche market has seen tremendous leaps in the past few years. This is an opportunity to acquire a 911 that stands out from the rest in many ways. It will outperform most, while costing ½ as much as some and will remain the centerpiece of uniqueness in any collection, show, or cars & coffee event. Included in the sale are the original books, tools, jack, and a solid wheel spare along with service records. An opportunity worth much consideration, but surely something that needs to be driven to be understood.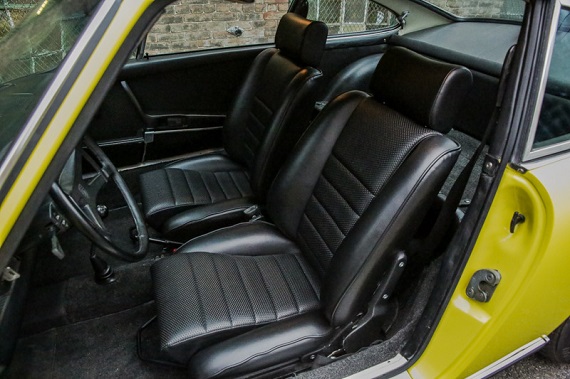 From a collector standpoint this 911T comes with a few nice features: it's a pretty rare and desirable color combination and came equipped with sports seats and a sunroof, both of which should increase its desirability. But since our interest isn't purely on the collector side, but rather aimed slightly at those who want to drive and enjoy one of these vintage 911s, there are some modifications that help distinguish this 911 from the others. During restoration the engine was rebuilt to higher specs utilizing internals from the 911S as well as other internal upgrades to help this 911T breathe easier and produce a bit more power. Since the 911T was the entry-level model of its time, then I'm sure these upgrades will be appreciated since most any vintage car lags in power relative to modern machinery. The total price still puts this 911T in a tough spot for anyone interested in spending quality time behind the wheel. There are certainly less expensive options out there for a T, but many of those may still need some work and most will struggle to perform as this one does. It should see some takers though, as evidenced by current bidding, but whether it ultimately will meet the seller's reserve remains to be seen. I don't imagine we'll see bidding come up much higher than this even if this is a very pretty and fast example of an early 911.
-Rob