Warning!
This post is in our archives. Links in this post may have been updated to point to similar cars available to bid on eBay.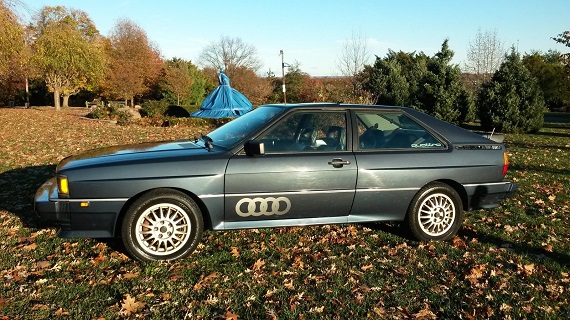 Considering what it takes to be called a supercar these days, it's somewhat amazing that in the early 1980s the Audi Quattro sparked such a revolution. After all, the boxflared wonder arrived in the U.S. costing about the same as a Porsche 911 but sporting only 160 horsepower. Factor in the relatively heavy for then (though admittedly light by today's standards) 3,000 lb curb weight, and the Quattro was anything but high performance by the standards we consider today. But a revolution in performance it was, as it allowed you to push the car hard in any condition with confidence. Recently I watched the old Motorweek clip on the Quattro; performance was about what you'd expect from the numbers presented above and is probably on par with a base Honda Civic these days. But still the reviewers raved about the performance of the luxury coupe, and though few sold on these shores they've always enjoyed a cult following which today is growing into a greater appreciation: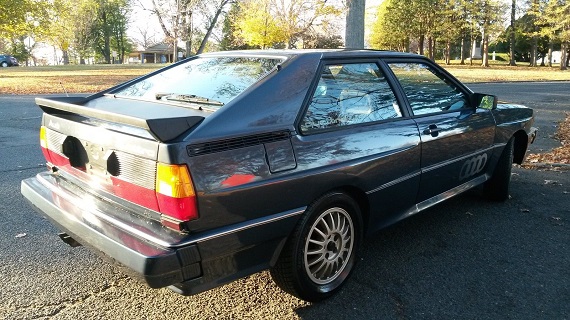 Year: 1983
Model: Quattro
Engine: 2.1 liter turbocharged inline-5
Transmission: 5-speed manual
Mileage: 82,500 mi
Price: No Reserve Auction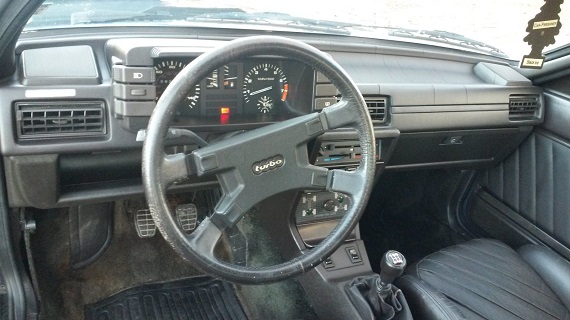 Hello Audi World,here's something that might spark your interest.

This Car is only being resisted because of an Overseas waste of time bidder by the name of
BMW-Charlie-us.,beware. I gave this person My Word and 7 days to close this deal FOS so here
is a second chance for the real buyers.

1983 Audi URQ.,this is a two Owner car with full documentation plenty of service records mechanically sound it even has its original window sticker
has a paint job that looks to be about five years old has a little surface rust around the windshield absolutely not rotted but needs to be address.,
the interior has plenty of life on it,it's all their little rip on the driver side,other than that for a 1983 interior looks great.
Im not an expert but I can see the value of these Cars going up very fast every year.
Mechanically I'm not very knowledgeable but I do have about $3,500 in receipts that A very recognize Audi mechanical shop
she turned right on everything works as it should. Unfortunately I have no time to enjoy this car and I can use that money for something a little bit more productive such as another project 😉
Please keep in mind this is a 32 years old car so if you like the feeling of going back in time and experiencing Audi history here's your chance if you expect
this to perform like a 2015. Please think before you bid Car will be sold as is,so please be sure before you bid
this is not fantasy football people do spend on trying market this cars correctly Happy bidding.

NOTE: DO NOT CONTACT ME FOR TRADE.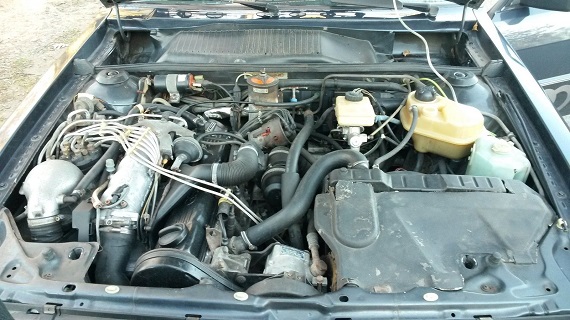 The values of these cars are going up for sure, as many have been snapped up by European customers who can't find them in the homeland. This example overall presents pretty well and in original form, though the paintwork is suspect considering the amount of rust that's popped through the windshield frame. Inside the chocolate leather overall looks presentable minus the driver's bolster which is quite worn, bu the cracked dash looks very tired. Only a few years ago, this would have been a car that struggled to meet high single digits in price, but the opening bid is a lofty $20,000. That will currently buy you this car, but I think based upon what's presented that may be a little ambitious. There's going to have to be some serious going-over for more rust to confirm the value and without a complete restoration this is more of a driver than show car. But it's fairly rare to find one at all, given that only 240 1983s were sold here.
-Carter