Relative to the W113 that it replaced, the R107 and C107 coupe version are still relatively unloved and undervalued in the world of classic Mercedes-Benz models. Much like the E24 6-series compared to the 3.0CS, the design wasn't quite as striking as the original but the refinements of the newer model really changed the class the car was considered in. If the W113 was a bare-bones roadster, the W113 added luxury and weight to the recipe; for some, it was very appreciated and made the R/C107 a more usable car than the W113 was. For others, the "Sport" was gone and the result was more a personal luxury vehicle. But is that such a bad thing? The SLC has always been an interesting car to me, and today's example is no different. An early model, it has the slim European bumpers and steel wheels giving a classic look: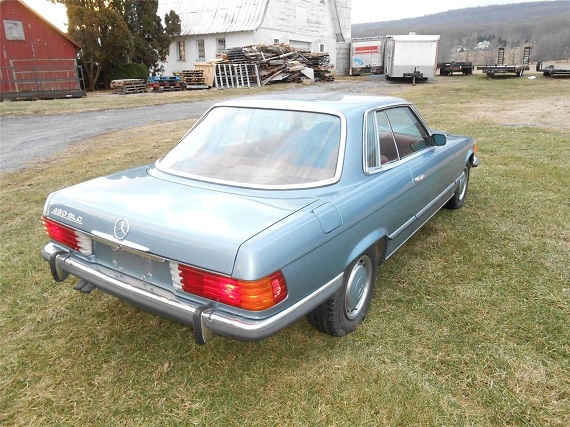 Year: 1973
Model: 450SLC
Engine: 4.5 liter V8
Transmission: 3-speed automatic
Mileage: 32,850 mi
Price: $10,995 Buy It Now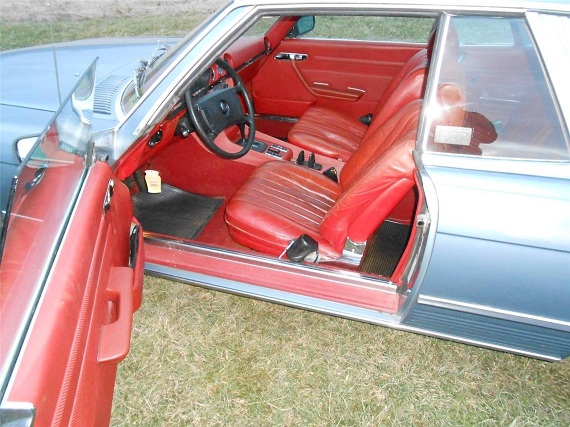 37 PHOTOS 73 Mercedes 450SLC gorgeous 32k original miles arrow straight survivor

ONLY 32,850 MILES!!!!

Garage-kept, unrestored survivor car

4.5L fuel injected V8 – 190hp, 240 lb-ft

Bosch D-Jetronic fuel injection

3 speed automatic transmission

Power steering, power 4 wheel disc brakes, factory a/c

Power windows, central locks, tinted glass

Factory red leather interior

Grey-blue metallic paint

Production date 2 / 73

For more details on the 450SLC:

http://en.wikipedia.org/wiki/Mercedes-Benz_R107_and_C107

Here we have for your consideration, a GORGEOUS low-mile survivor. The car looks to have had a single repaint in the factory Grey-Blue metallic paint, and the only way I can tell is I saw a tape line on a doorjamb. Once I noticed the one, I checked all the openings – doors, hood, trunk, gas door – and it would appear the whole car got repainted, not just a piece of it. It is the correct original color for the car and I have found zero signs of bodywork – the car is straight as an arrow – so my guess is it was repainted when the factory paint faded, which was not uncommon for these light blue metallic colors. They had a habit of turning silver, and it looks like the owner of this one just wanted their baby to be the correct color, as nice as possible!

Like I said – straight as an arrow. No waves, ripples, or misplaced body lines. All the panel gaps line up like they should. There are one or two super-small door dings on the whole car, and they're so minor I couldn't get them to show up in the photos. This body is gorgeous.

Yes, the odometer reads 032850. We also have an odometer statement, signed by the owner, saying that is actual miles. For a 41 year old car, that works out to….801.2 average miles per year. Wow. All the gauges work. All the dash instruments and lights work. From what I could tell, all the interior accessories work just like they should.

Beautiful factory leather front and back, with only one flaw – a section about 2″ long on one seam on the drivers seat. You can see it in the photo taken through the passenger door, it's right above the seat belt buckle. But, that's all. No odors. No other rips or tears. The carpets look great, with the only faded spot being the cover for the first aid kit on the rear window package shelf.

No sags or rips in the headliner, and yes – it's a hardtop. No sunroof, no rattles, no leaks.

Original, unmolested engine compartment. Our customer drove it to us when they traded it in, and it has been garage kept as long as they owned it (they are not the original owners). It sat on our lot for a few days, and when I went to start it for this ad I found the battery was dead. We installed a brand new battery, and she fired right up. No tics, no complaints, no hesitation, no smoke, no drips, nothing. Purrs like a kitten and runs like a champ. I took the photos for this ad, drove it a few miles (it ran flawlessly – engine, transmission, brakes, suspension, steering, all of it), and parked it in our indoor storage facility to keep it out of the winter weather and road salt.

Yes, I work for an RV dealer and that is who's selling the car. But…I'm a "car guy". I spent plenty of my youth building and racing both front-drive turbo cars, and '70s V8 musclecars. I still tinker quite a bit, still have my main musclecar from back then, and still know what to look at (and look for) in a classic car such as this. I didn't drive this Mercedes and compare it to my 2014 Jeep – I know better than that. I drove it and took note of how everything behaved, with an eye towards the fact that it's 41 years old. And…I was THOROUGHLY impressed. It's quiet. Smooth. No rattles or squeaks (and I take bumpy roads on purpose). Linear power with no hiccups. Linear braking. Accurate steering. Good upshifts and downshifts. No unusual mechanical noises. Good levels on all the gauges. I'm about the same age as this car, and my body rattles and squeaks more than this car does!! (probably because I have much higher mileage than the car and have led a much harder life…). This is an extremely low-mile car, but it does not behave like something that's sat too long. It starts right up, the fuel injection doesn't hiccup, the transmission doesn't hesitate or clunk, the suspension doesn't creak, the brakes don't pull. It behaves like it's been driven every day, for 41 years. No drama, no complaints, no bad manners at all. Like I said – I was thoroughly impressed.

The doors and the body are, from what I was able to tell, 100% rust free. The stainless trim is in great shape too. I wasn't able to get any photos because it sits so low, but the undercarriage looks just as clean and solid as the rest of the car – and the quiet, smooth, squeak-and-clunk-free ride backs that up.

Nice solid decklid

Original spare and clean spare tire well

Clean trunk, with one small spot that's shown signs of water leaking:

The storage bin on the passenger side, under the fuel filler, had some water in it after sitting on our lot in a rainstorm. The floor of the bin is still firm, not weak, but there is some surface rust on it. The new owner is going to want to poke around and find where the water is getting in, and seal it up as well as coating this bin with some POR-15, once they get it home. But this is the ONLY spot I could find any water penetration at all on the car.

The fuel filler looks great, with the original tire loading sticker still in place!

The reminder sticker in the trunk, to check that tire label when loading the car, is still in great shape as well.

The VIN tag on the doorjamb

And option plate attached to the radiator support.

Original color-matched hubcaps, and four good tires all around.

Like I said…just a beautiful automobile.

This is a very rare opportunity – you don't see a lot of these cars around, certainly not with this kind of low mileage on them. When you do, they are normally part of a well-loved, and well-protected private collection. To find one in this condition, with these miles, up for sale? Extremely rare.

As I said – I was thoroughly impressed with the way this Mercedes runs. It could very easily become a daily driver – there's a reason Mercedes has the reputation they do for reliability and durability, and this car definitely lives up to that standard. I wouldn't hesitate for an instant – if I had to drive anywhere in the country, I'd hop in this Mercedes and hit the road without a second thought.

If you are close to Maryland (our location is in a Mapquest link in the "About Us" section below), I invite you to come see it in person. Let me know when you want to come so I can get the car – we have it stored in an indoor, off-site storage facility so it isn't in danger of scratches or nicks or spills here at our main location. It's nice and safely tucked away, no danger from our winter weather or snaps and zippers on everyone's heavy winter clothing. I'm happy to get it out, and get it ready for you to look at and take a short test drive if you like. I know you'll be impressed.

UPDATE:

We put this car through a Maryland state inspection. To see what parts of an automobile a Maryland inspection checks, click here.

It checks a LOT, as you can see.

The car – we're not surprised – did not pass. HOWEVER, it does not need major surgery, either. So my bidders know what they're getting when they buy this beautiful Mercedes, here is the list from our mechanic, of items that need to be addressed in order to pass the STRICT Maryland state inspection. We have not made any of these repairs, because we figure anyone who's looking for a classic Mercedes…already "has a guy" they trust to work on their automobile. If you don't have one, I'm happy to recommend some in our area but outside of our area…you'd be on your own. Again, though – none of this is major surgery. The car is in AMAZING shape, top to bottom!

The list:

Rust holes in muffler, needs replaced. Left rear turn signal is out. Both rear side marker lights are out. Left inner tie rod is loose, needs replaced. Front brake rotors need to be resurfaced (pulsing/warped). Left front caliper sticking from sitting. Front pads need replaced (if it were me, I'd put two brand new loaded front calipers on it). All four tires have dry cracking in the tread. Needs a battery hold-down strap. Lower control arm bushings are worn and need replaced. Center drag link (steering) needs replaced. And once the front end work is done, you're going to want an alignment.

But…that's it.

On a 41 year old car!!

I have more broken and worn out parts inside ME, than this car does!!

And, while it was up on the lift, I took a bunch of photos of the underside. As you can see below, the floors and frame are all ROCK SOLID. Wheel wells look good. Suspension looks good. The rear differential is damp, but it is not leaving drips on the ground. See for yourself – this is, truly, a nice clean car from top to bottom and front to back. DEFINITELY worth doing the little bit of work it needs to be back in tip-top, road-trip-worthy condition. Every time I drive it, I remind myself that I already have too many toys, and I'm not allowed to buy this one. But…I get tempted every single time I drive it. It really is that nice.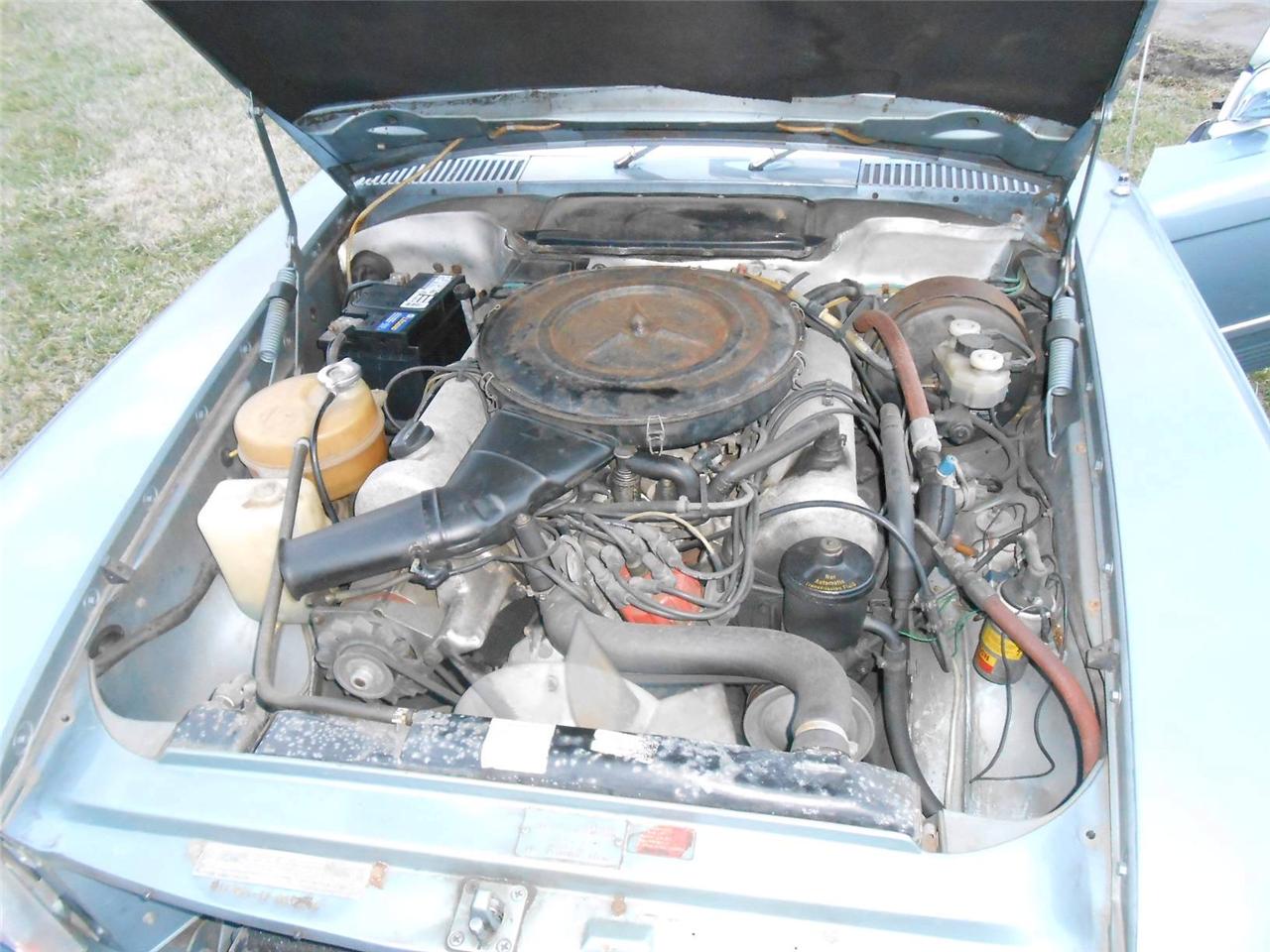 That interior is pretty incredible and it's certainly a striking combination. Obviously, this isn't a show car – but the lower mileage and general good condition means this is a perfect candidate for an occasional show/weekend car. There are some needs but the list is fairly short; obviously the future owner will want to address the surface rust/leak in the trunk area sooner rather than later, but otherwise this is a classic Mercedes model that's available on a budget. I wish it was a manual transmission, but otherwise this looks like a great option for a foray into Mercedes ownership without breaking the bank or losing your shirt if you want to turn it around in the future.
-Carter