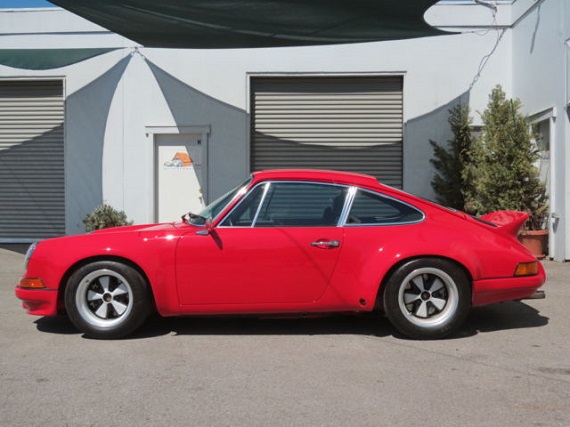 One of the consistent criticisms of cars like the one we see here is that their level of execution and performance never seem to match their high price tag. I guess we can call this the Singer problem. Singer, as most are aware, produces bespoke backdated 911s that combine many of the best performance parts with the best aesthetic features, both inside and out. Each build is individual and in many ways a work of art. They are also incredibly expensive. Some builders seem keen to follow Singer's lead without nearly the same quality and performance, and then hope to still extract high prices (even if they aren't as high as those charged by Singer itself). The car here comes with the typical very high price tag, but in this case there is a lot more going on performance-wise than in other builds we've come across. This 911 started life as a 1984 Porsche 911 Carrera Turbo-look. The appearance was backdated to that of a '73 911 RSR while the engine was replaced with a 3.8 liter flat-six built to 993 Carrera RS specs. The interior received alterations to suit its increased sporting pretensions. The seller describes it as minimalist and that description seems apt. It was then painted in Ferrari Rosso Corso, presumably because the owner was a Ferrari enthusiast. The result is a very striking 911 whose RSR roots are clear on the outside, but which packs a very potent and more modern punch. I would imagine the performance of this 911 would be quite exhilarating and it is in that regard that this build significantly distances itself from many others we have seen. Does it justify the high price?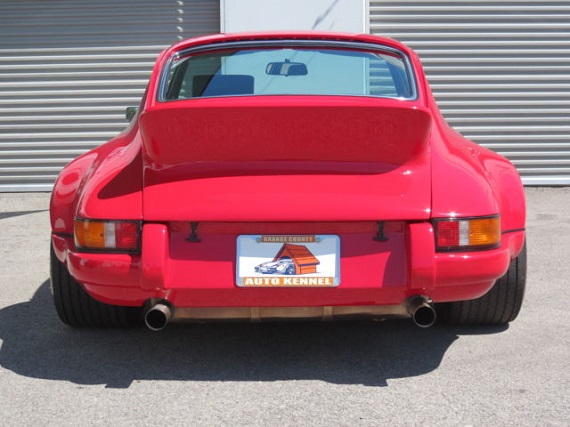 Year: 1973/1984
Model: 911 RSR Backdate
Engine: 3.8 liter flat-6
Transmission: 5-speed manual
Mileage: 5,000 mi
Price: $224,900 Buy It Now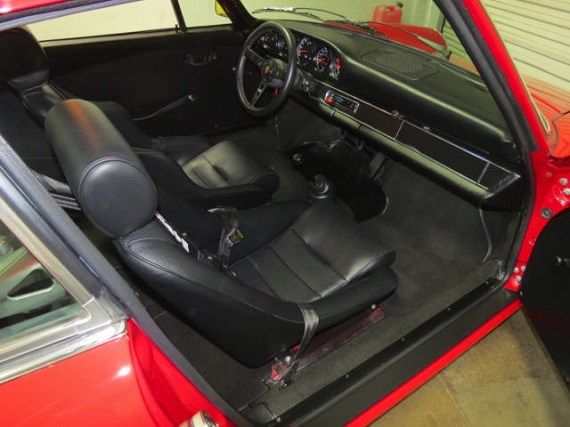 1973 Porsche 911 RSR Backdated Homage

Twin Plug 3.8L Varioram 993 RS Spec Engine

Gamroth of Rothsport Build

Featured in Total 911 & Excellence Magazine

Stock #0681

VIN # WP0AB0913ES120316

ENG# 64T01874 (M64/23)

Less than 5,000 Miles on Build

Ferrari Rosso Corso on Black Interior

5-Speed Manual Gearbox

Clean and Clear Title

Backdated from 1984 Carrera Turbolook by Jeff Gamroth

I've always been a huge fan of backdated early 911s. I even have one of my own. They give you the great looks of the classic Early 911 with a better chassis and equipment. In my opinion, they make one of the best Porsches for touring and performance events.

The key to building a great "back-dated" 911 is to start off with a great car and hire the best people in the business. This example certainly followed those rules.

This project started over 8-years ago. A Ferrari enthusiast/collector/vintage racer decided he wanted to build the ultimate early 911 street weapon. So, after careful research, he employed the help of famed Sport Purpose 911 builder Jeff Gamroth of Rothsport Racing.

They started with a very clean and straight factory Turbo-Look 911 due to its stronger suspension setup, stronger rear hubs, and galvanized chassis. Most builders would just use the stock body. However, they really wanted to create the right RSR look. So steel RSR flares were carefully butt-welded to the body once it had been taken down to the bare metal. The paint/body expert worked closely with Rothsport to get the fit and finish where they wanted it.

Once completed, the owner used the car for several years and many times as a daily driver to his office. Finally, a few years ago, it was sold to the current owner. This owner is a long time Porsche enthusiast/collector who is a fan of the over-the-top hotrod builds. In fact, he has already had 4 other Gamroth/Smith built cars. This one was not only incredibly fast, but also one of the easiest to drive on long tours; which, was what he intended it for.

Upon purchase, the current owner had his long time friend Hayden of WEVO tune the suspension for street use as well as change the gear ratios of the gearbox to make the car friendlier for long drives. For the next several years, he used the car on R Gruppe Treffen and Targa California events. I have seen this car on many of these rallies and can certainly attest to its performance capabilities.

The fit and finish of this RSR is very nice and much better than most hot rod 911s of the time. The body gaps are excellent and the doors shut with that patented Porsche ring. The quality and depth of the paint is extremely high. There are minimal signs of use as most of the front, rockers, and rear flares have been fitted with 3M clear bra. The wheels are factory Fuchs. The fronts are real RSR 15×9 Fuchs. The rears are custom made 15×11 Fuchs by the renowned Harvey Weidman. They have that correct offset and spacing which give the car that perfect fit and look. Harvey finished them in the correct RSR frosted finish. The wheels are wrapped with sticky Michelin TB5 tyres.

The interior is equally tidy and finished in a sport purpose minimalist look. The carpet, door panels, headliner, and early buckets are in great shape and look near new. The dash is perfect with no cracks. All the gauges function properly.

The front trunk is also finished off nicely with RSR style parts including Fuch space saver, correct tool kit, and RSR style air tank. All are secured with custom leather straps.

The driving quality is everything you could imagine and more. The power is intoxicating. The torque hits immediately and carries all the way through the revs like a thundering locomotive. With its lightweight body, the acceleration pushes you deep into the supportive seats. The shifting is precise and has that Ferrari-style gate shifter feel. The pedals are perfectly placed allowing easy heel/tow throttle blipping to match revs for quick gear changes. The handling is mind-reading precise with excellent braking power. It's not that this 911 has all these great qualities as much as it is the synergy of how it all comes together. This is one of the most drivable big power early cars I've ever experienced. It may look menacing, but it drives with ease. This would be a wonderful car for any vintage driving event you choose.

If you have any questions, please do not hesitate to contact Paul at 714-335-4911 or paul@autokennel.com

For tons of photos, go to: www.AutoKennel.com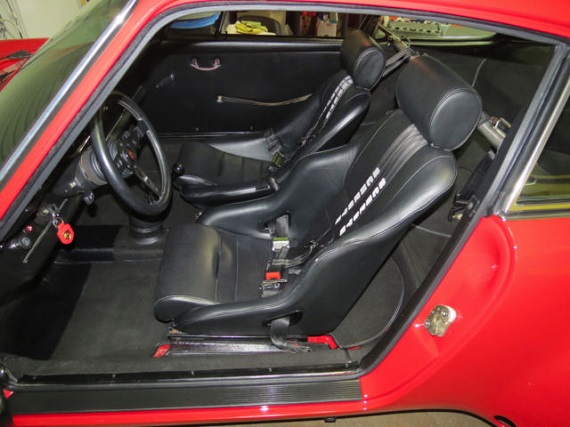 At $225K this is going to be a very tough sell and much of it comes down to that engine. The difficulty here is that the seller makes no mention of the source of the engine, when it was fitted, who did the work, etc. When I first read the ad I was quite surprised at this lack of mention, so I reread it to make sure I hadn't missed something. And then read it again. And I keep looking back at it. All we know is that it is a twin-plug 3.8 liter built to 993 RS specs. We need a lot more information. I'm also not a fan of the color for this build, but that's a more subjective point. Rosso Corso is great on a Ferrari, but I think this would have benefited from a classic Porsche color, even if only Guards Red. The car still looks great; this is just one of those niggles that may not make much sense, but still is a bother. To be clear, I do really like this 911. It looks very well built. The interior only has the necessities and forgoes any excesses. Overall, it should have the performance to back up its very aggressive lines and maybe even to justify the very high asking price. We just need the details.
-Rob