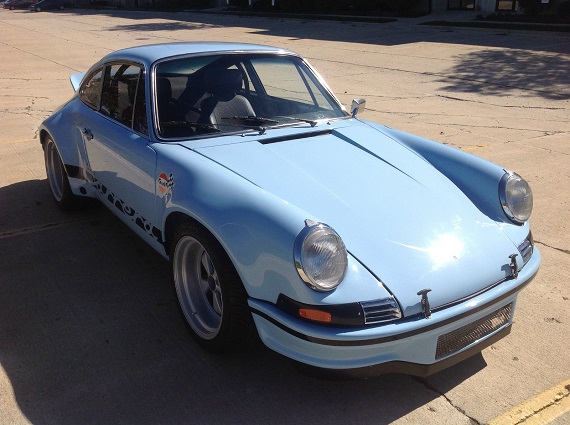 While they were cars primarily intended for racing, we do occasionally come across road-going 911 RSR clones for sale even though in some regards it can be difficult to determine what exactly gives it the distinction of being a RSR rather than a RS. Those sorts of technical details aside, a car built towards RSR specifications always will be an excellent performance machine combining light weight with excellent power and mating that thrust to a capably handling chassis. Surround that performance with the iconic design of a '73 Carrera RS and you have a car that looks just as fantastic as it will drive. The car featured here, located in Illinois, began its life as a 1973 Porsche 911T before being converted to its current specifications. The engine is a built 3.2 liter flat-six mated to a 915 transmission. For the rest of the details on body and suspension, see below. I have no doubt that this would be a very lively car to drive!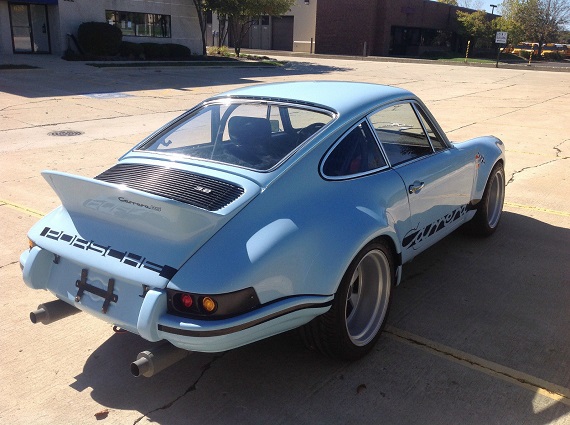 Year: 1973
Model: 911 RSR
Engine: 3.2 liter flat-6
Transmission: 5-speed manual
Mileage: 2 mi
Price: Reserve Auction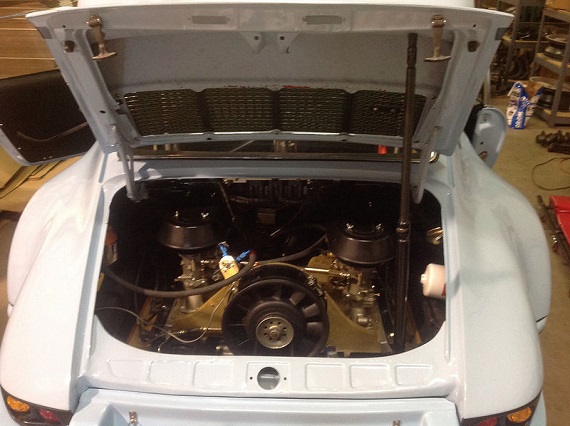 1973 Porsche RSR clone

This is an actual 1973 non-sunroof 911T converted to an RSR – not a backdated impact bumper 911. the fenders, hood, bumpers, ducktail and doors are fiberglass. the rear turbo quarters/flares and roof are steel. I bought the car already converted to an RSR but the condition was poor so i invested considerable time and money into re-building the whole car. It weighs 2080lbs dry and has an estimated 275hp.

link to tons of pictures of the start, build and finished porsche:

http://www.flickr.com/photos/19319612@N07/sets/

below is a list of the components/work that has been done:

body:
media blasted to bare metal, epoxy primed and painted inside and out gulf blue. front fenders, doors, both bumpers, ducktail and hood are fiberglass. all seals replaced except quarter
window seals. all glass original to 1973. interior and engine compartment coated with ceramic heat insulating paint, bottom and wheel wells coated with 3M stone guard prior to paint. all suspension points re-enforced. most spot weld seams seam welded. interior has rs lightweight carpet, GTS seats and bolt in rsr style rollbar (not a full cage). dash is covered with same lightweight carpet. RS door panels. no radio, no heat. front oil lines routed through heater tubes. new headliner also. the minimal sound coatings work very well without adding much weight.

suspension:
aluminum rear arms, 935 spherical bearing spring plates. bilstein rsr valved shocks and 500lb coil springs. tarret swaybars. monoball rear bearings, all new wheel bearings. front has powdercoated A arms, elephant polybronze bearings. struts are bilstien rsr valved and spindles raised 15mm. tarret swaybar, 21mm torsions. rebuilt steering rack. Wheels are Lindsey racing 17×9.5 fr, 17×11 r weld-up fuchs with BBS barrels then powdercoated silver with black trim. tires are new.

brakes:
custom mounted wilwood superlite calipers over 12.2" x 1.25" rotors
rear is custom machined 993 calipers over stock turbo rear rotors.
all new flexable braided brake lines for whole car. new turbo master cylinder and re-built pedalbox.

engine:
3.2L short stroke built on SC case. 98mm 9.5:1 CR mahle pistons/cylinders. carrera oil pump, all new bearings, crank freshly polished and STD. case is shuffle pinned. carrera oil tensioners new oil cooler. ARP rod bolts and head studs. heads mildly ported and twin plugged. new valves/guides and seals. cams are DC62 – from dougerty racing. titanium retainers and new race springs. fresh rebuilt by performance oriented weber 46 carbs. european headers and muffler type megaphones (sound better than any porsche you have heard) all jet-hot coated grey. ignition is electromotive HPV twin-plug setup. a front oil cooler was added with aeroquip lines to the front.

transmission:
915 mag case with Wevo gate shift, guard torque sensing differential. shifter is Wevo also. all new syncronizers. powerhaus side plate with new bearings. swepco oil. lightweight flywheel, new clutch with aluminum pressure plate housing. new carrera half-shafts and CV joints.

electrical:
wire harness replaced with universal painless wire harness, only the wiper and turn signal stalks retain the porsche wiring. there is an O2 sensor and controller in the interior of the car – not mounted. no radio however electrical lines are there to power a radio. no antenna, defrost, fan and the wiper squirters are not connected.

basically everything is done on this car, however the final set-up still needs to be done. the carbs and ignition need to be adjusted. the car needs an alignment also, steering wheel is not centered. some of the fuel line routing is not great around the engine but it all works. there are 2 tiny oil drips – one is the right chain cover and the other is the lower left valve cover.

I have way more in this car than i will get for it, I am not in the business of flipping/restoring cars. This was a personal project that took too long and way too much money to complete. I am not desperate to sell. I will answer any and all questions the best i can. I have the title in hand as well as a ton of receipts. The mileage listed is not real – this car is a fresh restoration that has not been road registered. I will help as much as i can to assist in shipping.

Your bid constitutes a legally binding contract to purchase this vehicle. Please do not bid if you're not seriously interested or financially able to purchase this vehicle. Please read eBay's "User Agreement".
Bid Retraction
Please read eBay's "Retracting a Bid". If you place a bid before the last 12-hour period of the auction, you may retract the bid before the last 12-hour period only for exceptional circumstances. You will not be allowed to retract that bid during the last 12-hour period of the auction. If you place a bid during the last 12-hour period of the auction, you will be allowed to retract the bid for exceptional circumstances only if you do so within one hour after placing the bid.
Notice to Bidders:
I reserve the right to cancel all bids and end the auction early should the vehicle no longer be available for sale.
Buyer's Inspection
If you plan to have a Buyer's Inspection, please make sure you have the vehicle inspected prior to the end of the auction. Organizing an inspection must be at my conveinence – i work full time and cannot be available any time. Inspection fees, if any, are the "Buyer's" sole responsibility.
Warranty
This vehicle is being sold "as is".
Payments
I accept Certified and Cashiers Checks and Funding Transfers in $US only. All funding or paperwork must be received as soon as possible and prior to picking up the car or I reserve the right to re-list or sell to any other qualified buyer. Winning Bidder must confirm his winning bid with a $1,000 NON-Refundable Deposit within 48 hours of auction end (this can be done through paypal). Balance of Purchase Price is due to Seller prior to picking up the car. I will not accept Paypal for the balance due to the extra fees paypal charges. if you want to pay the fee in addition to the auction bid that is fine.
Taxes and Fees
"Buyer" is responsible not only for knowing their own states' laws regarding taxes and fees, but also remitting the proper taxes, fees, and documents for their state.
Title Information
I have the title in hand, will send separately signed to the buyer.
Shipping and Delivery
All shipping charges are the "Buyer's" responsibility. I will help with shipping arrangements but will not be responsible in any way for claims arising from shipping damage! I assume no responsibility for damages incurred after the vehicle leaves my garage. All shipping arrangements provided by me are strictly a courtesy. I are not affiliated with any carrier. Any claims or other communication regarding shipment of vehicles will be between you and the "Carrier" and not with me. The amount of time it takes for delivery depends upon the "Carrier" selected. Verify with the "Carrier" for an Estimated Time of Arrival to be sure. In the event the vehicle arrives and is not to the satisfaction of the buyer I am under no obligation to offer a return or credit.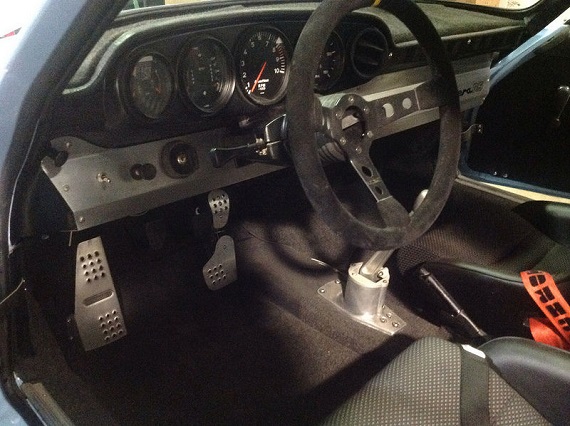 The '73 RS Replica I featured in a previous post, which sold for $37,000, shares a few similarities in the execution and build and might give us a ballpark figure to assess a potential selling price for this car. This RSR Clone comes in with a lighter weight and with the 3.2 liter engine produces more horsepower. It was also built from an original long-hood 911 rather than a back-dated example with impact bumpers. How much that last detail especially might nudge the price up in this auction remains to be seen, but I suspect we'll see this one come in quite a bit above the '73 RS Replica. This is a beautiful car that has had a lot of work, and while it still needs a little bit of work to run at its full potential, it will undoubtedly make for a fantastic car.
-Rob