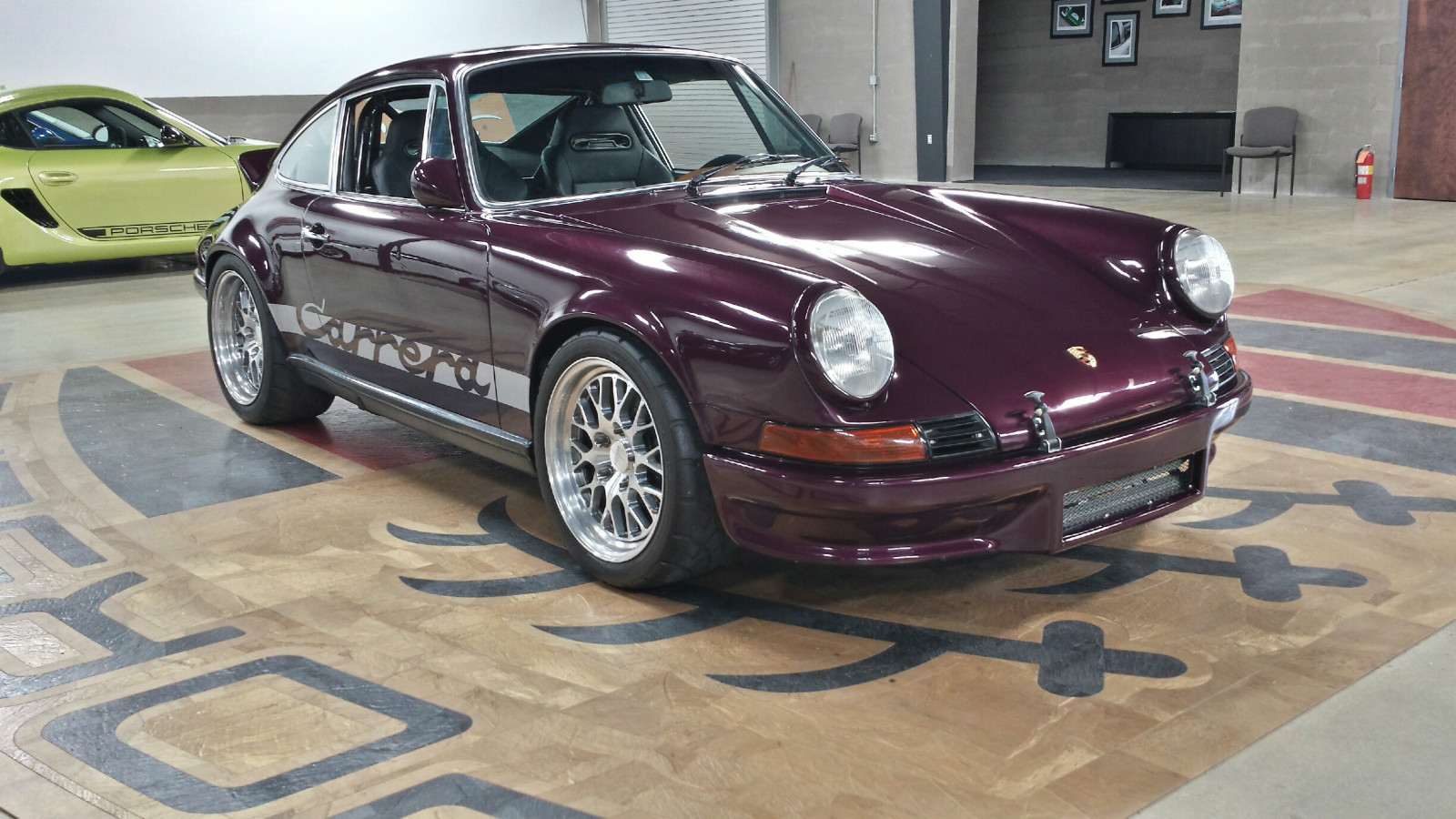 The 1973 Porsche 911 Carrera RS is an icon of the motoring world, and for good reason. The RS combined a lighter weight and a more powerful engine with improved suspension and braking to produce a car suitable for racing and began the 911's stellar career in the annals of road racing history. Add to this performance the classic long hood 911 design and you have a winner in nearly every respect. Naturally, buying a Carrera RS now is a very expensive proposition and the remaining models are found mostly in the hands of collectors who have little interest in putting additional miles on the car. Enter the replica: you get the looks and the performance, but with a lower cost of entry and less concerns over maintaining collectability. Which brings us to the car featured here: a 1977 Porsche 911 transformed into the appearance of a 1973 911 Carrera RS with a built 3.0 liter engine reminiscent of the 3.0 liter RSR of that period.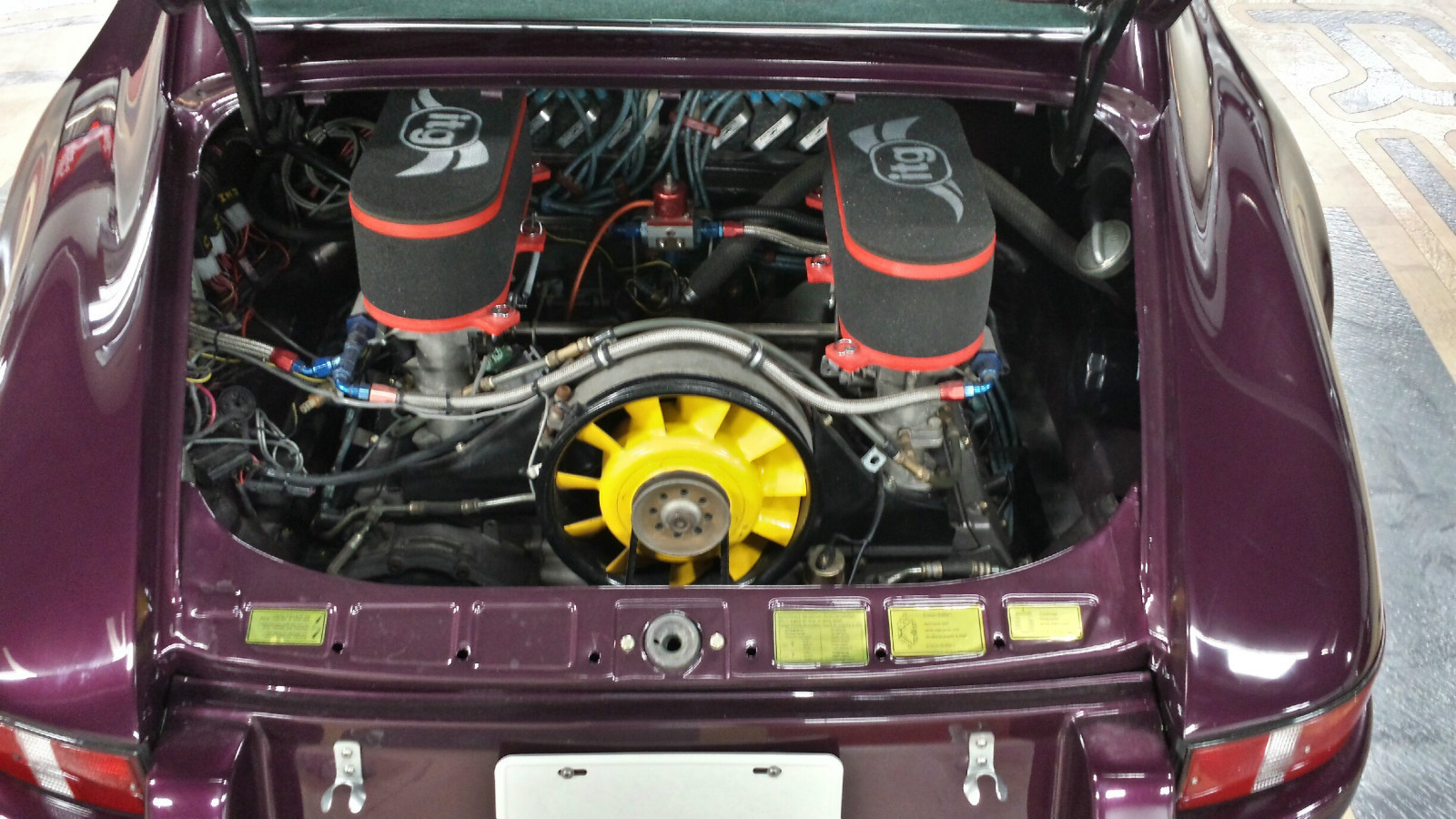 Year: 1977/73
Model: 911/911 RS
Engine: 3.0 liter flat-6
Transmission: 5-speed manual
Mileage: 79,000 mi
Price: Reserve auction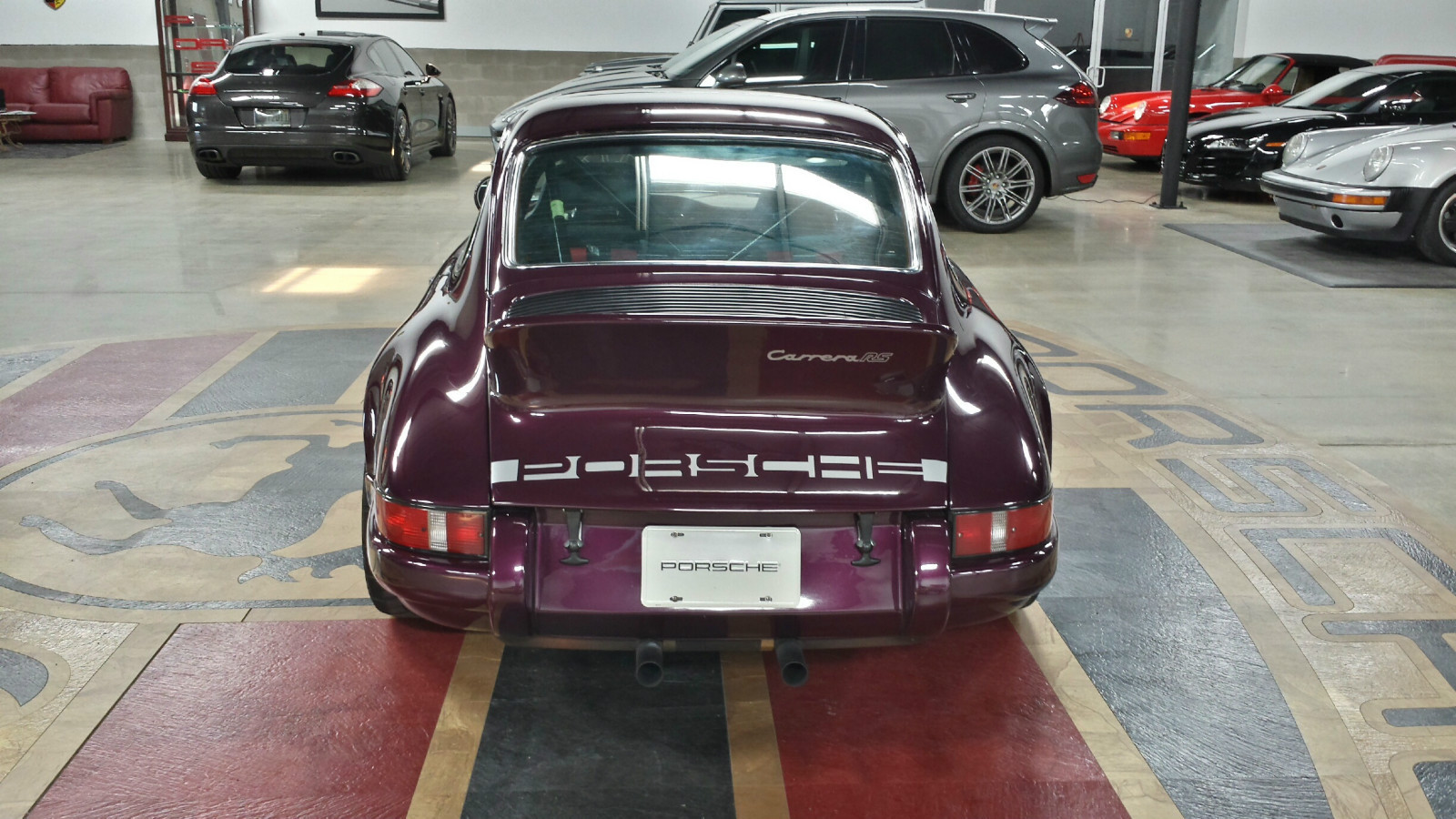 PORSCHE 73RS REPLICA

The original chassis is a 1977 Porsche 911S VIN# 9117201571, in excellent condition, devoid of any rust, damage, dents. The car has never been hit or damaged in any way:

This is a very aggressively tuned replica; it is well equipped for the track and, should you be so inclined, it is streetable as the car is titled and registered in the State of Florida. There are no track miles on the car/engine. The car has neither heat nor AC in its present form. The Paint is good. And has a couple of imperfections.

There has been approximately $70000 invested in the car as it sits. Reproducing the engine in the car will set you back $30,000.

Short History:

The Car is a 2 owner of the donor car having purchased from the original owner who had been storing the car for about 5 years. The car was perfect with a bad original color choice and a worn out engine. It had 75,000 miles on it, always been garaged, never used in the snow. .

The stock engine was removed. It was replaced with a special build performance motor. Steel 8" flares were added, steel front fenders have been retained. A fiberglass hood, front and rear bumpers and spoiler replaced the original factory pieces. The car has been stored for the last 10 years, but serviced annually and occasionally driven to keep it in tune. You can drive it home. This Car is Wicked Fast.

Chassis/Interior:

• Back dated to the look of a 1973 Porsche 911 RS
• Steel 8" flares, steel fenders
• Never dinged, nor dented, all gaps are perfect, as delivered from the factory
• New Paint, Porsche color (original was brown)
• Chrome-moly roll bar (PCA approved) chassis- welded by NASCAR licensed shop.
• New windshield
• 935 rear view side mirrors
• Fiberglass hood
• Fiberglass front bumper
• Fiberglass rear bumper
• Fiberglass ducktail spoiler
• 2300lb wet
• PVC headlamp covers
• New full leather sport seats
• RS interior panels
• New 73 RS carpet and floor mats

Engine:

• 3 liter, 100 × 66mm
• 930 RSR/Turbo aluminum case
• Carrillo rods, Mahle pistons and cylinders
• Dual plug heads
• RSR Sprint camshafts w/true center oiling
• ARP
• Glyco
• 930 oil pump
• Electromotive Tek1 engine management
• Kennedy disc
• TWM throttle bodies
• TWM Air horns
• ITG Air filters
• 7800 rpm redline
• Mobil 1
• 10.5 compression ratio
• 93 Octane pump gas
• jet-coated race headers
• billet valve covers
• 235hp at rear wheels (approx 290hp at flywheel)
• Dyno tuned and tested
• Dansk sport muffler
• Two remote oil coolers, front bumper mounted and wheel well
• Rennline solid Engine Mounts
• Tilton lightweight starter
• Optima race battery
• Rennline battery relocate kit
• 8 hours on motor, less than 2 street hours on engine since top end (dual plug) rebuild

Transmission:

• Stock Porsche 915 with factory limited slip, disassembled and serviced.
• Wevo shifter, linkage and coupler

Brakes

• Front VCR floating discs
• Front Porsche 930 Turbo calipers
• Rear ventilated 930 Turbo disc
• Rear 930 Turbo calipers

Suspension/Steering

• RSR coilovers front and rear
• 27 mm antiroll bar front
• 32 mm antiroll bar rear
• Rennline front camber strut bar
• ERP 935 adjustable rear trailing arms
• 930 tie rods
• Bump steer kit

Wheels/Tires

Fikse FM-10… 8.5 × 17 front
Fikse FM-10… 10 × 17 rear

Yokohama A032 235/40-17 front
Yokohama A032 255/40-17 rear

In the meantime, I would like to offer my assistance and invite you to visit to test drive this Porsche and Inspect it. We are Located close to Huntsville International Airport for Pick up. Please tell me how I can best accommodate you and your schedule, and I will respond accordingly. Feel free to e-mail or call me directly on 256-335-9415 with any further questions you may have, or to set up an appointment for your visit.

Thank you for your time and I look forward to speaking with you soon.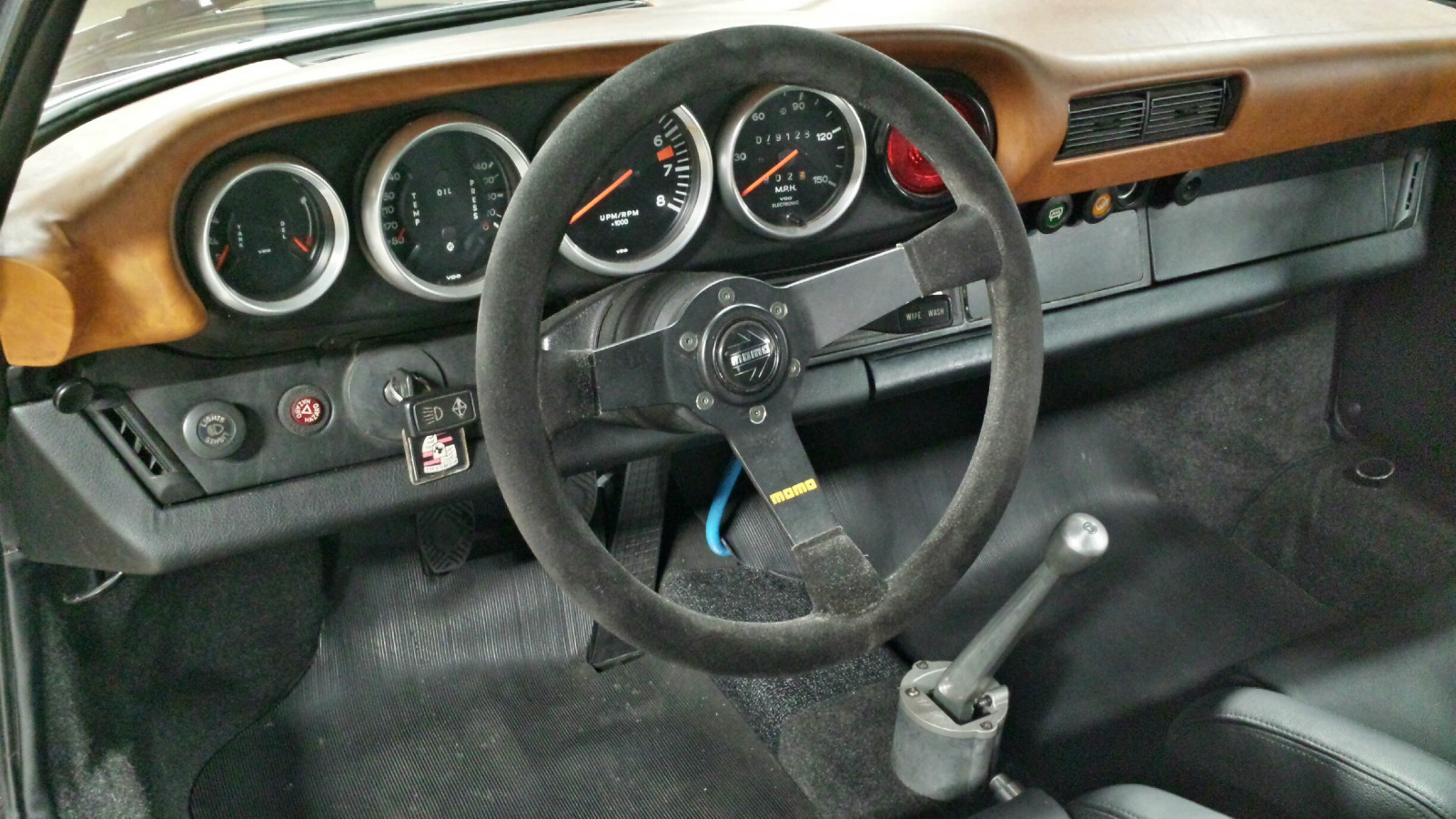 I really wish this car had a set of Fuchs instead of the Fikse wheels it's wearing now, but otherwise it appears to be very well sorted. No one will confuse it with an original RS, but I don't think that's this car's intention. It's an homage to a great design with an engine that takes it to another level. With 235 hp at the wheels and a 2300 lb weight, this car should be pretty quick and corner beautifully. The purple exterior paint provides it with a rare color that, frankly, I think looks fantastic on this design. Determining the value of a car such as this one is really a matter of finding a buyer for whom this car presses all the right buttons. While the purchase price will be far lower than that of an original '73 Carrera RS, I doubt this would be a cheap car to run if the owner plans to drive it frequently. But, a Carrera RS with an RSR engine was never intended to be the stuff of backyard DIYers. So as Ferris Bueller famously quipped, "If you have the means, I highly recommend picking one up."
-Rob