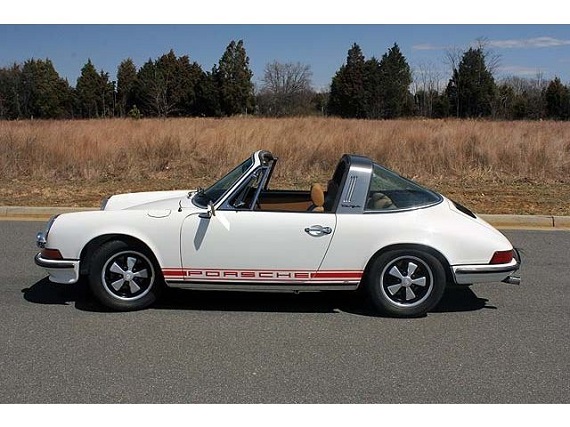 I think most of us are pretty familiar with the 911S at this point and understand the demand there is for these excellent machines. Whenever a marque with a pedigree built on performance and a strong racing history puts out a sport version of their top level sports car, then you know that the bar for greatness will be set quite high. As the years have passed since the introduction of the 911S their popularity has continued to rise and the values of the early long-hood models have soared. The bad news of that is that they are now priced beyond what most anyone other than a serious collector can reasonably afford, but such is the case with nearly all vintage automobiles with any pedigree and a serious character. We still enjoy coming across them and at least having the time to take in and linger over restored examples and other well cared for models that can inspire our dreams. Here we have one in a combination I rarely can recall coming across: a Grand Prix White 1973 Porsche 911S Targa, located in Virginia, with a contrasting Houndstooth and Tan leather interior and a reported 80,382 miles on it.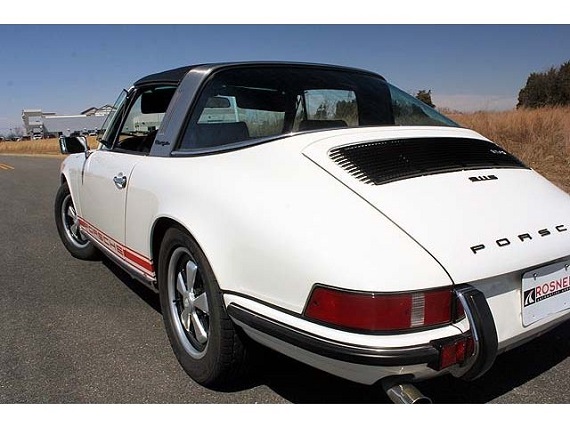 Year: 1973
Model: 911S Targa
Engine: 2.4 liter flat-6
Transmission: 5-speed manual
Mileage: 80,382
Price: $229,900 Buy It Now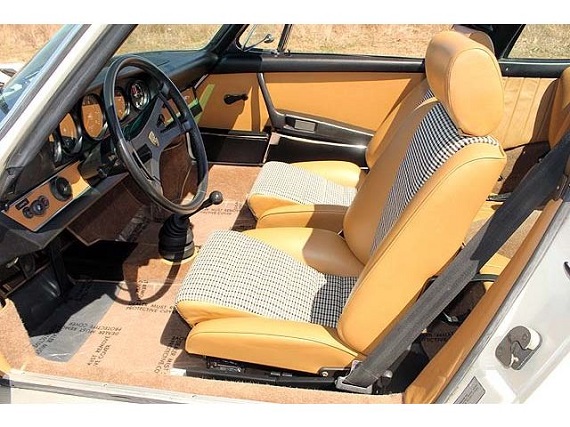 Rosner Motorsports is pleased to offer this impeccable, air cooled Porsche. Our 911S Targa has been the recipient of a world class restoration by the craftsman at Mark Allen's Rare Drive Inc. in East Kingston, NH. The matching number engine has been rebuilt by the Porsche specialists at Supertec Performance in Fallbrook, CA. Tony Garcia at Autobahn Interiors in San Diego handled restoration of the interior trim and appointments. Invoices for the restoration and detailed ownership history from new are presented in a comprehensive vehicle history binder. A veritable who's who of marque specialists are represented as having contributed to the remarkable condition and provenance of this terrific Porsche

Our Porsche is a highly optioned car featuring the Sport seat package, Blaupunkt AM-FM radio and factory air conditioning. The optional Grand Prix white exterior is complimented by the Tan leather over Houndstooth pattern interior. The air conditioning system has been removed but is available, complete and ready for re-installation. A Porsche Certificate of Authenticity is included and supports the color and equipment originality of our Porsche.

This outstanding 911S Targa has been driven just enough to be fully sorted out since the restoration. Having travelled about 100 miles since completion, the car performs as new. Performance is brisk, handling is precise and appearance is pristine. This is a car special car you can drive and enjoy while being proud to show it at any event. Our Porsche 911S Targa is market priced at $229,990 and ready for immediate delivery. Contact Bob Reilly at Rosner MotorSports 540-287-4378 /rreilly@rosnerauto.com for additional information.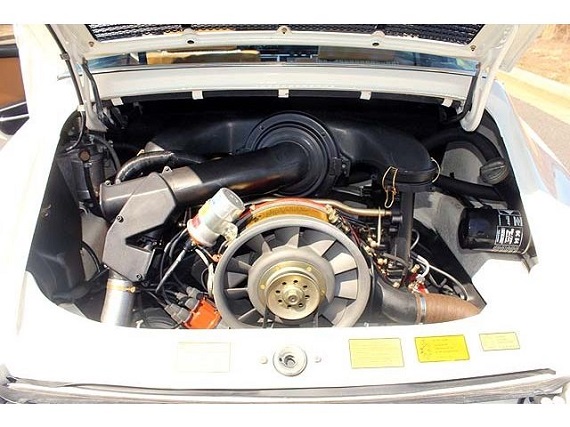 1973 was the first year Porsche offered Grand Prix White and it would persist in the Porsche lineup for more than 20 years. Like with other varieties of white paint it isn't the most dynamic color, but there is a refreshing lightness about any white paint and I find its enjoyability varies immensely from car to car. On this 911S Targa it works well for me. Though what I really enjoy about this particular 911 is the interior, especially as a contrast to the white exterior. So often we come across white cars with a black interior and I always feel that interior takes away from the lightness of that exterior color. Not the case here though and the houndstooth seating is a wonderful vintage touch that I really wish we'd see more frequently even on modern cars. All in all I really enjoy the look of this S. I could probably do without the Porsche decal along the sides, but it doesn't bother me too much. The asking price here is high, especially for a Targa, but is reflective of the general market for a good example of a 911S. I don't think it sells for this price, but it's not going to creep down into some sort of reasonable territory either.
-Rob