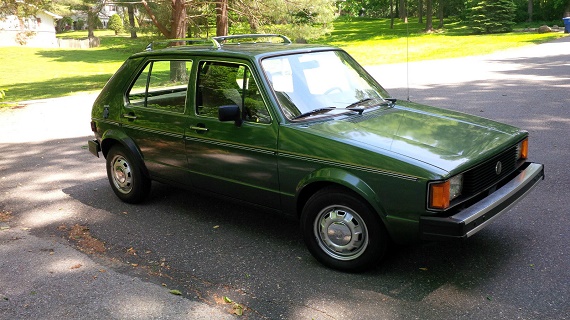 To round out my trifecta of A1s over the past two days, I thought we'd look at one that ironically brought the biggest smile to my face. It's not because it's the high performance model, nor is it because it's in the best condition. What appeals to me about this Rabbit is the simplicity and the originality of it; a preserved time capsule from less complicated times. As I read about the recall of every car with an airbag ever made, I couldn't help but ponder how complicated building and engineering cars has become. Not only do automakers need to provide a means of transportation, they need to calculate nearly risk factors, buy and install sub-contracted components that hopefully are made to specification and deliver a car to market that performs flawlessly, reliably, and economically. They need to dress these cars with the most modern conveniences; cars today read your mail, open your doors, tell you how much traffic is directly around you, how to avoid potential traffic in the future and can even tell when you're getting sleepy. If you think about it, it's pretty insane. Then, you see something like this Rabbit L. It's small, not particularly safe in a crash, not particularly luxurious, you have to do almost everything while driving it, and it will probably break. But it has a lot of character, and character is something I love: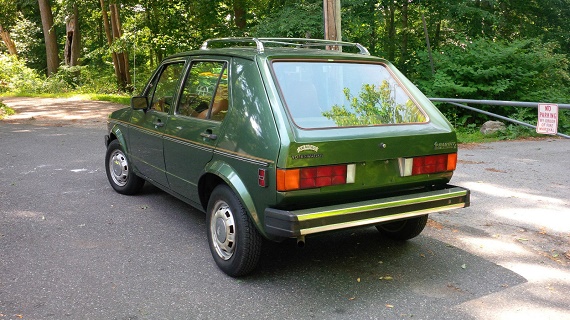 Year: 1982
Model: Rabbit L
Engine: 1.7 liter inline-4
Transmission: 3-speed automatic
Mileage: 64,915 mi
Price: Reserve Auction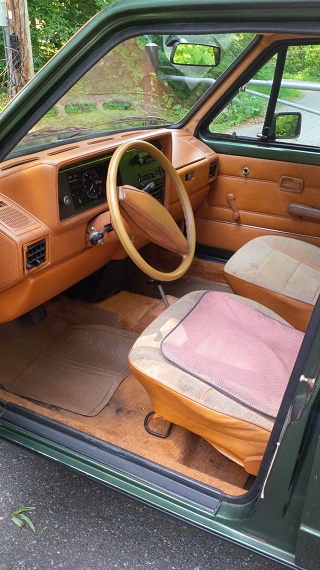 82 VW Rabbit – runs great, very clean car, interior is in great condition, we are the third owner (second owner didn't have it very long), clean, well taken care of, low miles. A few imperfections but in overall great condition, barely any rust to speak of…never driven in winter.

Text or Call Michael at 267-212-4382 with any questions.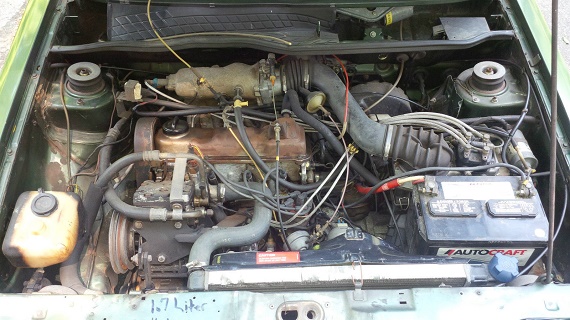 I went back and looked at the 1982 Volkswagen Rabbit brochure to get some details on the specifics of these Rabbits. The "L" model was one up from the bottom in 1982; there was a base model that was just the "Rabbit", the "LS" model had some nicer trim features (thicker carpet, velour seats, wood trim and different hubcaps) and then there was a "S" model that I don't recall ever seeing. It was part GTi and mimicked some of the details of the Scirocco S. Anyway, the L had lots of options available to it that we would expect as standard today. For example, Volkswagen touted such luxuries as a "automatic lifting parcel cover" when the hatch opened. Radios were non-standard, but the L did receive as standard "reclining bucket seats" but didn't get the vent windows, dual-control mirrors or vanity mirror of the LS. This car, however, has a bunch of optional extras – in addition to the radio, the original buyer opted for the "luxury of air condition". Power steering was non-standard on the later first generation A2s, and I don't believe I see power steering lines in the engine bay, but unfortunately the buyer did select the automatic transmission. The paint color is Forest Green Metallic, and I would guess based upon other Volkswagens that the metallic paint was also an additional fee. The options end there; no alloys or trim rings, no passive seat belts, no sunroof. It's just an honest, middle of the range 4-door Rabbit, and a neat one to see. The condition is very impressive overall for an original car; room to improve but certainly a strong basis for a classic Volkswagen. And since it already has a roof rack installed, my guess is that it's destined to be a show car for one of the Volksnation faithful. I hope that it remains in mostly original state – a reminder of simpler times and cars. As silly as it may sound, this simple Rabbit L is more appealing to me than either of the crazy modified A1s I've just written up.
-Carter