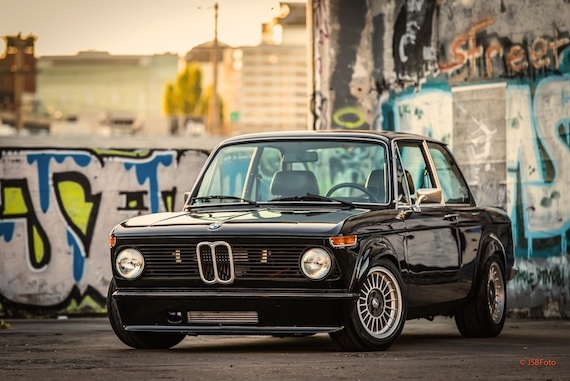 This wide-fendered, heavily modified 1974 BMW 2002tii Turbo we featured over a year ago is back up for sale. Last time, it was on offer at $38,000. Now with a reserve, will bidding reach those heights? It may not be to everyons taste, but we are big fans of the look.
The below post originally appeared on our site May 17, 2013: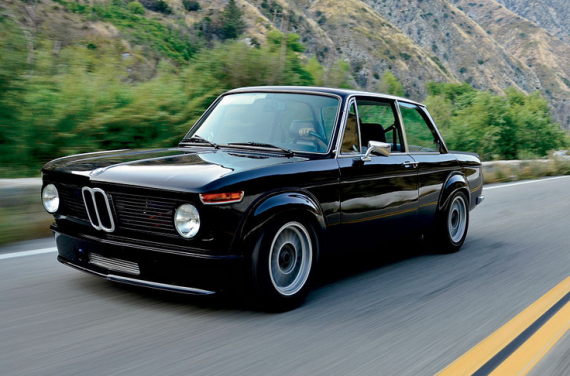 No, folks, that is not model confusion in the title. Today's 2002 comes as an interesting project from a BMW fabricator/restorer/tuner that was underwhelmed upon driving the mythical BMW 2002 Turbo. Seeking a more linear powerband and more accessible price, the creator took a recently-rebuilt 2002tii, strengthened the top end more, and added a clean turbo set up. Matching the induction are the ever-sexy 2002 Turbo fender flares and spoilers, albeit with the front lip shaved back to be nearly flush with the grill. I happen to like the cattle-guard effect of the standard lip (I own a US E28, so big bumpers aren't a problem for me), but it's hard to argue with the clean black on black aesthetic and perfect open-lug Alpina wheels. It all comes together as a more useable and holistic package than a real 2002 Turbo, but all that work has pushed the price to split the difference between a tii and a Turbo, asking a heady $38k. Even so, there are a lot of reasons to want this special bulldog over the rare Turbo.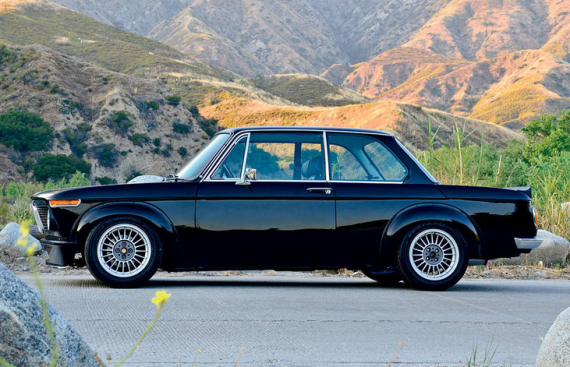 Year: 1974
Model: 2002tii
Engine: 2.0 liter turbocharged inline-4
Transmission: 5-speed manual
Mileage: 71,316 mi (10,000 mi on rebuild)
Price: Reserve auction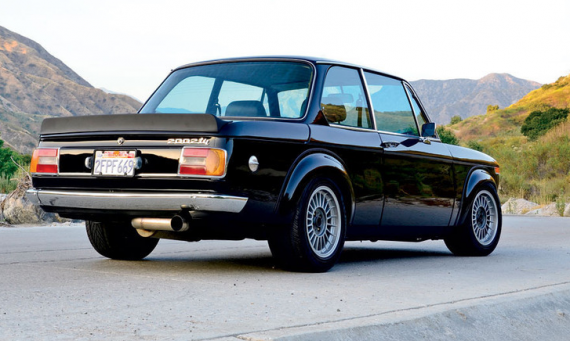 From the seller:
1974 BMW 2002 Tii Turbo

VIN 2781282

Featured in Bimmer Magazine Feb 2012

Original Tii car modified with a Turbo Kit

Faster and better handling than a factory 2002 Turbo.

This is a great looking and driving car, with many custom and special parts. It would take a lot of time and money to duplicate it. It is a rust free example, re-sprayed in its original color of black.

This project began several years ago and was done to a high standard. Starting with a 1974 Tii, the motor was freshened and then prepared for turbo use with 9.0:1 compression and ARP head studs. The turbo kit was supplied by Comp Turbo Technology. It uses a Tii exhaust system that was modified for turbo use. The engine is said to put 155hp to the rear tires. All the intercooler piping and cooling system has been upgraded as well. A lot of details have gone into this build. The mechanical fuel injection system was modified to work in conjunction with the turbo. Engine cooling was updated with an Ireland Engineering radiator and oil cooler. The 5 speed transmission is a modified 320is unit and power is delivered to the rear wheels via a custom built limited slip 4.10:1 rear end.

The chassis was stiffened in various places and Bilstein shocks along with larger roll bars and adjustable camber plates address the handling. The wheels are 8×15's and are covered by OEM turbo flares. The body is a replica of the limited number factory 2002 turbo cars. It has the factory fiberglass flares and rear spoiler. Also has a Euro rear smaller bumper. The stance is set so that it does not rub or scrape. The interior has later E21 Recaro leather seats, and a turbo style steering wheel. When we acquired the car we addressed a few concerns, replacing some gaskets and also replacing the mechanical fuel pump drive pulley and belt. The car is well sorted out and ready to go!

Call Josh at 503-475-8078 or Matt 503-819-9007 with any additional questions.
From the Bimmer Magazine article:
Take Two
Disappointed with the performance of the 2002 Turbo — and put off by its price — Mano Agulian decided to build a car that would be better and cheaper than the 1973 original.

By Zachary Mayne Photography by Zachary Mayne

Released in 1973, the original 2002 Turbo was a groundbreaking car for BMW…and for the automotive world at large. Preceding the equally revolutionary Porsche 930 Turbo by some two years, the 2002 Turbo took a giant step toward legitimizing the use of forced induction on production car engines. It may have taken BMW four more decades to fully embrace this technology, but it's now the company's preferred method for extracting the kind of high horsepower and optimal fuel economy that the market expects.

The newest BMWs, however, render their turbochargers scarcely detectable. There's none of the "turbo lag" that plagued earlier cars like the old 2002 Turbo, whose power delivery was so peaky it resembled a two-stroke motorcycle engine. When the gas pedal was floored, the driver waited…and waited…then whoosh! As the tach reached 4,000 or so rpm, the KKK turbocharger spooled up with sudden vigor and wild acceleration followed.

Or so the legend has it. When new, the original 2002 Turbo made 170 horsepower at 5,800 rpm and 181 lb-ft of torque at 4,000 rpm—quite a lot on paper from a 2.0-liter four, but not enough to impress Southern California BMW enthusiast Mano Agulian when he finally got to drive one of these sought-after cars.

"I was very disappointed," he says of his first experience with an '02 Turbo. "It didn't have the power that I was expecting."

Agulian still liked the concept of a turbocharged '02, however, so he decided to build a Turbo replica that would improve upon the original, updating nearly every aspect of the car for more performance and reliability. At the same time, he wanted to prove that he could do so without spending the huge amount of money that original 2002 Turbos are now commanding. (2002ad lists two for sale as this issue goes to press: one for $43,000 and another for $64,000.)

Manofied and turbofied

As the founder of Groma Race Fabrication of Duarte, California as well as a new venture, Manofied, which will specialize in tuning and maintaining classic BMWs, Agulian has the resources, knowledge and facilities to build the turbo of his dreams. His shop regularly turns out vintage and modern BMWs that have been improved—or "Manofied," as he puts it—to impressive levels of performance.

Agulian started the project with a tired but solid square-taillight 2002 tii that a friend drove up to his shop one day. At the time, Agulian was nearly finished with the restoration of a round-taillight tii, but he was having a hard time wrapping his head around doing all that work to end up with a car that was basically stock.

The square-headlight tii, on the other hand, seemed like the perfect base for his Turbo 2002 project, so he traded the roundie for it and went to work. The tii's M10 motor had been recently rebuilt, so Agulian simply removed the head and refurbished it with heavy-duty valve springs,ARP head studs and a thicker Cometic head gasket to ensure that the seal between the head and the block could withstand the rigors of forced induction. The thicker head gasket lowered the compression ratio to around 9.0:1, notes Agulian, down a bit from the tii's 9.5:1 but still much higher than the 2002 Turbo's 6.9:1.

Comp Turbo Technology in San Dimas provided a custom hybrid turbo for the project. The housing is actually a bit smaller than the original 2002 Turbo's KKK unit, increasing access in the engine bay and making the overall conversion tidier. The turbo is mounted to the side and at the top of the engine bay, rather than down low by the exhaust as on the original Turbo. Not only does this allow for easier access, it also looks better, since the turbo is easily visible when the hood is opened. Inside the housing, Comp installed a special compressor wheel that is designed to produce progressive boost rather than behave like an on/off switch.

The stock tii exhaust manifold was retained, though here it delivers exhaust gases to the turbo through custom piping. Spent gases exit via a 2.5-inch, mandrel-bent stainless steel exhaust system that uses a resonator in the midsection and a muffler at the end, both from Magnaflow. Agulian wanted to keep the setup relatively simple, particularly from a maintenance and reliability point of view. The tii's Kugelsfischer mechanical fuel injection was adjusted to provide additional fuel pressure but was otherwise left stock with the exception of its cold start injector, which Agulian replaced with a 750-lb Bosch fuel injector.

He then enlisted Mark Amarandos at Split Second to install and program a controller that uses vacuum and engine speed readings to determine how much fuel the engine needs, in particular adding more fuel at full throttle. Agulian says that Amarandos' work was the final piece of the puzzle that yielded a smooth-running engine that produces consistent power throughout the rev range. A larger Ireland Engineering aluminum radiator replaced the stock radiator, and Ireland also supplied an engine oil cooler as well as an intercooler with silicone hoses to keep intake charge temperatures at manageable levels.

Tested on the dyno with the turbo running a relatively conservative 7.0 lbs. of boost, the 2.0-liter M10 four produced 155 rear-wheel horsepower and 167 lb-ft of torque. That's roughly 11 hp and 13 lb-ft more than the original '02 Turbo, assuming a 15% loss through the drivetrain. The 2002 now delivers that power through a close-ratio five-speed transmission from a 320is and a custom-built 4.10:1 limited slip differential that uses E36 gears with 40% lockup inside a 320i housing.

Lower and stiffer

Agulian had addressed the lack of usable power he'd experienced in the original 2002 Turbo, but that hadn't been his only complaint. As a builder of cars that are as much at home on a race track as they are prowling the boulevard, he didn't feel his new project's handling was up to par even though its suspension had been recently refreshed.

To address that deficiency, he welded and boxed the lower A-arms and front subframe for added rigidity, then swapped the struts and springs for Groma's custom coilovers. These use 325-lb. springs from Ireland Engineering around Bilstein Sport dampers mounted inside shortened strut housings, which lowers the BMW's center of gravity while maintaining full suspension travel. He also installed firmer urethane bushings wherever possible, along with adjustable upper camber plates and a strut tower brace. An adjustable 22mm Ireland Engineering anti-roll bar rounds out the front suspension changes, here with the mounting points relocated to increase the bar's rigidity.

At the rear axle, adjustable camber plates were welded onto the subframe; to these mount Bilstein Sport shocks and Ireland Engineering lowering springs. An adjustable 22mm anti-roll bar and urethane bushings complete the rear suspension mods. Where the original 2002 Turbo came with steel wheels or optional 14-inch alloys, Agulian went one better, installing a set of 15-inch Alpina-style alloys that measure 8.0 inches wide at all four corners and fill the wheel arches with 225/50-15 Kumho Ecsta tires. Behind the wheels, the brake system is comprised of E12 5 Series calipers clamping Volvo rotors up front and drum brakes sourced from an E21 3 Series at the rear.

OEM Turbo flares were ordered from BMW, as were the front and rear spoilers. The front spoiler, however, has been trimmed and moved back about 1.25 inches for a more integrated appearance, a subtle change that improves the BMW's looks. Deleting the side markers and chrome trim further cleaned up the 2002's exterior, which Agulian had resprayed in its factory-original Black, a somewhat rare color from the days of "safety colors" like Golf yellow and Inka orange.

Better handling and just enough power

When Agulian hands over the keys for a test drive, I climb into an interior that has also received a thorough going-over, with new door and rear panels, carpeting and headliner. A pair of reupholstered Recaros from a 320is provide a comfortable, secure position from which to drive, and a three-spoke, period-correct sport steering wheel frames the 2002 gauge cluster with its legible, easy-to-read dials. Otherwise, a boost gauge mounted discreetly in the center console is the only tip-off that this isn't a normal 2002.

When I turn the key, the engine fires with a raspy burble through the Magnaflow muffler. At lower rpm, the BMW feels pretty much like a stock tii, with a nice wedge of torque from the eager engine propelling the car forward. As the tach needle arcs toward and then past 4,000 rpm, however, everything changes. The hybrid turbo comes on boost, and acceleration ramps up considerably. It's not a sudden burst of power, but you can definitely feel it.

While the turbo makes itself known at around the same engine speed as an original 2002 Turbo, the smoother, more progressive power delivery of Agulian's car makes everything feel better-sorted. And because it's running relatively low boost pressure, the motor feels nicely understressed, encouraging me to wring it out to redline as often as I find enough straight road. While a full bar of boost would likely add another 30 or so horsepower, the performance of the car as it is feels close to that of an original Turbo…but better, just as Agulian intended.

Straight-line speed holds its own appeal, but this '02 wasn't built to be a drag racer. Instead, it was designed as a well-rounded canyon carver, and indeed the BMW sticks like a the proverbial leech through a series of curves, with impressive mechanical grip considering the relatively small 225-series tires fitted to each wheel. The modified suspension and perfect alignment result in an extremely nimble little coupe. Some drivers might find the stiffer setup a turn-off, but the firm ride feels like a good match for the turbocharged power on tap. Add to that the close-ratio gearing and you have a sure-fire recipe for big fun. "I wanted to build a car similar to what someone would have built with a 2002 Turbo back in the '70s," says Agulian.

And that's exactly what he's done, crafting a modern take on a retro tuner car. In avoiding the temptation to crank up the boost for maximum horsepower and instead constraining the project to extract more refined performance, Agulian has created a well-balanced turbocharged '02. Starting with the basic ingredients from BMW's 1973 concept, he's polished them into a far more driveable package, one that's very much like the original, only better.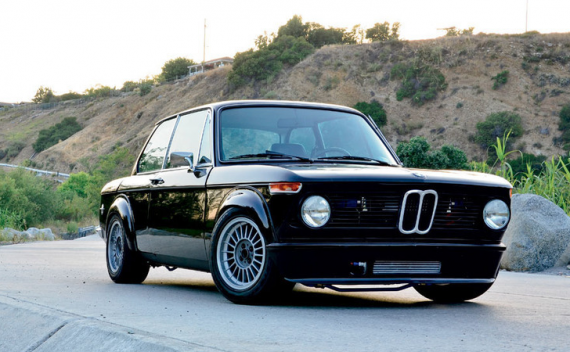 Hard to find many faults on this 2002 other than a high price, but it seems the craftsmanship and overall package could make it worth it to the right enthusiast.
-NR