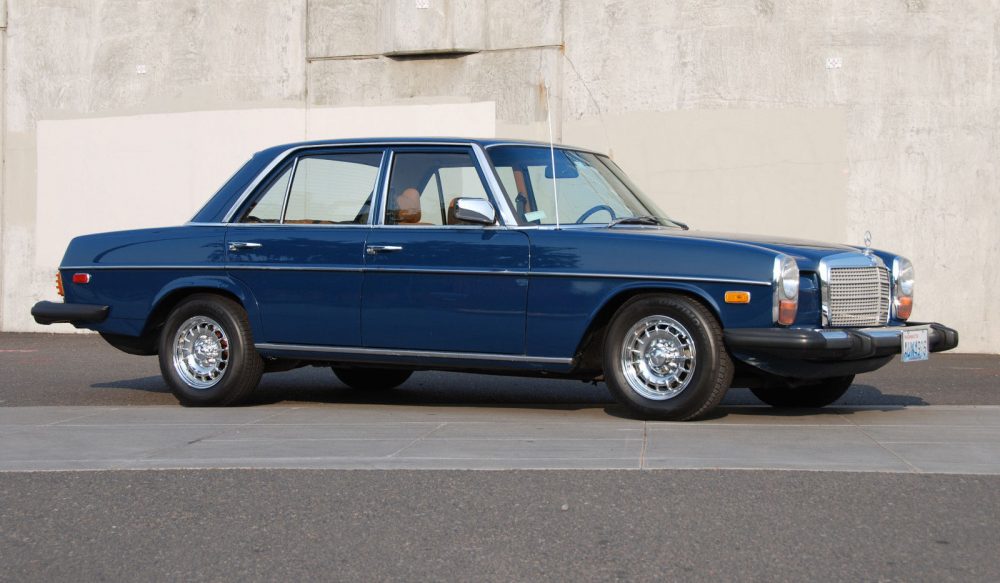 A few weeks ago I looked at a nice 1982 Mercedes-Benz 240D that sold for a really fair $7,500. I confessed my admiration for the W123 and all that it can do, as well as what it can't. Today, I came across a very interesting W115 240D up for bid in Portland, Oregon that deserved a closer look. I think the W115 in general gets overlooked at times because it isn't the W123 but that doesn't it isn't a great car on its own. At first glance on this 1974, everything looked great with major recondition on both the exterior and interior. It wasn't until I saw the photos under the hood and read the description of this car to see that this really wasn't a 240D. At least not anymore. Let me explain.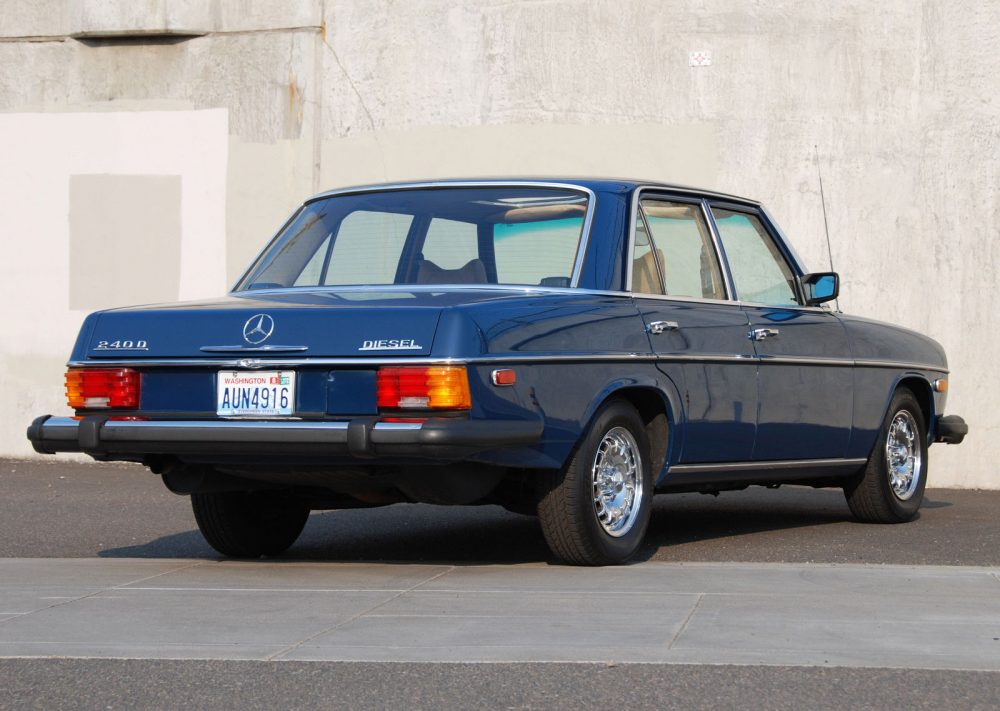 Year: 1974
Model: 240D
VIN: 11511710044267
Engine: 3.0 liter inline-5
Transmission: 4-speed manual
Mileage: 102,566 mi
Price: Reserve Auction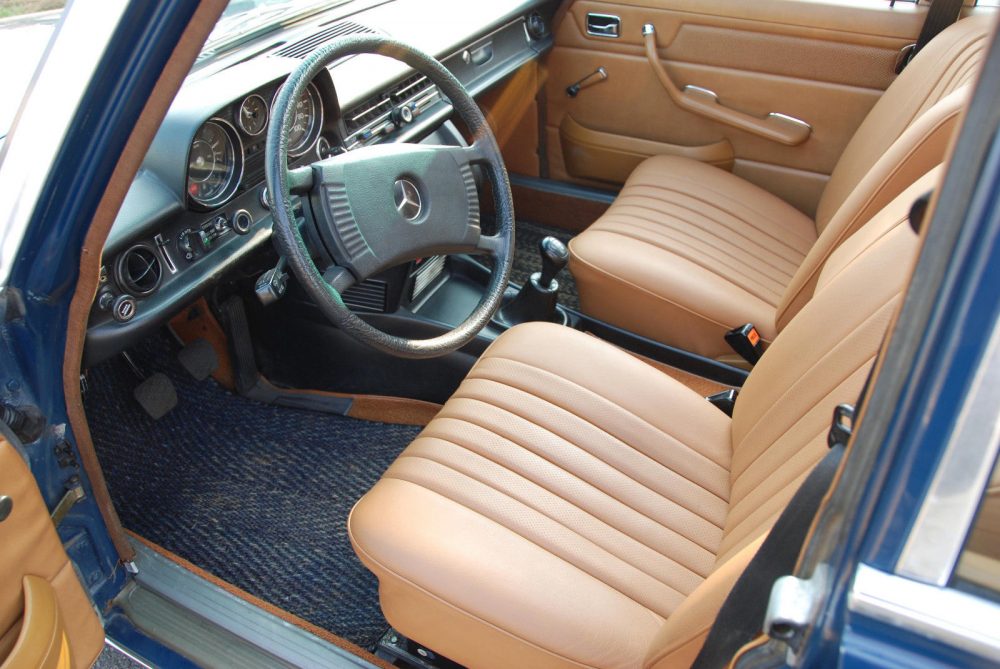 1974 240D Mercedes-Benz (Like new – no expense spared restoration)

Vin: 11511710044267

Miles: 102566

History: The car was purchased new and has been driven by the family patriarch most of its life. The kids loved it so much it was the recipient of a total no expense spared restoration in 2014.This is not the kind of car that gets restored but being in well off family it had sentimental value so it got everything. All documents are present and it has the data card and plate issued to the owner with it. It's been maintained to high standard all its life and received over $25,000.00 in 2014 to take it to almost new status.

Engine & Transmission: The manual transmission shifts smoothly and runs strong. The 3.0 L OM617 I5 straight 5 diesel engine was put in (factory crate) engine and the transmission as well. All the suspension was redone, gas tank, radiator and breaks are new.

Body: The paint on the car is very nice. I would grade the paint an 8 on a scale from 1-10. It has some small rock chips on the front by the headlamps (see photos). The rubber and chrome are good and there are no dents or waviness when you look down the car. The car is free of rust and corrosion except for the bottom of the rear quarter panels. The tires are in great shape and have 80% tread left, the chrome rims are in excellent condition.

Interior: The leather interior was ordered from the factory and has been restored, it has new matts and the hard to get to blower was rebuilt. The A/C blows cold. The dash is free of cracks. An aftermarket radio is in dash and four modern speakers put in. The carpet is original and worn in places. The steering wheel is very nice and glovebox is very clean. The door panels look new.

Summary: This is a wonderful original example as you don't see these cars in as new condition very often. Some people restore cars for money this car was restored out of family passion. Now it is time for the next owner to enjoy the car.

Feel free to contact me for additional information.

I take great pride in my eBay rating and accurate description of this car. I reserve the right to end the auction early. I invite all inspections prior to bidding.

I will contact the winning bidder via email after the auction ends. Car is sold as-is with no warranties express or implied.

I require a $1,500 deposit (paypal or bank wire transfer) within 2 days. Balance is due (bank check or bank wire transfer only) within 7 days of auction end. Delivery upon funds clearing the bank.

The transport cost is the responsibility of the winning bidder, I will help with logistics.

Thank you for viewing my auction listing.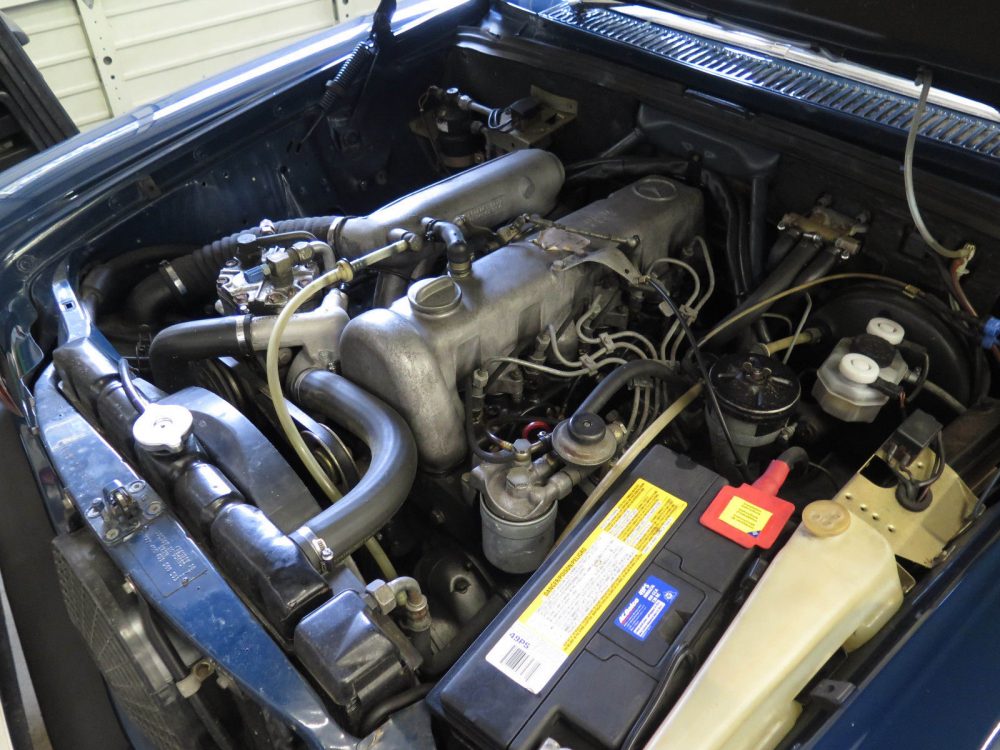 I don't see a lot of these W115s restored or at least rejuvenated for whatever reason so this car is a little bit of a surprise. The interior is the real gem of the car with recovered seats and a very rare crack-free dash. The outside of the car looks wheel enough with great looking paint but the real gem is what is under the hood. The 4-cylinder OM616 was swapped out for a naturally aspirated 5-cylinder OM617. You might be saying "Well, Mercedes made a W115 300D. So what is the big deal?" The difference here is that this car kept the 4-speed manual transmission which wasn't available with the 300D. That combination means that this car should have just enough pep to keep up with traffic and be very enjoyable to drive on a daily basis if you wanted to do that. Is this a perfect car? No, it has a few small imperfections, but that doesn't mean it isn't one of the better W115s I've seen in a long time.
As far as pricing goes, I'm betting this one will bring a pretty penny. Portland is such a hot spot for a car like this so I expect the local bidders to be all over this car as well as anyone on the west coast. If you told me to take a guess, I'd say it will probably bring $7,500 and might even hit that $10,000 if it has the right bidders. Cars like this one don't come around often with the OEM plus style engine swap as well as the redone interior. I can't wait to see how much it goes for.
– Andrew