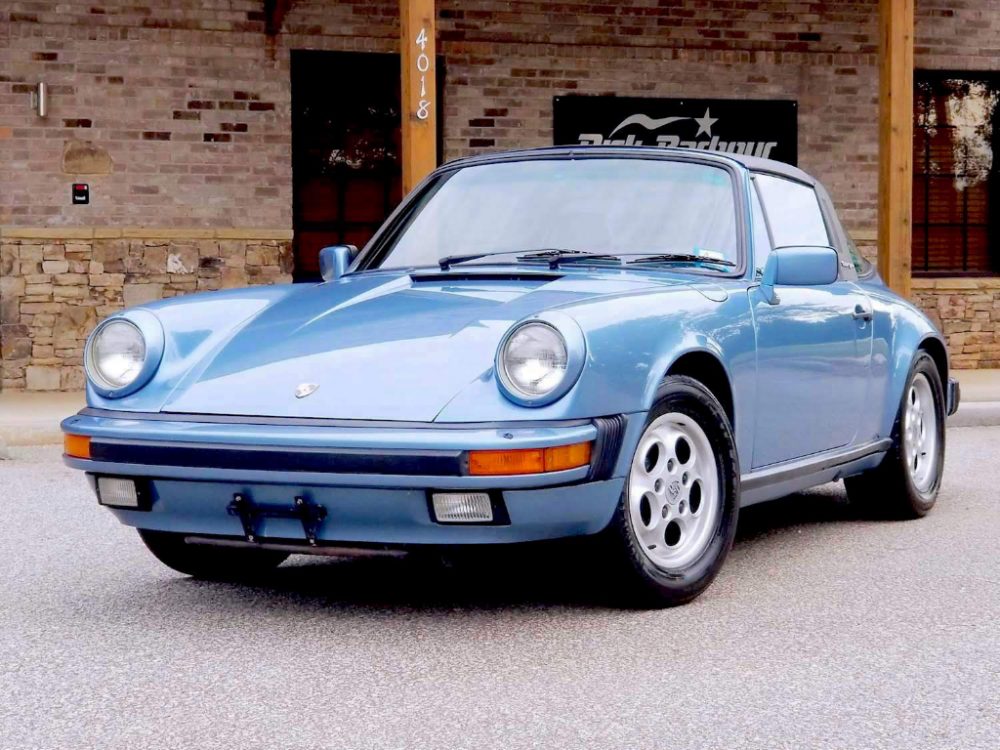 I'm going to begin this post with a little bit of a tangent. In yesterday's write-up of a Speed Yellow GT3 I mentioned that it is my favorite of the 996 GT3 colors. However, that's only partially true because I knew even when writing that there is always an exception. The problem is that there is only one: a paint-to-sample Minerva Blue Metallic GT3. Paint to sample wasn't really a popular option during the 996's production. So while it seems like almost every GT3 produced today is paint to sample this wasn't the case with earlier models and we so rarely see them that if I want to speak of favorites it makes more sense to refer to the primary colors that were available. But I know that Minerva GT3 exists and I, of course, began searching for it again just to remind myself of its beauty.
That more or less brings us to this Iris Blue Metallic 1986 Porsche 911 Carrera Targa. Obviously, it isn't Minerva and Minerva is a better color, but the early Iris Blue – note that the color changed significantly on the 993 – possesses a similar level of beauty. Porsche blues are some of my favorites and I'm reminded of that nearly every time I come across one. There's variety spanning the whole spectrum from seemingly black dark blues to the brightest blues we can imagine. Whether metallic or non-metallic they bring out some of the best in any 911. Whoever chose to build that Minerva Blue GT3 made an inspired choice.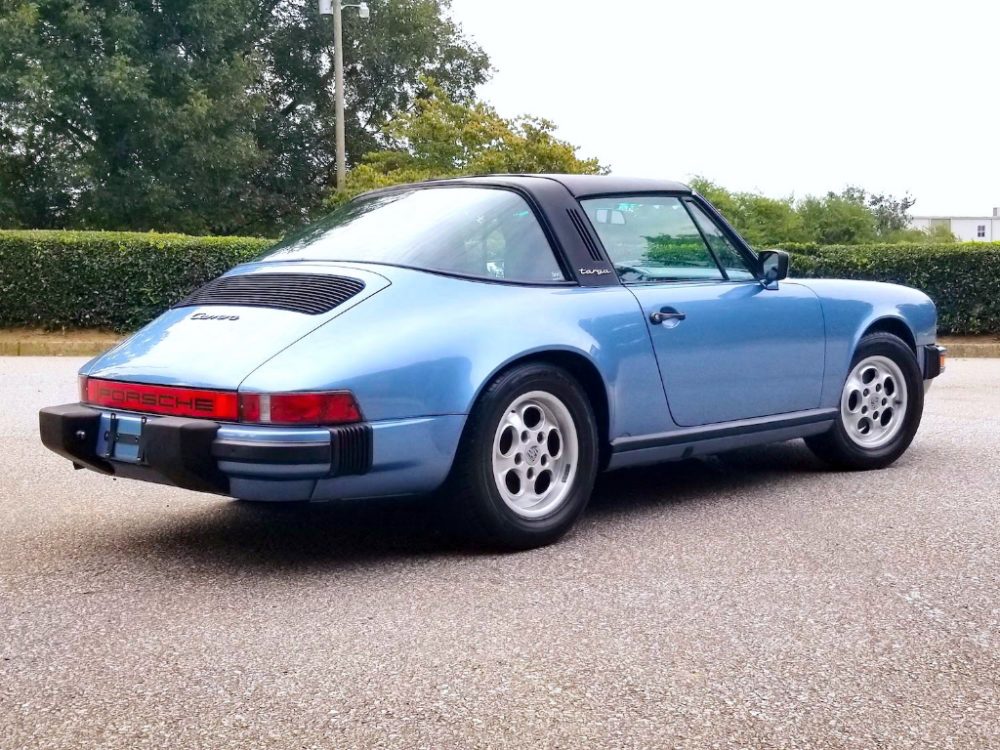 Year: 1986
Model: 911 Carrera Targa
VIN: WP0EB0910GS160955
Engine: 3.2 liter flat-6
Transmission: 5-speed manual
Mileage: 89,907 mi
Price: $44,900 Buy It Now
1986 Porsche 911 Targa.

Vin WP0EB0910GS160955.

5-Speed Manual.

89,907 Miles.

Iris Blue Metallic (Rare color).

Blue Leather Interior.

Clean Carfax.

A highly original car.

Manuals, 2-Keys, Recent Service Records, Tools, Spare and a Jack.

A complete write up coming soon…

Collector car financing available at competitive rates.

Vehicle Disclaimer:

We make every effort to provide you the most accurate, up-to-the-minute information on all of our vehicles in our inventory. However, please do verify with us before purchasing that all the information is correct and up to date. Also, unless we take a deposit, any car is fair play and up for sale.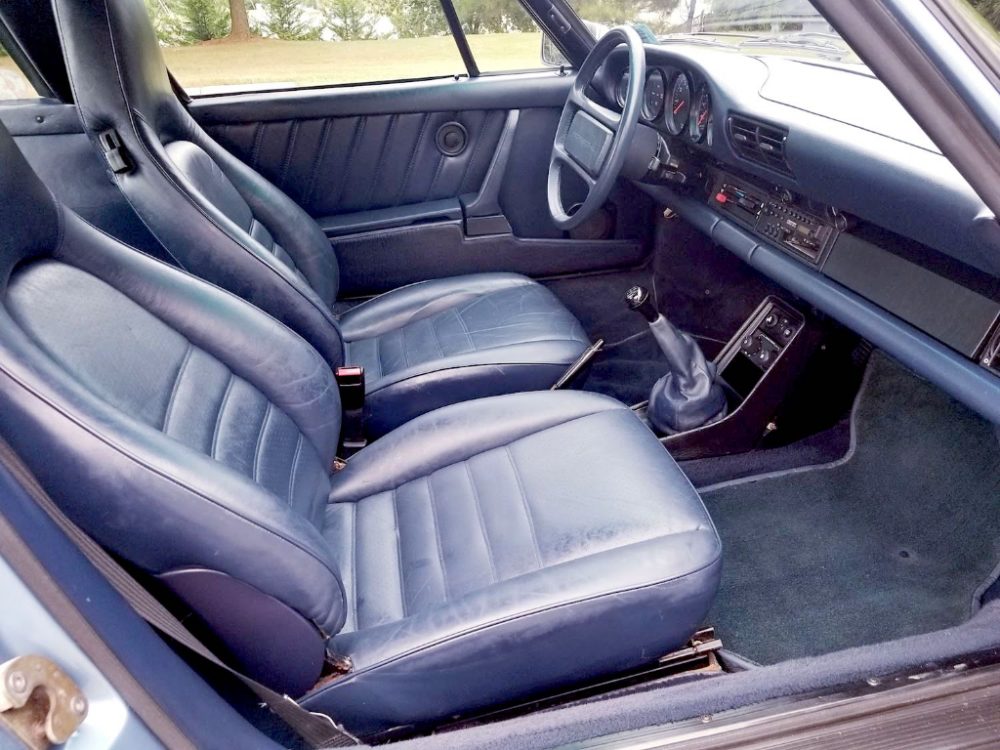 Blue on blue seems like a combination that was everywhere in the '80s and then barely existed afterward. And by everywhere I mean that it existed. A blue interior always was a pretty rare thing. There's probably very good reason for that just as we don't see green interiors very often anymore either. Red we see a lot, then and now, but not blue. I'm not sure I know why except that it seems when I do see a blue interior it almost always is paired with a blue exterior and that in itself is the problem. Why the requirement that it must be monochromatic? Does blue not work at all with other exterior colors? Perhaps it doesn't, or perhaps it simply isn't popular enough that many ever tried. Anyway, this Targa goes the blue on blue route. It looks fine, though as usual the colors are a little too similar. For those who might be fans, the interior of this one does look in pretty good shape. There's a bit of wear, but I don't see anything that would cause me grave concern. There might be a hole in the passenger side floor mat, but that doesn't seem like a big deal. It's not perfect, but on a 30-year-old car that's been driven a bit I think we can feel pretty good about what we see. It also appears to original.
The exterior falls into the same category. It isn't exceptional, but does look quite good. The phone dials are an interesting choice and I'm not sure I've seen them on a 911 of this vintage. Were they an available option? I can't say I prefer them to the usual Fuchs, but that's largely because they look quite narrow. Overall, this would never be considered the most aggressive or sporty looking 3.2 Carrera. It is attractive and looks in nice condition and should make for some nice relaxed drives with that Targa top removed.
Other aspects of this 911 require some questions. The ad states more details will be coming soon so we can hope those show up. Or a phone call may suffice. The price isn't too bad, though I think it's more in line with what you'd expect for one of the G50 cars than for a '86. Assuming the other details check out it does provide a reasonable starting point.
-Rob