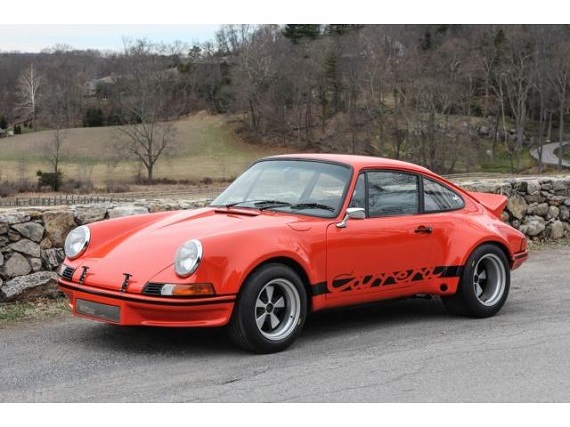 At first, I was a little hesitant to feature this 911. Like many other similar builds the price here is very high and probably won't garner it too much interest, but there are a lot of little details of the build that I like and overall the finished product looks fantastic. I mean, they painted it Tangerine so how could I resist? As backdated 911s go this one didn't have to travel far back in time, but the differences in appearance are nonetheless tremendous. Originally a 1974 911 the builders needed only return to one year earlier for the inspiration for their design. Of course, 1973 is the common year chosen as the source material for most backdates since it is either the look of the Carrera RS or the RSR that typically serves as the desired outcome. While the body of this 911 is from 1974 the engine is not. In place of the constricted 2.7 liter units standard in '74 is a 3.2 liter flat-six mated to the standard 915 5-speed transmission. That 3.2 liter should provide much better reliability and power and is a common choice we see for many upgrades of this type. Much of the rest that is of interest lies in the cosmetic details ranging from the widened rear fenders, which are filled completely by 11 inch wheels, to the minimalist interior fitted with tartan covered bucket seats. It appears to be a nicely put together package and should provide a healthy level of performance, if not quite RSR levels of ferocity.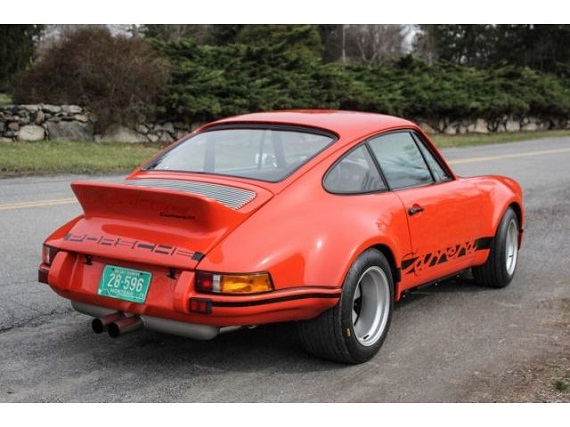 Year: 1974
Model: 911
Engine: 3.2 liter flat-6
Transmission: 5-speed manual
Mileage: 77,500 mi
Price: $145,500 Buy It Now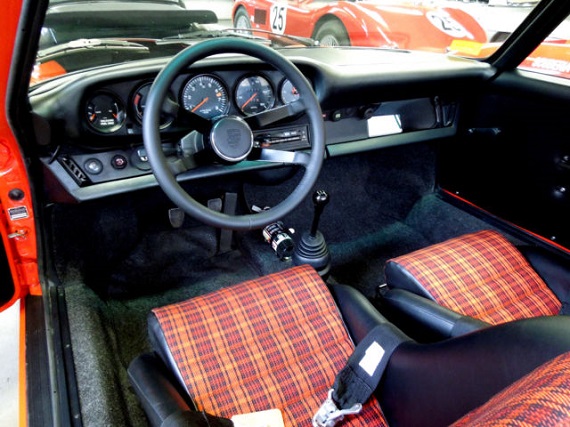 1974 /1973 Porsche 911 Carrera RSR Homage

The Porsche 911 RSR is a true legend in the history of the great Stuttgart automaker. Based on the 911 Carrera RS 2.7, a homologation special which debuted in 1973, the RSR took the basic formula of the RS and turned it up to 11. The already flared fenders of the RS were widened further, more material and comforts stripped away for greater weight savings, and a highly tuned 2.8 liter version of the mechanically injected flat six was dropped in. The RSR was intended strictly for motorsports duty and used by factory supported teams and sold to qualified customers. Today, the 911 RSR is a true blue-chip collectible car valued solidly in seven-figure territory, on the rare occasion that one comes up for sale, that is.

Offered here is a car that starting life as a 1974 – 911 coupe, this fantastic RSR tribute is freshly built to a high standard with outstanding attention to detail. Its current transformation started with a full media blasting and then adding butt-welded factory steel panels, and has also been upgraded with Carrera 3.2L motor. As part of that conversion, the entire 3.2 wiring harness and instrumentation were installed to ensure trouble free running. Mechanical upgrades front-mounted oil cooler, new clutch, fly wheel, throw-out bearing and pressure plate. New steering rack, all new shocks, new alternator, aluminum coated tuned headers, ceramic coated muffler.

Bodywork and paint was performed by a body and paint professional who has over 20 years of experience in restoration, with several of his projects taking class wins at Pebble Beach and Amelia Island. All paintwork was done using Glasurit products. The resulting finish is spectacular, with laser straight reflections and outstanding panel fit. New rubber seals and signal lenses were fitted as part of the reassembly. Turn signal extensions welded in, and high quality panels fitted that properly backdate the car to long hood spec. The body is finely detailed with many period correct touches such as rubber safety catches on the bonnet and engine cover, Carrera stripes on the sills, and a gorgeous set of correct style Braid wheels, 15 x 9 up front and 15 x 11 in the rear, wrapped in properly sized vintage look Michelin 15TB tires.

In the businesslike cabin, no stone was left unturned to ensure a true RSR experience. Exquisite vintage-style seats were built to order and upholstered with black vinyl bolsters and custom Tartan cloth inserts. Custom stitched dashboard with correct Perlon carpet that was professionally fitted along with a new headliner and new sun visors. RS-style door panels add to the minimalist feel of the car as well a correct deep dish RSR steering wheel. A 915 – 5 speed gearbox with a nod to modernity, a Wevo short shifter that drastically improves the shift feel.

The strong running 3.2 liter six was recently treated to a tune and full leakdown/compression test performed on 1/15/2016. The results show a very healthy engine: Compression shows 150- 155 on all cylinders. Leakdown is very strong – an average of less than 3% across all cylinders.

So much more than just a cosmetic conversion, this car brilliantly captures the hardcore spirit of the RSR. Thanks to the thoughtful detailing, the instant power delivery from the engine and the magnificent soundtrack from the custom made 3 inch center stainless exhaust, the drive lives up to the looks.

Please look through our full gallery and enjoy the video that accompanies this listing. This is a very special car that is so much more than the sum of its parts. It is a labor of love, carefully and professionally built by a passionate group of enthusiasts who bring it all together. The resulting car is beautiful to look at and an absolute thrill to drive. We are in the process of building similar cars and welcome inquiries for future examples. Please do not hesitate to contact us with any questions you may have.

Call with any other questions 7 days a week until 10 p.m. EST Richard 646-477-8004. We have financing options as well as free pick up from New York Metro Airports. Arrangements for low-cost shipping directly to your door are also available, international buyers welcome.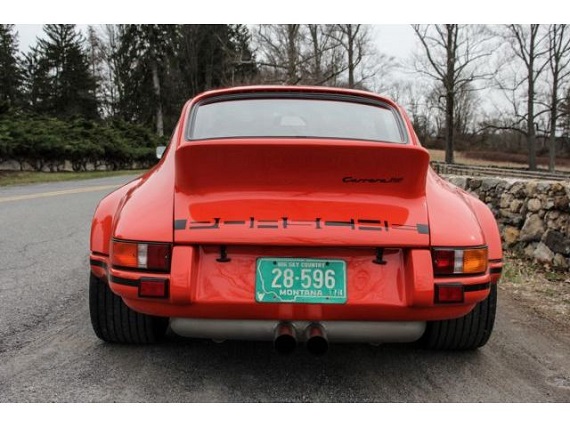 While I may certainly be wrong, my general sense is in order to reach this kind of asking price the build probably needs to use a more powerful engine. They could have gone the route of Singer and sourced one from the 964 or even have built up the 3.2 liter engine used here. A standard 3.2 just doesn't seem to be enough when the price is $145K, but this isn't an uncommon problem on backdated 911s. The cost of the real thing is so prohibitive that even at these high prices some may begin to try to talk themselves into it. I do like the build though, love the exterior look, and hope that it falls to someone who will really enjoy it. We see a lot of modified 911s, but this one moves quickly up my list of favorites.
-Rob