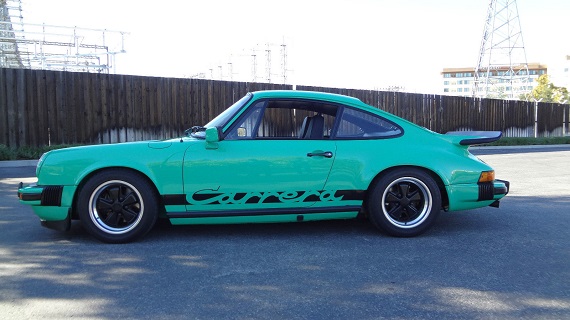 I've been trying to find a greater number of 911s that fall within the reasonable value spectrum – cars that perhaps more of us could aspire to own. This is not one of those cars, but I couldn't pass it up. Here we have a restored Mint Green 1976 Porsche 911 Carrera 3.0 Coupe located in California. We should not let the ad's mileage statement fool us: this has not been a garage queen. While it has not traveled much over the past twenty years – only 10K miles since the completion of its restoration – the first two decades of its life were lived quite fully as it traveled nearly 150K miles. Now it has been brought back to its former glory and looks in very good condition with little evidence of all those miles traveled. The Carrera 3.0 is a special model that we don't see many of. Never available in the US they were an evolution of the Carrera 2.7 MFI, which itself was an evolution of the iconic 1973 911 Carrera RS, and they used a naturally aspirated version of the 3.0 liter flat-six found in the 930. These were a far cry from the 911s we had here in the US during those years, showcasing both more power and less weight. And, of course, their lineage makes them quite desirable.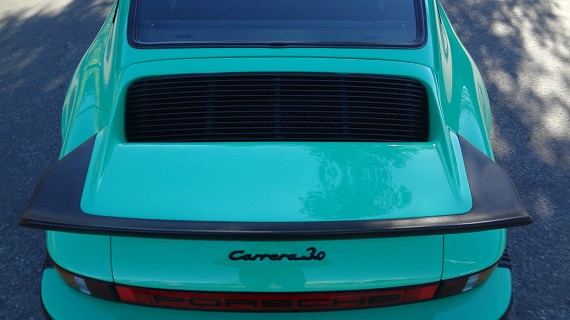 Year: 1976
Model: 911 Carrera 3.0
Engine: 3.0 liter flat-6
Transmission: 5-speed manual
Mileage: 10,000 mi since restoration (234,472 km prior)
Price: Reserve Auction ($250,000 Buy it Now)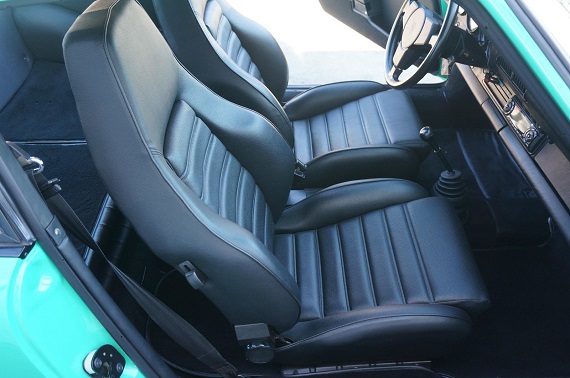 Fully restored concours ready car was offered by Porsche between 1976-1977 and not available in the US.

This car was built in between two other models in the 911 line up: the standard 911 and the 911/930 Turbo. During its two year life span, only 3687 cars were built. Of these, 2564 were coupes and 1123 were Targa's.

For production year 1976 the Carrera 3.0 Coupe totals were – 1093 units, RHD – 487, LHD – 606

Performance numbers for the Carrera 3.0 are similar to those of the famed Carrera RS of the early 70′s and it's the last time Porsche would use the Carrera name until the Mid 80′s.

VIN – 9116600543 Engine – 6660941

Purchased in 1994 (with 234,472KM on speedo) by the current owner in CA

The owner/restoration mechanic worked for Jerry Woods Enterprises at this time

Worked on the restoration during the next 10 years, 2003 complete

Driven only ~10,000 miles since restoration

Complete engine rebuild

Complete gearbox rebuild with Quaife LSD

All running gear replaced as new

Only non-stock modification are the 23mm sway bars build by Smart Racing

Torsion bars – 22mm front, 30mm rear

All bushings are new stock rubber

Whale tail installed

Carrera 3.0 full option list, climate control, power windows, power driver's mirror, sunroof delete

Original Fuchs – 15×7 front, 15×8 rear

Full interior restoration with new Porsche components

Everything from bumper to bumper has been restored to new condition

MORE PICTURES AND BUILD SHEET AVAILABLE – Ask for link to dropbox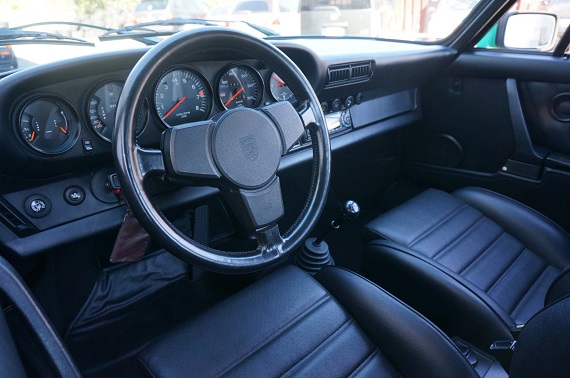 The market for the Carrera 3.0 has been interesting to me. As an evolution of the very desirable Carrera 2.7 MFI we would probably expect values to be similar, though above, what we see for those models. However, because the Carrera 2.7 MFI utilized the same engine as the Carrera RS and was in spec basically a RS Touring with impact bumpers, then it has been in very high demand. As Carrera RS prices began to eclipse $1M that significantly raised the demand for the mechanically similar Carrera 2.7 MFI. Because it lacks the shared DNA of the Carrera RS demand for the Carrera 3.0 has remained lower. Much lower. Now, to be clear, these are not cheap – as evidenced by the prices in play here – but they remain a ways behind their predecessor even if they are actually a step forward. So I'll be curious to see how bidding goes on this one. It has a ton going for it given its color and current condition and if its originality and the work performed is all documented then it should fetch a pretty high price. I don't know if it will reach as high as this asking price, but it should be pretty high.
-Rob