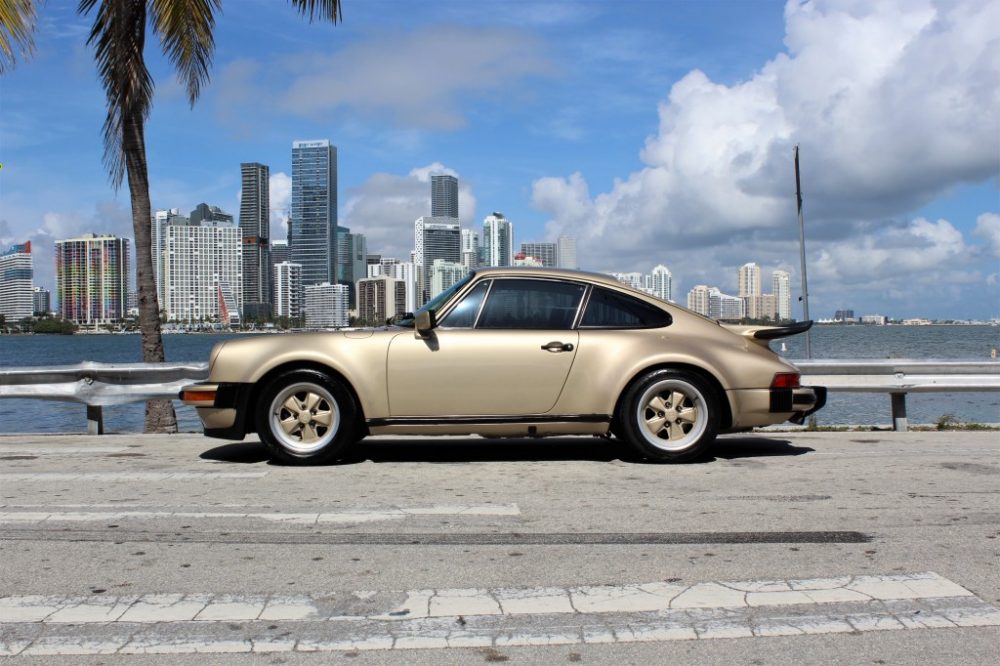 I feature a lot of Porsches and generally feel I have a pretty good handle on the various 911 models and editions that have been produced. At one point or another I have featured pretty much all of them. There are exceptions, there are always exceptions. Here is one that I did not know existed: a 1976 Porsche 911S Signature Edition. To be honest, I don't know exactly what the Signature Edition is supposed to commemorate. Or perhaps it isn't supposed to commemorate anything given that I can't find anything out about it. It is called the Signature Edition because each of the 200 examples produced has Ferry Porsche's signature on the steering wheel. Maybe one day he just felt like signing a steering wheel and, behold, the Signature Edition was born.
The details that set apart the Signature Edition aren't limited to a steering wheel. You got a special Platinum Metallic exterior with color-matched cookie cutter wheels. But the interior is where these 911s really stand out. It's a tan leatherette with black dash along with tweed seat inserts and door panels. Even that signed wheel was a contrasting tan and black (and also very ugly). With its mix of beiges and browns the Signature Edition is perhaps the most '70s version of an car I can imagine. I won't call it a pretty car by any means, but let's call it period correct. That sounds better.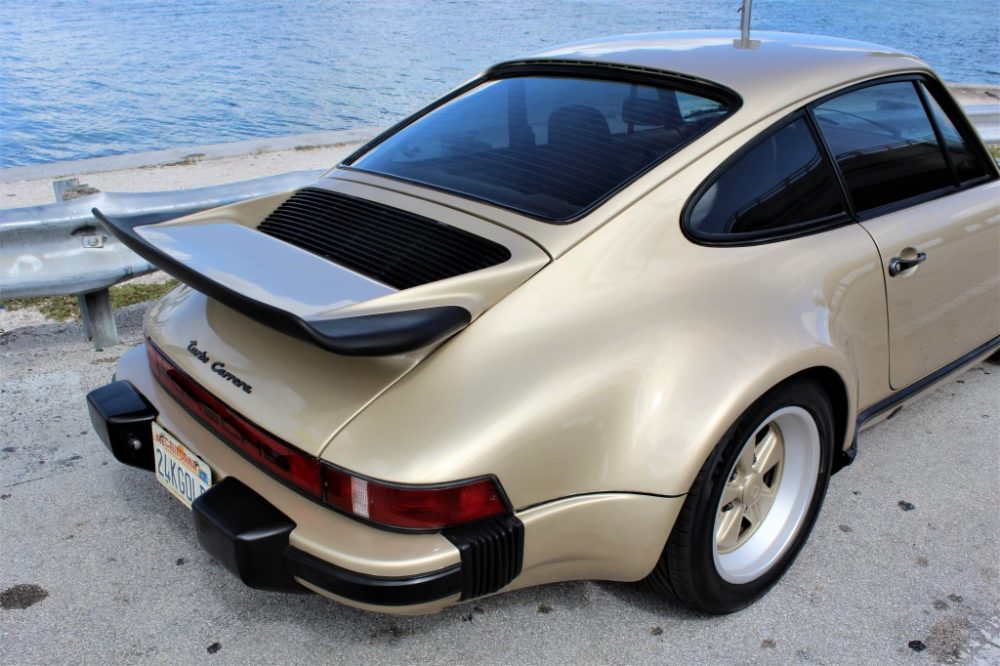 Year: 1976
Model: 911S
VIN: 9116200103
Engine: 2.7 liter flat-6
Transmission: 5-speed manual
Mileage: 50,250 mi
Price: $114,990 Buy It Now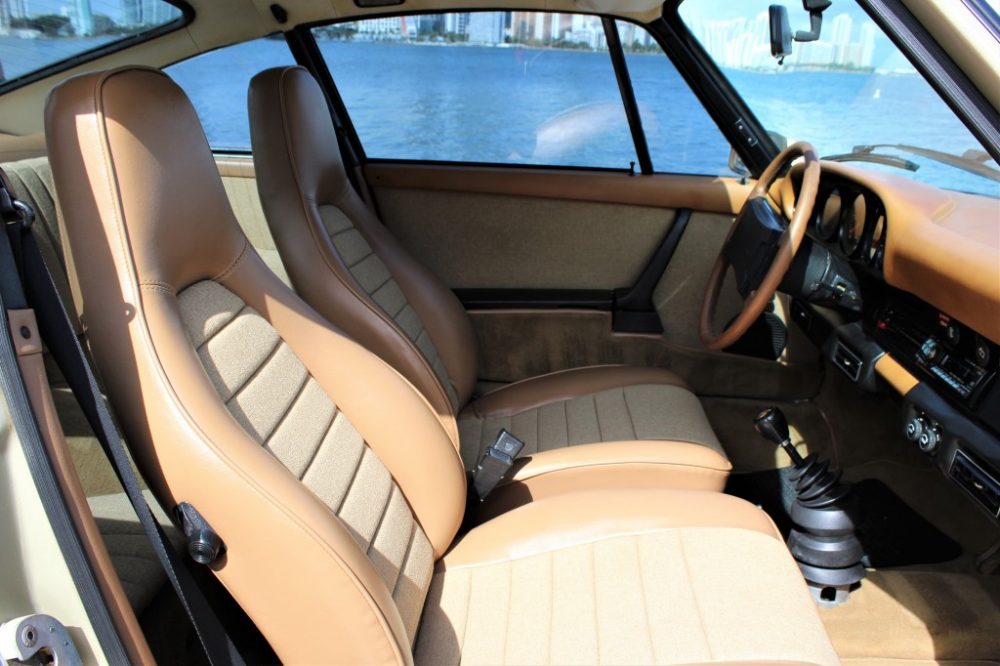 ASG is pleased to present our very special 1976 911S Signature Edition. 1 of 200 ever built. 1 Owner. 16 Concours Restored Fuch Wheels Color Matched. Purchased new from Vasek Polak Porsche Audi in Los Angeles. This vehicle remained with its original owner in California till we Purchased it. The special Signature Edition Series included Platinum Metallic Paint, Brown Beige Tweed Upholstery, Black Exterior Trim, Autographed Steering Wheel and Platinum Metallic Finished Wheels. This particular vehicle also benefited from a Turbo look conversion done after the vehicle purchase at a Porsche dealer, professionally done with steel flares both in the rear and the front, accompanied with a Turbo Whale Tail and Deck Lid. Vehicle benefits from a respray in its original Gold Metallic paint when the conversion was performed. Vehicle is in exceptional condition inside and out with little to no imperfections. The exterior presents itself very well with some seals showing age but are original to the car since new. The interior is in mint condition with the only modification being a aftermarket Alpine radio head unit and a minor imperfection on the drivers seat cushion. Vehicle handles extremely tight and shifts how a true low mileage example should. Service records go back to new and are fully documented. California Smog Complaint 9/13/2018. Fully Serviced and read to be enjoyed by its new owner. Car has lived in California its whole life. Car has No issues and Non smoker. Car is sold with 1 Key, Complete Owners Manual, Service History, Spare Original Deck Lid , California Pink Title and Window Sticker. California 24k Gold plates are NOT INCLUDED We can assist you with shipping world wide. FOLLOW US ON INSTAGRAM @ASGMIAMI TRADES WELCOMED For Additional Information please give us a call 877-744-9196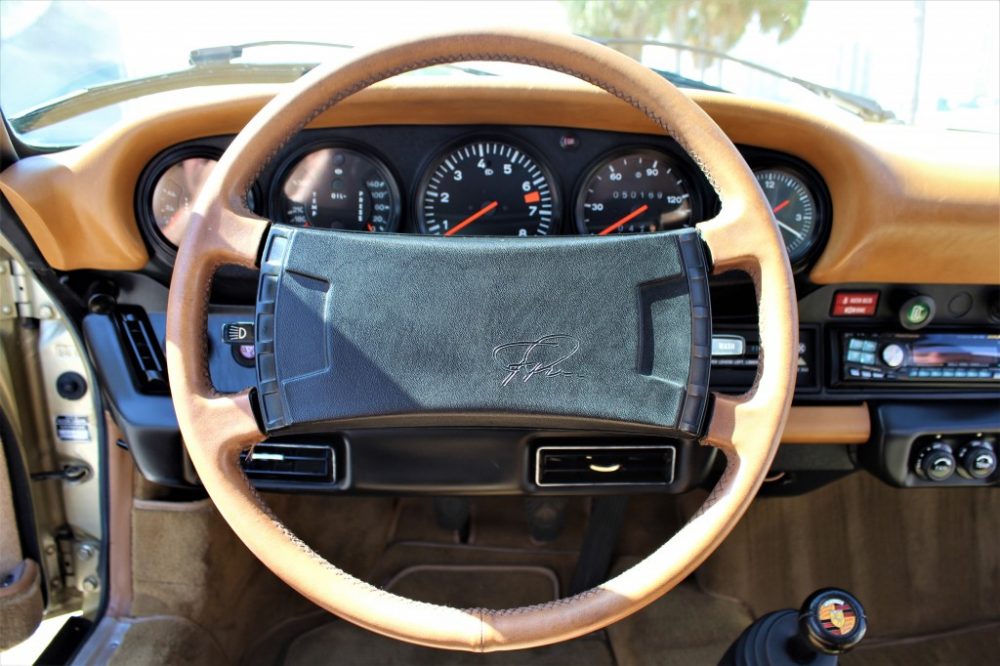 As a mid-year 911 goes this one looks in very good shape and is said to have had only one owner throughout its life. There are a few details to discuss though. Most notably this Signature Edition is a Turbo-look conversion sporting the wider rear and fairly rare Turbo Carrera decklid and spoiler from the 3.0 liter 930. We aren't told precisely when that conversion was performed, only that it was at a Porsche dealer, but given that it is said to have been repainted during the conversion I am guessing it was a few years down the road from its purchase. Regarding that respray: the ad says it was repainted "in its original Gold Metallic paint," which is funny since at the top of the ad it correctly states that the Signature Edition "included Platinum Metallic" paint. Gold Metallic and Platinum Metallic are not the same color (obviously) so I'd be curious to know which this is. It does look very gold, though the Platinum Metallic of the '70s is different from, and much more gold than, the version we see on the later 911SC Weissach Edition, especially when photographed in direct sun as this one is. The color might be correct, but I'd want to see some documents of the respray.
The interior raises far fewer questions. It looks in excellent condition throughout and entirely original other than the radio. The tweed inserts are pretty neat and valuable contributors to this car. I'd love to throw that steering wheel in the trash, but it's kind of an important feature.
The tough part here is going to be price. With the Turbo-look conversion this Signature Edition is pretty far from original and these models aren't sought after highly enough that it could fetch a high price without retaining full originality. The original wheels also are no longer with the car, a change that makes sense given the wider fenders, but again it's a change that collectors will not necessarily appreciate. All of that means I don't think this one has any shot at this asking price. A restored and entirely original appearing Signature Edition sold at Gooding & Co.'s Scottsdale Auctions in 2017 for $93,500 so these can be worth a lot. But this is asking a premium over even that high price for a non-original car. At the end of the day it is a really nice looking 911 and certainly a unique one, but I think the price will need to come down quite a bit.
-Rob