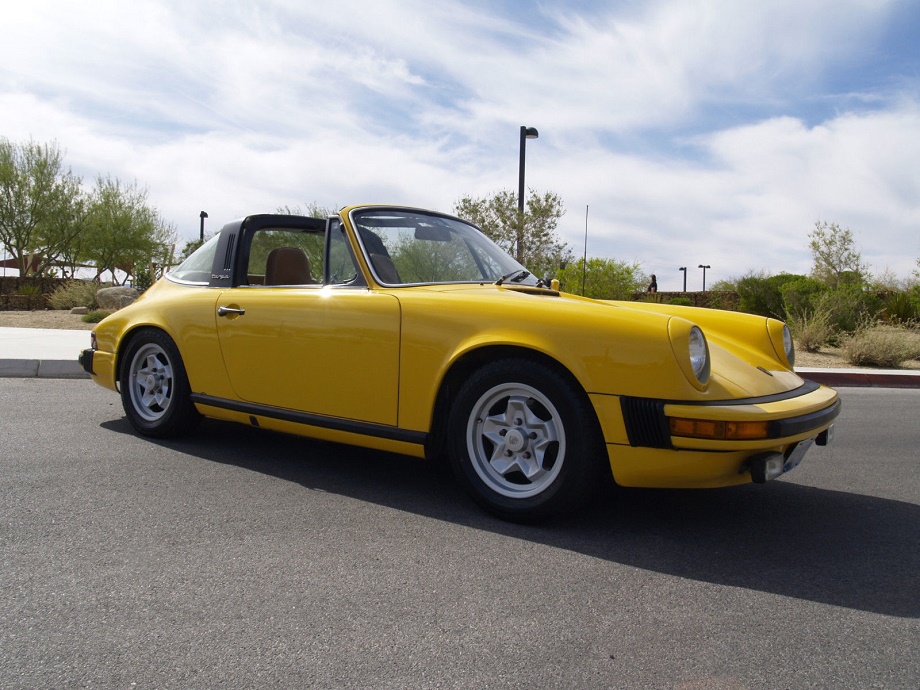 For a color that never seems very common on the roads I do seem to come across a lot of yellow 911s. I like yellow as a car color so that works for me! It's been available in various forms throughout the 911's existence and that's why we tend to see them fairly frequently. Among the respective models they remain pretty rare, but along the entire range we see them often enough. This one, a Talbot Yellow 1976 Porsche 911S Targa with 93,044 miles on it, definitely fits that bill and given the lack of love the mid-year 911s tend to receive it may even end up coming in at a pretty good value. That yellow exterior is contrasted with a Cinnamon interior and it has the cookie-cutter wheels rather than Fuchs.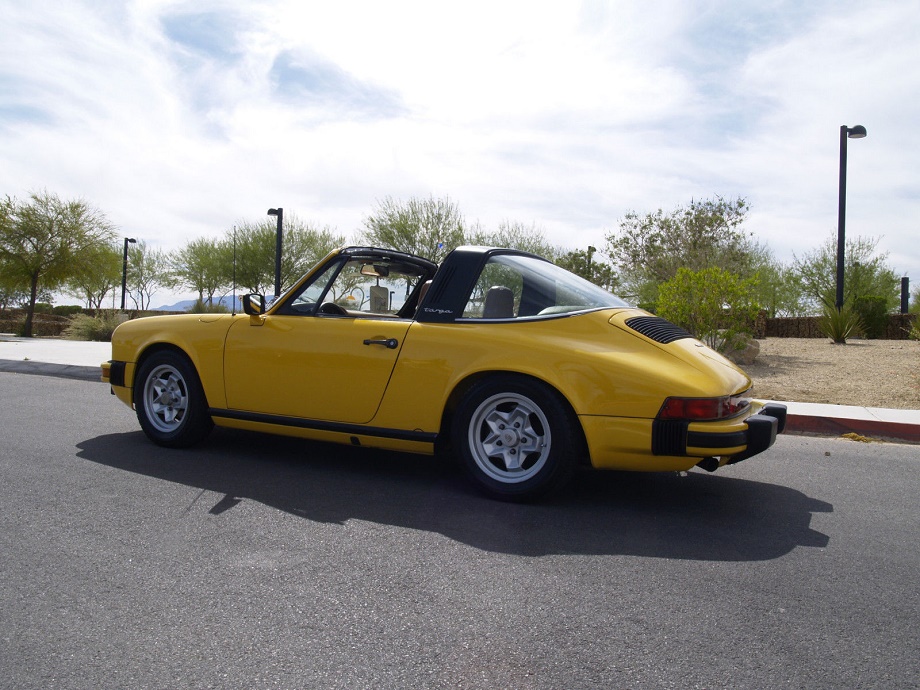 Year: 1976
Model: 911S Targa
Engine: 2.7 liter flat-6
Transmission: 5-speed manual
Mileage: 93,044 mi
Price: Reserve Auction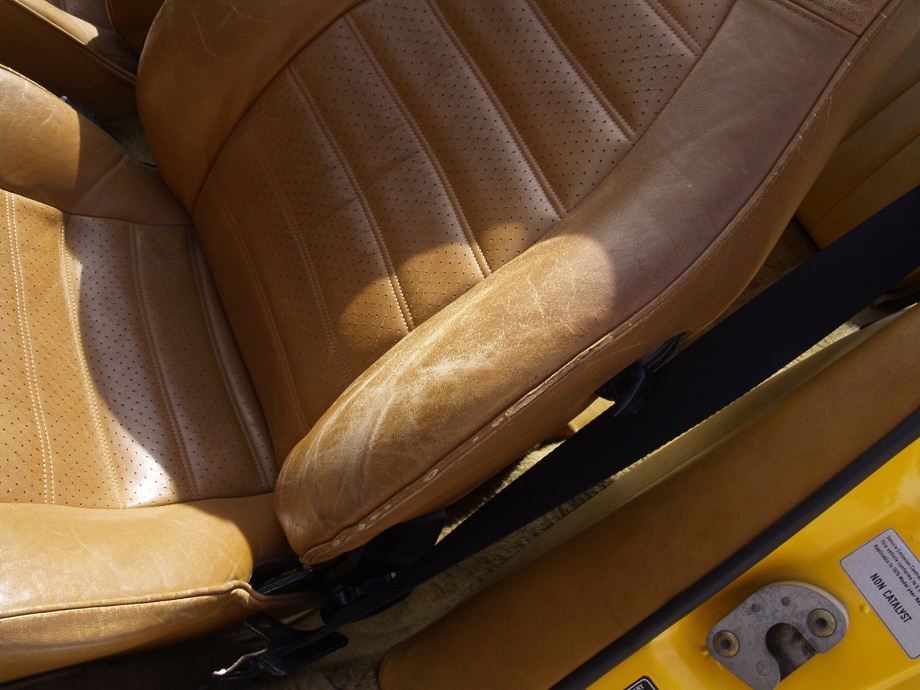 This 1976 Porsche 911S Targa is finished in Talbot Yellow over Cinnamon and was purchased by the seller in the late 80s from the original owner out of California. The car was then moved to Las Vegas, Nevada. Factory options included front fog lights, as well as blacked-out chrome trim on the targa bar and around the side windows. The 2.7-liter flat-six (didn't split the case) and original 5-speed manual gearbox have been resealed within the last six months, and new rings have also been installed along with new valve guides and seals, a warm up regulator,rebuilt fuel distributor,shifter bushings and new axles.Also,the fuel system has been flushed & new filters & pump replaced.. This 911S is now being offered with service records, a Porsche Certificate of Authenticity, owner's manual, toolkit, and a clean Nevada title.

Finished in Talbot Yellow (B7), the exterior has received paintwork on the right door and quarter panel due to fading. Some chips are present on forward facing surfaces, and blemishes on the front bumper and rocker panel are detailed in photographs below. The lower edge of the rear bumper is missing some paint.

Inside, the Cinnamon partial leather (36) upholstery shows wear in various areas, and a non-original three-spoke steering wheel..The aftermarket air conditioning system blows air but is not cold, and the original Blaupunkt cassette head unit is inoperative. Just over 93,000 original miles are shown on the six-digit odometer.

The Porsche Certificate of Authenticity shows a production date of November 1975 and displays the power train numbers, colors, and options. Service records are included along with the original owner's manual, tool kit, and spare.

Please note the car has headers..The thermal reactors are long gone(thank god)..

Feel free to call me at 702-419-9500 with any questions.

Good luck bidding..if the car dont sell this round,it will go to Monterey this August with some of my other Porsches..

Please dont ask for reserve..i like the auction to run its course..

I will gladly assist with transportation..

Thanks for looking,Bo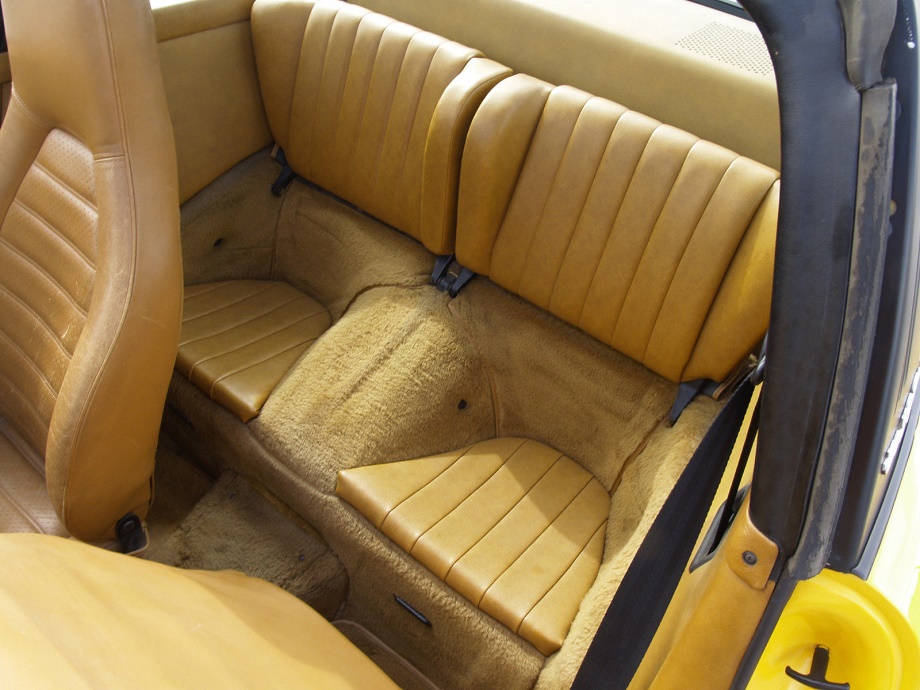 The 911S was the only model available in 1976 so your decision making when looking for one comes down only to deciding between Coupe or Targa. Overall I like this Targa though the issues stated by the seller should be noted. As we can see from the pictures the paint isn't perfect, though it does sound like it's mostly original. It looks good and there's good pop to the yellow paint. There are some rock chips in the front and the bottom of the rear bumper definitely has seen better days. For some, however, those may represent relatively minor issues on a 911 that still looks good. I also like the black Targa roll hoop here as it contrasts much better with the yellow paint than the standard chrome hoop. The interior shows some wear, but we really don't see enough of it – especially of the dash – to know quite how it all looks. The wear we see seems relatively minor given this 911's age, but ultimately we need to know a lot more. Otherwise, Cinnamon makes for a nice contrast with the Talbot Yellow exterior.
That this 911 resides in Las Vegas without cold A/C is interesting. That's certainly not a location where you'd desire such a situation. But at least it's a dry environment, which should alleviate concerns over rusting. The engine and transmission both recently have been resealed and the thermal reactors, which are never a prized part of these engines, have been replaced. It sounds like mechanically this 911S is in pretty decent shape.
These 911s are not ones you buy hoping for long-term value. You hope to get in relatively cheaply and enjoy an early air-cooled 911 with fewer concerns. Mechanical issues can eliminate some of the cost savings, but with some engine work completed and service records available then perhaps that won't be a problem. I typically would prefer a 911SC, but if you like a yellow exterior then there aren't a lot of those out there and I do think this is an interesting example that isn't perfect, but whose flaws are minor. With bidding only at $31,000 the cost isn't bad among the air-cooled range.
-Rob