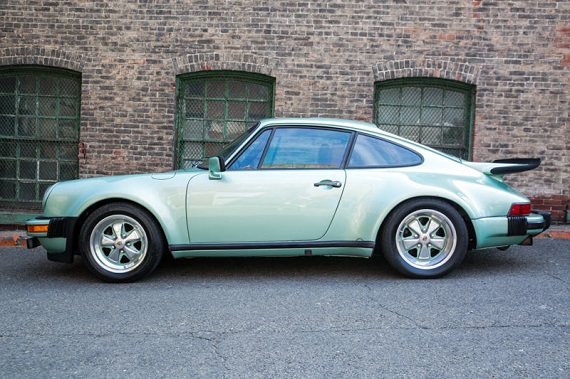 The beautiful Ice Green Metallic 1977 Porsche 911 Turbo Carrera we featured in early June is back up for sale, this time rather than a reserve auction it comes simply with a Buy It Now price of $119,500. Given the need for an engine rebuild that's a tough ask, but cloaked in one of the absolute best colors from its period there's definitely potential here.
The below post originally appeared on our site June 8, 2015: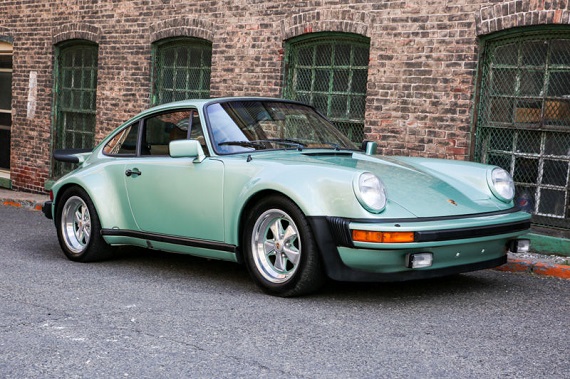 I have really taken a liking to these early Turbos over the years. There is no one specific reason why I prefer them over the later versions of the 930, or even most of the later 911 Turbos, but it is the coming together of a variety of factors that really gets to me. Some of it comes down to appearance as the early cars, with the whale tail, appear somewhat sleaker, ever though their dimensions are the same as the later cars. They ARE lighter as the 930 gradually increased in mass during its long production run, with the early versions coming in around 300 fewer pounds than the final year 930. Add to that their historical place within the 911's lineage and you get a really nice combination. The market has responded similarly as the first two model years (and the first year especially) have shown significant increases in value only rivaled by the final year 930, which was the only year to feature a 5-speed transmission rather than what had been the standard 4-speed. In a rare, period specific color, such as the Ice Green Metallic we see here (also known as Silver Green Diamond Metallic) these are catapulted into another dimension entirely showcasing both beauty and history in one package. That brings us to this: a 1977 Porsche 911 Turbo Carrera, located in California, with 141,285 miles on it.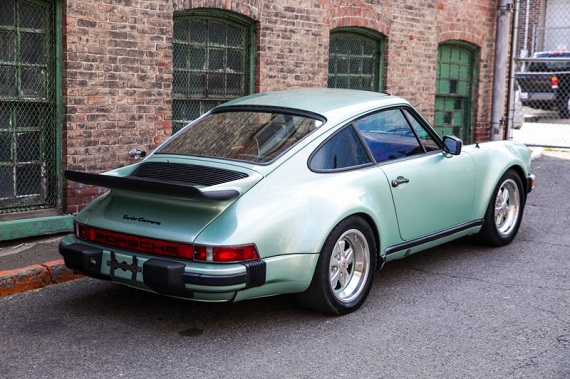 Year: 1977
Model: 911 Turbo Carrera
Engine: 3.0 liter turbocharged flat-6
Transmission: 4-speed manual
Mileage: 141,285 mi
Price: Reserve Auction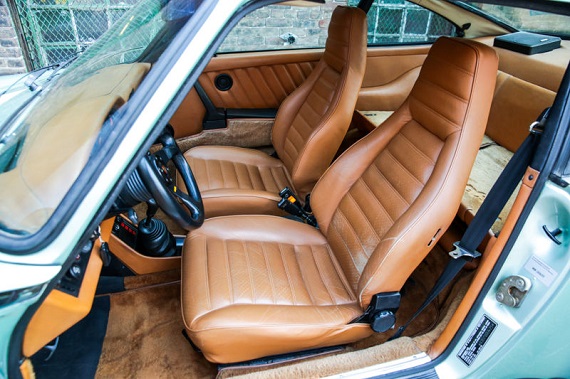 1976 marked many significant events in the United States including the bicentennial. For Porsche enthusiasts, 1976 was the first year of highly anticipated Turbo Carrera debut in the US with 1975 being its official release in Europe. It boasted a 3.0 liter turbo charged flat-six engine that produced an astounding 245 horse power fitted to a 4-speed manual gearbox. Aesthetically, the Turbo was recognized by its large wheel arches that accommodated ultra wide tires and large "whale tail" dual-vented rear spoiler. The 930, as it was designated by its internal type number, was the product of Ernst Fuhrmann who developed the four-cam Porsche 356 and Carrera RS/RSR engines. Using technology from previous successful racing engines, the developmental Turbo production cars were shown publicly as early as 1973. After a few years of prototype development, testing, and critiquing, the road going 930 was not only Porsche's fastest road car ever produced but it also offered many amenities including a full leather interior, electric windows, oil cooler, A/C, and a stereo system to name a few.

When behind the wheel of the mighty Turbo Carrera, driver's experienced relatively subtle power and immense turbo lag until about 4,000 rpms. Once acceleration reached optimum boost at approximately 11.5 psi, the 930 tested the true abilities of even the most experienced drivers. Once mastered, the 930 ousted the Ferrari 512 BB slalom record and gained international praise. In 1977, the 3.0 litre 930 Turbo was once again released with minor changes including larger wheel size. In total, Porsche produced only 2,819 first generation Turbo Carreras making these highly sought after by Porsche enthusiasts and collectors.

The example on offer here, chassis # 9307800475 is finished in rare Ice Green Metallic over cinnamon leather interior. As confirmed by the Porsche Certificate of Authenticity, this Turbo still retains its original matching-numbers engine (6870488). Although, early history is unknown, we are told it had resided in sunny California for its whole life which can be confirmed by the COA options list that states "Equipment for California" showing its original selling destination. A detailed paper trail of service records begins in 1996 under the ownership of a Mr. Bob Merritt. At that time, the odometer read 124,986 miles and was serviced regularly at European Sports Car Garage, Inc. of Sacramento, CA. In 2001, the car was sold to another Sacramento resident; a Mr. Letourneau at which time, the mileage read 141,235 miles. It appeared Mr. Letourneau drove the car a few miles and subsequently put it away in storage for 6 years when in 2007, commissioned Schatz & Krum, also of Sacramento, to re-commission the engine. This included replacement of all hoses, lines, fluids, gaskets, cylinder heads, tensioner update etc. Currently, the odometer reads 141,285 miles and had been sitting for a number of years since 2007 where we discovered the car neglected in a garage albeit climate controlled. A compression test yielded around 90 psi on all cylinders with one reading 60 psi. In short, the engine will need rebuilding. The engine compartment overall shows evidence of the prior work completed but since the car has been sitting, it is quite dusty.

Cosmetically, the car presents as a driver that has been re-painted at some point in the correct factory color of Ice Green Metallic (266-9-3). There are some chips in the paint by the passenger side headlamp, a few by the rear fender arches, and other various light scratches as to be expected from a 141,000 mile car. Upon placing a paint meter throughout, it read consistently between 4-8 mils thickness; consistent with a one re-paint car with the exception of the driver's side door towards the bottom where it read higher. Perhaps due to a previous dent seeing as the bottom of the door is completely untouched and solid. In inspecting the exterior panels of the car, no rust or bubbling could be found; indicative of its California origins. Overall, the paint shines well and does not warrant any attention if one were looking for a car to drive and enjoy.

When entering the interior, it is primarily original with the exception of the steering wheel, shift knob and radio (missing). The leather seats are original and in great condition considering the mileage with minor bolster wear. There is some pulling near the dash vent, the rear seat shelf where it meets the window seal, and around the front vents where it is shrinking away from the window seem. Door panels are consistent with the seat condition: original with slight wear. All of the jams are free of rust with good shut gaps. The headliner, sun visors, and sunroof liner are original and thus slightly dirty. Again, totally acceptable if the intent is to drive the car.

The floor pan, rockers and trunk pan are all free of rust and original with many factory spot welds present. The floors have not been touch since new with two areas where a previous owner bottomed out which caused two indentations on the floors that may be able to be remedied without much effort. Opening up the front trunk hatch shows original, tatty carpets that will need replacing. All factory finishes, welds, spare wheel and fittings are all present with no signs of accident damage anywhere.

In summation, this is a car that one can take in a few different ways: a full restoration to PCA concours standards or to rebuild the engine, complete some service related items and drive as-is. Included in the sale are original tools, air pump, and service records. Finished in highly desirable colors with long-term California history since day-one, this early 3.0 Turbo Carrera will prove to be a smart investment and excellent addition to any collection.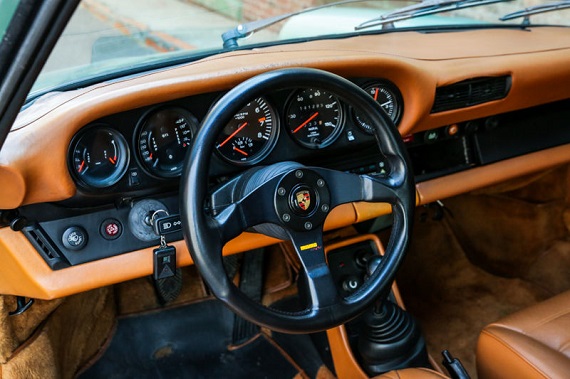 This Turbo certainly has lead a fruitful life and the good news is that even with all of those miles over all of those years it still presents very well both inside and out. The Ice Green Metallic paint looks wonderful and the Cinnamon interior makes for a great contrast with that exterior color. The seats shows some wear consistent with this mileage, but it is nothing too troubling. On to the bad news: the engine needs a rebuild. It's becoming increasingly difficult to find examples of these Turbos in excellent condition all around and this one is no different, but at least the seller has not left us guessing or attempted to misrepresent the car. Obviously, that will lower the value of this Turbo as evidenced by bidding sitting at $75,100. This car is being relisted and I first had come across it just at the end of the previous auction where bidding reached around $125K. That gives us some idea of the potential here, though given that the winning bidder was acting disingenuously we cannot assume that price represents where we can expect this auction to end. But still we see the value these Turbos are capable of commanding and with a rebuild and cosmetic restoration of the interior this Turbo should continue to increase in value.
-Rob