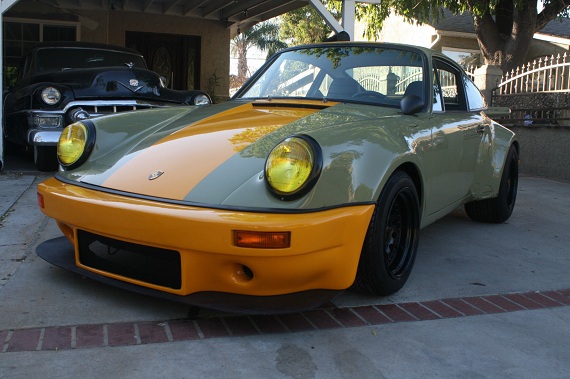 The other day, Rob wrote up a 1978 911 SC Restomod which backdated the look to the earlier 911s. It's a popular trend, not only amongst late 70s and 80s 911s, but even 964s – the basis of choice for cars like the Singer 911. It makes sense; early 911s have gone through the roof and it's much easier to replicate the look with a later chassis – plus, you get a faster car. Today's 1977, though, goes a very different route and instead replicated the look of some of the famous 911 RSR race cars. Specifically, this car is made to replicate the early 1970s IROC 911 RSRs – the birth of the "whale tail" legend that continued with racing and street 911s. Looking like a mix of Singer and Rauh Welt Begriff cars, this Olive Green 911S is available on a budget: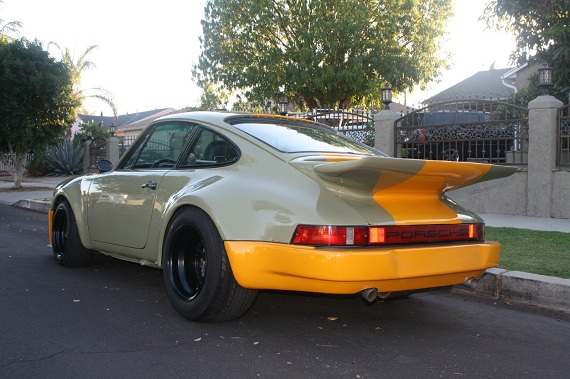 Year: 1977
Model: 911S
Engine: 3.0 liter flat-6
Transmission: 5-speed manual
Mileage: 21,143 mi
Price: $35,500 Buy It Now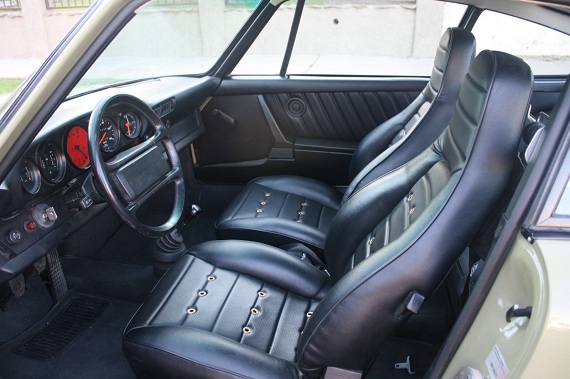 This car started out as a 1977 911S sunroof coupe.

Nice representation of a hot rod 911.
The color is a nice olive green which can show green or grey depending on the lighting.Bumpers and the stripes are yellow with some orange in it.
Car was professionally painted with windows out and fenders/hood off.Color sanded and polished its shiny and deep.
The car has no rust and hasnt been in any accidents.
New door jamb seals are new.Relocated single Vitaloni mirror.
Euro style amber H5 lights really add character to the car.
The body is solid and rust free.Front and rear 930 steel flares,Iroc front and rear fiberglass bumpers and Iroc whale tail.
Real 70's centerline wheels finished in satin black with Pirelli P7's on them.The P7's were a rare find,they were kept indoors and they werent dried out.Wheels measure 15×9/11.5 with perfect offset,no spacers needed here.

The interior is very nice.I made it comfortable enough for street driving but also very basic for track use.
Basically the whole interior is new.
I choose the charcoal grey rs style carpet,had the stock seats reworked to look like sport seats.Perforated inserts on the seats and the door cards,front and back.
The dash is original and has no cracks.
The headliner is white perforated and its new.I also re covered the A and B pillars in black perforated vinyl.
For the steering wheel I wanted something street car friendly but also user friendly on the track.Thats why I installed and 84 Carrera stock wheel.
10k tachometer was added with red face.I removed the car stereo to reduce weight,used factory blockoff plates for the radio delete.Now it looks stock.
Nice little custom touch on the glowbox cover.
It has 4 point harness with a stainless harness bar.I kept the factory seat belts too and they can be re installed,goes with the car.

The suspension is setup nicely.Installed bigger torsion bars 22/28 with through body swaybar in the front and adjustable one in the rear.Bilstein heavy duty struts and adjustable camber plates.Front shock tower brace keeps all 4 wheels on the ground in the tight turns.
Brakes very good.It has drilled rotors with porterfield pads,turbo tie rods and steel braided brake lines.
The 915 transmission shifts good through the gears,no syncro issues.The performance clutch has a good grip.

The engine is a twin plugged 3 liter.Ported and twinplugged heads,apr head studs and high compression euro sc pistons.
It has new MSD boxes and coils,new JB racing Rsr style distributor,new Clewett engineering wires and new pugs.
Intake seals were all replaced just now,also new injector seals were installed.
Just completed a valve adjustment with oil change.New airfilter,airfilter cover straps and fan belt.
The motor 21k miles on it.
The car has upgraded Carrera oil cooler and it runs at 190 all the time.
Stainless steel headers with heat exhanger boxes made by B&B matched with a stainless muffler made by the same company.New exhaust manifold gaskets and newer battery.
The heater is not connected currently.

The car has a clear california title.

TERMS:
Will sell worldwide.
Buyer is responsible for picking up the vehicle,I can help you connect with some good and affordable shipping companies.
Car will not leave until payment has cleared,cash in person or bank to bank wire transfer.
Please ask if you got any questions before you bid.
Car is sold as is ,where is ,no warranty.
Welcome to come by and inspect the vehicle before the auction ends and not after.
Non paying bidders will be reported.
Reserve the right to end the auction anytime,the car is offered for sale locally as well.

Call 8l8-3l0-l866,Tom
Happy to answer questions.
Thank you

On Oct-26-14 at 20:45:38 PDT, seller added the following information:

I forgot to add that the engine has the upgraded carrera oil fed chain tensioners.
Thank you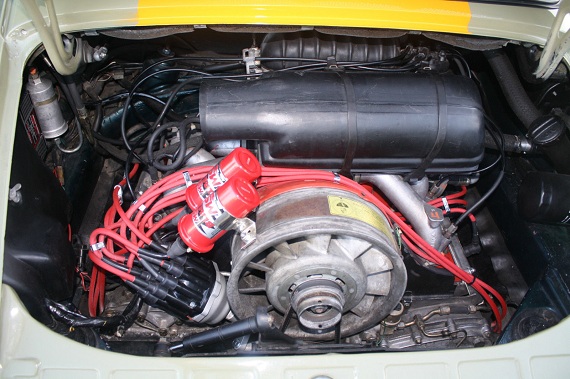 There's a lot to like here; the unusual color combination sets this car apart from most 911 restomods. With the blacked out wheels, it is reminiscent of the 934 racers – as I mentioned, black wheels aren't my favorite, but work on some of these racing Porsche models. The all-steel body is nicer than many flared examples that rely on fragile fiberglass; without fender liners, you'll end up with pockmarked paint from stones thrown up from those wide tires on fiberglass flares. There are even Pirelli P7 tires – standard fare on late 70s/early 80s supercars and a rare throwback today. Up front the splitter is a bit much and I'd probably remove it before I caught it on something and ripped the front end off. Move inside the and the seats have a backdated look too; overall presentation is clean even if some details (the red 10,000 RPM tachometer, for example) are a little over the top. The motor is even a reasonable choice; a 915 gearbox mated to a twin-plug 3 liter, it's not turned up to the point of being unreliable, but gives you a good speed boost over the earlier examples. This car is far from an RSR; however, it looks great, should go pretty well and is quite affordable – less than half the asking price of Rob's cleaner 1978 example.
-Carter