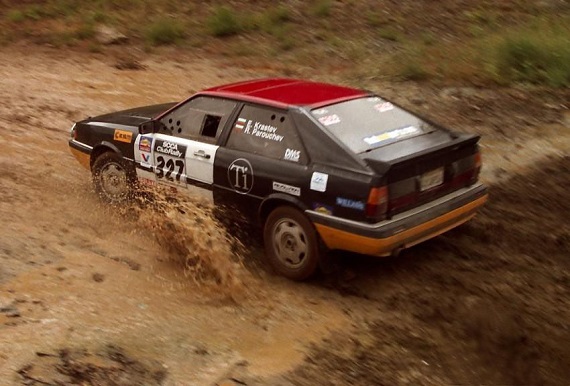 Far less famous than its wide-hipped brother and mostly unknown to most U.S. customers, the B2 Audi Coupe was available with quattro all-wheel drive in other markets. It shared nearly all components with the sibling 4000 (90) quattro, including 4×108 wheel pattern and 256mm front brakes – items that were also on the U.S. spec front-drive GT. So, one would assume it would be pretty easy to "swap in a quattro", as the internet posts usually start. Of course, those individuals who start the posts best be wearing flame-retardant clothing, as they are immediately inundated with responses that kindly (or not so) explain the difficulties inherent in this project. You see, everything aft of the firewall on the all-wheel drive floorplan is different than the two wheel drive units; indeed, as I've pointed out previously, even the two wheel drive floorpans were different between automatics and manuals. That means to recreate a rest of the world Coupe quattro, you need the floorpan from a 4000 quattro mated to a body of a Coupe GT. This, of course, makes no sense financially as the countless hours involved eliminate all but the DIYers – and even a fair chunk of those with the talent give up on the project. Yet, it apparently didn't stop the builder of this rally car, who not only swapped the body, but went one step further and dropped in a turbocharged motor and the brakes and wheels from the big-brother Type 44 chassis. The result is a budget Ur-Quattro rally replica without the flare of the original…or, at least, it was a few years ago before it was parked: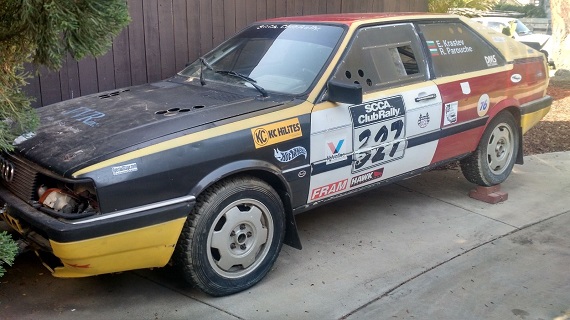 Year: 1984
Model: Coupe
Engine: 2.2 liter turbocharged inline-5
Transmission: 5-speed manual
Mileage: Not Listed
Price: No Reserve Auction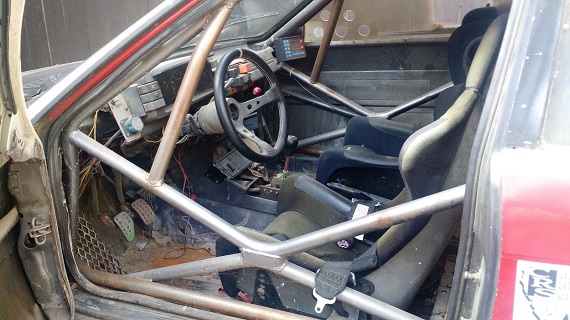 This is 1984 AUDI 4000 Coupe Quattro Rally ex race car, UR replica for PARTS ONLY,

CAN NOT BE REGISTERED IN THE STATE OF CALIFORNIA.
WILL NOT PASS SMOG INSPECTION BECAUSE OF MODIFICATIONS.
PROBABLY CAN BE REGISTERED IN OTHER STATES FOR OFF-ROAD USE – YOUR FULL RESPONSIBILITY FOR ANY DMV FEES IN YOUR STATE.

IT IS REGISTERED AS FRONT WHEEL DRIVE, BUT LATER REAR FLOOR FROM
AUDI 4000 QUATTRO SEDAN WAS TRANSPLANTED TO ACCOMMODATE QUATTRO TRANSMISSION AND THE REAR DIFFERENTIAL.

ALSO REGISTRATION HAS NOT BEEN PAID SINCE 2004 AND I FORGOT TO PLACE IT ON NON-OP STATUS, SO A LOT OF MONEY IS OWED TO DMV ANYWAY.
THAT IS WHY IS OFFERED FOR SALE AS
<<<<<<<>>>>>>>>>>>.

THE ENGINE RAN OK UNTIL LAST YEAR FROM TIME TO TIME, BUT THE FUEL PUMP QUIT, AND WHEN I TRIED TO REACH UNDERNEATH AND SHAKE THE PUMP, THE FUEL SUPPLY HOSE FROM THE TANK CRACKED AND ALL THE FUEL LEAKED OUT.

FRONT RIGHT AXLE IS BROKEN, GOT SPARE IN THE TRUNK.

THE MASTER CYLINDER FOR THE CLUTCH NEEDS NEW PLASTIC CONTAINER FOR THE FLUID.

BRAKES NEED BLEEDING. HAS E-BRAKE FOR THE REAR WHEELS.

HAS VERY RELIABLE AND EXPENSIVE BACK IN THE DAY ""DMS"" COILOVER SUSPENSION ALL AROUND.

TRANSMISSION AND MIDDLE AND REAR DIFFERENTIALS ARE GOOD.

HAS RACING ECU FOR 110 OCTANE GAS, MAKING ABOUT 280 HP, AND A REGULAR ECU FOR PUMP GAS.

THERE WAS A LOTS OF JUMPING AT THE LAST RACE SO THE FRONT LIGHTS FELL OFF AND ARE MISSING.

TERRATRIP 303 PLUS RALLY COMPUTER WITH REMOTE CLICKER.

I HAVE CLEAN TITLE,

<<<<<<<<<<>>>>>>>>>

IT IS THE WINNING BIDDER'S RESPONSIBILITY TO TOW THE CAR AWAY FROM ZIP 91307 OR TO ARRANGE PICK-UP AND PAY FOR SHIPPING.

Payment accepted: CASH OR PayPal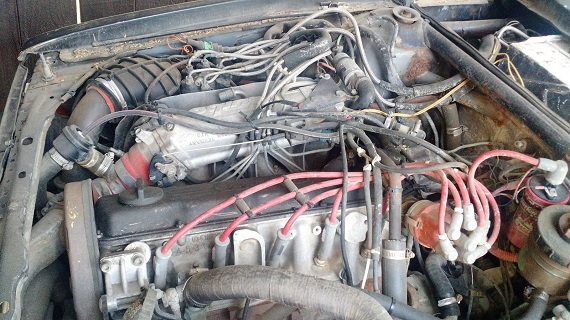 The vestiges of the 1984 chassis are limited really to the reflectors under the taillights and the old-style dash, as the trim and bumpers have been updated to the post-85 cars. Wheels (and apparently brakes) are from a 1988 5000 turbo or turbo quattro, which may be where the motor came from too, though documentation seems a bit scarce. But the builder took time to construct what appears to have been a pretty hot setup back in the day. Claimed 280 horsepower out of a 10V turbo may be a reach, but turned up they're certainly capable of more than 200. I love the loss of lights line which gave me a chuckle and hints at the overall condition of the car – poor, at best. To be honest, we stay away from these types of major project cars. But there's so much to like here and it should be worth saving for someone who doesn't mind a project and is familiar with 1980s era Audis. Right now, the entire package could be had for $800 and would require much more to get running properly again, but it doesn't seem like a complete wreck and could certainly be an entertaining and affordable alternative to racing a real Group B car.
-Carter