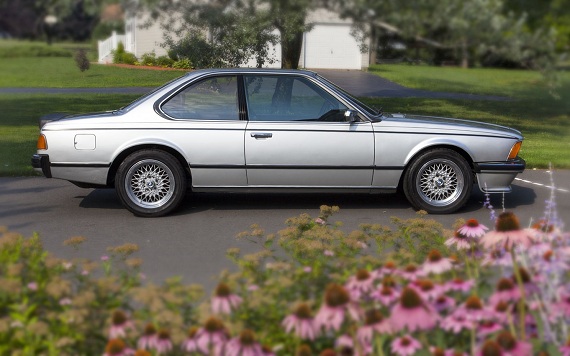 As iconic designs go, the E24 has to rank pretty high on most German car enthusiasts' lists. The lines are pure and classic – a long hood line with chiseled front end, delicate and subtle wheel arches, a sweeping greenhouse and a flowing trunk line. It just looks right – the front of the E9 that it succeeded was equally as classic, but I have always felt that the back of the 6 series was prettier than the car it replaced. It took elements of some classic BMW designs that preceded it and incorporated them flawlessly with updates for a new time. By 1970s standards, it was a very clean design – consider what was coming out of Detroit during this time period, and you'll understand why the 6 still looked reasonably fresh a decade on in the 1980s. But for my money, the prettiest of the 6s are the early Euro cars, unencumbered by the DOT bumpers. Early on, though, the 6s suffered from not much performance – the engine lineup was effectively carried over from the previous E9 platform. That was solved in 1978 with the launch of the 218 horsepower 635CSi; a 5-speed transmission, deeper airdam and black rubber rear spoiler with model designation indicated the higher performance of this model. The 635 officially wouldn't come to U.S. shores until much later in 1984 with the E28 updates in place, but for a time this was the highest performance BMW coupe you could get. Finding early examples that are still in prime shape is quite tough these days, but there's a lovely example on Ebay today in Connecticut: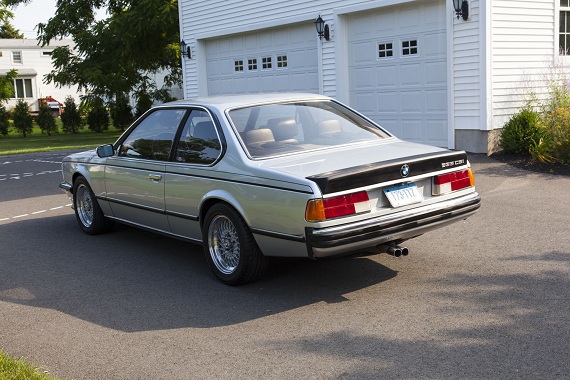 Year: 1979
Model: 635CSi
Engine: 3.5 liter inline-6
Transmission: 5-speed manual
Mileage: 211,518 mi
Price: Reserve Auction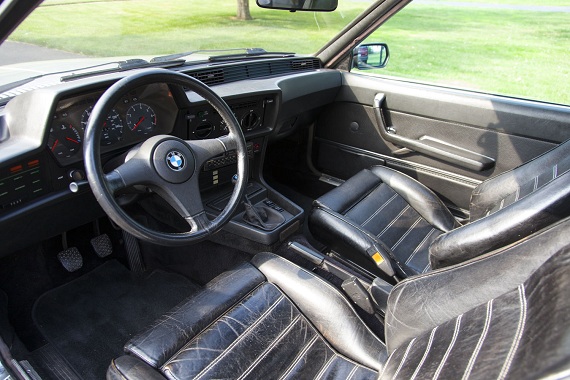 Up for auction is my 1979 BMW 635csi, Euro Version. VIN#5546816. 211,518 miles. 5 speed, not the original dogleg, but the traditional 5 speed pattern.
Very nice driver with no rust. Mechanically sound. New Dunlop Tires with vintage restored 16″ BBS RA wheels by Aardvarc Racing in CA. Many new parts including Optima Battery, Alternator, Ignition wires, Plugs, Coil, shift knob and much more. I have receipts for everything (Over $3500).
Runs awesome! Very solid, no squeeks, rattles, shimmy or shake. No leaks or smoke. Must see and drive.
Out of state buyer's please note that CT does not issue Tiles for vehicles over 30 years old. I will supply a CT DMV Bill of Sale/Assignment of Ownership Form. Mechanics inspection welcome at buyer's expense.
Known issues:
• Gas tank leaks if filled more than 1/2 tank.
• Wipers not working. Motor works, may need spacers to hold assembly(see photos).
Just bought a project car, so this needs to go.
http://s1218.photobucket.com/user/jay1688/library/1979%20BMW%20635csi?sort=3&page=1 link http://s1218.photobucket.com/user/jay1688/library/1979%20BMW%20635csi?sort=3&page=1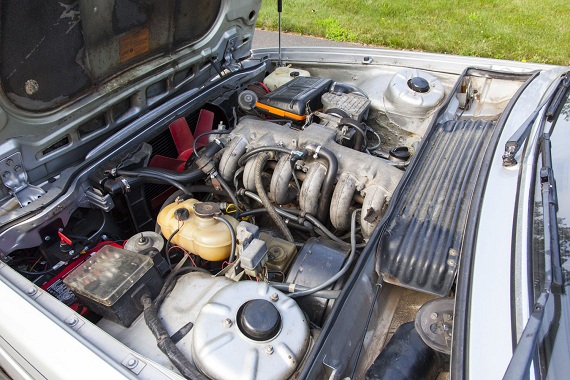 Originally, this car would have had a 14″ version of the BBS Mahle wheels, so the upgrade to the polished lip 16″ wheels is really great and remains in period style. They have just the right amount of polish to really set off the car, and match the slim European bumpers. This car is Polaris Silver (one of the three launch colors of the 635CSi) and even retains the original strip kit that many lost along the way; outwardly, the condition appears to be very impressive. Inside the leather seats do show some patina from the 211,000 miles covered, but the insides are still quite presentable. It's under the hood where you see most of the age and mileage that has accrued on this model, but it really appears to be an honest example. Like many older BMWs that have lived in New England, the gas tank is experiencing leaks and there are some minor gremlins such as the wiper motor. As a lovely example of a driver-quality early Euro 635CSi, they don't get much better than this and the price should remain affordable enough to pick this up with budget to repair the flaws. You'll have a car that's much more unique than a M6, cheaper by a long shot, not much slower – and I daresay prettier too.
-Carter