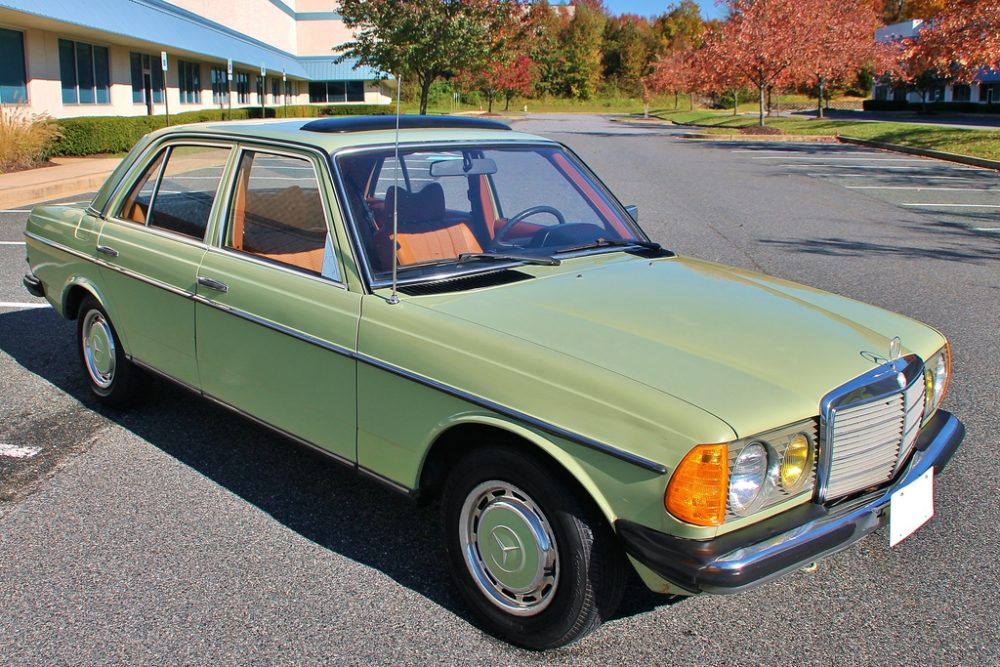 Update 11/20/18: This 300D sold for $13,700.
On Saturday, I will say goodbye to my 1983 240D that I've rehabbed and cared for the past two years. It was a classic Craigslist love story of everything looking great in the photos, but after traveling a long distance to go buy it, the car wasn't nearly as cherry as the photos showed or the seller described. Funny how that happens. Still, I reluctantly took it home after negotiating a whopping $100 off the asking price. The past two years have been fun as it seems like everyone loves the thing, except my passengers who had to be on time somewhere as 67 horsepower is no match for moms in their 300 horsepower minivans and the concept of time in general. I wouldn't have bought the car if it wasn't for the Labrador Blue paint and matching hubcaps, and that is probably why it sold to its new owner. I think the W123 chassis is still brilliant and feels so damn good even after 35 years, but it just can't keep up with the war that is daily traffic. My W116 300SD is a far better car for that, hence why I chose to keep that one even though it isn't nearly as handsome. Not a knock of the W123, but the W116 S-Class was made to be the best sedan in the world and at the time it was pretty damn close to being that, even compared to the much more expensive cars from Bentley and Rolls-Royce. I'm not the only one who feels that way.
Today's car, as you might have noticed, also has a pretty great color. This European-spec Pea Green 1979 300D shows just a hair under 25,000 miles on the odometer and should be a pretty mint example. I was super excited to dig into it to see a time-capsule car, but unfortunately, this falls just a little bit short. Let me explain why.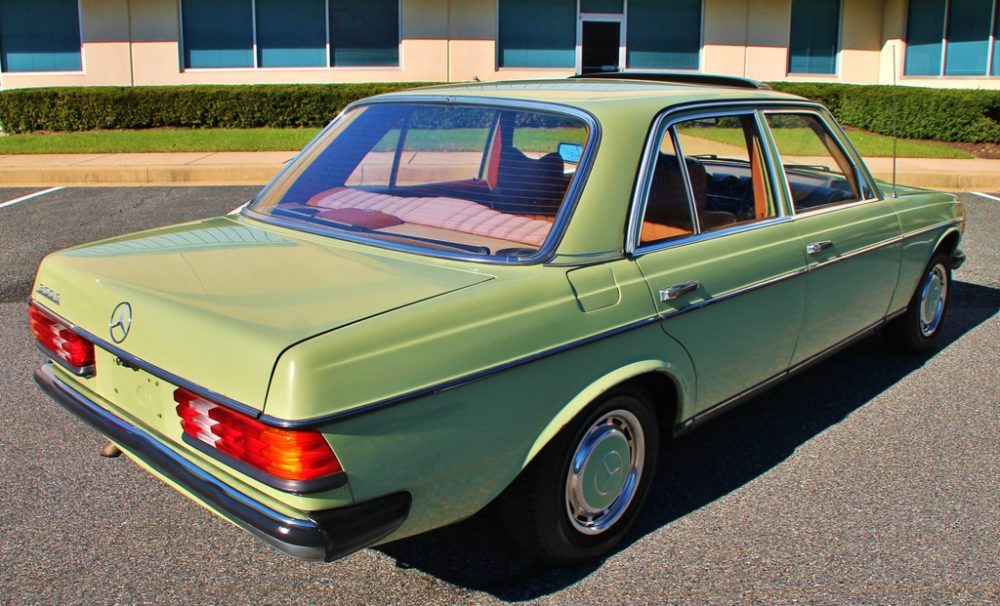 Year: 1979
Model: 300D
VIN: 12313012154569
Engine: 3.0 liter inline-5
Transmission: 4-speed automatic
Mileage: 24,490 mi
Price: No Reserve Auction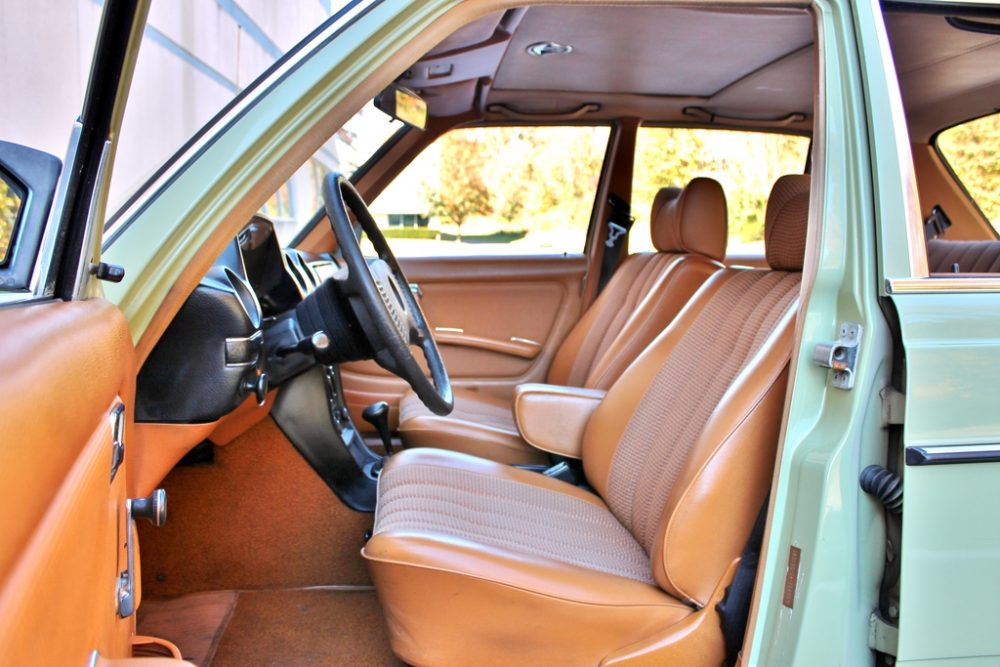 NO RESERVE
PLEASE BID WITH INTENT TO BUY
Deposit Is Due Upon Winning Auction

Low Miles W123 !!

1979 Mercedes-Benz 300D (W123)
-Amazing just 24k Original Miles!
-Maintenance & Mileage records!
-Original Sales Paper!
-Stout 5 Cylinder Diesel (0M617)
-This is the original million mile car!
-Fires right up, runs quiet, pulls hard!
-Transmission shifts smooth!
-Steering is tight, no play
-Suspension is spot on!
-Brakes are strong and quiet!
-Tires are excellent, 90% tread remaining.
SEE UNDERCARRIAGE PHOTOS BELOW
-Paint is that lovely vintage Mint-Green!
-No clear-coat peel!
-Interior is classic Mercedes, brown vinyl and plaid.
-Has factory 1st-Aid kit, and rear Sun-Shades
-Matching original Pea-Green wheels
-Sunroof
-Dealer installed AC
-Dashboard is perfect no cracks
-Original Blaupunkt Radio
-Car is solid, all steel construction
-Cruises down any street easily
-Diesel Reliability, Mercedes Quality
-Great for daily driver or Bio-Diesel conversion

We Can Help Arrange Lowest Shipping Possible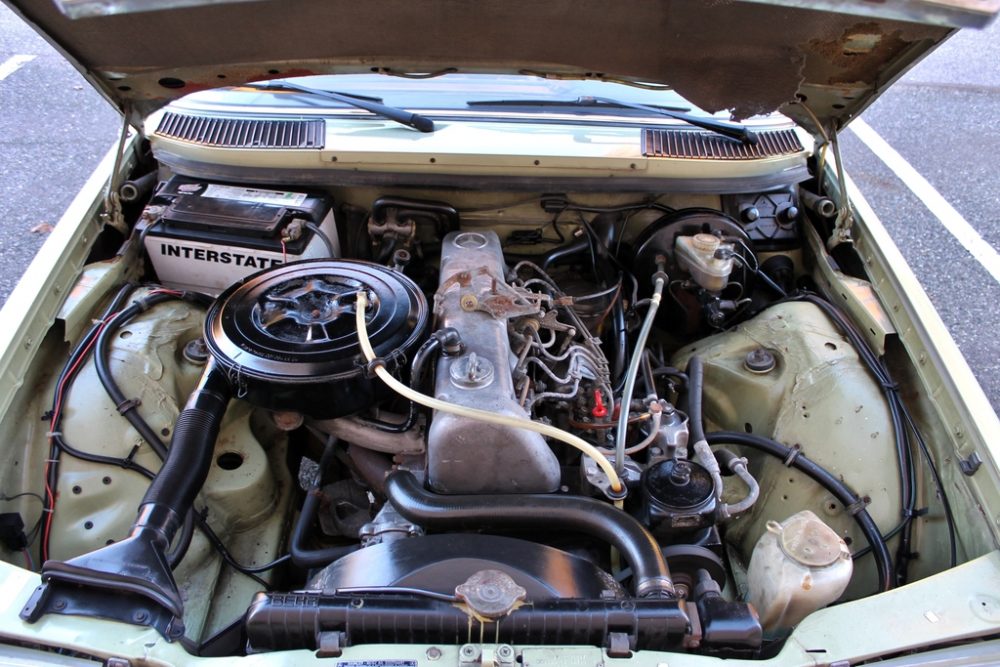 This car really puzzles me. The interior is really nice outside of some dirty carpets and a dirty armrest, but the exterior of this car doesn't scream 25,000 miles to me. If you take a look at all the photos, you'll see a whole handful of odd things going on with the car in terms of wear and tear. Right off the bat you can see that the lower air dam is dented in with a generous amount of rust forming on it. Around back, the rear bumper was hit so hard that it left a nice dent in it as well as pushed the entire bumper up at an angle so it is crooked. The jack points look like they have rusted out, repaired and hastily sprayed with black paint so much you can see the run marks. On the photos with the car in the air, you can see all the suspension components have a heavy amount of rust on them and even underside of trunk pockets are showing rust. Not to pile on, but the inside of the taillight on the driver's side has a bunch of cracking paint as well. Under the hood, the radiator looks like it was boiled so hot that it literally melted the paint off of it. I can honestly say that is the first time I have seen that on a W123. Another crazy thing is that fan shroud was broken off and plastic welded back together in two sports. Lastly, all four tires are mismatched and old enough to legally buy cigarettes. There is a bunch of other tiny things like the old style hand primer pump that surely leaks fuel, but I think I made my point with this car. If you put a gun to my head and made me guess the miles on this car, I would for sure say 125,000 or even 225,000, not 25,000. It just doesn't add up for me.
What does this mean? Probably not a whole lot for potential buyers. The bids already came in hot and heavy and probably aren't going to slow down. The color is what will sell that car and all these flaws are probably going to be overlooked. Yes, the keen eye buyers will pass on this one, but those who just want a cool little run around will live with the flaws and boast about the mileage. My guess? I wouldn't be shocked if it hit $10,000. Does it deserve it? Not in my book.
– Andrew