I have said before that I like variations of colors, especially when those variations are subtle. It's why I like seeing so many of the blues and greens that Porsche has offered. That doesn't mean I always will prefer those variations, but I appreciate the variety. While Porsche's reds too come in a wide variety we don't see them as much. I think that is partly because lighter shades of red tend to be less desirable, which leaves us only moving in one direction toward burgundy in its various forms. The variant we do see somewhat frequently is Carmine Red and it is a color I happen to like quite a bit. It's actually quite rare having only been available from '87-'88 and as the German – cherryrot – would suggest it has more of a cherry color to it than the much more common Guards Reds. So it's a little deeper and can really look great.
Here we see it on a 1987 Porsche 911 Carrera Coupe, located in Pennsylvania, with Black leather interior and 113,848 miles on it.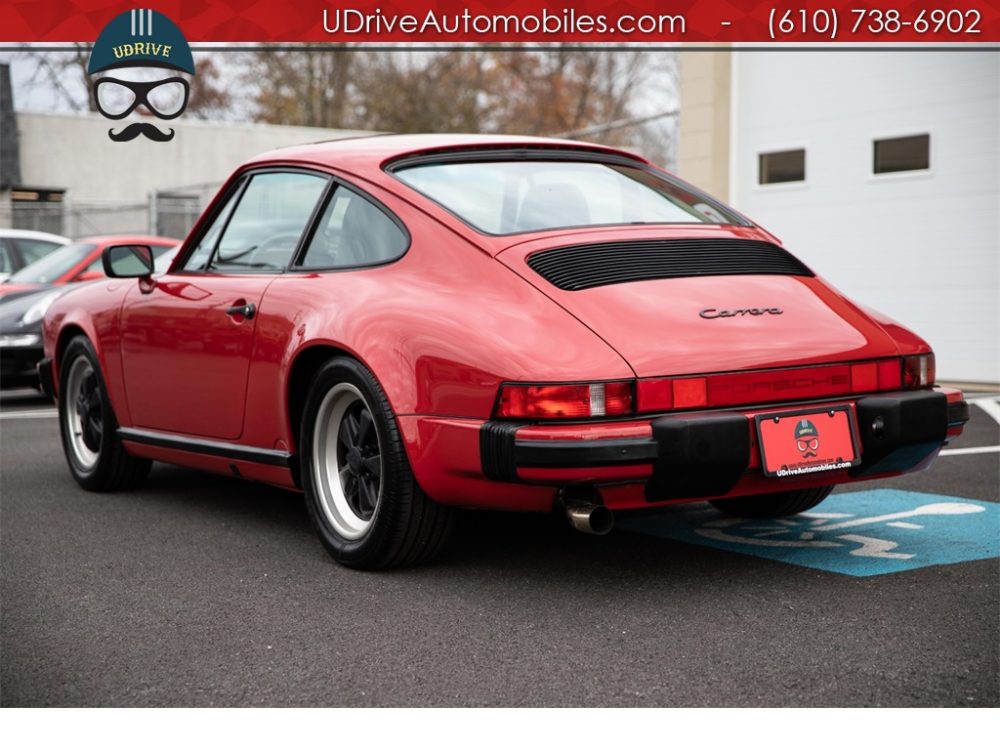 Year: 1987
Model: 911 Carrera
VIN: WP0AB0913HS120210
Engine: 3.2 liter flat-6
Transmission: 5-speed manual
Mileage: 113,848 mi
Price: $54,900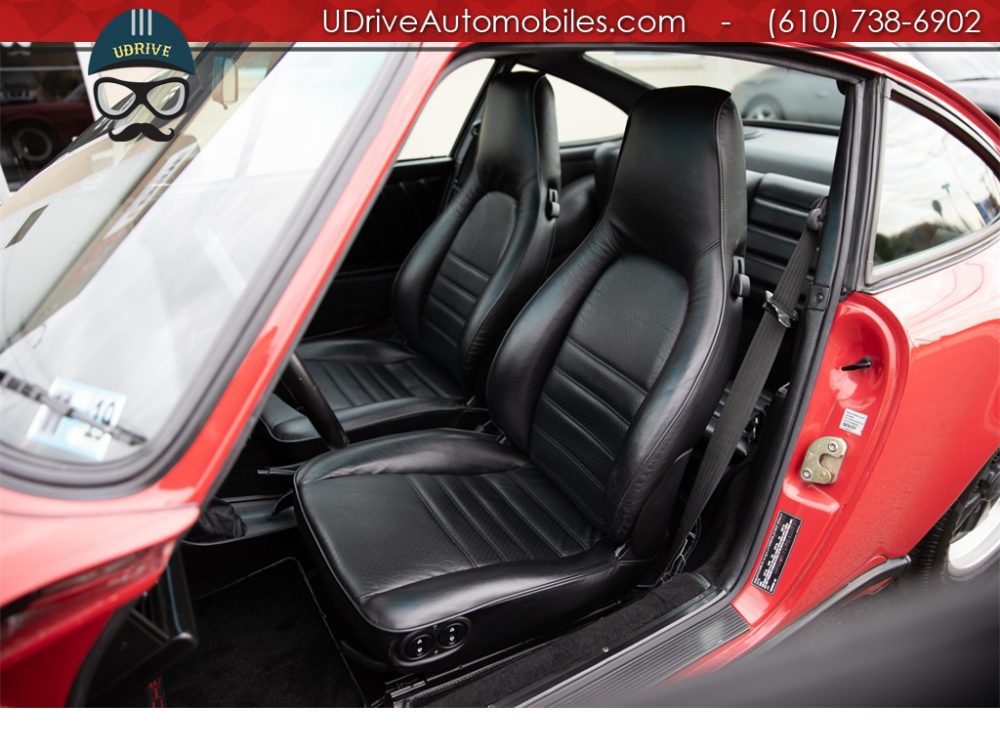 !!1987 Porsche 911 Carrera Coupe!!

!!Carmine Red | Black Interior!!

!!100% Clean Carfax (available on our website)!!

!!Detailed Service History Dating back to 2005!!

!!All 4 Pirelli Tires are BRAND NEW!!

CALL (610) 738-6902

This G50 Coupe was professionally repainted in 2008 in its factory color of Carmine Red. At that time the the interior was reupholstered in black. The original interior color was Maritime Blue. A CD containing photos of the glass out repaint will be supplied to the new owner.

Recent Service Highlights:

10/29/18 at 113,863 Miles – Total RO Cost $1,402.88

Fresh Oil Service / Oil Filter
Replace Lower Valve Cover Gaskets
New Spark Plug Wire Set
Replace Alternator Belt
Replace A/C Compressor Belt
Replace Evaporator Blower

UDrive Automobiles is a family-owned, boutique car dealership located in West Chester, PA. We offer sales of hand-selected, special interest vehicles. The majority of our inventory is sourced out of the garages of private enthusiasts around the country. We look for interesting cars with low mileage, unique color combinations, high levels of equipment, and rare options. Simply put, we buy cars from enthusiasts, for enthusiasts. This well cared for 1987 Porsche 911 Carerra Coupe is no exception. It is in wonderful shape inside and out. We acquired this from a local client who recently purchased a Porsche Boxster Spyder and only has room for 1 toy in the garage.

We photograph our cars outdoors in natural light. Hence, there may be shadows cast on the vehicle due to the conditions in which the photos were taken. If you are unclear of anything please contact us!

The 5 SPEED MANUAL Transmission shifts flawlessly and the 3.2L Twin 6 cylinder engine offers ample power when called upon.
This Porsche has been reviewed by an independent certified mechanic in accordance with PA state inspection regulations and it passed without issue!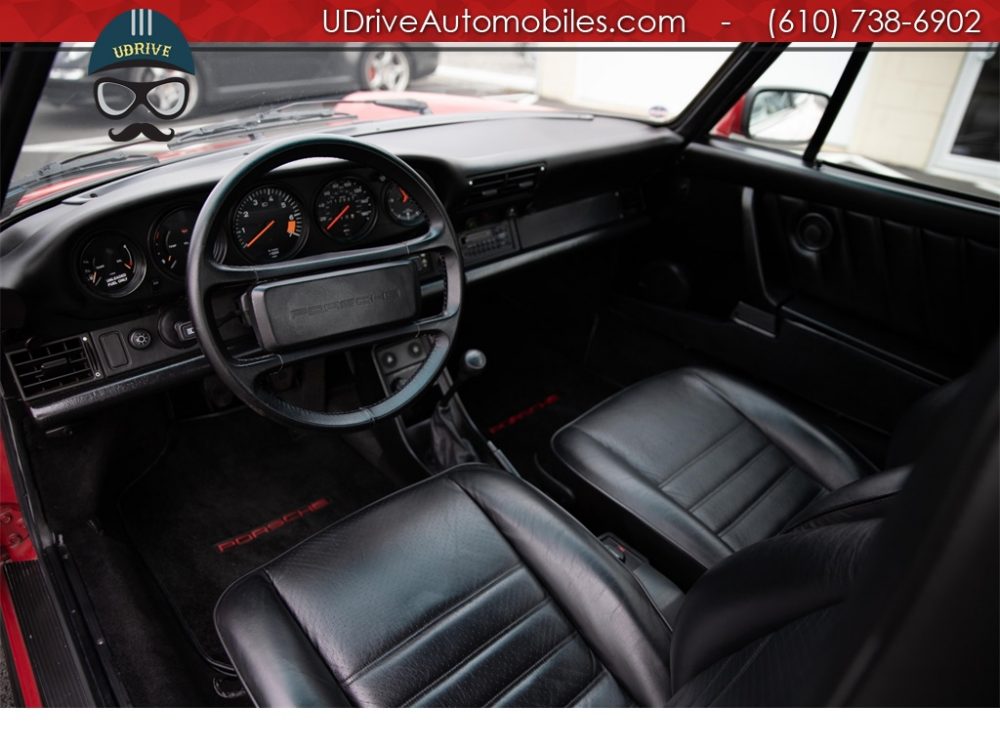 The overall condition, inside and out, of this 911 looks remarkably good given its age and mileage. There is a reason for that: this Carrera has been repainted and the interior reupholstered. Most significantly the interior was redone in Black whereas its original interior color was Maritime Blue. A Carmine Red 911 with a Maritime Blue interior must have been a sight to behold. I'm not quite sure how well it would have worked and perhaps that explains why one of its owners chose to redo it in the much more standard black. That lack of originality will impact its value, but I also imagine the market for this 911 will be a little broader given the less unusual combination. I kinda wish I could have seen the original though.
The rest of this 911 comes with its usual questions regarding history and you of course will want to have a PPI performed. We are told it recently has been serviced to replace a couple of belts, spark plug wires, and valve cover gaskets, along with an oil change. We aren't told too much more about its history though we do see a stack of service records. Hopefully its mechanical condition and performance will be on par with its appearance.
As far as price goes, for a G50 Carrera Coupe at this mileage and condition the price isn't too bad. However, with a non-original interior and having been completely repainted the price probably is a bit optimistic. It's a lovely looking 911 though and should be great to own.
-Rob