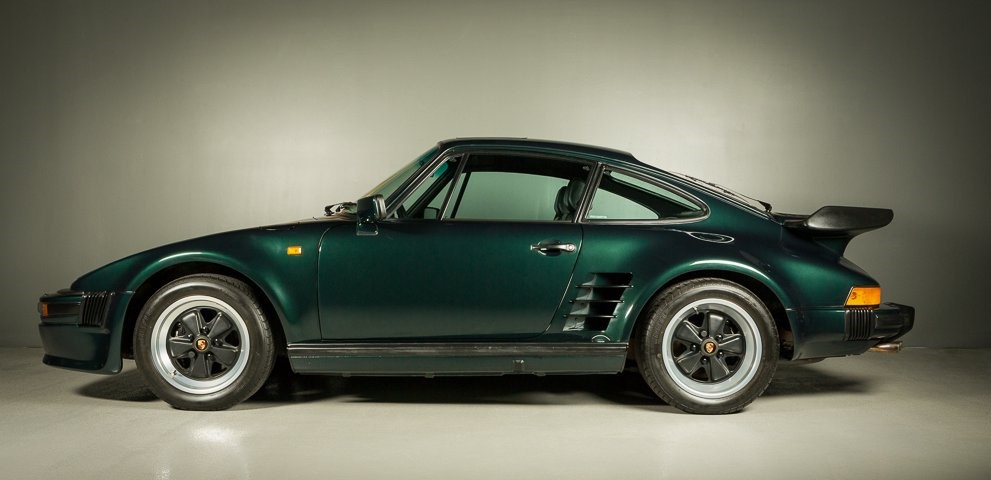 I am a little excited about this car. Here we have a Forest Green Metallic 1989 Porsche 930 Slantnose Coupe, located in Houston, with a variety of rare options including Recaro classic sport seats and the performance kit that raised output to 330 hp. It has traveled – using the term quite loosely – a mere 217 kilometers over the course of its life. As a final-year 930 this particular example sits as a museum piece showcasing some of the unique history of these machines.
So why my excitement? Well, no lie, I have had my eyes on this car for years, though I've never seen it. What I mean by that seemingly contradictory statement is that for as long as I can remember I have seen this 930 listed on RPM's classifieds and it was clear from the description that it was a special car. The ultra-low mileage obviously makes it super special, but even with more typical mileage it's still a special car. However, it always was listed as "pictures coming soon." I began to wonder if it actually existed. Finally it does. I can't say I know precisely when everything was posted, but I happened over to their site earlier this week and there it was. I am not disappointed.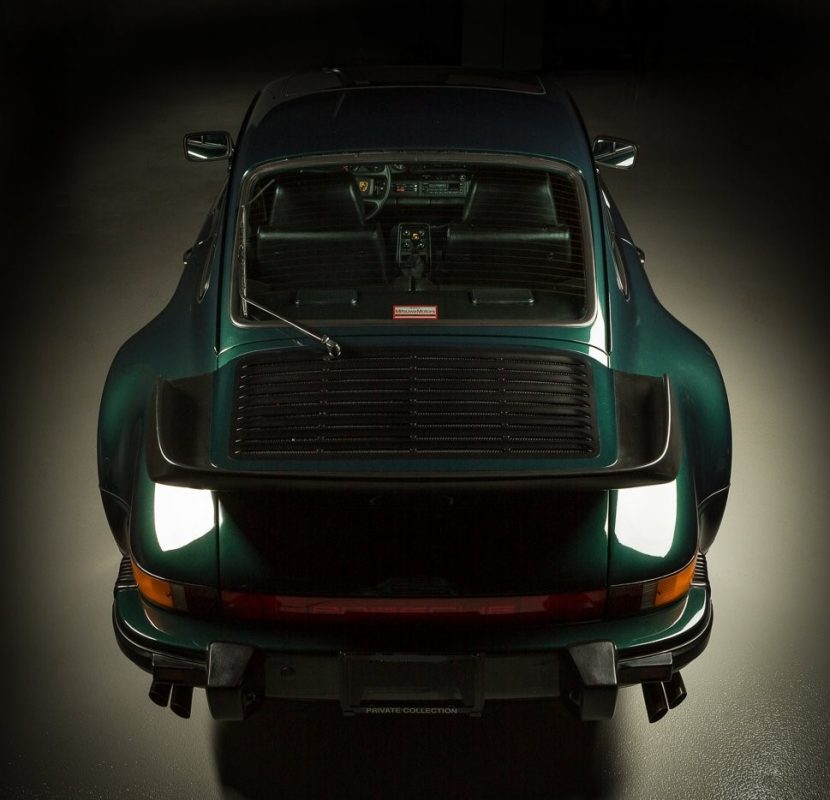 Year: 1989
Model: 911 Turbo
VIN: N/A
Engine: 3.3 liter turbocharged flat-6
Transmission: 5-speed manual
Mileage: 217 km (135 mi)
Price: Inquire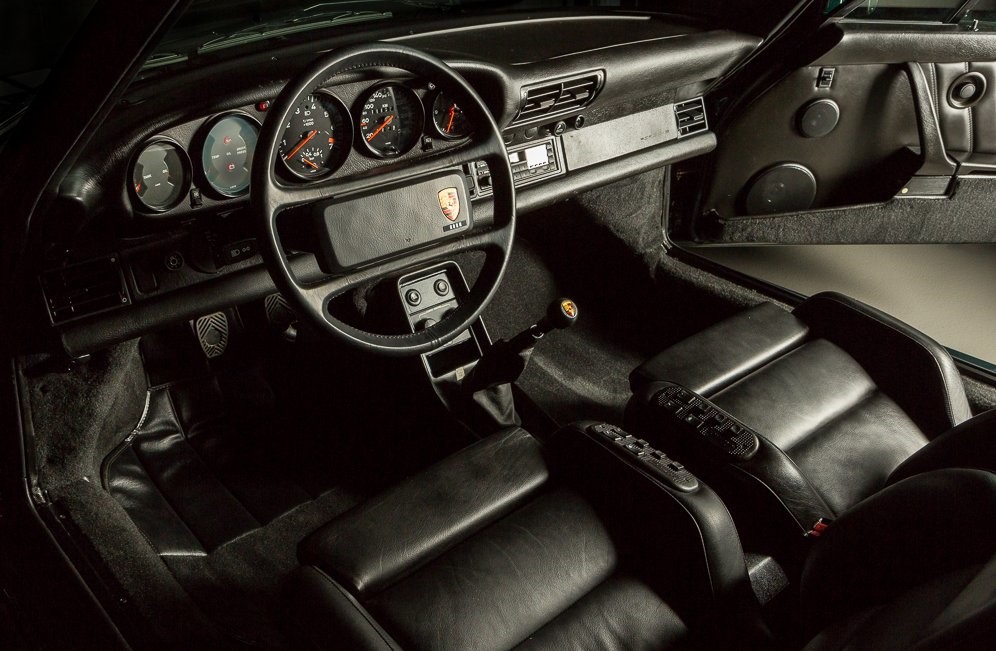 Forest green metallic/black, 135 miles, very rare Sonderwunsch factory slant nose with factory 330 HP increased performance engine (M148, XE1), full leather, factory Recaro Classic sport seats, factory special wishes steering wheel (XJ1) and shift knob, special rear seats, limited slip differential, sunroof, fresh service, Certificate of Authenticity, the finest remaining 1989 turbo in the world as well as the finest remaining factory slant nose with only 135 miles/217 KM.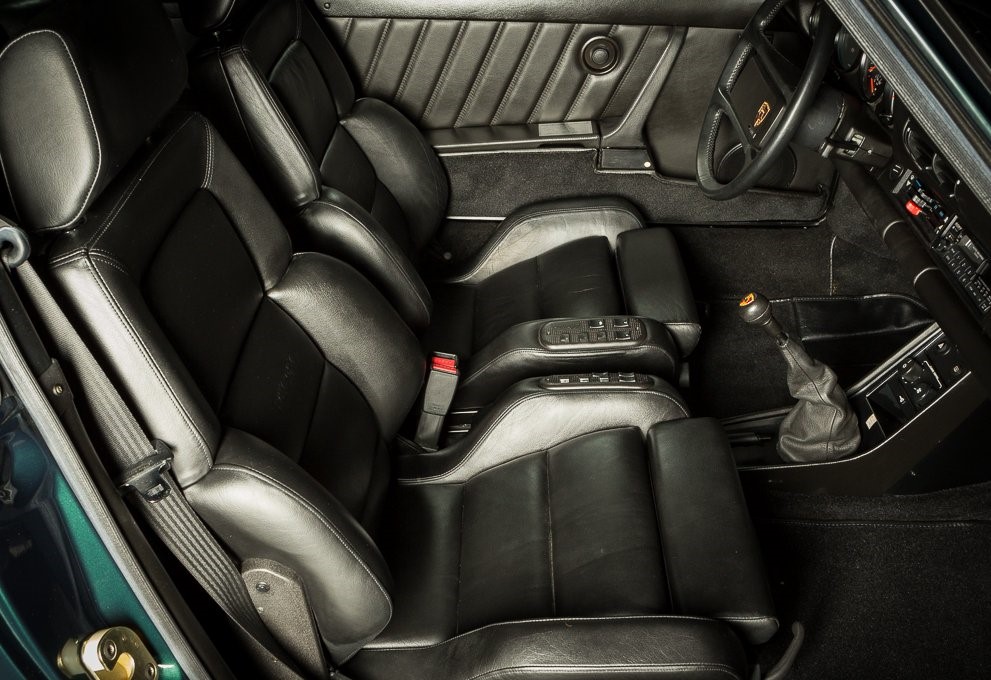 Ok, so I am a little disappointed. All of these pictures are taken inside under a cover of darkness. I really want to see more. To see just how the paint reacts to sun and shade and to get an accurate sense of its condition. I guess we can't have everything.
But there is a way in which this 930 does have everything, though without needlessly going overboard. It has those special Recaro seats, the enhanced performance and LSD along with the little touches like the steering wheel and shift knob. And, of course, it's a factory Slantnose Coupe. The steering wheel perhaps is the only letdown since we all know the 930S wheel exists and probably should be on this car. It looks much better. Porsche periodically has released special edition 911s that serve as a template for what is possible under the Exclusive program. They show you the range of options. I think this 930 kind of fits into that category, though I assume it was specified by an individual buyer. It isn't PTS, nor does it have a to-sample interior so I guess it could be even more unique. But it's pretty special as is.
I'm not going to get into all of the usual caveats of history and documentation. If you're a serious buyer, then you know you'll need to do your homework on this one. It's going to be very expensive. Me, I'm just going to admire it. Sure I wish it'd been driven more, but we need museums to remind us whence we came. This 930 does that and that's just fine.
-Rob