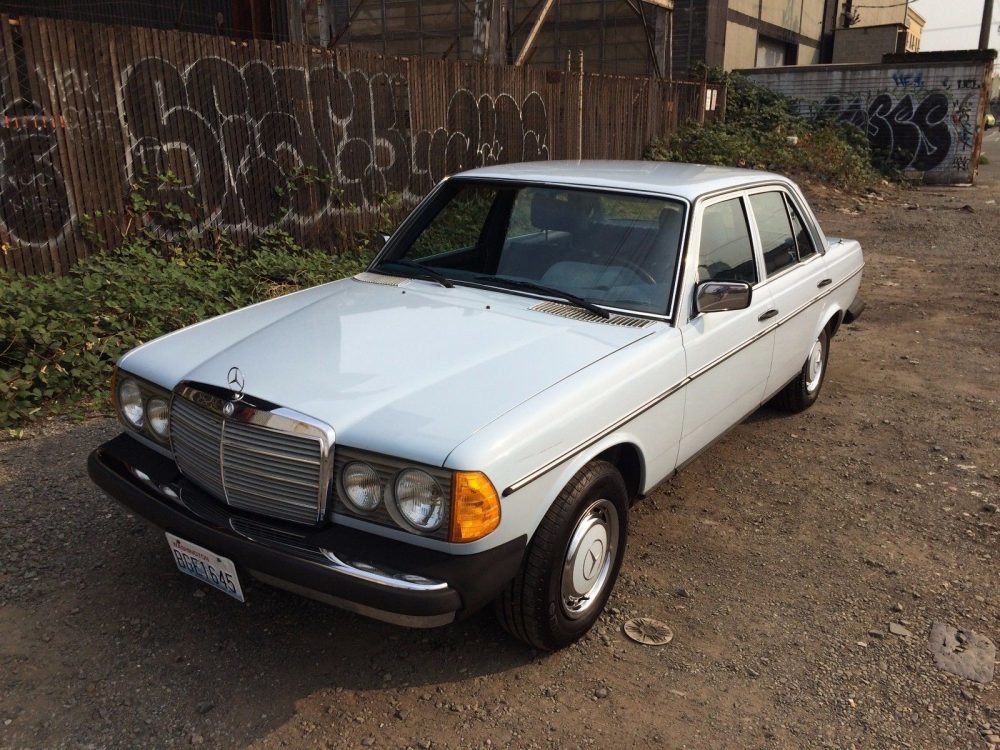 It has been a little while since I've featured a W123 so today is as good a day as ever. Today we have a 1979 Mercedes-Benz 300D up for sale in Seattle, Washington. It sports the great color combo of Pastel Blue (with the matching hubcaps) and blue MB-Tex interior. I'm partial to all things W123 (I own one) and I love to see them when they've been cared for extensively. Luckily for everyone, this nice W123 looks to be so.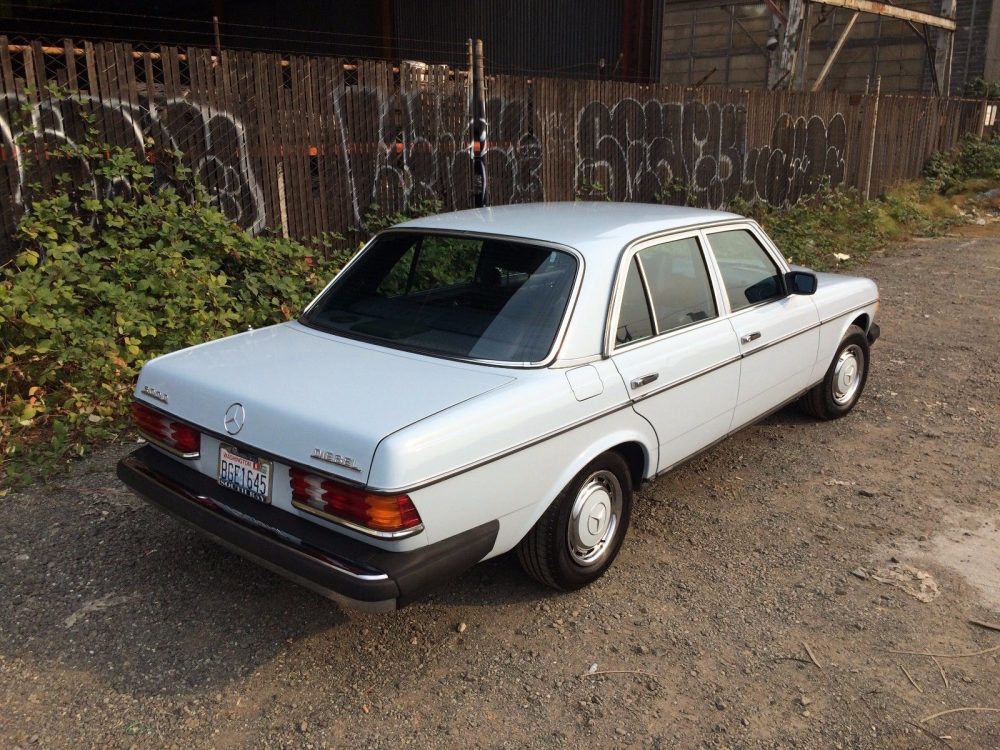 Year: 1979
Model: 300D
Engine: 3.0 liter inline-5
Transmission: 4-speed automatic
Mileage: 112,150 mi
Price: $7,250 Buy It Now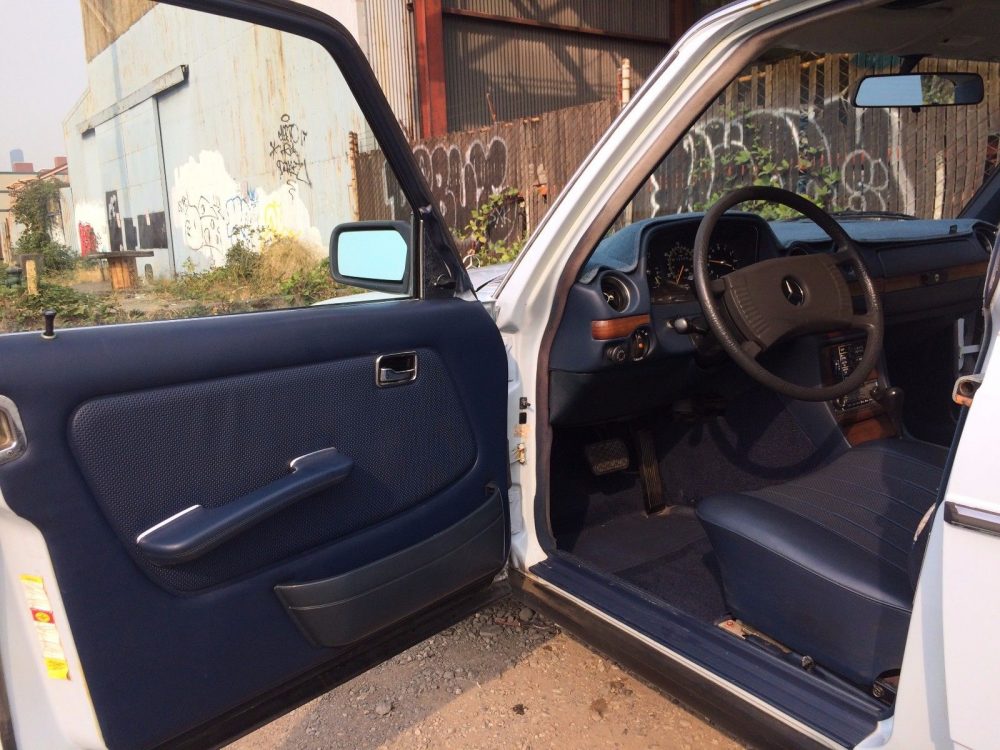 Summary

-112,150 miles
-3.0 liter 5 cyl OM617 diesel engine (naturally aspirated)
-4-speed automatic transmission
-Clean WA title (12313012115411)
-Pastel Blue (922) exterior
-Blue MB-tex interior

Very clean, highly original, driver-quality W123 diesel in a terrific color (Pastel Blue).

Tons of recent maintenance and new parts — over $6000 in the last 12 months (documented).

Everything works except for the cruise control.

Long-time California car (recently relocated to Seattle).

Exterior (7/10)

The original Pastel Blue (722) paint has held up remarkably well, though there are some notable flaws from almost 40 years of use, including various small paint chips, a scratch in the front fender, and some rippling in the sheet metal of the rear driver's side door (appears to have been dented and pulled out). See photos for details.

Original hubcaps on upgraded Mercedes-Benz stamped alloy wheels (same as steelies but weigh only about 10 lbs each — a $600 value), with recent Michelin Defender tires (about 5000 miles on them).

Interior (7/10)

Blue MB-tex seats in very good condition. One small tear on bolster of driver's seat (pictured). Also, the original horsehair seat pads are a little crumbly on the passenger side and in back; however, the driver's seat cushion has recently been replaced.

Like most blue dashes of this era, the dash has significant cracks (see photos).

Zebrano wood trim is very good.

Original Becker stereo and four speakers in good working condition (incl. the original Hirschmann antenna).

Original wool carpeting in excellent shape with no fading (incl. the rear parcel shelf).

There is some puckering of the vinyl covering the window trim, a common W123 issue.

The right rear window regulator isn't operating very smoothly and will likely need to be replaced soon.

Mechanicals (9.5/10)

I purchased this car to use as a daily driver for my 30-mile (round trip) daily commute. As soon as I got it, I had my mechanic (Nick's Mercedes in San Diego) go through the car from top to bottom to make sure everything was in excellent working order. Here's a list of everything that he's done during my ownership.

9/16/2016 @ 105,035 miles
-new AC compressor & recharge system
-valve adjustment
-full transmission service
-new fuel filters
-new engine and transmission mounts
-new upper control arms and tie rods
-alignment
-new front brake rotors
-replace all brake lines
-replace engine oil & filter

11/15/2016 @ 106,235 miles
-replace all shocks (Bilstein)
-replace radiator
-replace thermostat & coolant

05/09/2017 @ 110,055 miles
-replace engine oil & filter

The result is a car that drives exactly as a well-maintained W123 should. It starts easily, makes good power (even without a turbo), idles quietly and smoothly, and shifts well through all gears. The suspension is tight, and the brakes are smooth and effective.

Everything is in excellent working condition (incl. AC and vacuum door locks). The only exception is the cruise control, which does not engage.

I recently drove the car from San Diego to Seattle, and it performed flawlessly.

Reason for Sale

I am selling the car because I recently moved, and I no longer need a car for my commute. Also, my new place does not have parking. : (

Please post any questions you have, and I will answer them promptly!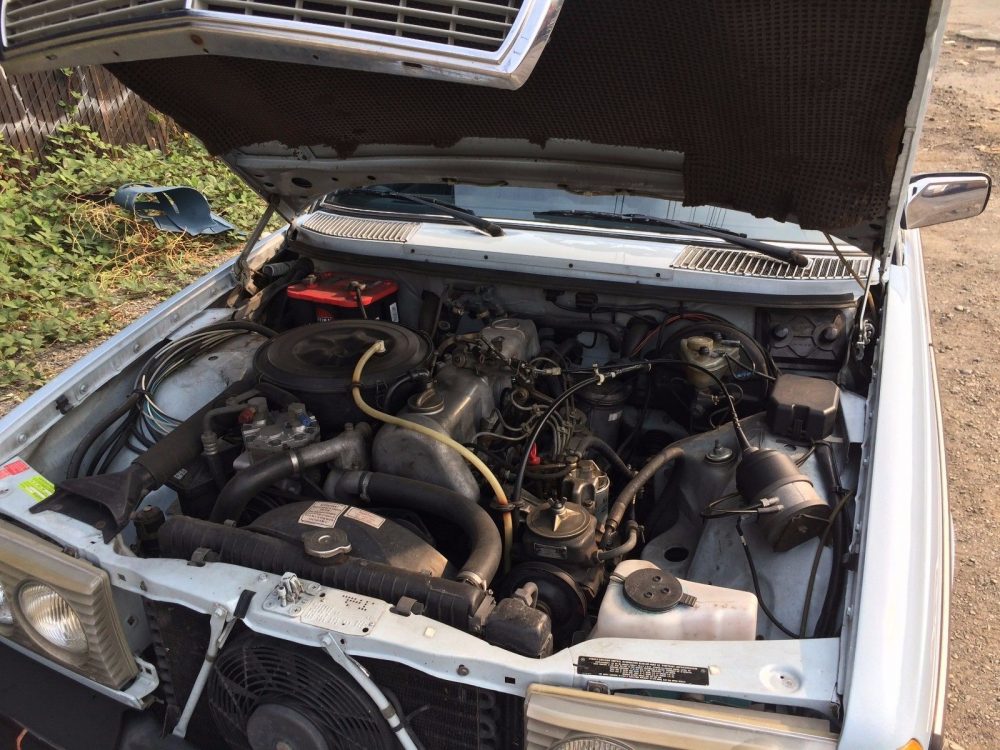 This 300D is interesting in the fact that it is an early W123 with the naturally-aspirated OM617, terrible climate control system, has some cosmetic issues inside and out but has a lot of good things going for it. All the maintenance is up to dale, it is a great color combination and has relatively low miles at a little over 121,000. Almost every W123 has it's pluses and minuses and while this one is no different, some of these issues are more easily fixable than the others. The main this here is that you can totally leave everything as-is and enjoy this car without much guilt and more importantly, hassle.
The price of $7,250 is a little high for my taste, but I understand why the seller is asking that number. This is an above-average W123 and those usually start at $5,000 only get more expensive from there. Given all the recent maintenance history, I'm willing to bet the $7,250 is justified in the seller's mind as well as the nice color combination. The location of Seattle should give this car a really nice pool of potential buyers who appreciate this car or just want something vintage to cruise around in. At the end of the day, if someone did pay $7,250 for this car and kept it long-term, I'd probably say it was well bought at that price. But me personally, I'm always on the lookout for a deal. So this one probably isn't for me.
– Andrew