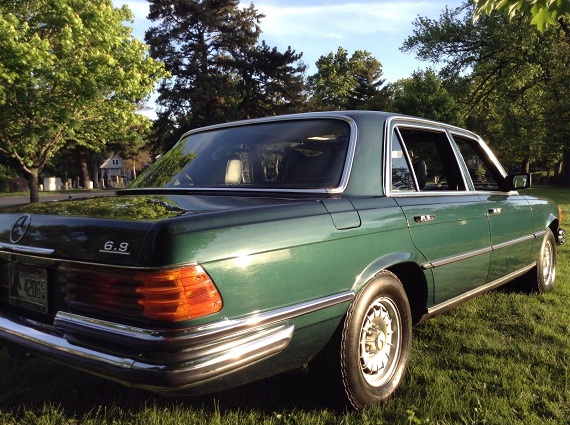 I recently read a report by Esurance which indicated that green cars were the least common amongst all cars owned. Now, truth be told I'm not sure how much accuracy or scientific research there was to this study. Perhaps my skepticism is rooted in my history with British cars and my family's history of having green cars; I count 6 that I remember. Or it could be that my automotive youth matured in the early 1990s, when it seemed that only green cars were produced. Either way, it's rather irrelevant, because if owning a green car sets you apart from the beigeness that is the normal family sedan I'll gladly accept the most usual tone in the automotive world. Further, there are some great greens out there to enjoy; Viper, Mint and Signal from Porsche, Ragusa Metallic from Audi, Oak and Montana from Volkswagen, Tiaga, Java and Urban from BMW, and from Mercedes-Benz there were some neat tones available on the 450SEL – colors like Citris Green, Nickle Green and what I think is Moss Green on this model: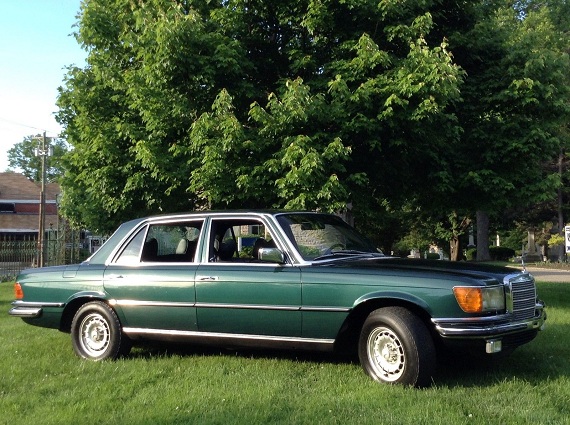 Year: 1979
Model: 450SEL 6.9
Engine: 6.9 liter V8
Transmission: 3-speed automatic
Mileage: 106,721 mi
Price: No Reserve Auction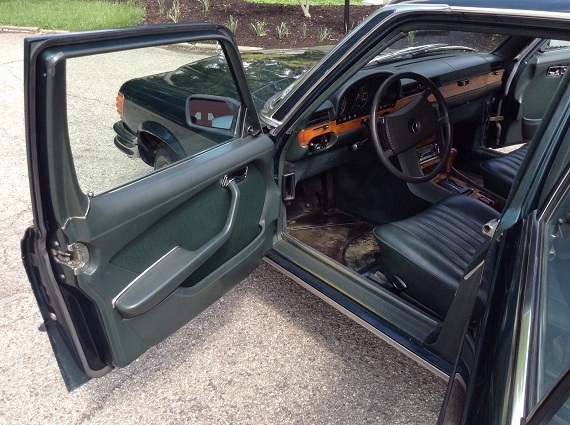 1979 Mercedes Benz 6.9

W116 chassis, European Spec.

Please be sure to preview the attached photos within this item listing to aid with the following description and references. In addition to these photos, please visit the following post:

http://share.shutterfly.com/action/welcome?sid=0AbtXDVo2cuWjiQ

This vehicle was originally imported, when new, to the USA from Germany by a private Owner. It has spent the first 25+ years of its life in southern California. I had purchased it three years ago with a clear Colorado title. This car has 106,7xx original miles and has been well cared for, enthusiast owned. As the photos clearly depict the arid 'western' condition of this car, it is important to also note that this is a genuine European version of the 6.9. Although this may be apparent by the non-US spec lights & tapered bumpers, it is the vehicles higher performance that truly sets it apart as the most desirable W116 Mercedes. Here are some key points about this car:

· Non-US 6.9 cars have a greater compression ratio

o 8.8:1 v. 8.0:1

· Non-US 6.9 cars produce more torque

o 405 lbf-ft v. 360 lbf-ft

· Non-US 6.9 cars produce more power

o 286 bhp v. 250 bhp

· The Hydropneumatic suspension on Non-US 6.9 cars have a greater adjustable height setting (2 inches) for unpaved roads

The 6.9 included other high performance standard features such as a dry-sump oil system, Bosch K-Jetronic electromechanical fuel injection, Bosch anti-lock braking system (ABS), and a self-leveling suspension (SLS).

As you can see from the photos, no rusty bolts here! The engine bay, floors, longitudinal members, wheels wells are very solid, clean and original. The only visible rust appears to be in the underside of the rear quarter behind the rear wheels. The paint shines well and is deep in color. The clearcoat on the hood & some roof areas (near the rear pillars, glass) have 'peeled' with some blemishing in the paint finish. The hood, roof, & rear cowl areas need to be painted to make this a show worthy competitor.

The interior of this car is green and is literally in 'like new' condition! The carpet is plush, the seats are firm, no tears, no cracks, no stains, perfect headliner, beautiful burled walnut trim. No cracked or chipped glass. All of the dash, vanity & switch lights work. All of the door handles & pulls work – single original key for all locks. All of the power windows, sunroof & central locking systems functions properly. NOTE: This car is equipped with a power rear reclining seat!

Even the automatic climate control still works properly. However, the dash is cracked and the cassette player isn't working, although it does turns on.

Mechanically, this car runs & drives very well. I would confidently drive this car 500+ miles. Starts immediately, steady idle, steers straight, brakes are firm, all gears shift smoothly, runs cool, great oil pressure, and best of all… the smooth ride & incredible road handling. The suspension stays up, doesn't sag if parked for weeks or even months. No signs of any leaks. Some recent (6 months / 500 miles) service items have been:

· Oil and filter

· Air filter

· Fuel filter & bracket bushings

· Spark plugs, distributor cap & rotor

· Exhaust hangers

· Hydro reservoir pump-head seal

· Warm-up regulator

· Compressor

· Rear window seal

· Factory Mercedes Battery

The car also includes these following accessories / equipment:

Factory manual & sales brochure

Factory forged steel '6.9' plaque (featured in the sales brochure)

Original Mercedes Benz grill badge

Original tool kit, jack, and full spare

Original European first-aid kit

Mercedes Benz fuse kit & suspension actuator linkage (small tie-rods)

Original suspension shipping blocks

The winning bidder of this auction is responsible for the shipping cost & pick-up arrangements of this item. I will store the car and assist with the pick-up coordination. The winning bid amount shall be paid with 3 days of the auction end.

If you have any questions or would like to request additional photos of this car, please request them. I have tried to be as open & honest about the condition of this car as I would expect as a buyer… from one enthusiast to another. You will not be disappointed! Thank you for your interest.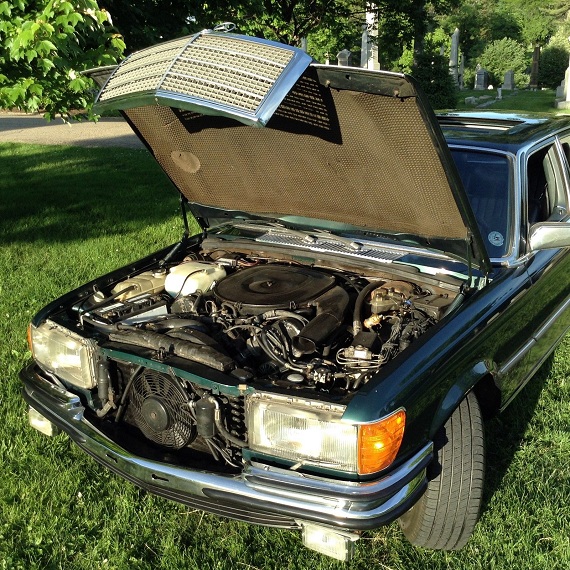 That green exterior is matched by an unbelievably cool green leather interior; this car is almost an honorary Bentley in this color combination. Topping it all off, this is the more desirable and better-performing European model. It appears well documented and overall very clean; the condition looks to be not quite show ready but certainly good enough to be well enjoyed and driven. Top value on these 1979s is right around $40,000 but bidding on this model has remained low, at only $12,000 with no reserve as of writing. As it sits, this looks like it could be a great pickup for a classic Mercedes enthusiast who wants a little muscle with their luxury.
-Carter