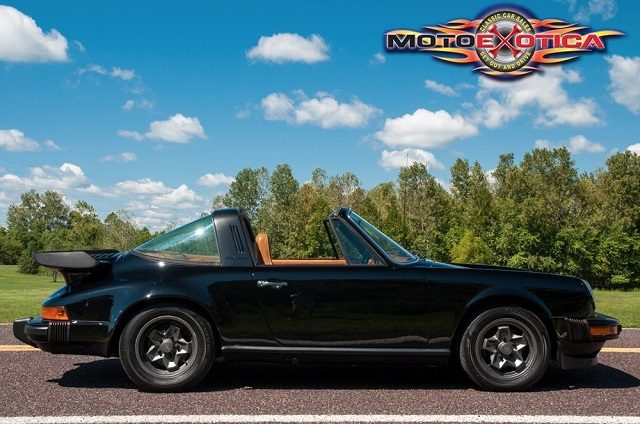 Here's another 1979 Porsche 911SC, this time a Targa, and you'll notice it's a good bit different from yesterday's example! For one, it's from Europe (or, at least, the European market since they're all from Europe). For the most part the differences between Euro market classic 911s and their American counterparts aren't all that significant. So it usually is not a huge deal to find one and we don't really see too much difference in value. We hear various anecdotes about better handling and performance due to revised suspension and varying weight, and while they certainly may be true those changes are more subtle. You'll probably notice them, but it's not like the Carrera RS vs RS America.
There are some aesthetic differences though that can make these an attractive alternative. For one, there's a greater prevalence of cloth seat inserts, which I love. They provide contrast as well as a very period-correct look and feel. Add in the wind-up windows of this SC and you've nearly left the world or technology behind.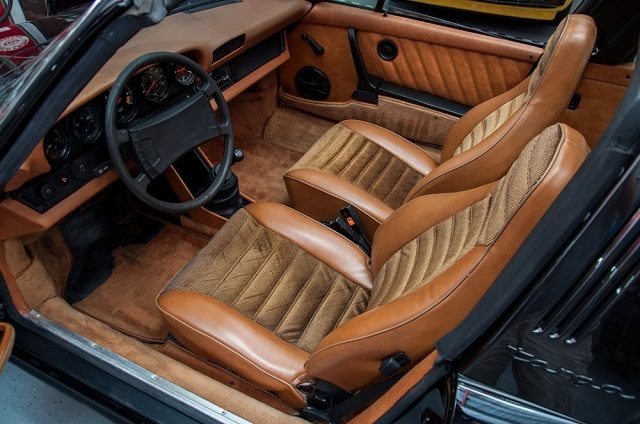 Year: 1979
Model: 911SC Targa
Engine: 3.0 liter flat-6
Transmission: 5-speed manual
Mileage: 44,430 mi
Price: Reserve Auction
1979 Porsche 911 SC Targa

Same owner since 1985
European market spec 911SC (lighter weight and more torque)
Fitted with euro market seats and wheels
One of 3,607 targa Porsche 911s made for 1979
Black metallic exterior and cork cloth/vinyl interior
Remarkable exterior paint that has a slight purple violet tint that is similar to the viola-metallic paint from 1993 Jahre 911's
3.0L aluminum flat six-cylinder engine producing 195 ft/lbs with Bosch K-Jetronic fuel injection
Five-speed manual transmission
Power brakes, heated sideview mirrors, removable Targa top and "Whale Tail" rear wing
New paint, brakes, Sony sound system and Bridgestone tires
MotoeXotica Classic Cars is proud to offer a Teutonic favorite, a 1979 Porsche 911 SC Targa that has had the same owner for the past 32 years. Road & Track magazine called it "one of the best GTs in the world, exotic cars notwithstanding. Its performance, handling, looks, ride and quality are second-to-none…" This is a rare model, with just over 3,600 examples made in 1979 and this particular 911 is a european market spec car that benefits with lighter weight and more torque than the NA market 911's.

Finished in striking black exterior, this car's new professional metallic paint is in excellent condition as expected. This remarkable paint job has a slight purple violet tint that reminds us of the viola-metallic paint from 1993 Jahre 911's. The car's windows are in overall very good condition, clear and intact. This Porsche's lights, including its Hella headlights, are also clear and haze-free. This wunderauto rolls on new Bridgestone tires, 195/60R15 in front and 215/60R15 in back, and surround Fuchs alloy wheels that are painted charcoal gray and look great against the black paint.

All of the Porsche's body panels are straight and solid and was a recipient of a window out quality respray, including the removable targa top and the famous "Whale Tail" rear wing. The engine bay is quite tidy under that whale tail and the car's bumpers look great. Under that giant spoiler is a 3.0L horizontally opposed six-cylinder engine with Bosch K-Jetronic fuel injection and buttoned to a five-speed manual transmission. Driver convenience features include power brakes and heated sideview mirrors.

Inside, the car's distinctive cork-colored interior is very eye-catching. If you hold still after opening the doors, you can hear the car's original clock still tick. The cloth and vinyl bucket seats are in very good order while the back seat looks equally fine and makes a great place to temporarily stash the targa during a drive. The matching color carpet is in overall good condition, as is the instrument panel with its VDO gauges but there is a crack visible on the passenger side of the dash. The blower motor switch is inoperable. A four-spoke steering wheel is present and in good order, as are the car's inner door panels, mirror glass, center console and shifter. Finishing off the interior is a Sony AM/FM stereo with CD player.

In 1978, Porsche introduced the new version of the 911, called the '911SC'. Porsche reintroduced the SC designation for the first time since the 356SC (as distinguished from the race engined 356 Carrera). There was no Carrera version of the 911SC. The "SC" stands for Super Carrera. It featured a 3.0-liter aluminum engine with Bosch K-Jetronic fuel injection and a 5-speed 915 transmission.

In 1979, Porsche had plans to replace the 911 with the new 928. Sales of the 911 remained so strong that Porsche revised its strategy and decided to inject new life into the 911 editions.

Competition to this Porsche in 1979 included Chevrolet's Corvette, Ferrari's 308 GTS, Mazda's RX-7, Mercedes-Benz's 450SL, Nissan's 280ZX and Porsche's own 928.

This car is currently located at our facility in St. Louis, Missouri. Current mileage on the odometer shows 44,430 miles. It is sold as is, where is, on a clean and clear, mileage exempt title. GET OUT AND DRIVE!!!

Click here for our YouTube video of the 911!

VIN: 9119311575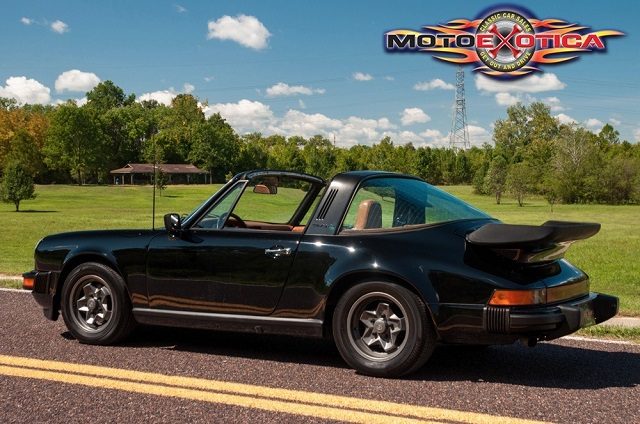 While I generally really like the look of this 911SC Targa – cloth seats, cookie cutters, classic Targa design – there are a couple issues that immediately jump out. The first I find kind of confusing. The seller refers to the color as black metallic. It doesn't look black metallic, and the seller's description of the color as somewhat purplish doesn't match the black metallic Porsche produced at the time. Which would make me think it is not painted its original color. Or I'd think that if it didn't look like a standard non-metallic black! So I'm not sure what the seller is quite describing here. Either the pictures aren't showing the metallic nature of the paint or it isn't metallic at all. The second, perhaps more minor flaw, is that the tail is incorrect. This is a tail from the 930 – generally referred to as the tea tray – rather than the standard whale tail of the 911SC and later 3.2 Carrera. For some that issue might be minor. For me, as a big fan of the whale tail, it's a nuisance because I think the tea tray looks really out of place on a narrow-body 911. That's probably not a big deal to change, but it's there.
I doubt the issues stop there, but given that it has been under long-term ownership we can at least hope this 911's service history will be easily discernible. Even better if it's completely up to date! This is a really nice looking Targa as I love the contrast of the Black exterior with Cork interior. And as I noted I really like the seats and the way they fit into the overall look of this 911. Bidding right now sits at a very reasonable $21,802. There are certainly some questions to be asked about this one, but if bidding remains in this area it should be a very nice value for a pretty unique 911.
-Rob