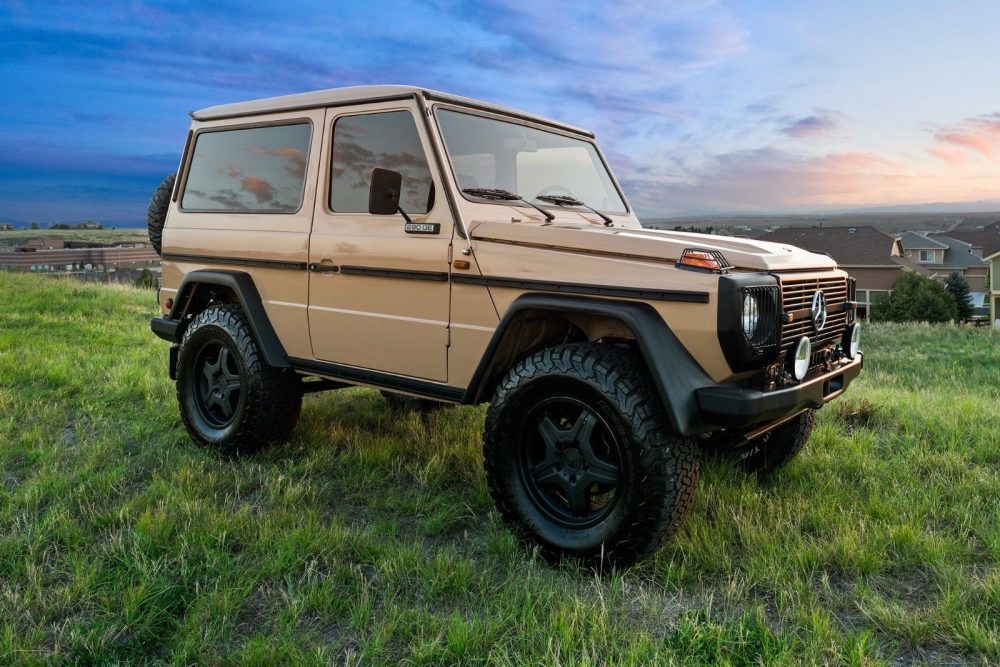 It's been almost two weeks since I last featured a G-Wagen, so I figured I'd get back on the saddle and bring to you today a 1980 Mercedes-Benz 280GE up for sale in beautiful Aurora, Colorado. As you might have noticed, this W460 isn't a stock vehicle but it's not so crazy that you'll look like one of those people who drive from Canada to Argentina in one trip. In fact, the only thing that is really different from every other basic W460 out there are some G55 AMG wheels wrapped in massive 35 inch tires, a set of shocks and springs to fit those massive tires, some fender flares to cover those massive tires and some torsion bars to make sure those massive tires actually get can down the road. Notice a pattern here?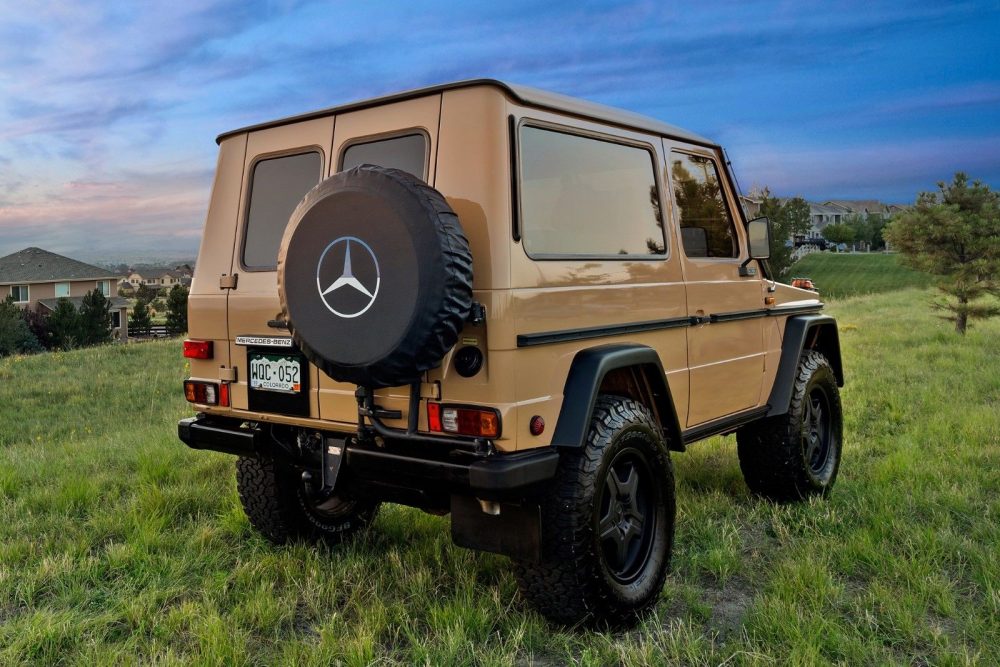 Year: 1980
Model: 280GE
Engine: 2.8 liter inline-6
Transmission: 4-speed manual
Mileage: 40,000 mi
Price: $29,995 Buy It Now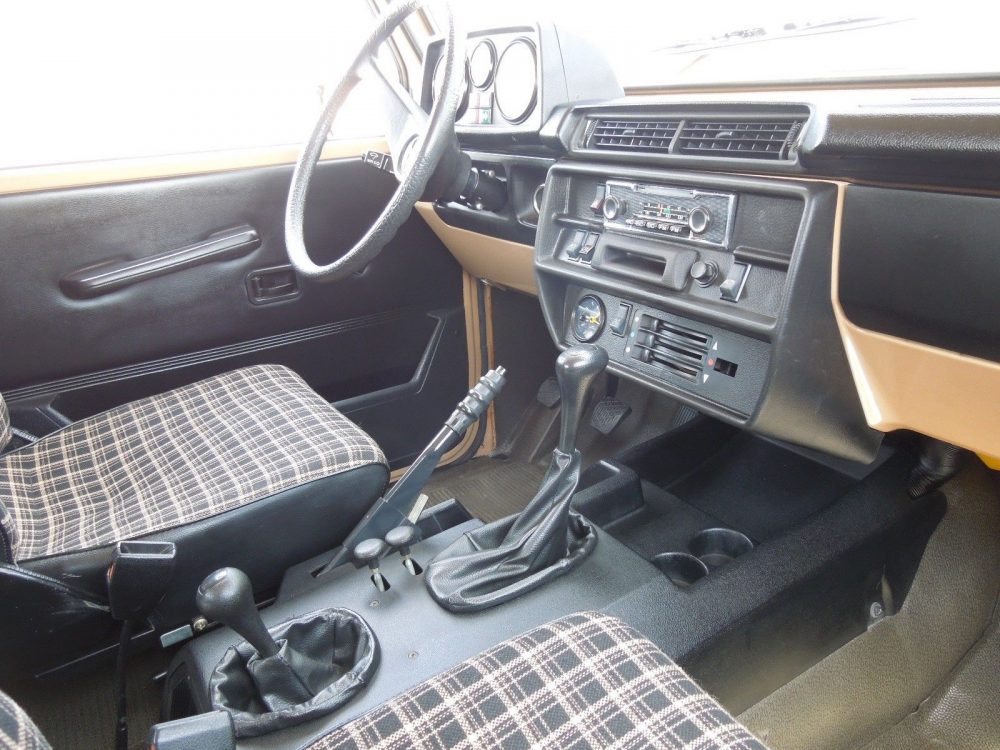 1980 Mercedes Benz 280GE
Short Wheel Base Barn Door
VIN 46023217006445
Colorado Beige (paint code: 1470)
Manufacture date: June 03, 1980
Engine: M110E 2.8L I6, 156 hp, 166 lbft (4250 rpm)
4-Speed manual with front & rear locking differentials

Approximately 40K miles from new. Three owner truck imported into Oregon early in its life following initial purchase in Germany. Oregon owner tackled the Federalization on his own (I have original paperwork). Sold to Maryland individual and used sparingly over six year ownership. I purchased in June 2015 with intention of full restoration/modification due to such good original condition, but chose to keep as-is aside from suspension, wheels and tires. Reason for selling? To fund other projects (house, son's college tuition, etc) but want this to go to a good home. Truck can also be seen on www.ClubGWagen.com classifieds with lengthy thread of comments. Not CARB compliant unless someone wants to spend a ton of additional money to smog certify in California.

A number of maintenance items were needed in order to bring back to reliable running condition as it sat so long in storage. Namely brake system, fuel system all the way to injectors. Truck needed to pass emissions to Register/plate it here in Colorado. These items were corrected and vehicle runs well. All repair/maintenance was performed by Mike Hoover of Hoover Mercedes, an independent repair shop. 25 years of Mercedes experience and named Master Guild Technician numerous times. If he signs off on a vehicle leaving his shop, rest assured it was repaired right.

Other items added to the truck during my ownership:

• New brake line system
• New MB plastic fuel tank and lines
• Brake master cylinder including reservoir
• Brake slave cylinder
• Eibach ORC springs
• Koni SPX shocks
• Hella fog lamps
• Turn signal guards
• Headlight guards
• Borbet fender flares
• Window tinting
• Tortion bar frame re-mount to correct driveline balance with the added suspension height
• AMG G55 wheels (plastidipped)
• BFGoodrich 35/12.5r18 tires

This is a 37 year old UNRESTORED truck and I represent that fact openly. No surprises, just an honest original vehicle that presents itself very well. Previous ownership showed care in maintenance and basic preservation. Including minor rust repair around the rear doors—a process that involved welding in new metal and painting to match—but otherwise original bodywork and paint. Exhaust system replaced in Maryland and near new condition. Minor corrosion near a rear pinch seam. Interior is near perfect with original Becker radio. Minor vinyl abrasions at driver's seat base where cushion deforms when getting in and out of truck, otherwise excellent upholstery condition. I was involved in a rear end collision back in November 2016 and had 2 vehicles impact the rear of the truck. Fortunately, the only areas effected were the left bumper and steel fuel tank. Replaced tank with new style factory plastic version directly from S-Tec manufacturer in Austria. Bumper bracket including left mud flap assembly were slightly bent. Bracket welded with new matching material and new bumper installed. Did not replace mud flap assembly.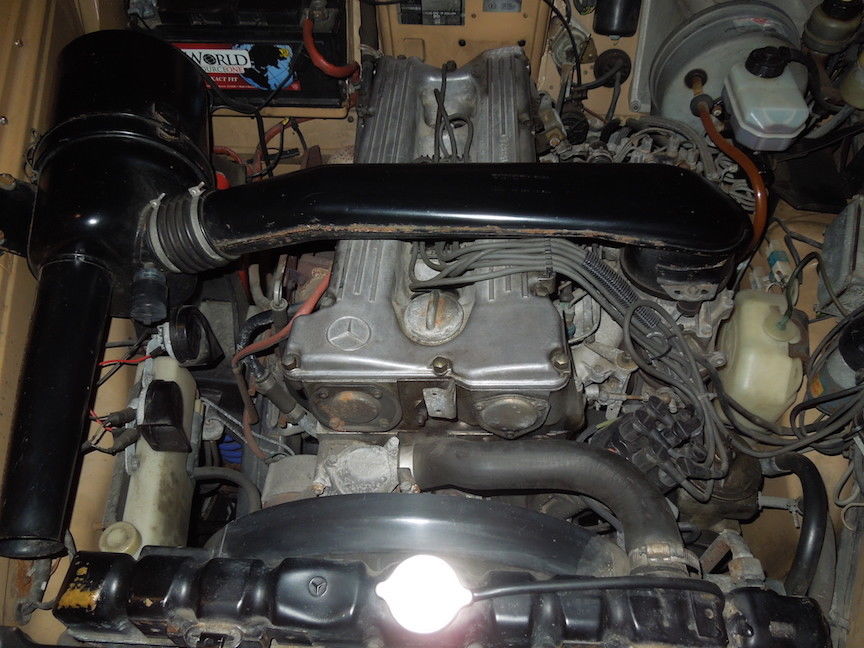 The W460 can be tough to live with as a road driven car, let alone a daily driver, but this 280GE is set up just fine for whatever you need it to do. The M110E 2.8 liter inline-6 makes a respectable 156 horsepower and 166 lb⋅ft of torque which won't have speeding anywhere too fast with those 35 inch tires but you aren't dangerously slow like the 240GD that makes less power than a pack of real horses. The rest of the G looks really nice and was taken care of without limitations from budget and lack of resources. I'd feel much better about buying a W460 like this one, given its long list of maintenance and repairs, than one straight off the boat from Europe where you might have to be chasing issues for who knows how long. I'm hot and cold about the G55 AMG wheels and massive tires as I think there is a certain charm about the little stock wheels, but it's tough to argue how much the ride was improved once these massive pieces of rubber were added.
At a hair under $30,000, it is tough to say the price isn't justified. Yes, you can find 280GEs for much less than this, but they aren't going to have the care and dedication that this one has. One thing I'm surprised at is how low mileage this one is with just 40,000 on it. Usually these things are driven pretty regular given their unity so I was really surprised to see one with this low mileage on it. This is pretty much a turn-key G that you can hop in and enjoy for whatever you need. No stories or surprises with this one, just a cool old G ready for whatever you need it for.
– Andrew