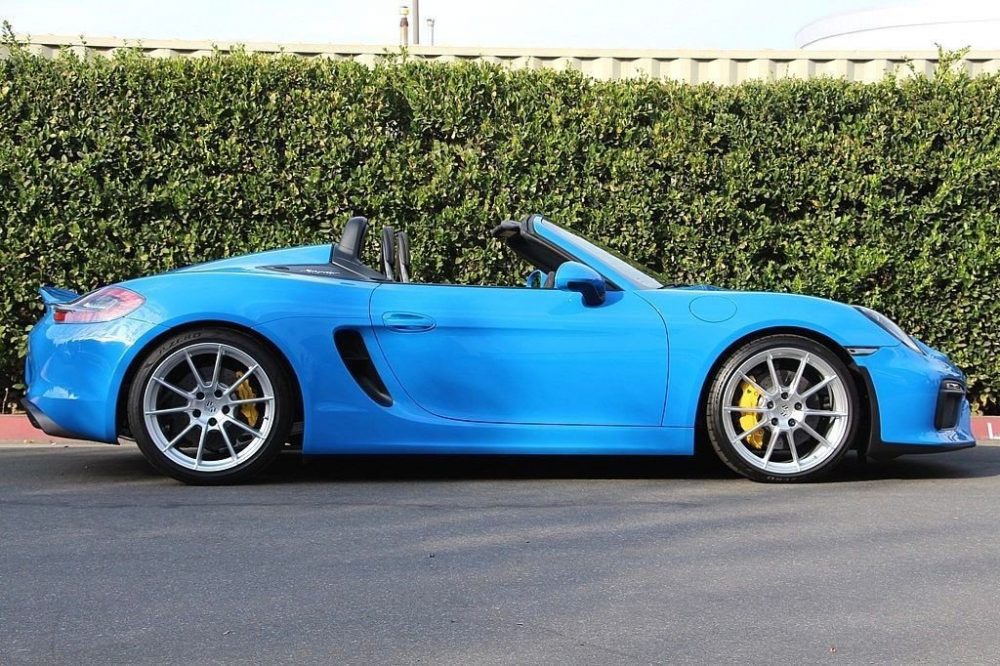 I've periodically had my eye out for the latest Porsche Boxster Spyder to feature. They don't come up for sale all that often and most times when searching I have come up empty. The few times I have come across one it either sold very quickly or I came across an auction just prior to its end. My luck has finally come good.
The Spyder is the Boxster version of the Cayman GT4 and each serves as the swan song for these naturally aspirated Porsches. Like the GT4 it borrows its 3.8-liter engine from the 911 and in this form produces a nice 375 hp all routed to the rear wheels through a 6-speed manual transmission. For me it's also the best looking Boxster Porsche has produced thus far.
Here not only have I finally found a Spyder I like, but I found two of them! Obviously, they had to be featured together. Both are paint-to-sample non-metallic blues and are very bright. I ran a similar feature a while back with two PTS GT3 RS in blue and now we turn to another of Porsche's limited-production models. The overall spec of these Spyders is pretty similar so really it all comes down to the exterior: Voodoo Blue or Mexico Blue. Which to have?
Year: 2016
Model: Boxster Spyder
Engine: 3.8 liter flat-6
Transmission: 6-speed manual
Mileage: 2,910 mi
Price: $136,000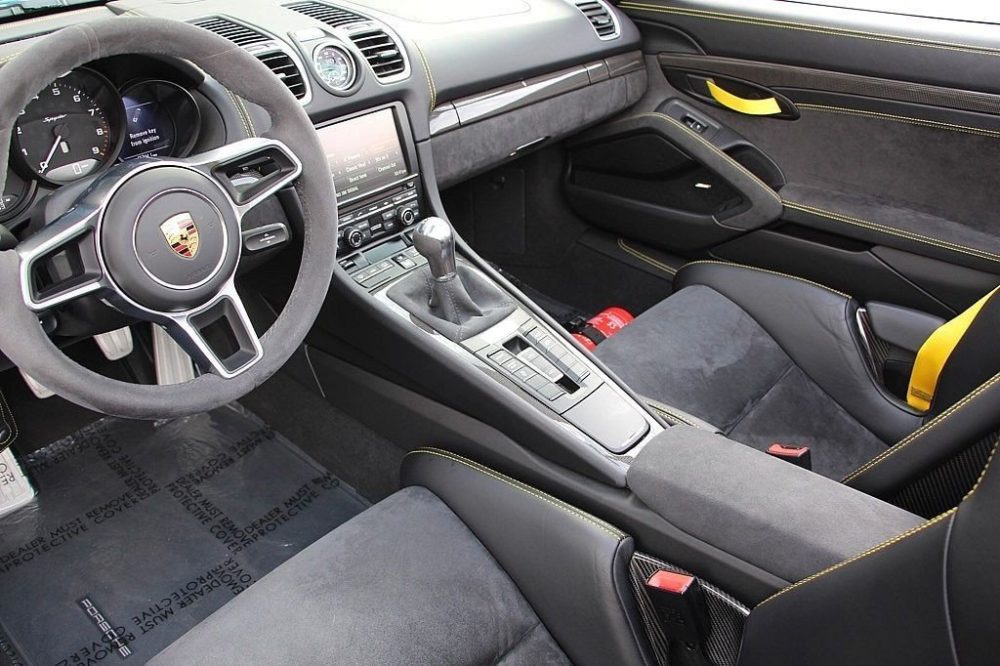 My fellow Rennlist friends here we have the infamous 2016 Boxster Spyder.

This will for sure put a smile on your face when driving around the open roads.

2016 Porsche Boxster Spyder
Base – Boxster Spyder
085 – 64-litre Fuel Tank
25041 – Exterior Paint To Sample
450 – Porsche Ceramic Composite Brake (PCCB)
498 – Deletion Of Model Designation
505 – Door Opening Loops In Colour Of Decorative Stitching
509 – Fire Extinguisher
572 – Manual Air Conditioning
58 – Leather With Alcantara (Black) In Conjunction With Stitching In Contrasting Colour Yellow
581 – Storage Net In Passenger Footwell
583 – Smoking Package
619 – Mobile Phone Preparation
630 – Light Design Package
750 – Stitching In Contrasting Colour
789 – Code For Exterior Paint To Sample
7X9 – Reversing Camera
852 – Porsche Dynamic Light System Plus (PDLS Plus)
98 – Exterior Paint To Sample Non-Metallic
CFX – Deviated Floor Mats With Leather Edging
CLP – Extended Interior Package, Door Panel In Leather/Alcantara®
CPE – Leather Key Pouch
CPK – Vehicle Key Painted
CXX – Custom Tailoring Option (special Wishes That Require Further Communication)
CZW – Dashboard Trim Package In Leather
EFA – Pedals And Footrest In Aluminum
EGA – Carbon Fiber Interior Package (with Leather Interior)
P11 – Full Bucket Seats
P9G – Infotainment Package With BOSE® Surround Sound System
XHM – Center Console Trim In Carbon Fiber
XHN – Seat Belts In Racing Yellow
XLS – Sport Tailpipes
XLU – Sun Visors In Alcantara®
XTG – Inner Door-Sill Guards In Leather
XUB – Headlight Cleaning System Covers In Exterior Color
XXR – Tinted Taillights
XYB – Fuel Cap With Aluminum Look Finish
ZAB – Ornamental Porsche Crest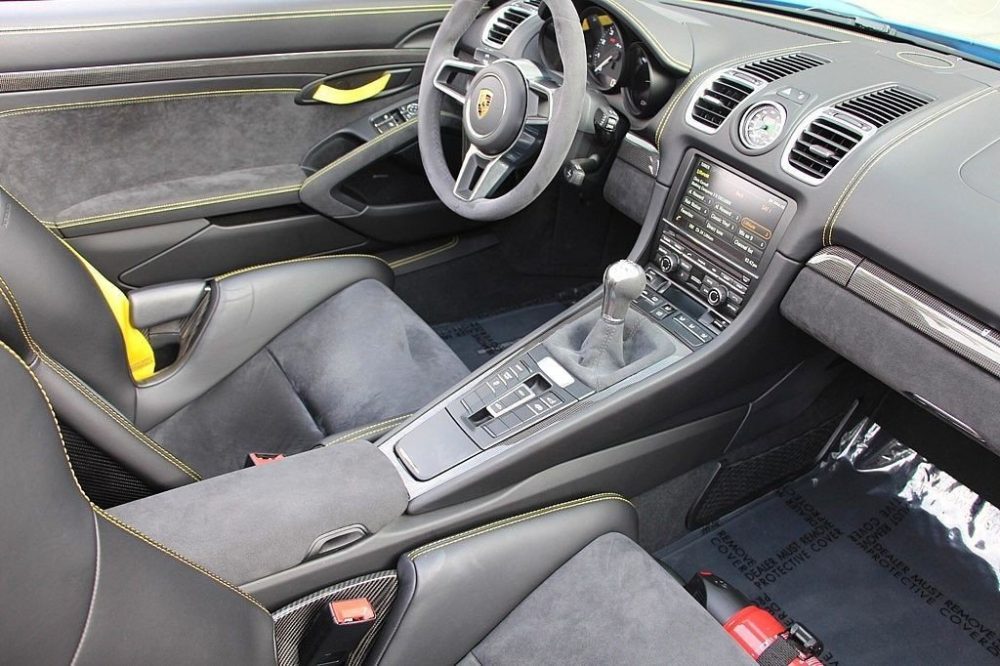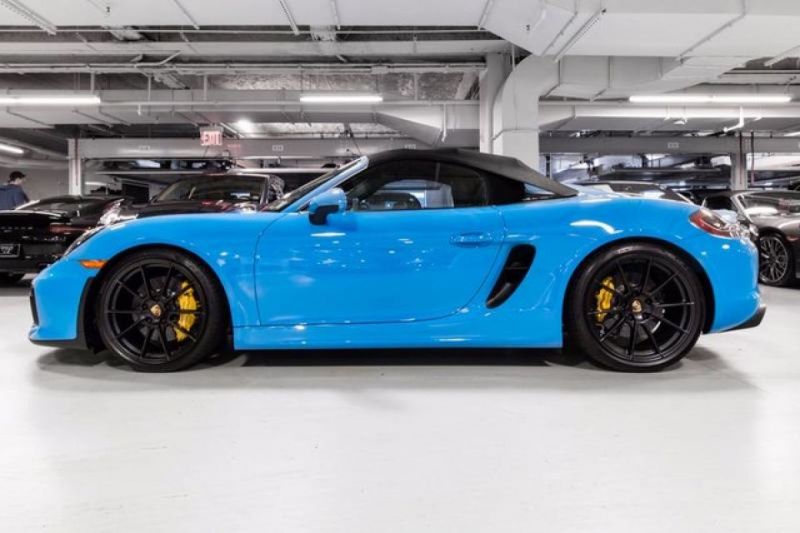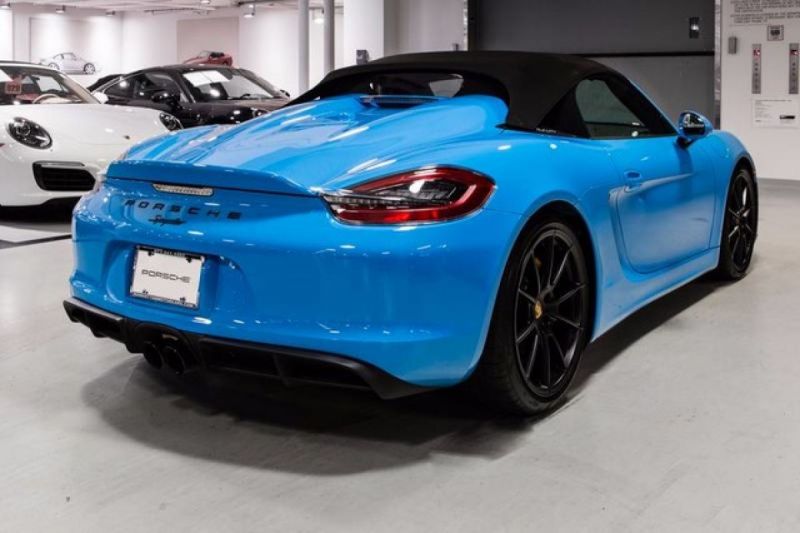 Year: 2016
Model: Boxster Spyder
Engine: 3.8 liter flat-6
Transmission: 6-speed manual
Mileage: 424 mi
Price: $138,889 Buy It Now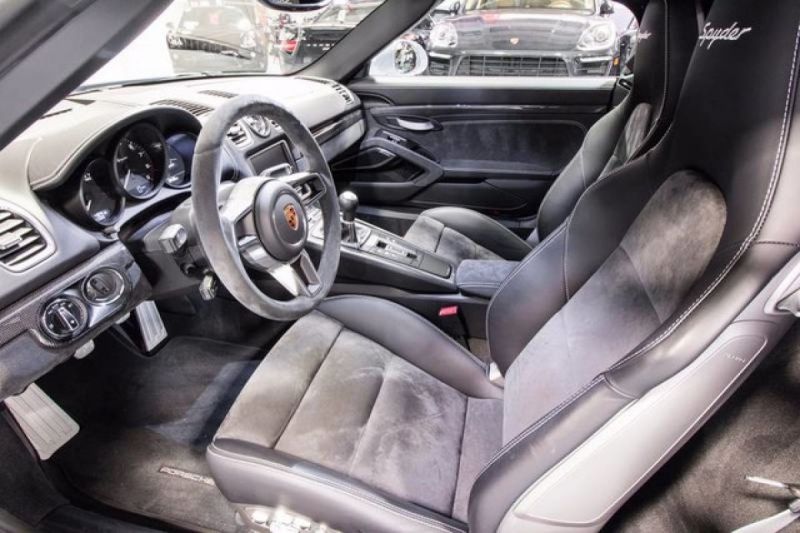 Currently the only Mexico Blue Porsche PTS Boxster Spyder on the Market! Please continue for more information on this 2016 Porsche Boxster Spyder with 378 miles. This Porsche includes: WHEEL CENTER CAPS W/COLORED PORSCHE CREST SMOKING PACKAGE PASSENGER FOOTWELL STORAGE NET FIRE EXTINGUISHER STEERING WHEEL RIM IN LEATHER PORSCHE CERAMIC COMPOSITE BRAKE (PCCB) LIGHT DESIGN PACKAGE PREPARATION FOR ILLUMINATED DOOR SILL GUARDS TINTED TAILLIGHTS INFOTAINMENT PKG W/BURMESTER SURROUND SOUND SYSTEM WIND DEFLECTOR AUTOMATICALLY DIMMING MIRRORS CODE FOR EXTERIOR PAINT TO SAMPLE 2-ZONE AUTOMATIC AIR CONDITIONING PEDALS & FOOTREST IN ALUMINUM CARBON GEAR LEVER (XHH) SEAT BELTS IN SILVER GREY ILLUMINATED DOOR SILL GUARDS IN CARBON FIBER DEVIATED STITCHING SEAT HEATING CARBON INTERIOR PACKAGE (EGA) PORSCHE DYNAMIC LIGHT SYSTEM (PDLS) CARBON CENTER CONSOLE TRIM PORSCHE DYNAMIC LIGHT SYSTEM PLUS (PDLS PLUS) REVERSING CAMERA 18-WAY ADAPTIVE SPORT SEATS PLUS 16.91 GALLON EXTENDED FUEL TANK BLUETOOTH MOBILE PHONE PREPARATION DOOR OPENING LOOPS IN STITCHING COLOR HEADLAMP CLEANING SYSTEM COVER IN EXT COLOR *Note – For third party subscriptions or services, please contact the dealer for more information.* You'll instantly stand out with this hard-to-find 2016 Porsche Boxster Spyder. Be sure to prepare yourself to get noticed in this ultra rare Porsche Boxster.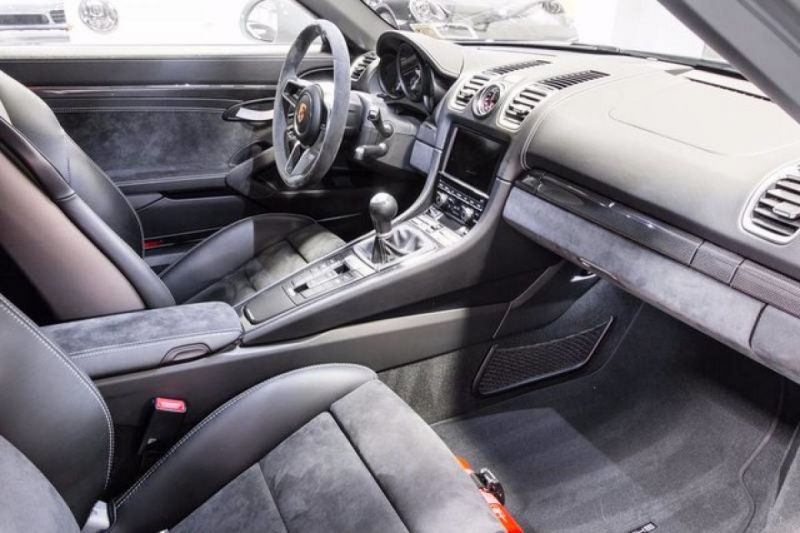 I've never really taken the time to decide which of Porsche's blues I like best. Between the Voodoo Blue and Mexico Blue we see here along with Riviera Blue and the very early Pastel Blue we have a bunch of options along a fairly narrow band of the spectrum. (And I'm sure I'm leaving out a couple.) All have their particular appeal, but without seeing them in similar lighting (and ideally in person) it can be really tough to tell them apart. None is likely to allow you to escape the notice of others.
Between these two the Voodoo Blue Spyder is the one that attracts me the most. However, much of that is down to the quality of the pictures and the lighting conditions. Also, I really don't like the black wheels on the Mexico Blue Spyder. I like black wheels in certain applications, but apparently not on a bright blue Boxster. I think in person it would show a lot better, but probably not enough to sway me its way and away from Voodoo. The yellow contrasts in the interior also add a nice touch to the Voodoo Spyder so as a total package it's probably the better one for me.
Asking prices here are pretty similar and both are asking a decent premium over the original sale price. That premium probably shouldn't surprise us. Given how rarely you're likely to come across another Spyder in one of these head-turning colors this may be one of the few times when you can choose between two so similar yet still unique examples.
-Rob