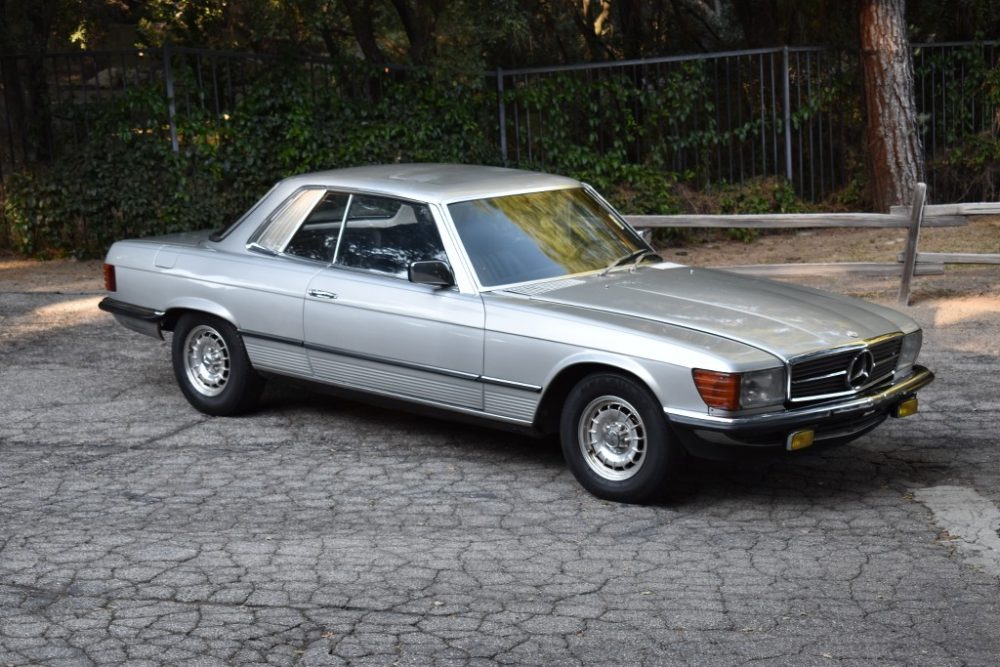 The US-spec C107 Mercedes-Benz SLC probably isn't going to win any beauty contests. Mercedes had their hands tied with bumper and headlight regulations and probably knew people were going to buy their cars regardless, so they put a band aid on it and that is what we live with. In countries who didn't have to live with antiquated regulations, things were much better. Slim chrome bumpers and flat headlights plus some engine and transmission choices that made everything just a little bit more exciting. Luck would have it, this is what we have today.
This is a 1980 280SLC that was sold new in Germany and imported to California some time ago. It has the M110 2.8 liter inline-6 paired with a 4-speed manual gearbox, a combo that is rare to say the least. This seems like a far cry from the lumpy V8 and sluggish automatic that was offered to the US buyers when new. Is this a Porsche 911 or E30 BMW M3? Of course not. It's a car that wasn't very attractive nor fun to drive and is now slight less of that. Right?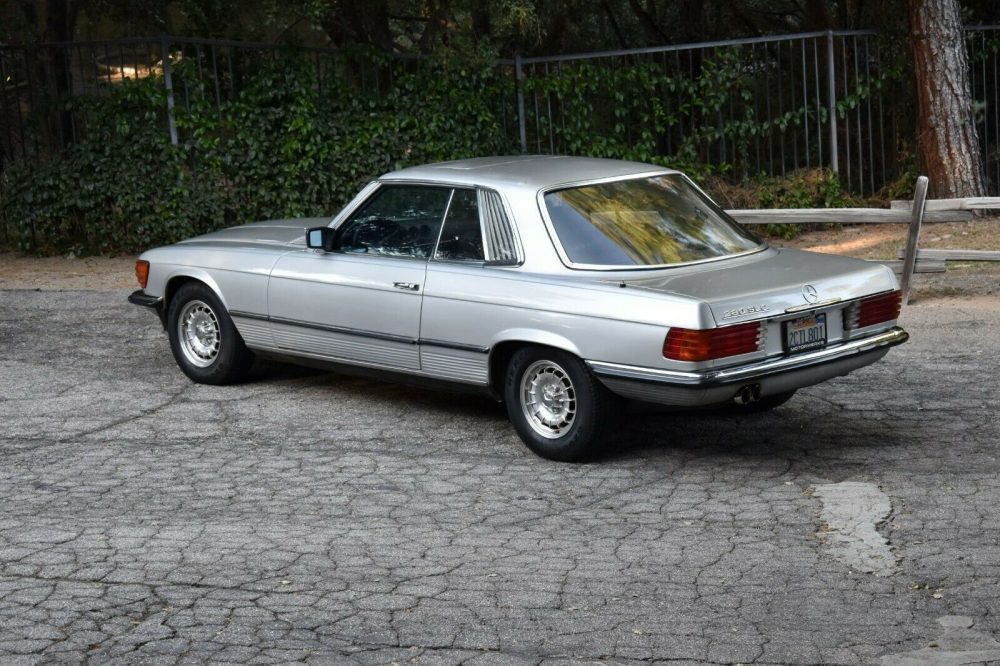 Year: 1980
Model: 280SLC
VIN: WDB10702210009082
Engine: 2.8 liter inline-6
Transmission: 4-speed manual
Mileage: 121,504 mi
Location: La Crescenta, California
Price: No Reserve Auction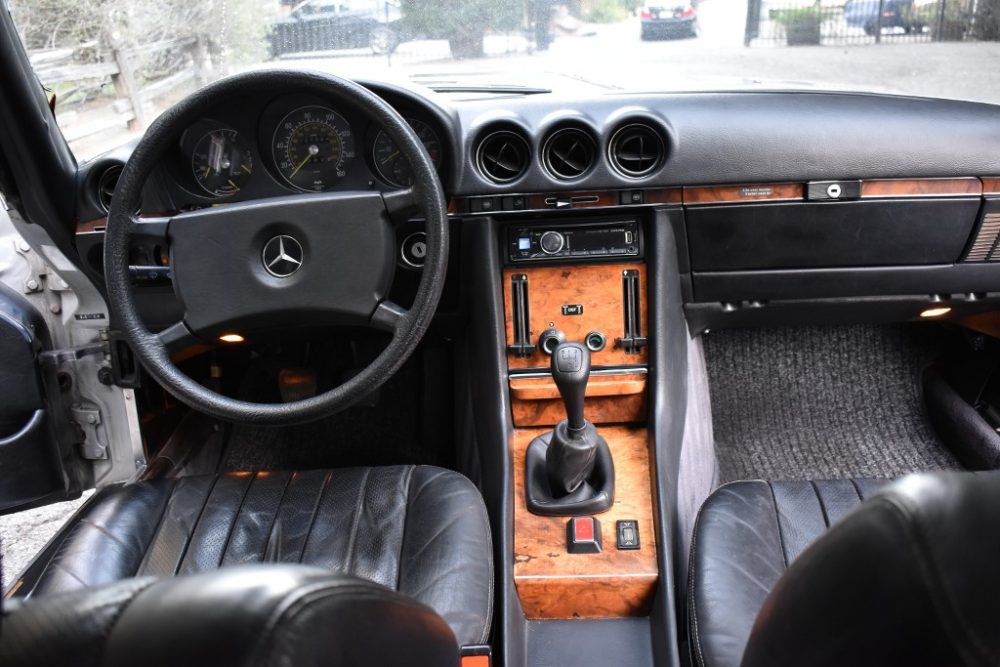 1980 Mercedes Benz 280SLC 4 Speed European Model
VIN: WDB10702210009082
Very rare factory 4 speed manual transmission
Rare and very desirable color of astral silver (color code 735H)
121,500 original and documented miles
Clean CA title
California Car
Rust free
Single family owned and imported directly from Germany
20 years of immense amount of records adding up to over $17,000
Motor rebuilt 12,000 miles ago totaling $8000
Sunroof works and functions properly
Hand crank windows
CA BAR sticker
Recently passed CA smog
European lights and bumpers in great condition
A/C has been converted to R134a
Side window louvers in excellent condition
Wood grain is in excellent condition
Original spare tire
Original glass through out the car
Located in Los Angeles, CA

Recent work includes the following:
120,600 miles: Alpine head unit ($500)
120,139 miles: Complete exhaust system with catalytic converter ($1000)
118,919 miles: Replaced injectors and fuel distributor ($799)
117,360 miles: Replaced blower motor, vacuum hoses, set timing ($1106)
116,389 miles: Replaced fuel pump, fuel filter, fuel line, fuel hose ($698)
114,00 miles: Replaced clutch master cylinder, gearshift boot, bleed system ($335)
112,839 miles: Replace A/C high pressure hose, recharge A/C system ($886)
109,117 miles: Replace sub frame and motor mounts, R&R engine; install rebuilt long block, replace clutch, pressure plates, and release bearings ($7999)

This is a very unique SLC due to the fact it has the lightweight and very peppy M110 engine (inline 6 cylinder with a dual overhead cam) mated to a factory 4 speed getrag transmission. This combo makes this car light and nimble allowing for great acceleration and even better handling. After driving many 107s (300SL, 280SL 4 and 5 speeds, 500SL, 560SL, 380SL, 350SLC 4 speed, 350SL 4 speed, 380SLC, and a 450SLC) the 280SLC 4 speed is hands down the best 107 for a very enjoyable driving experience. Being a coupe, this chassis has less flex and more rigidity while driving which enhances handling and minimizes noise. The roadster version with the removable hard top is prone to rattling and water/air leaking in. Further more, this example is finished in the rare color combo of astral silver over black leather which is near impossible to come across in a 280SLC 4 speed.

Overall this car is very original with some very rare options such as a manual windows, a 4 speed getrag gearbox, A/C, and much more. The 6 cylinder motor mated to the 4 speed gearbox gives the driver a very raw and visceral driving experience. This SLC is ready to be driven daily or enjoyed cruising to cars and coffee on Saturdays. It doesn't leak or smoke and has a very strong motor. The car starts right up every time and drives very tight. The paint is in good shape for its age with some minor imperfections. The car is being sold ASIS, a PPI is encouraged. International buyers are welcomed. Deposit is non-refundable. Feel free to email me with any questions. Please serious buyers only.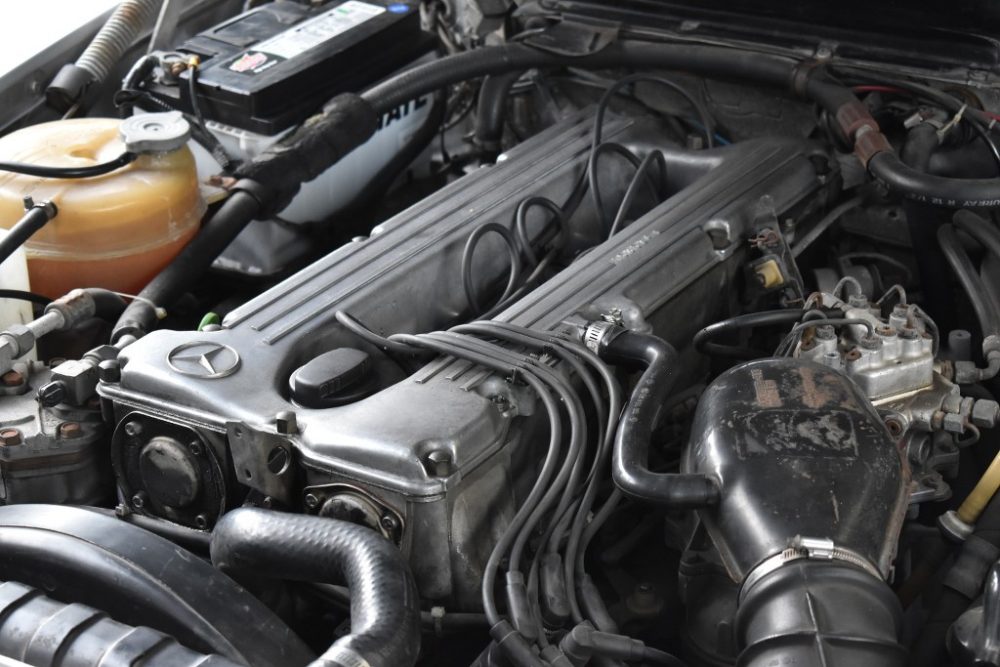 For as good as this car looks, a perfect example it is not. It does have some really strong points like a rebuilt engine and a laundry lists of things replaced, but it is a little tired inside and out. You can see some of the stitching on the leather is starting to break away in some important spots. Wear and patina is cool, trashed isn't and I think this one is getting close to the latter. Thankfully the expensive wood is all together and doesn't need to be sorted, but it is on the verge of cracking if exposed to more extreme temperatures. Kudos to the seller for actually putting together a half decent listing and not just taking four photos and saying "good enough".
This one looks like it is running no reserve, but that doesn't really mean anything anymore. If it doesn't sell for what the seller wants, then oh well. I do think this one eclipses $10,000 easily, but I'm not sure where this one will stop. It is tough to gauge imported cars that we don't normally see, and even more so when it has a bunch of engine transmission combos that rarely come up. Can't wait to see where this one ends.
– Andrew