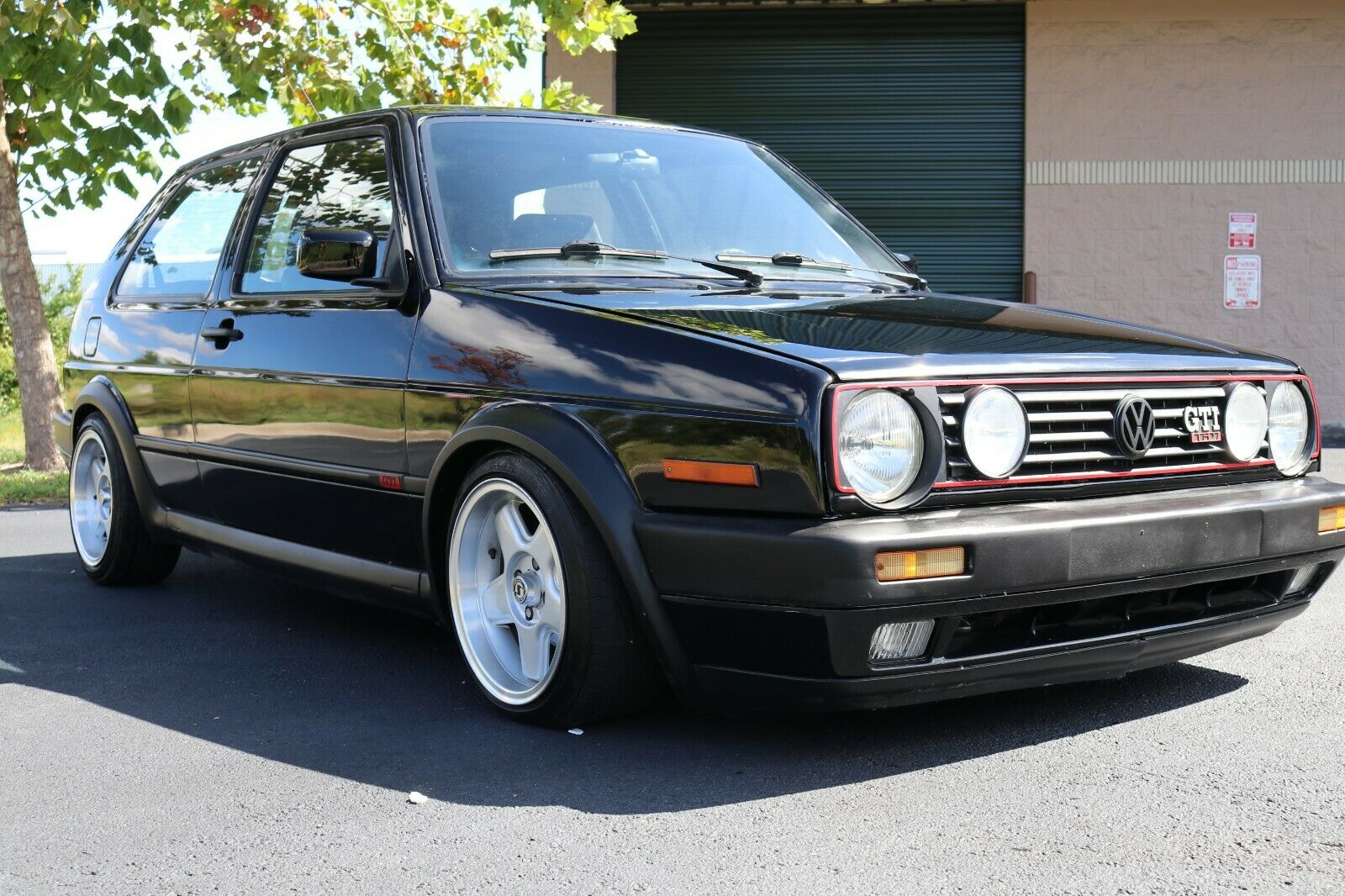 For some, the A2 is a religion and the GTI 16V is their prophet. Being that it's the Christian Sabbath today (observed, at least – forget for a moment that it's supposed to be Saturday!) I thought I'd take a look at a chosen few. The other meaning of sabbath, interestingly, is a meeting of witches with the Devil at midnight. Perhaps that's more appropriate for these hot hatches, all of whom have a slightly evil temper and love mischief? Regardless, in the wake of the Rallye-inspired Golf this interesting trio of what were once original GTI 16Vs popped up, and all are worthy of a look. They range from mild to wild both in terms of mods and price. Are any of them winners?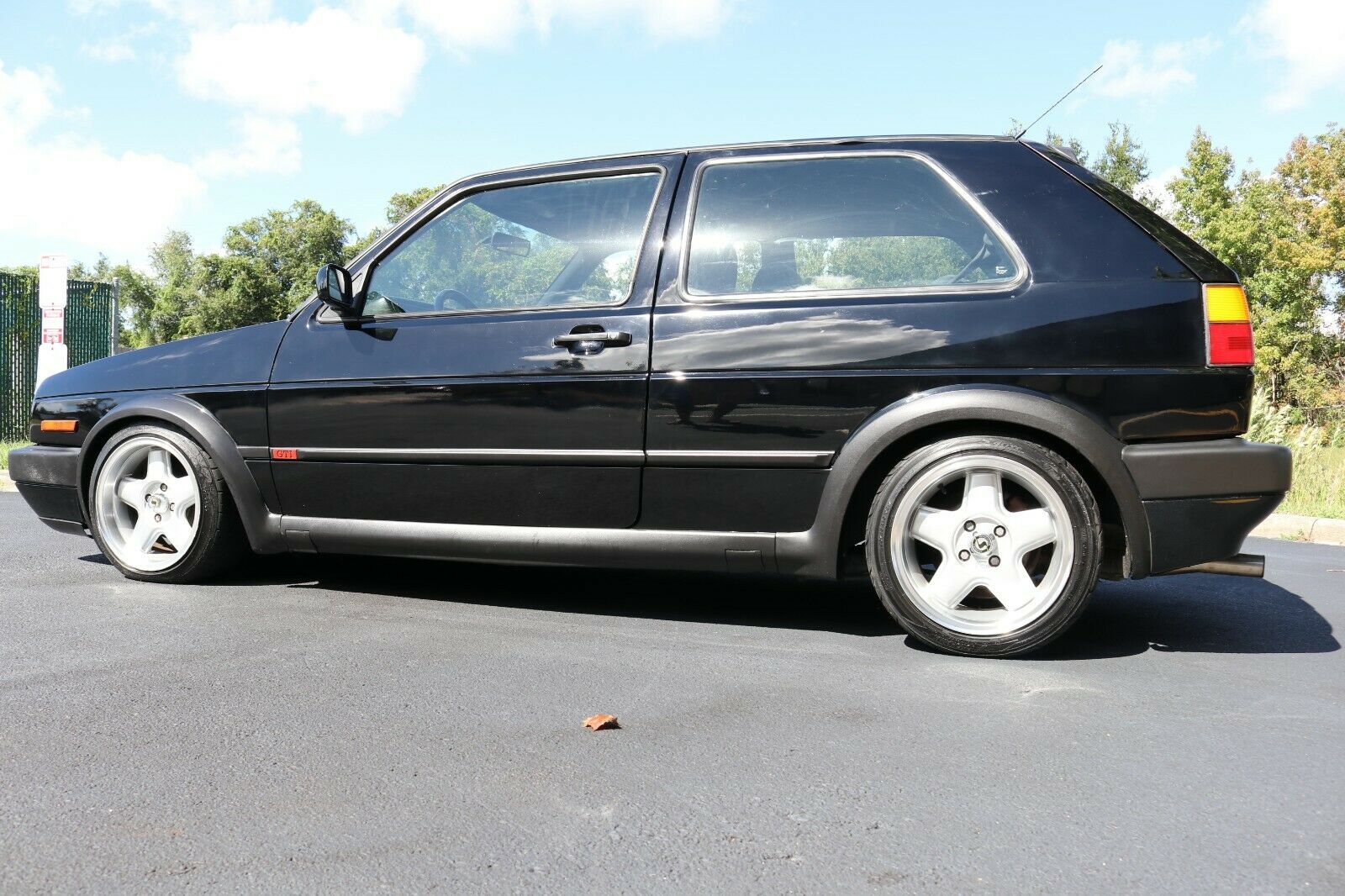 Year: 1991
Model: GTI 16V
VIN: 3VWHE21G2MM000416
Engine: 2.0 liter inline-4
Transmission: 5-speed automatic
Mileage: 106,010 mi
Location: Oviedo, Florida
Price: $12,500 Buy It Now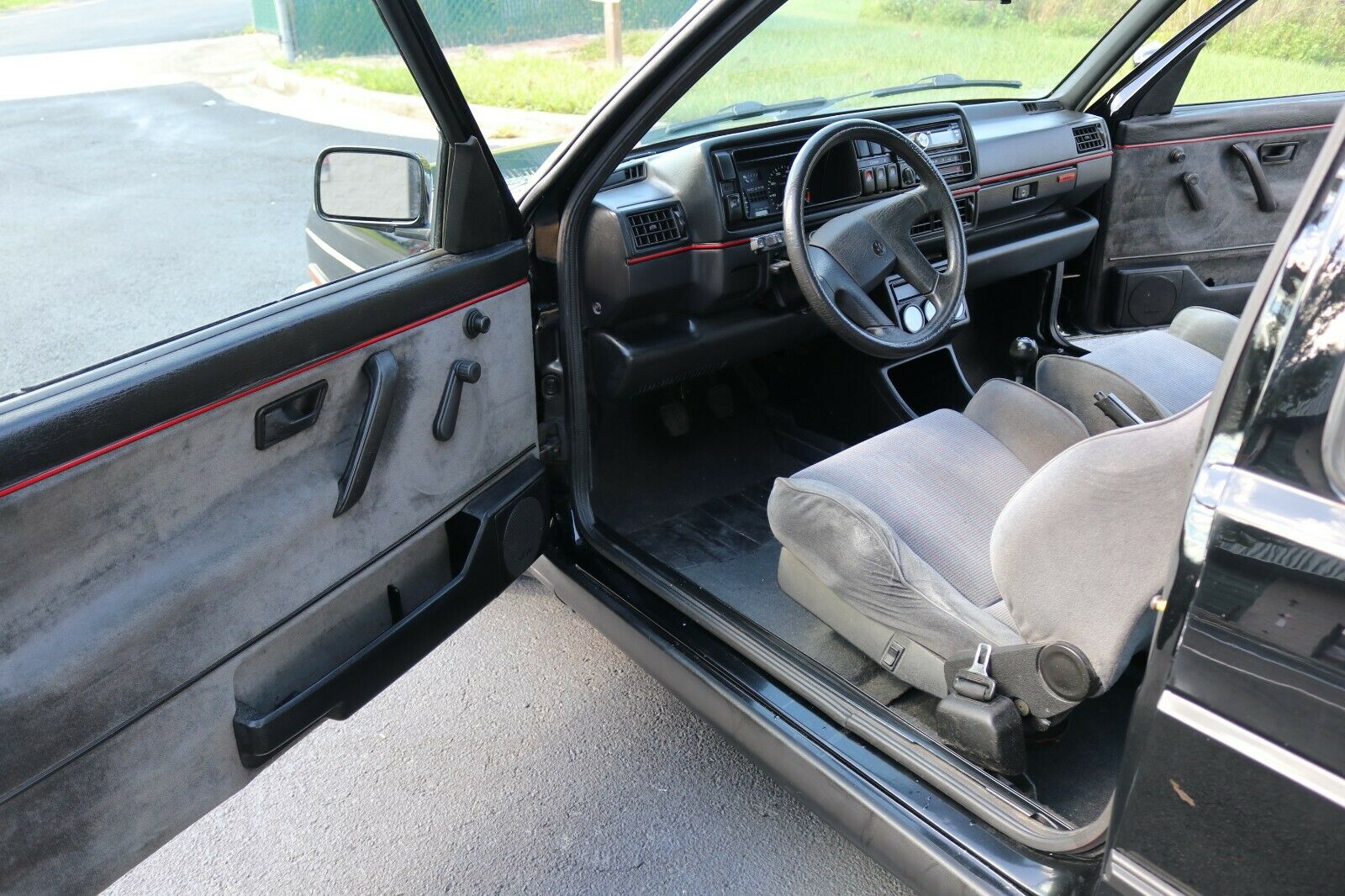 up for sale is a 1991 Volkswagon GTI 16 valve car. this car is coming out of a private collection and has been in a climate controlled storage since its restoration that was completed last year. This is a MK2 volkswagon GTI 16 valve which was produced from 1990-1992 with approx 1,600 16 valve cars being produced per year in the US which makes this more of a rare car. the car is about 90% original with very minor modifications. The tasteful modifications that have been performed are the following, full coil over suspension , Schmid racing wheels and fuel distributor delete tuned on a megasquirt with wide band. These mods were performed on the vehicle by the previous owner, minor but tasteful so they were left untouched. The car approx 1 year ago had an extensive repaint. The car was originally a red GTI but was redone in the factory GTI black. All trim, windows, doors and bumpers were removed and the car was sanded down to bare metal and redone in the GTI black. All trim was repainted in the factory SEM black and both rocker trim plastics were replaced with NOS rocker trim as well as the grill was sourced and replaced with a factory NOS grill. All bulbs and light lenses are new as well as all factory speakers were replaced with the original speakers in the vehicle. The cars body is extremely straight and was virtually a rust free car before the repaint. The car has 106,000 miles on it , everything works like it should on it. The a/c system was completely redone with all new factory components and blows ice cold, the manual 5 speed shifts excellent and the clutch is nice and tight, full tune up with plugs and oil change has been performed , as well as a new starter, fuel pump and battery. The tires have approx 500 miles on them and are virtually new. The interior is all original about a 9.6 out of 10. The factory Recaro front seats are excellent with no rips, ware or foam sagging, the back seat is excellent as well. The headliner is original and nice and tight with no sag, the dash excellent with two small cracks where the dash meets the firewall at the base of the windshield which can barely be seen. The car runs excellent, does not drip any fluids or smoke what so ever. The rubber seals are excellent as well as the fuba antenna. Overall this GTI displays very well and is an excellent driver if not one step above that. Not concourse but extremely nice. I would not hesitate to drive this car anywhere. Clear florida title. Winning bidder to give a 500.00 deposit within 48 hours, the balance is due in cash, cashiers check or wire transfer, car can be picked up once funds have cleared, I will assist in shipping any way I can. International bidders welcome, inspections welcome. not looking for trades. car sold as is with no warranties expressed or implied. email with questions. Thanks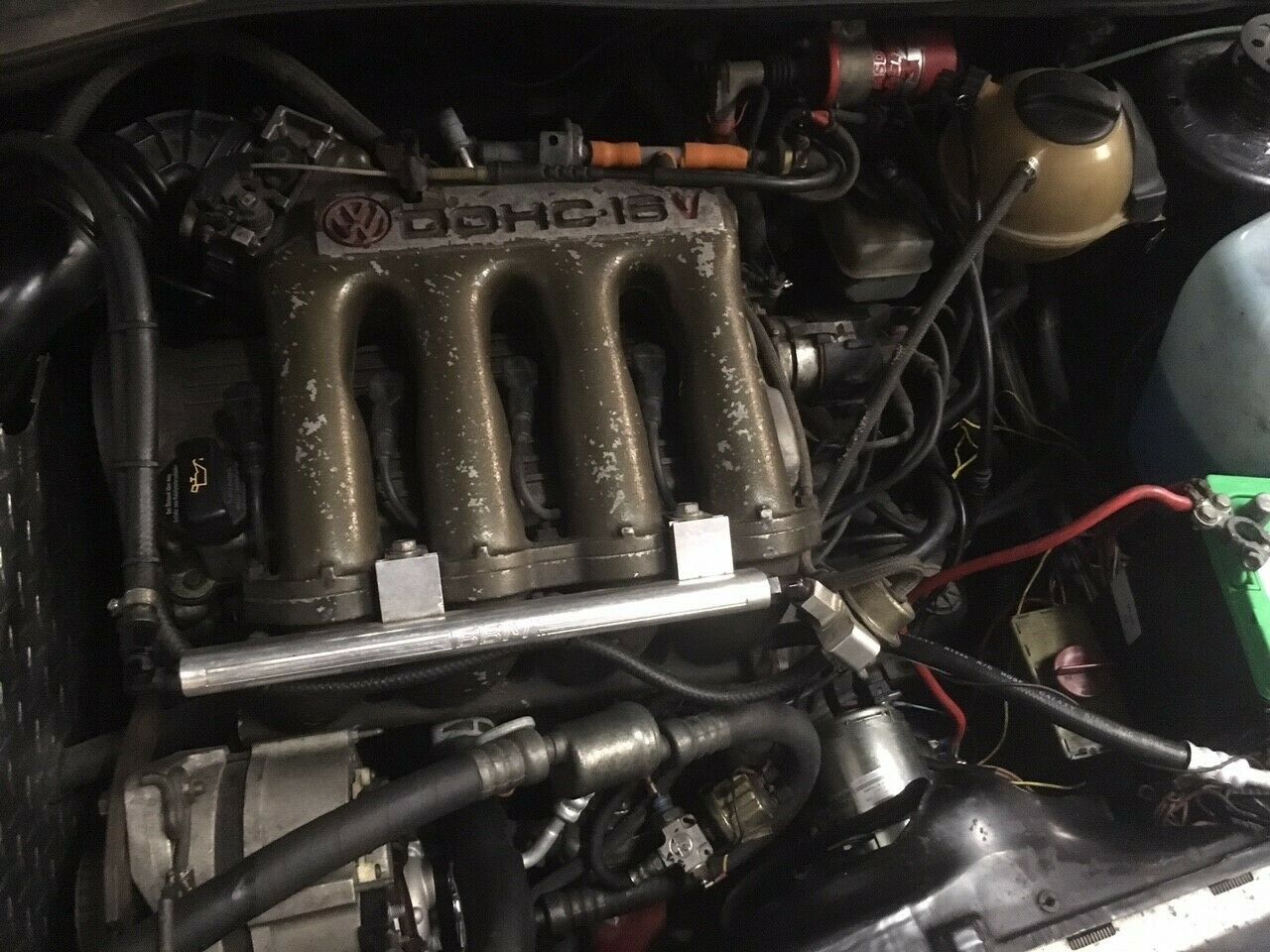 Our first candidate is arguably the closest to original. This '91 GTI still features the 9A 16V, but here it's ditched the Motronic fuel injection system for a Megasquirt custom EFI setup. It's obviously a lot lower than stock with wide Schmidt wheels. But from a collector standpoint, probably the biggest change has been the respray to Black from Tornado Red. Honestly, though it looks shiny the paint job seems to not be the best; there's lots of orange peel that I can see and several spots where it just doesn't look quite right to me. There are also some trim issues present, so while it looks pretty tidy it's not the cleanest example or execution we've seen. Personally, that makes the $12,500 asking price a bit tough to swallow – there just isn't enough here to justify that price to me. What's next?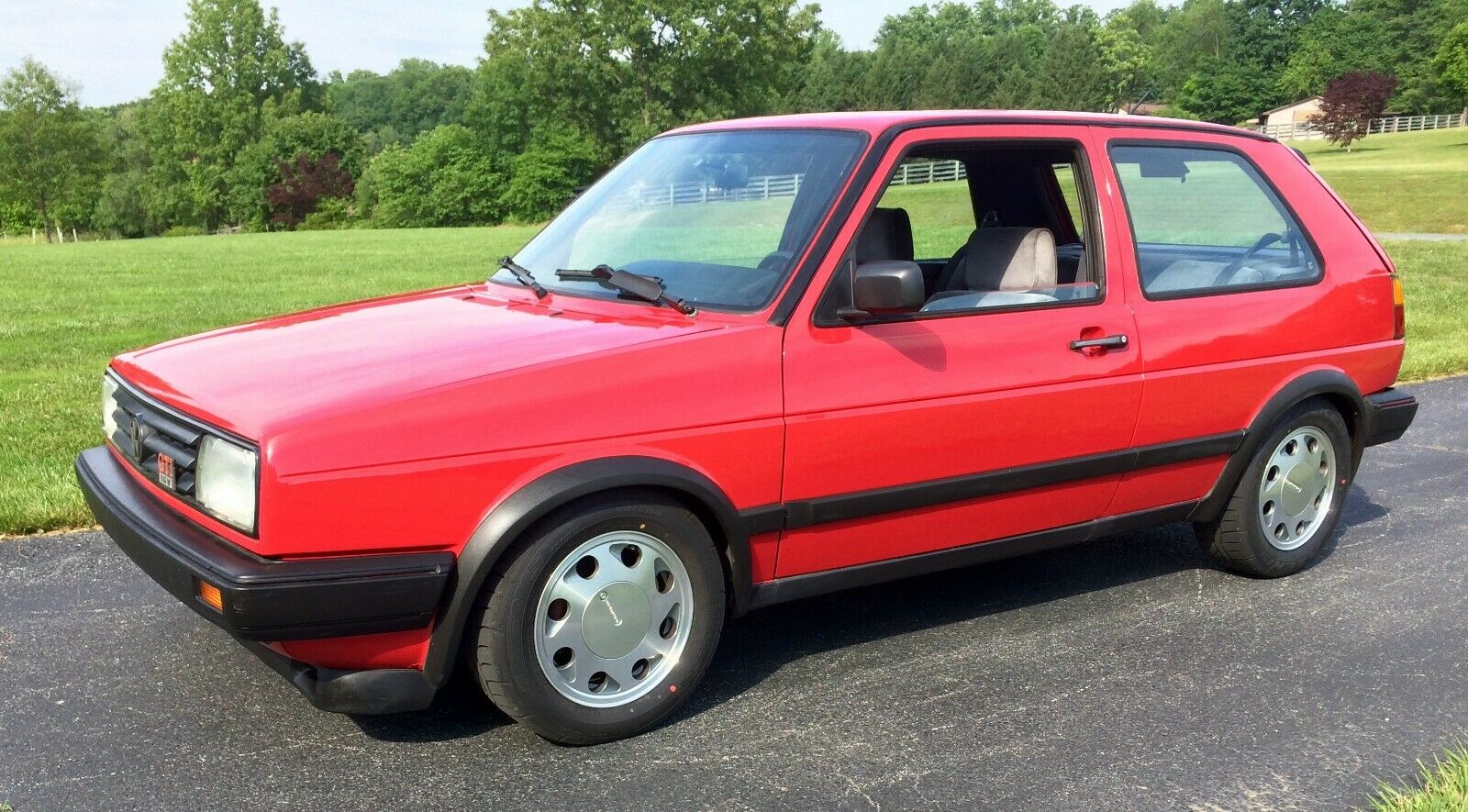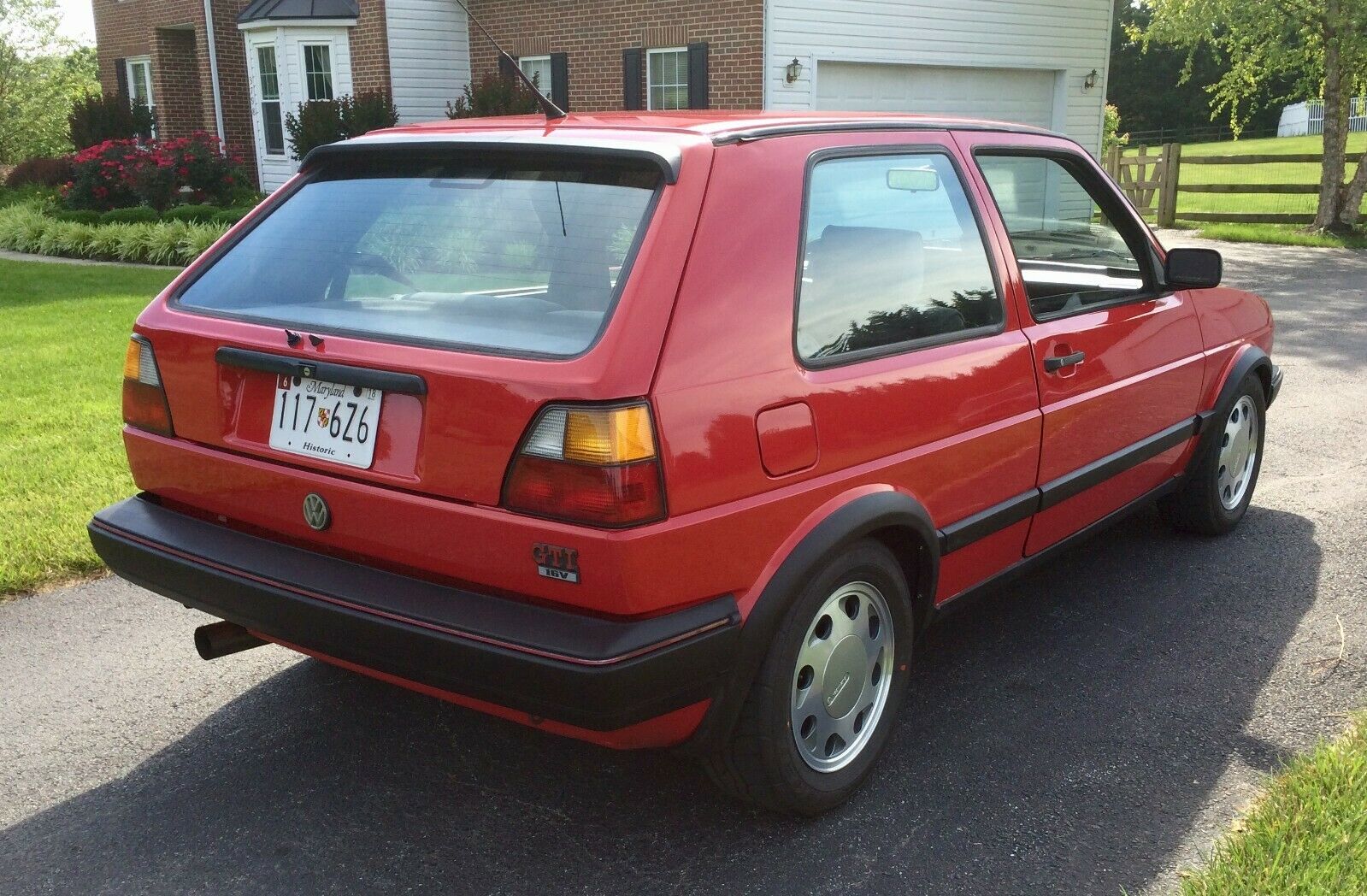 Year: 1989
Model: GTI 16V
VIN: 3VWDC01G4KM003789
Engine: 2.8 liter narrow-angle VR6
Transmission: 5-speed manual
Mileage: '123,456' mi (TMU)
Location: Woodbine, Maryland
Price: Reserve Auction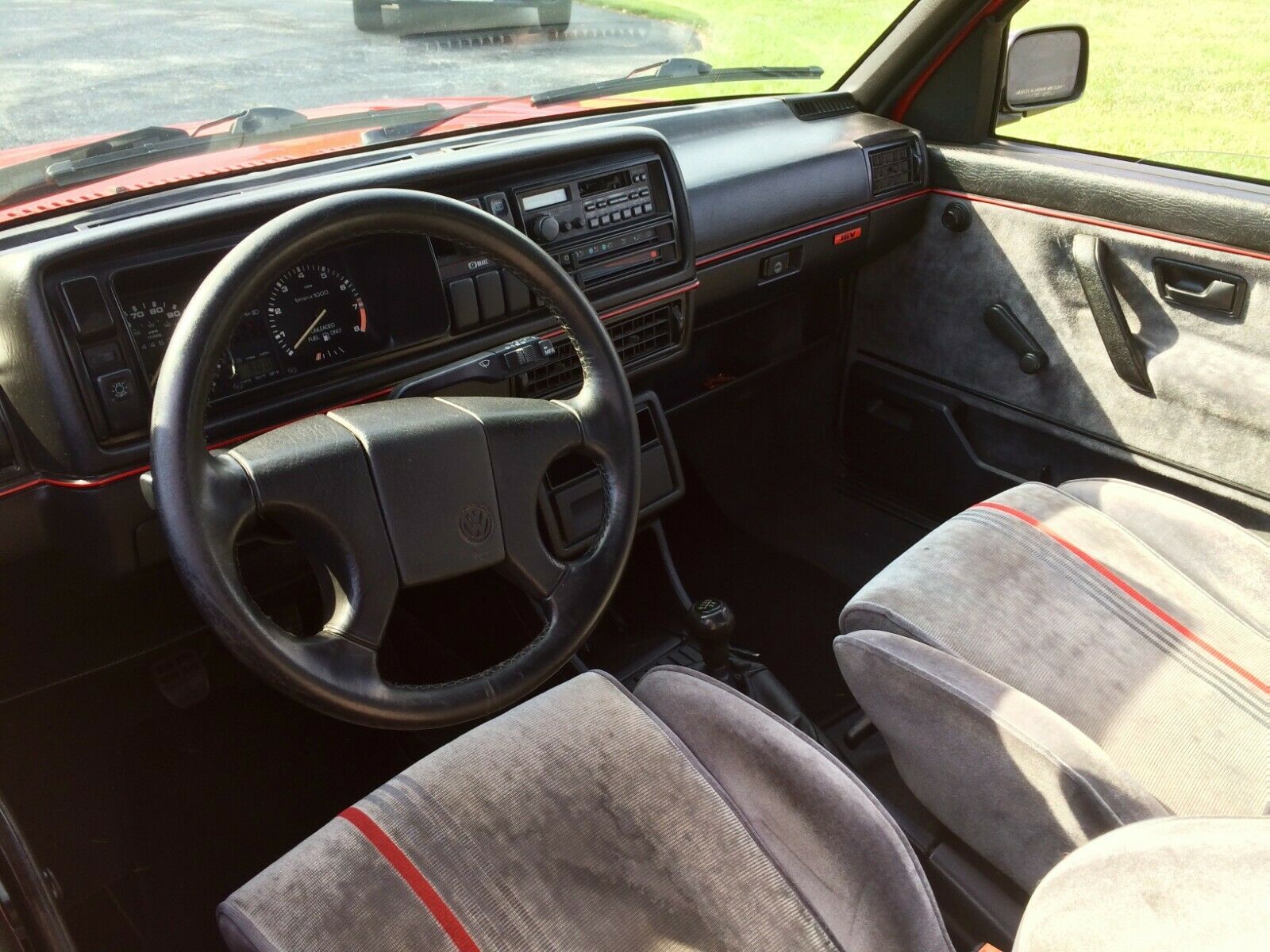 1989 VW GTI, VR6

Built to look completely stock and period correct.

Extremely clean. Attention to Detail. Immaculate. Covered. Garaged. Meticulously Maintained. Driven on Special Occasions Only.

Professionally painted original Tornado red. No rust. No body damage.

I have photos of the vehicle when I purchased it to show body before and after.

https://www.flickr.com/gp/142271741@N04/3264he (copy/paste/dream)

I have a huge file of maintenance records for the vehicle from the very first bill of sale from the dealership to current.

CARFAX available showing detailed records of maintenance and updates etc. Also shown in flickr photo site.

Interior original and extremely clean. No cracks or blemishes.

Full swap VR6 12V from a 1995 Jetta.

All work professionally completed with documents as proof.

276 TT cam and chip.

Custom fabricated 3″ stainless steel exhaust.

Catalytic converter added.

Subframe swapped.

Biltstein coilovers.

H&R sway bars front and rear.

Wiring harness completely redone.

All gauges and lights work. Odometer does not.

Period correct vintage Momo steering wheel. Original steering wheel will be included.

Original teardrop wheels in like new condition. Powder coated center caps.

New tires.

Thule rack and faring with period correct band stickers.

I have tons of pictures from my purchase to now.

https://www.flickr.com/gp/142271741@N04/3264he (copy/paste/dream)

New today:




Note:

Passenger side exterior door handle does not open passenger door. Opens from the inside.
Stereo and speakers are original and work, but are not the best if you are looking for quality sound.
Small blemish in windshield. In photos but difficult to see.
Rear windshield wiper deleted, but have it if you want it. A/C not connected.

No BS. I have a perfect rating on ebay as a buyer and seller. I stand by my reputation as an ebayer. I expect the same from you. If you have no ebay history I will cancel your bid.

Vehicle is being auctioned in an AS IS condition. No warranty implied or expressed. The vehicle will not be delivered. Shipping arrangements are up to you.

If you have questions, ASK.

The winning bidder must contact me immediately at the auction close and supply a non-refundable deposit of $500 within 24 hours of the auction ending via paypal. Full payment must be made within 7 days of the auction ending. Payment in cash or confirmed valid bank check.

If you have questions, ASK.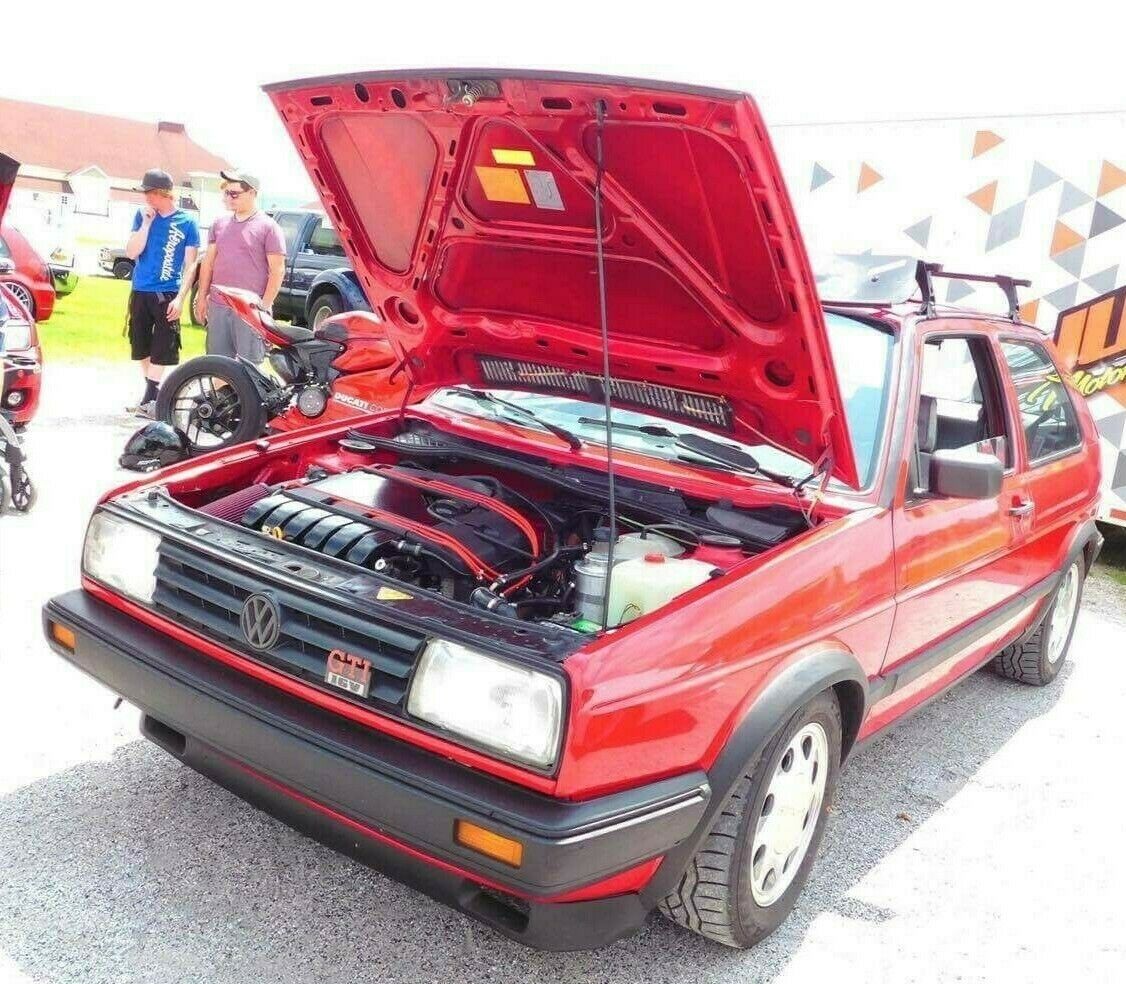 Off the bat I like this car more as it appears more of a sleeper. The Teardrop wheels aren't the wildest out there, but when restored they are fantastic. Externally this car just looks like an immaculately kept original example, albeit one that's been slightly lowered. There's no external hints that under the hood lies a modified 2.8 liter VR6 cranking out 50% more power than this car had originally. Yes, it's been through a respray too, but the execution of the original color appears better, there's better documentation, and it appears generally in better condition than the '91. There are still some niggles to sort, but overall this appears to be a really solid example of an earlier 16V. So far there are no bids, but the opening amount is only half the ask of the '91. Not wild enough?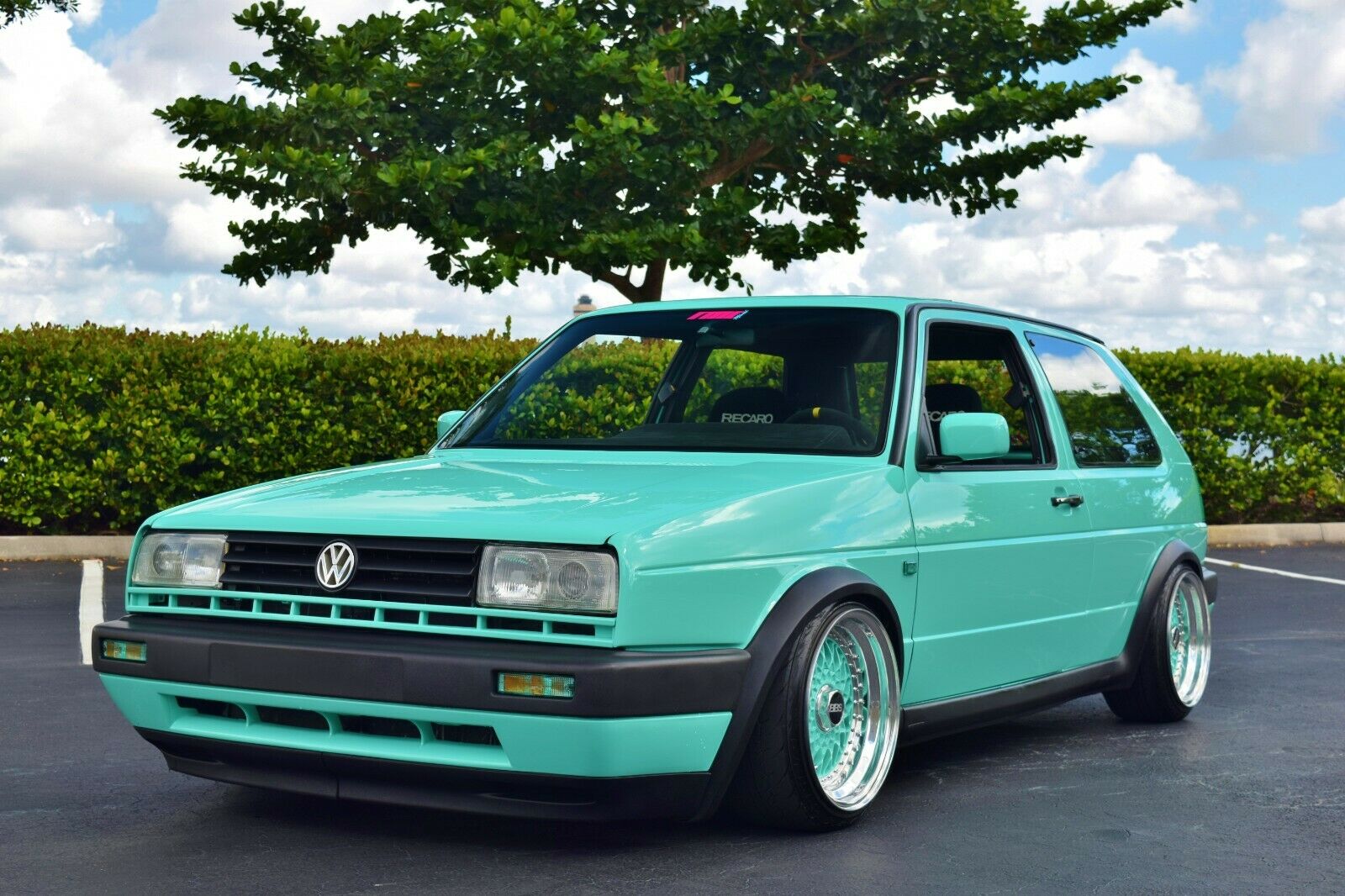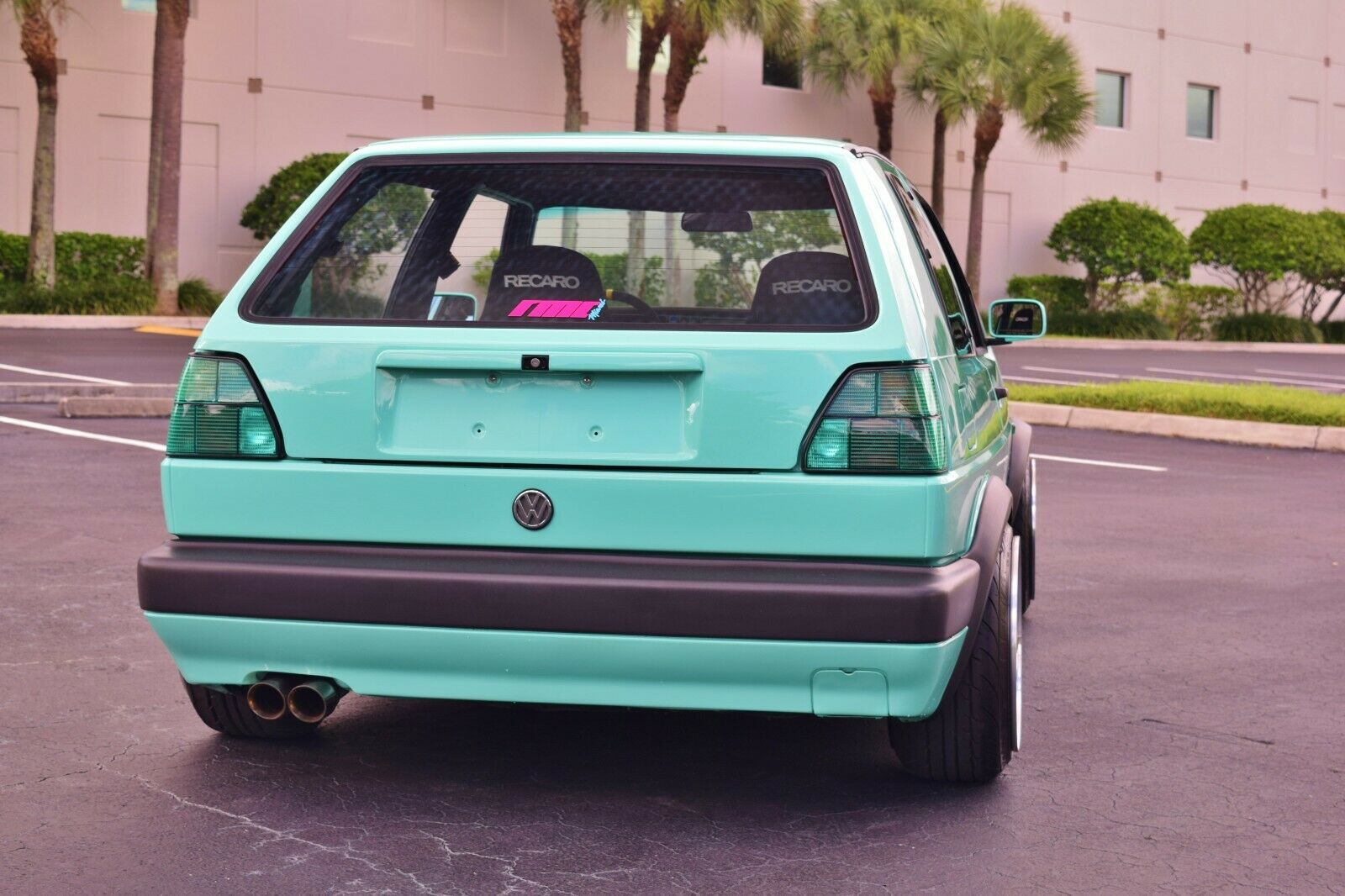 Year: 1992
Model: GTI 16V
VIN: 3VWDB21G6NM025652
Engine: 2.8 liter narrow-angle VR6
Transmission: 5-speed manual
Mileage: 139,199 mi (TMU)
Location: Miami, Florida
Price: $21,900 Buy It Now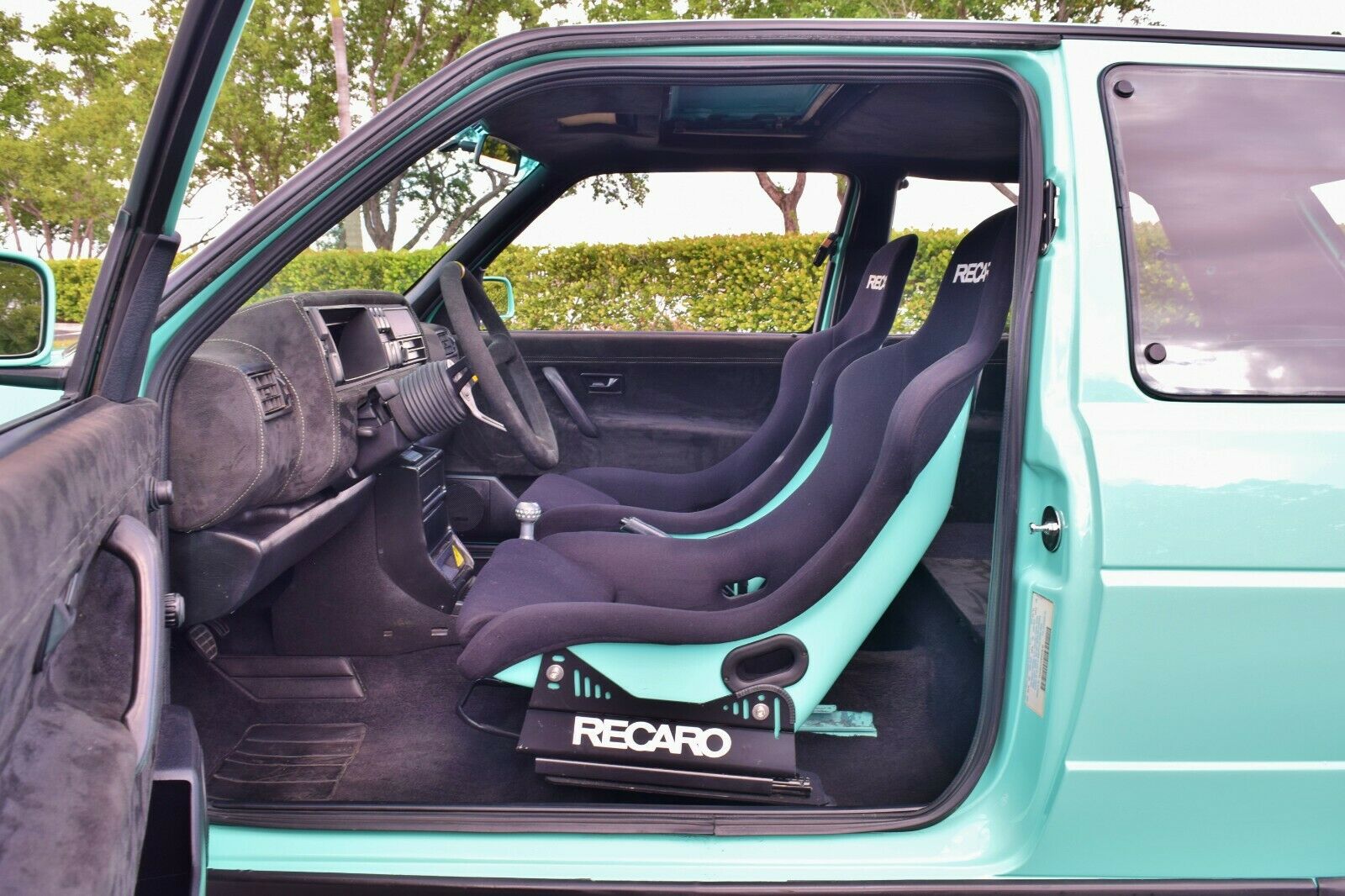 1992 Volkswagen GOLF GTI SHOW CAR

RMC Miami is now offering this "MINTY GREEN MK2 GTI"

This show car is a one of a kind master piece with incredible street presence.
Over 150 hours in paint body work. Painted inside out, porsche mintgrŁn color. That paint is show quality!
Awesome clean work including shaved antenna hole in the top rear,Shaved hatch,
Shaved door moldings since it was a big bumper car G-60 Arch kit all around, and Shaved front bumper fog light holes.

Additionally other exterior touches are shaved wiper holes, European vented right fender, Rallye front headlight setup,
and Green Hella lighting all around(front bumper turn signals, side markers, rear tail lights)

Wheels are BBS 3 piece RS wheels 16 x 9.5 all around with mint green matched centers
Suspension is Full airlift switch speed air ride suspension with custom rear trunk hard line setup.

Interior is full suede interior(door cards, dash, trunk setup for air ride) Seats are Recaro Pole Position
hardbacks of the seats are paint matched to the car. Sunroof headliner piece is missing. Car has a
radio delete the sound of the VR6 Motor is really all you need to hear when driving this thing.

Engine is a VR6 swap out of an 01 Passat which was fully rebuilt 1000 miles on it at most.
When you open the hood the first thing that sticks out is the gorgeous polished manifold
and the incredible job that was done on the clean shaved engine bay. The VR6 Motor is paired
to a 5 Speed manual transmission that shifts smooth without any pop outs or grinds.
Mileage shows 139k Total Mileage Unknown due to engine swap.

WATCH THE WALKAROUND VIDEO BELOW


SERIOUS INQUIRIES ONLY CALL 305-527-6867 EDDIE OR 305-443-7626 BERNARD

Follow us on Instagram for live updates!

@rmcmiami

We also speak Deutsch and EspaŮol
Can Ship (Insured) Anywhere Worldwide if Needed.
Located in Miami, Florida 33126
Financing Available with Approved Credit
Trades Always Welcomed (UP or DOWN)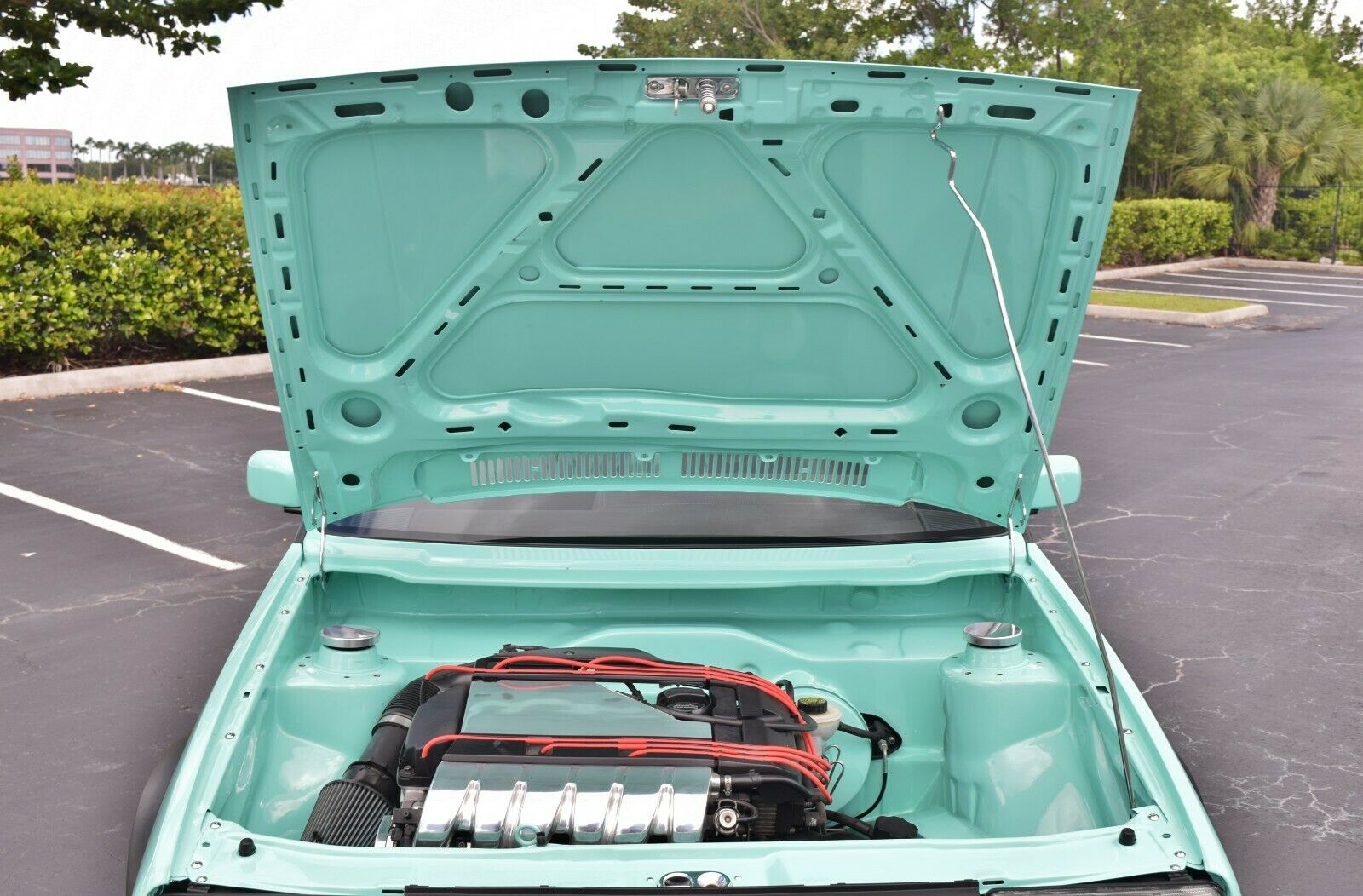 Period-correct Porsche 964 color Mint Green looks great here, offset nicely by the color-matched BBS wheels and Recaro seats. Is it for everyone? Certainly not, but then this is a show car. Execution appears to be top-notch, with an ultra-clean shaved engine bay and mega-wide BBS lips, along with some neat detail work – the pop-out rear windows, for example. Downsides? Well, first there's no way that the engine came from a 2001 Passat, since the VR6 was not featured in the B5/5.5 models. I'm not personally a fan of the suede-everything interior, the stretch tires are a bit ridiculous and the Rallye grill is pretty ill-fitting. But the overall presentation of the car is really pretty top notch and even as it sits it would undoubtedly draw throngs of VW faithful. It'll cost you though, just like the Rallye tribute. $21,900 is certainly all the money for an A2.
Which is the winner? My favorite is certainly the '89. I like the look of the later cars more all things equal and I'd prefer to have an original 9A car, but in this group to me the original look of the early model matched with clean and understated execution is spot on. It doesn't hurt that it's also probably the cheapest of the three. Which is your favorite?
-Carter