There are a few strange similarities between yesterday's 1987 Volkswagen Scirocco 16V and today's subject – the much more elusive and legendary BMW M1. Both were sporty cars developed from more pedestrian beginnings. Both featured high-revving dual-overhead cam motors. But the interesting part comes in the sublet of construction, and the design. Both have links to Giugiaro, but both also borrowed heavily from other designs.
In an article I penned for The Truth About Cars last year, I covered some of the development of the Wedge Era and how those spectacular show car designs channeled their design language down to more pedestrian models. One of the stars of that article were the cutting-edge looks from Giugiaro's ItalDesign – the firm, and man, responsible for some of your favorites such as the basic shape for the Audi Quattro. But while the Quattro launched its brand into the luxury realm and redefined the 80s, the undisputed German star of the wedgey wonders was the BMW M1.
Like the Quattro, the M1 redefined and refined BMW's core mission, helping to launch the Motorsport division along with the 3.0 CSL and 2002 Turbo. While Giugiaro had also had his hand in the M1's design, the genesis of the shape lay in the much earlier Paul Bracq designed Turbo concept. Bracq, in turn, had undoubtedly been influenced by the late 1960s creations of both Giorgetto Giugiaro (at Ghia and ItalDesign) and Marcello Gandini (Bertone), as well as the efforts and splash rival Mercedes-Benz had made in 1969 with the C111 concept and record setter.
But while Daimler was hesitant to enter serial production with such a departure from their tried and true sedan designs, the M1 proved to be just the spark BMW was looking for to ignite the fire in driving enthusiast's minds. Yet the development of BMW's E26 M1 was a multi-national effort its parent company was not prepared to undertake.
Although the M1 had an inline-six like other Bavarian creations of the time, little outside of the block shared any architecture with a series production model. The basic M30 block was modified into a racing unit with dual overhead cams and became the legendary M88/1 by fledgling skunkworks BMW Motorsport. But while Giugiaro's design was the perfect eye-catching home for the motor, he wasn't prepared to produce the M1 in series, nor was BMW, so the company commissioned Lamborghini to produce the fiberglass bodies and assemble the cars.
The late 1970s saw Lamborghini nearly close its doors and BMW was forced to coordinate body production from Italdesign, a tubular chassis from Marchesi and Company in Modena, and partial production at the Baur Karosserie and BMW Motorsport.
By the time the delay-fraught production was completed, the race series the M1 was intended for was gone, leaving BMW to envision their own one-off Procar Championship series. Despite missing the mark with its racing heritage it was, at the time, the Ultimate Driving Machine: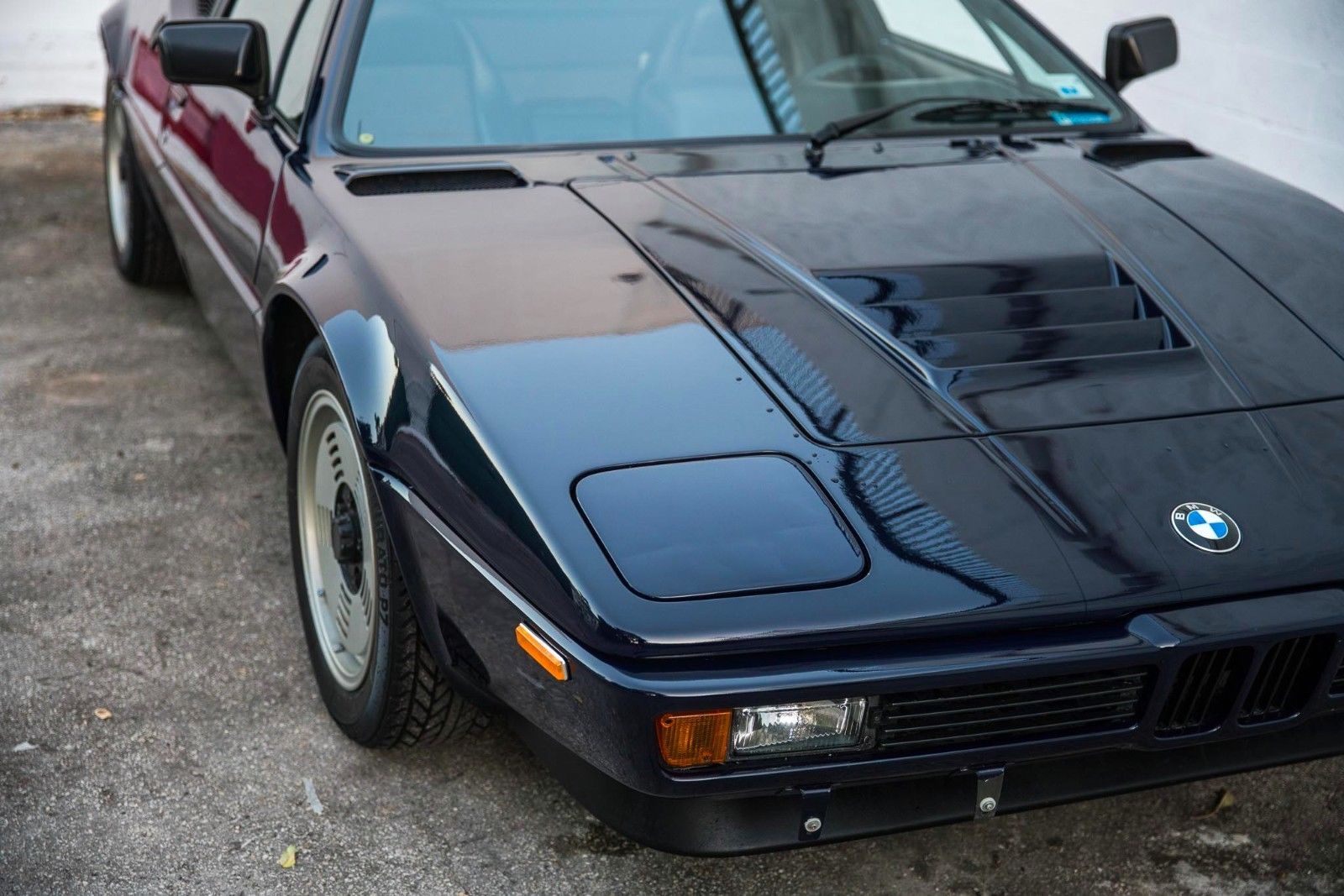 Year: 1981
Model: M1
Engine: 3.5 liter inline-6
Transmission: 5-speed manual
Mileage: 8,000 mi
Price: $658,000 Buy It Now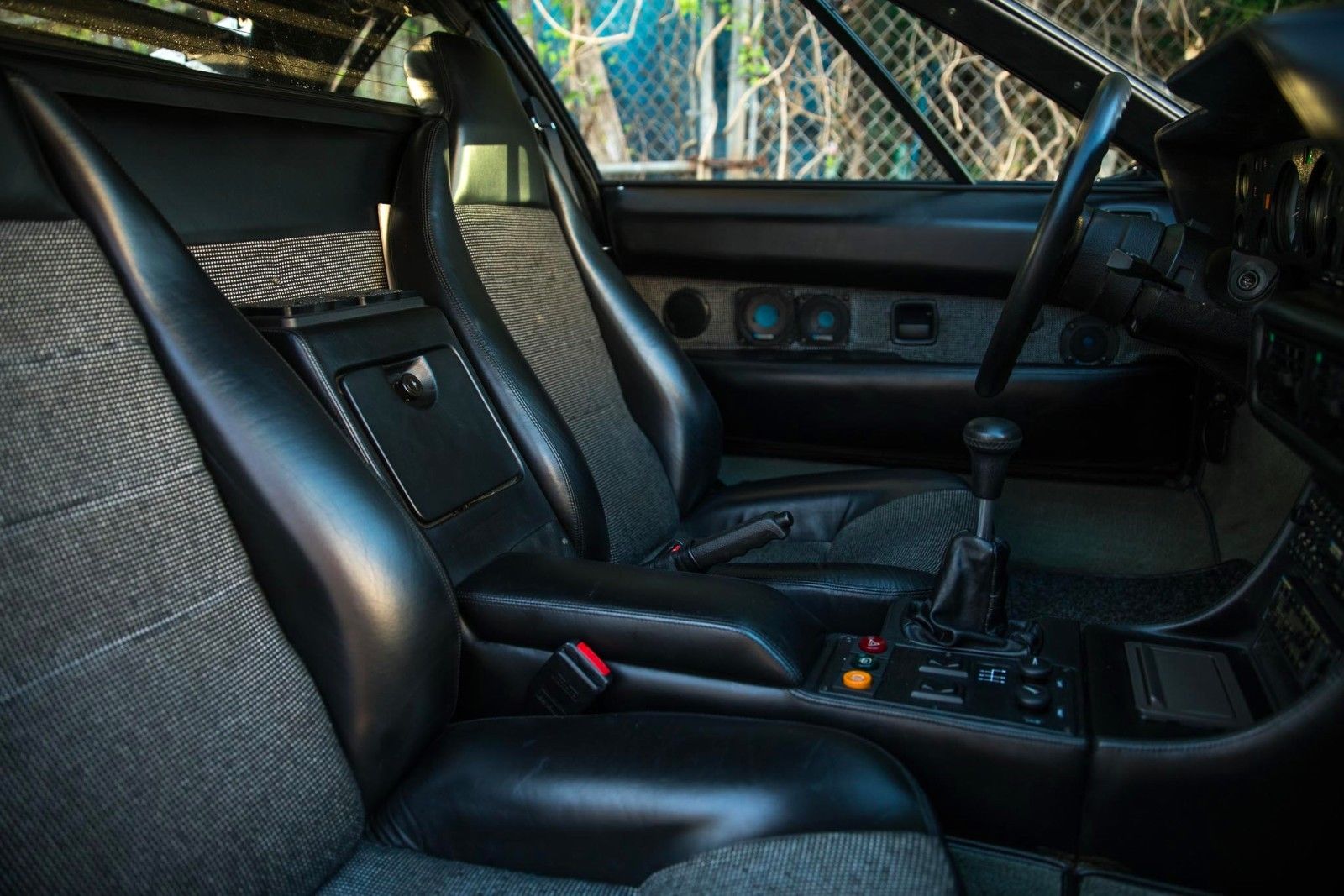 1981 BMW M1 – 8,000 original miles
vital information

1981 BMW M1
8,000 Original Miles
1 of 58 in Dark Blue on Black
One Owner from New
Books, Tools and Keys
Collector Quality Survivor

DESCRIPTION
> 1981 BMW M1
> 8,000 Original Miles
> One owner from New
> Books, Tools, Documents and More!
>
We have been incredibly fortunate to encounter some of the world's most incredible cars. I believe that the best cars are the ones with the best history. They come with a story, they have character. I love cars with original interiors, patina on every switch and gauge. Vintage leather has a smell that cannot be duplicated and some interiors have a sheen that even the best restorers cannot replicate.

We recently met the owner of an incredible 1981 BMW M1. A former journalist who was invited personally by BMW to purchase one of the last supercars produced. He took delivery of the car in Germany and never looked back. A true enthusiast, the M1 followed him during his incredible career that brought him and the M1 to almost every continent. South Africa, New Zealand, Mexico, Arizona and eventually Miami.

During that time the car was brought to car shows, displayed at BMW dealers and lovingly cherished. A combination of period photos, car show placards, old registration stickers and original Pirelli P7 tires tell the incredible story of an M1 and its loving owners 36 years together.

Never abused, completely original and only 13,000 kms.

We are honored to offer this car to the public for the first time in many years. We feel it's our duty that the next caretaker must be as loving and as passionate as its first.

New to South Africa. Complete with original photos at delivery, records, books and tools.

Stunning original survivor example. Completely bone stock with the exception of aftermarket 1980s Blaupunkt Speakers installed.
>
>
> CONTACT US
>
> Dealer Contact
>
> © CURATED
> BISCAYNE BLVD, MIAMI FL
> Tel: 1-561-801-0092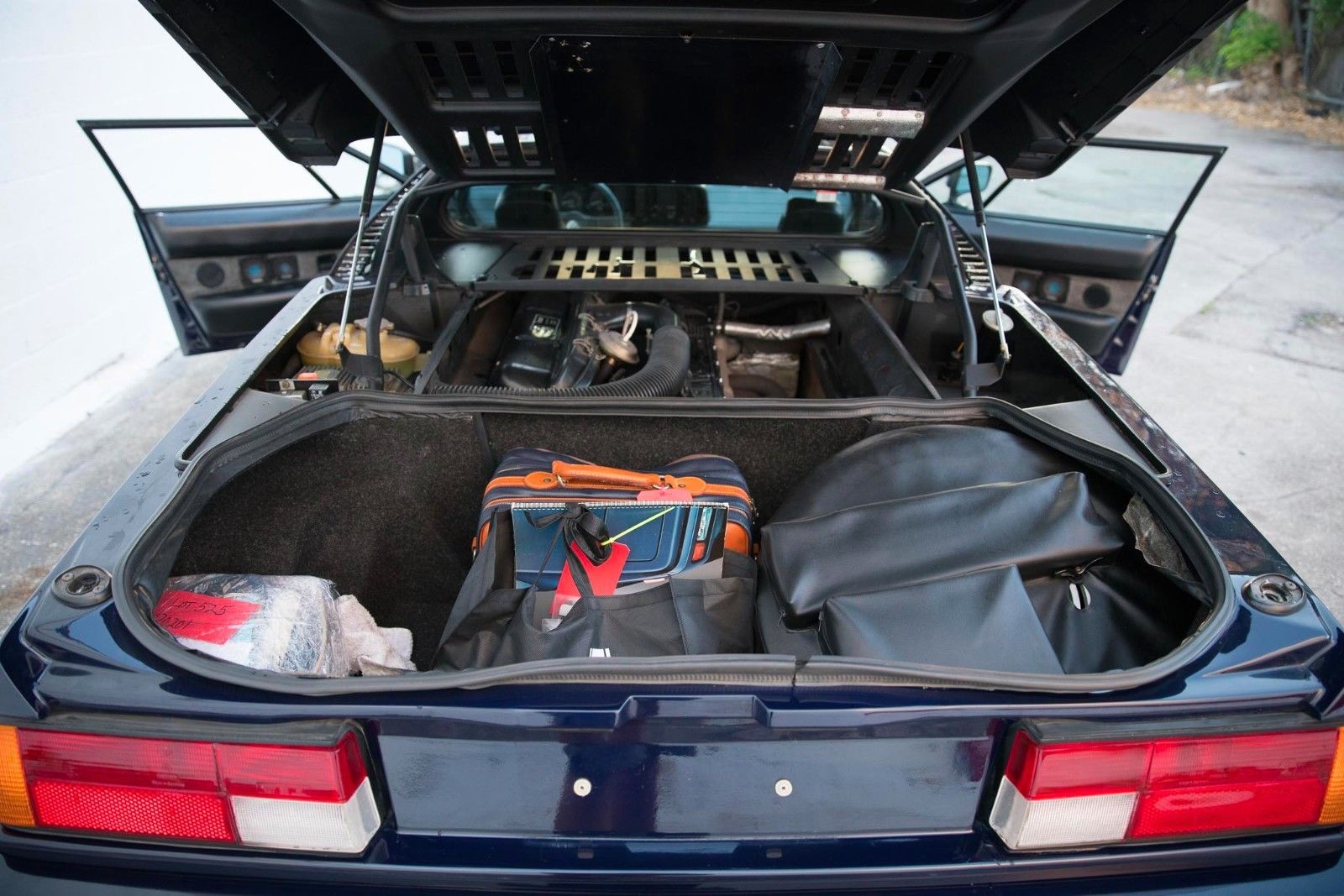 It's pretty amazing that this car is claimed to have only one owner. What's perhaps more incredible is that this car has covered far more miles being transported between continents than actually driving on them, with a scant 8,000 miles accrued. It is also claimed to be all-original, though some aspects of the paintwork look a bit suspect to my eye. Nevertheless, the presentation is incredible. Dark Blue (207) is one of the more rare colors, with only 58 produced in the shade. Only the extremely rare silver and black examples are harder to find.
With what should be a full history and in impeccable condition, they don't come much better than this car. It's pure dreamland for most enthusiasts too; while pricing hung at or around $100,000 for these for a while a little over a decade ago, they've shot through the roof in at least asking price. Well, frankly they should – this car is significantly more rare than an E30 M3, and while both are important they aren't really in the same league in terms of collectability. One is a fast sedan, and one is a halo supercar of its day which helped to both define and launch a brand. With prices on Lamborghinis and Ferraris from the late 1970s and early 1980s also skyrocketing, it's not much of a surprise to see the nearly $700,000 asking price. That's about $200,000 above Hagerty's guesstimate, which usually range high based upon what the cars are being insured for. It's a reach, but then this is a nearly unrepeatable package.
-Carter