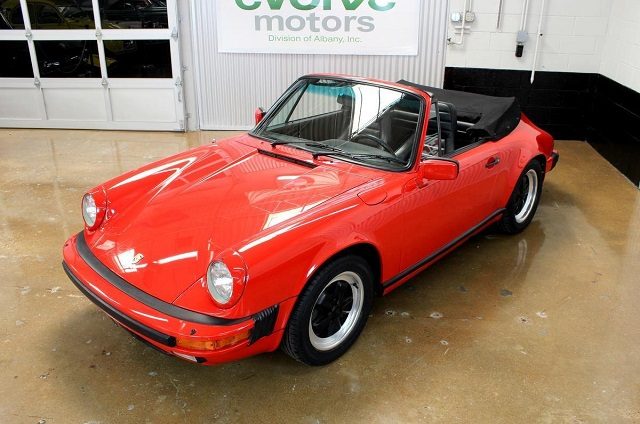 Ah the fabled barn find. It's the stuff of legend in the vintage car world and it seems like no prestigious auction goes by without a car or two crossing the blocks under such a designation. I can't say they're necessarily the type of thing I look for – after all these are more or less neglected cars – but I will admit they can make for some very interesting discoveries. Take the 964 3.8 RSR auctioned last May, or the 1973 911 Carrera RSH I opened the year with as examples. Finds like those truly are legendary.
This one isn't properly a barn find since it was sitting in a garage intended for housing the owner's car collection, but it possesses most of the typical 'barn find' attributes, right down to a heavy coating of dust. This is a one-owner 1984 Porsche 911 Carrera Cabriolet, located in Chicago, with a mere 9,373 miles on it. It's been cleaned up and provided with servicing to refresh a good deal of the neglected materials and now sits looking not too different from how it left the showroom.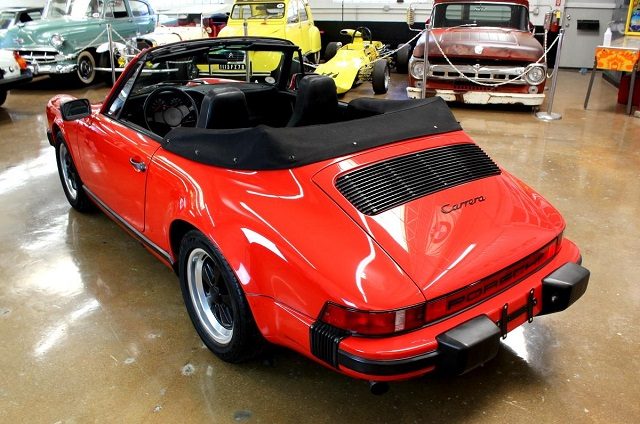 Year: 1984
Model: 911 Carrera Cabriolet
Engine: 3.2 liter flat-6
Transmission: 5-speed manual
Mileage: 9,373 mi
Price: $66,500 Buy It Now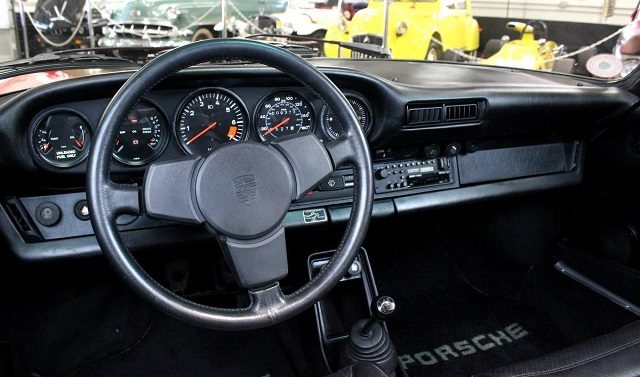 1984 Porsche 911 Carrera Cabriolet

One Owner "Garage Find"
Full Documentation & Window Sticker
Only 9,373 Miles!
First-Year 3.2L Carrera
Completely Original
Just Serviced

CONSIGNMENT SALE

Vin # WP0EB0916ES171004

Paint: Guards Red (L027)
Interior: Black Full Leather (VD)
Engine Code: 93021-64E
Transmission Code: 91568-74E
Options Tag Decoded:
C02: Catalytic Converter
018: Steering wheel with elevated hub
158: Cassette-radio Blaupunkt Monterey
395: 16" Fuchs Forged Alloys. Front 6" with 205/55, rear 7" with 225/50 tires.
454: Automatic speed control
533: Alarm

Evolve Motors & Chicago Car Club are pleased to present this 1984 Porsche 3.2 Carrera Cab!

Backstory:
How does such a fun-to-drive, mint-condition, 9,000 mile car end up collecting dust in the back corner of warehouse? And how did it remain stationary while the air-cooled Porsche market exploded in the late 2000s? Well, it's not always about dollars. We're selling this car on behalf of a local gentleman, who has been buying cars new since the mid-1950s, driving them for a few thousand miles, and parking them once he's ready to move onto something else. He spec'd out this 911 to his liking and ordered it new from Lee Klinger Porsche-Audi of Highland Park, Illinois in July of 1984. As he already had a number of "fun cars" at the time, the 911 saw periodic use throughout the summers of the 80s and 90s until being retired to the owner's warehouse in late 1998. From 1998 until earlier this year, the car sat, top-down, in the back corner of that very warehouse. We asked why he stored the car with the top down; the owner said, well, the last time I drove it it was nice out. You've got to love that! The car wasn't parked due to any mechanical issues or anything, as a matter of fact it was parked (and still remains) in nothing shy of nearly-new condition. Now, after almost twenty years of collecting dust in that warehouse (which is heated), the time has come to cut the 911 loose. Since pushing the car out of storage, and man what a cool experience that was, we've given the car a thorough inspection and tended to a number of items. Items that we've addressed to bring the car back to proper running and driving order are as follows:
– Drain and refill fuel tank
– Replace fuel pump, fuel pump relay, and fuel filter
– Replace hood and bonnet struts
– Replace tires with Goodyear Eagle Sports (we also have the originals)
– Replace battery with Interstate MTP-91/T6
– Change oil and filter
– Replace steering column bushing
– Evacuate and recharge R12 air conditioning
– Clean, clean, clean, clean, cleannnnnnn

The car will be sold with complete documentation. This includes original window sticker (see photo) with sale price of $40,555, the dealer's pre-delivery inspection report, owner's manual, warranty & maintenance booklet with stamped customer identification card, spare key, receipts for oil changes and battery changes throughout the late 80s and early 90s, as well as a receipt for the services we've completed at our shop, Albany Auto Chicago.

Exterior:
A little dust never hurt anybody! Once trailering the car back to our shop, we blasted the dust off with compressed air then washed, buffed, and waxed the car. And wow, what a result! Guards red paint presents phenomenally well. There are no spots of touch up on this car; as confirmed with an elcometer, paint is 100% original. There are some very, very light chips on the lower front valence from 9,000 miles of road use, but no scratches, scuffs, or anything of the sort. There is one more chip next to the Porsche crest on the hood, as well on one on the driver's door crease just opposite the door handle. Other than those small chips, paint presents as-new. The original bottle of touch-up paint is still in the plastic and will come along with the car, not like it's needed however. Thanks to being stored indoors in a heated environment, weatherstripping and all rubber seals show no signs of age. All glass and light lenses are original and free of any cracks or clouding. Convertible top is in as-new condition as well, as the car has been top-down for just about it's entire life. No worries about the clear plastic rear window though, that part of the top was left unzipped, so there's no crease or yellowing in the plastic. Black boot cover is in great shape, after we vacuumed all the dust out of it. Black Fuchs are in near-perfect shape, there's just one extremely light scratch on the driver's front wheel. Please ignore the smudging on the Fuchs in the photos…that was just me getting a little too trigger-happy with tire shine spray.

Interior:
Interior is in time-capsule condition. There are no tears or scuffs on the seats, carpeting, door panels, or elsewhere. In the photos you'll note some minor fading on the driver's seat outer bolster and some scuff-looking spots on the door panels….since taking these photos we've applied a little bit of leather shoe polish and that has actually brought the leather right back to its original black shine. Heads up to those of you with faded black leather interiors, go buy some shoe polish! Dash is excellent – no cracks or signs of wear at all. Gauge faces are perfectly clear and present as-new. The odometer reads 9,373 and is NOT ticking. These cars have a plastic odometer gear that will fail after long periods of sitting; we have oil change receipts that are consistent with the mileage and the car's backstory. Odometer read 1100 at the end of 1984, 4900 in 1987, and 7300 in 1990. The car was then used sparingly throughout the 90s, as the owner purchased a new 928, and the car was finally parked in 1998 at 9373 miles when the odometer was functional. Since servicing the car we've added approximately 20 miles. The odometer is fixable, we just wanted to present the car exactly as is, and not tampered with. The optional Blaupunkt Monterey is currently not functioning, same with the fuel gauge. Air conditioning is functional and was just recharged with R12 refrigerant. Fan, heat, and defrost are functional, as are power windows, all lights and signals, wipers, cruise control, lighter, horn, handbrake, and all gauges other than the fuel gauge.

Under the Hood / Underbody:
When we first saw this car and it was all covered in dust one of the first things we did was pop the bonnet and take a look at the motor. We laughed out loud at what we saw; the engine bay is absolutely spotless and still wears the factory-applied inspection stickers. Bolts still have the factory-applied yellow and red paint on them. Belts all are in excellent shape, with no cracking, fraying, or signs of being dry or brittle. There are no leaks whatsoever. The underbody is consistent with the rest of the car, it's absolutely mint. There is no damage and no rust of any sort, not even light surface rust. This car was undercoated from the factory and it has served its purpose. All part numbers are clearly visible underneath and the car is confirmed numbers matching. The 3.2L flat-6 and 915 gearbox are original to the car. On the road, this car feels tremendous. It's extremely tight and responsive, while still being able to soak up potholes and speedbumps very well. I've put many, many miles on earlier 911s, and was surprised by how much more refined this car feels than what I'm used to. It truly feels like a new car. I feel privileged to have had the opportunity to experience a like-new first-year 3.2 Carrera. There are no noises or tendencies of concern, this car drives every bit as well as it looks.

With any further requests, questions, or to discuss purchasing, please reach out to Jake at 773-273-8257. Potential buyers, you surely won't be disappointed with this one. This car is every bit as nice as you would hope from a 9,000 mile car. Please take a good look through the photos and video we've provided and feel free to reach out to discuss the car.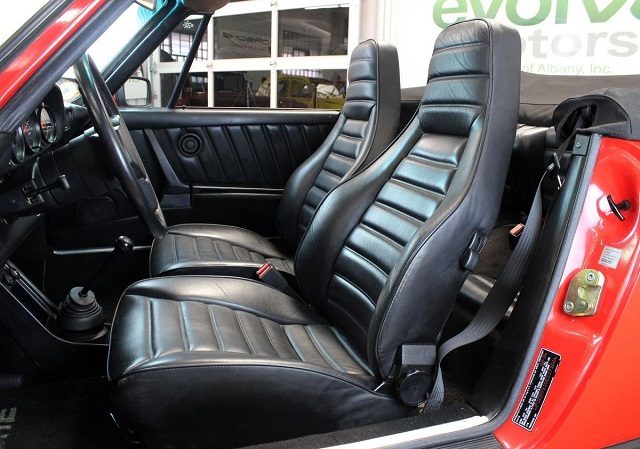 The selling company has provided most of the needed detail on how the car ended up neglected and the work they performed to bring it back to life. All in all there's nothing that strikes me as out of the ordinary though there a couple non-functioning items to be aware of. Of greatest import is that the odometer is not working. They've stated that documentation exists to verify the claimed mileage and that the odometer doesn't work simply because the car has sat unused for so long. Obviously, however, this is the largest concern given the premium the mileage itself places on this car. Everything could be precisely as the seller claims, but you'll still want to do as much verification as you can.
Otherwise, this Carrera looks great! Once revived the condition looks as new both inside and out. It looks exactly as we'd hope. So what about price? The current asking price is $66,500 and I can't help but think that seems quite reasonable for such a low mile '84 Carrera. I've see a few later Carreras (with the G50 5-speed) of similarly low mileage priced far higher so I think this is a price we can work with. For a time capsule such as this it should make for a nice piece in a collection.
-Rob