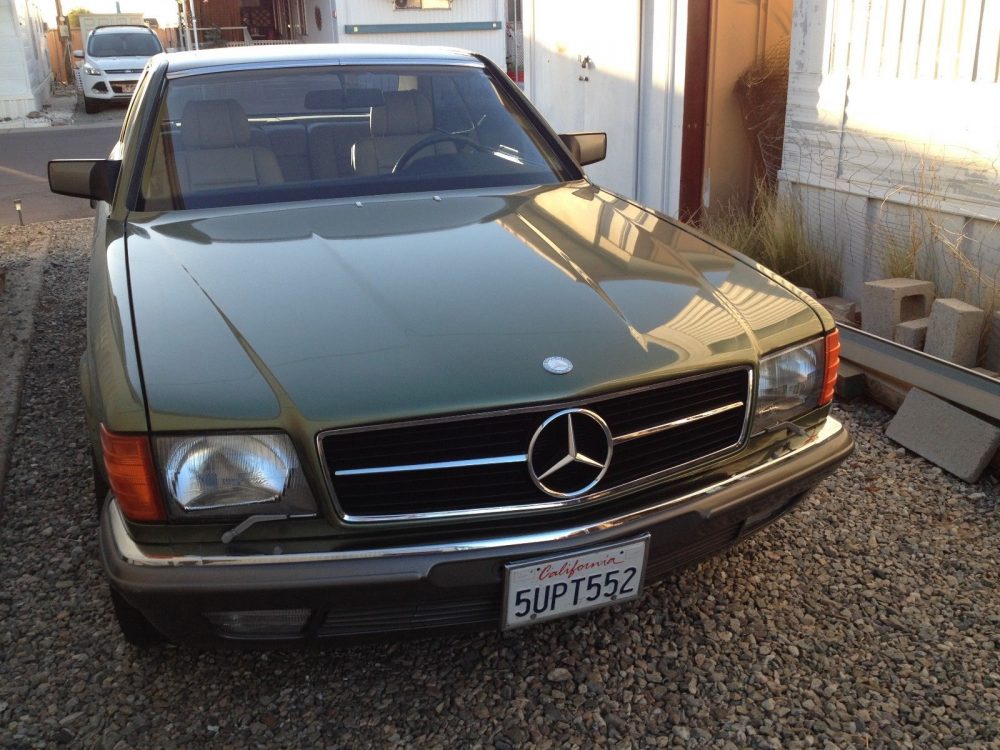 I've been pretty heavy in the Mercedes-Benz C126 the past month or so, but honestly I take them as they come. When it rains it pours and it seems like I've just been running across nice SEC, after nice SEC, after nice SEC. Today's C126, a 1982 500SEC in Arizona is another great example of the Bruno Sacco coupe but this one is a little more special. This car is painted in the ultra-rare Cypress Green and if that wasn't enough, it's also a European-spec car that maintains all of its goodies that North American cars didn't get. The photos and information aren't that great with this car, but if a car ever had potential, it is this one. But who is willing to take the risk?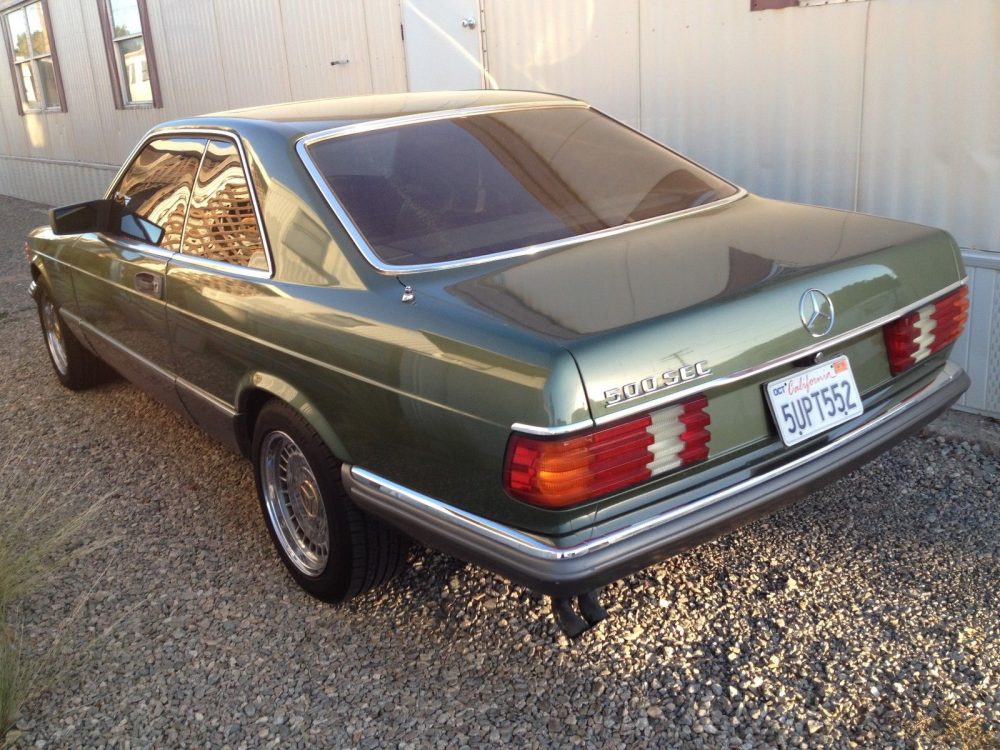 Year: 1982
Model: 500SEC
Engine: 5.0 liter V8
Transmission: 4-speed automatic
Mileage: 136,680 km (84,929 mi)
Price: No Reserve Auction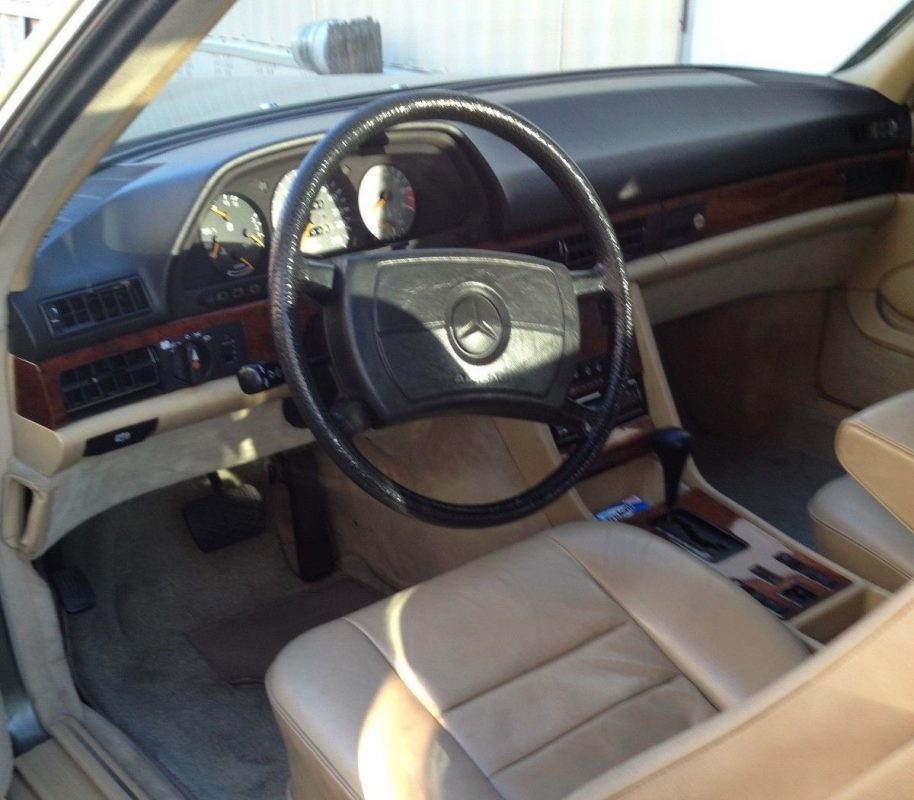 One of my favor it body styles of all time after seeing Road House with Patric Swayze and my favor it color Green. This Car is very nice and would take little to be show quality. Has a few very small door dings (paint not broken could be removed with paint less dent repair to perfection) has a few rock chips. Runs and shifts as it should a/c cold. The pictures of the wheels are of each wheel and have some small areas of chrome pealing in the areas that have had hammer on wheel weights some time in the past. Original floor mats show some wear but would look much better with some professional steam cleaning. Passed California emission test @133,619 km on 10/17 Has clean and clear California Title. Brakes done new rotors and pads front and rear with brake fluid flush @ 133,619 km done at a German car specialty service facility. Had ball joints replaced as well @ 126,707 km. Has a chip in the ash tray wood trim and some light cracking in the clear coat of the wood trim around shifter. No rips or tears inside that I can see. Great oil pressure. Every thing works except power antenna maybe I haven't found the switch yet. Has after market am/fm CD with blue tooth and has remote mic, don't know if the mic is connected. Rides very smooth and can hardly tell when the transmission shifts. Engine compartment is a little dusty but would clean up nice. I purchased this to keep but it's so nice that I feel that it needs a better home as I am in the Yuma az (Desert) 120 degrees in the summer and very dusty. Car has not been detailed only hand polished several times over the years according to previous owner an elderly Man who said he had put 1/2 of the miles that are on the car. I am very picky and used to be a show car judge for many years. Some of the things I mentioned most people may not even notice. The reflection in the roof/sun roof picture is a reflection of the door handle from the place next door. Sorry for the reflections in some of the pictures. I also purchased a mint condition showroom brochure in German as all the books are in German. Please view the pictures as they are part of the condition. I have this car listed for sale locally and reserve the right to end the listing at any time. Car is being sold as is. If you have less than 10 positive feedback I will cancel your bid unless you contact me first. Please don't bid if you don't have the funds to complete the purchase. The $1000 deposit is none refundable. You can contact me at thefitnessnanny@gmail.com or 8287789611 Bill. Thanks so much for your interest :-))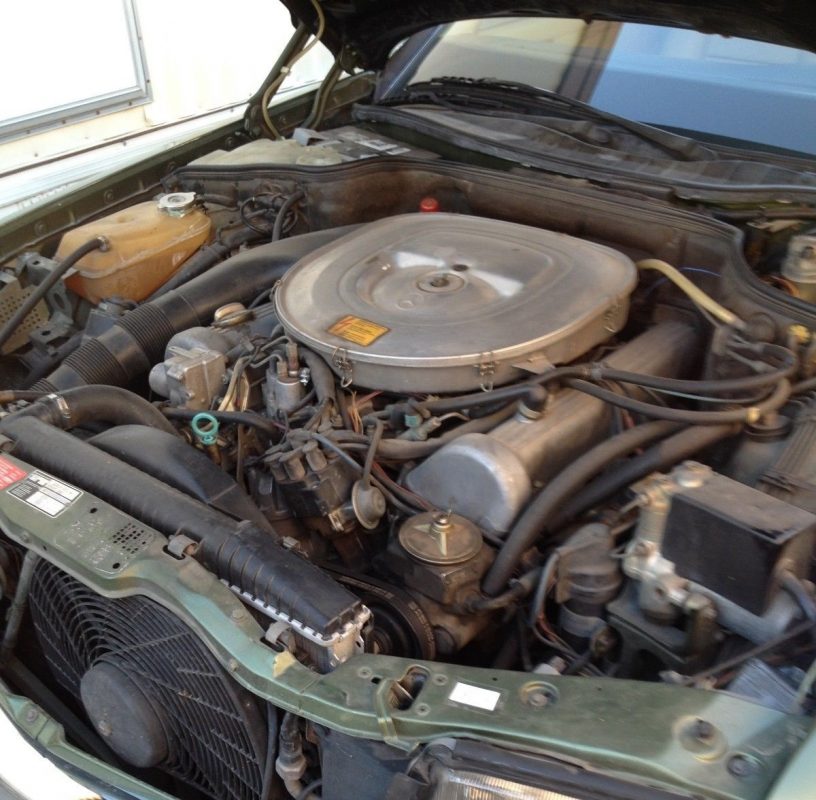 I love Cypress Green. It is a color that I rarely ever see on the C126 chassis and it doesn't surprise me at all that when I finally do see one, it's on a euro-spec car. I'm really surprised at how well this paint looks for being in the brutal California and Arizona sun. I think before it took up home at a trailer park it probably was garage the majority of it's life and thank goodness for that. I really hate these Centra because although they are period correct, it doesn't mean they weren't ugly back then too. I'd much rather have a clean set of Bundts that this car originally came with. I can't really judge the interior all that well because of the horrible photos but from what I can see, it is not that bad at all. Under the hood, the tried and true 5.0 liter M117 is all there but a little on the dusty side. The big thing to remember here is with these euro-spec C126s, the bumpers aren't as long even though it looks the same at the North American cars, you can tell it is a much "tighter" package when looking at the entire car. Also those great headlights are present instead of the terrible sealed beam versions.
I'm curious to see where the bidding goes with this one. The photos are pretty terrible but like I said, there is a ton of potential here. The opening number of $13,550 is probably on the high side as it sits, but it could be totally fair if I had a better look at this SEC. I think someone will take a chance on this car if they check it out person, but I don't if I'd be pulling the trigger from what I can see right now. I'll be watching this one close for sure to see what happens.
– Andrew