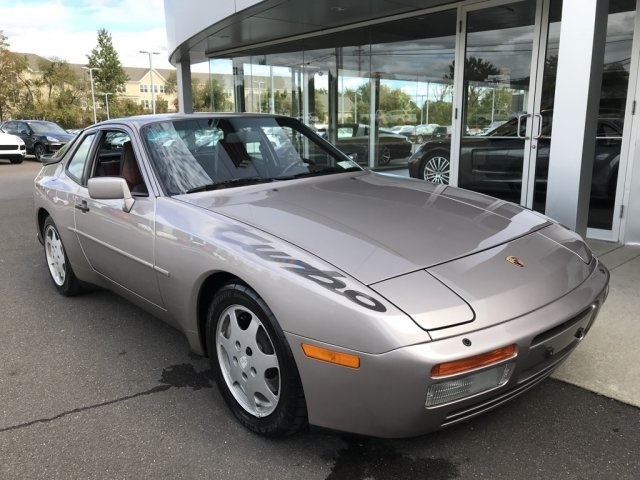 Update 12/2/18: The 16,000 mile example is down to $55,995.
Update 8/15/18: The ask on the 16,000 mile 944 Turbo S has dropped further to $59,995.
Update 6/1/18: The 16,000 mile Turbo S in this post has dropped $5,000 in asking price to $64,995.
We've managed to stick to a red interior theme so far today, and I'm going to further that just a bit more. But while red interiors in the 70s and 80s were super chic, few for me match the sheer audacity or execution of today's twin 944 Turbo S Silver Rose models. And as I've spent the last few transaxle posts dancing around special models, it would seem fitting to cover what many consider to be the most special of all. Coincidentally, outside of some exceptional limited production models like the Turbo Cup, 968 CS or Turbo S, and 924 Carrera GTS, few are worth as much as this model either.
1988 saw numerous changes in the 944 Turbo lineup. The new option M758 "Turbo S" included a new turbocharger with redesigned vanes and a remapped DME which increased boost to a max of 1.82 bar. The resulting M44/52 had 30 more horsepower and 15 lb.ft torque to a max of 247 and 258, respectively. But the "S" package was far more than just more boost, as the cooling system was revised, the clutch and transmission were beefed up with hardened first and second gears.
Brakes were borrowed from the 928 S4 and now measured 12″ in front with four piston aluminum calipers. Wheels were Club Sport 16″ forged, polished and anodized units measuring 7 inches in front and 9 in the rear. Suspension was also beefed up with the M030 package; this included adjustable rebound Koni shocks and adjustable-perch coilovers in front. Limited slip differentials (Code 220) were not standard, but a must-select option.
Within the already limited edition S (of which about 1,900 were shipped to the US), there was another special edition. The "Silver Rose" launch cars took all of the special aspects of the M758 S package and added a unique color (Silver Rose Metallic, LM3Z) and a very unique Burgundy Studio Check interior. Outside of the Turbo Cup cars, these very limited (claimed 339) original models have become the most desirable of the 944 Turbos, and few are presented like these two today which have combined only managed to cover 24,494 miles in 30 years: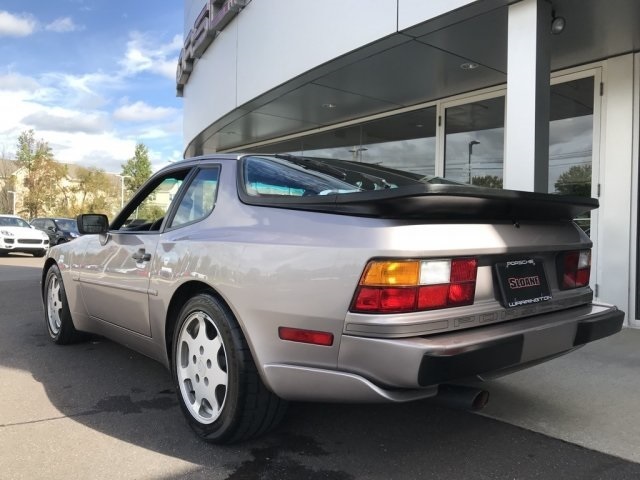 Year: 1988
Model: 944 Turbo S Silver Rose
Engine: 2.5 liter turbocharged inline-4
Transmission: 5-speed manual
Mileage: 7,545 mi
Price: $69,995 Buy It Now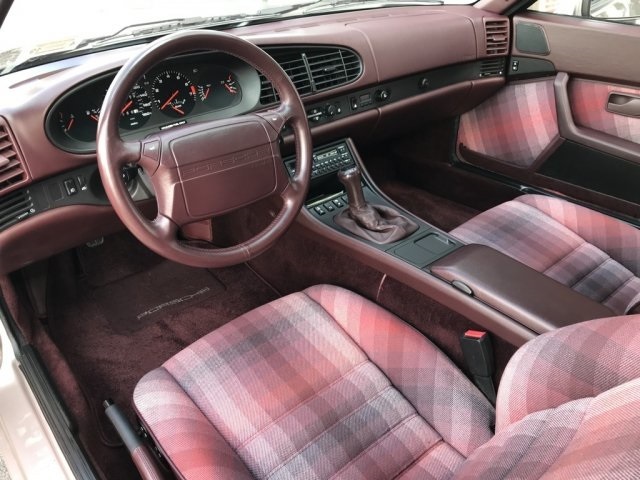 Comments
RARE 1988 944 TURBO S. SILVER ROSE. ONLY 7,545 CAREFUL MILES! MAJOR TIMING BELT SERVICE RECENTLY COMPLETED!!

Completely original example of a rare Silver Rose Turbo S.

Recent Major Service including timing belt completed!

Options include:

758 – Special Model Turbo S
454 – Automatic Speed Control
593 – ABS Brakes
650 – Electric Sunroof
685 – Divided Rear Seats
990 – All Cloth Seats
Price: $ 69,995.00
VIN (Vehicle Identification Number) WP0AA2957JN151367
Stock Number 3036069
Mileage 7,545 mi
Transmission 5-Speed Manual
Exterior Color Rose
Interior Color Burgundy
Engine
Drivetrain
Brakes
Equipment Features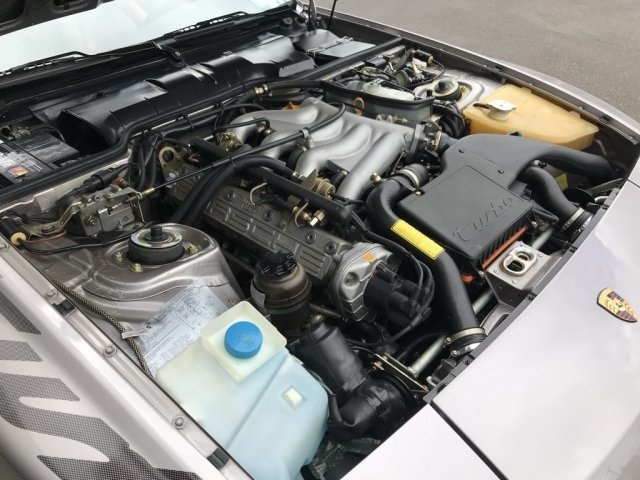 While I can't prove it definitively at this time, I'm pretty sure that this is the same car I looked at a a few years ago. With only a few more miles on the clock, it's hard to conceptualize another existing. Very little is disclosed about the car itself other than it appears to be all there and very sparingly used, while still having up-to-date service to keep it turn-key. The only difference I noticed from the earlier listing was that this car also wears the optional dealer-installed Turbo-script decal on the passenger fender, but as it's still available from Porsche last I checked, I wouldn't put it past a dealer to add it on for that over-the-top effect. Pricing is aggressive at $70,000, but then that falls in line with the last several ultra-low mileage transaxle collector models.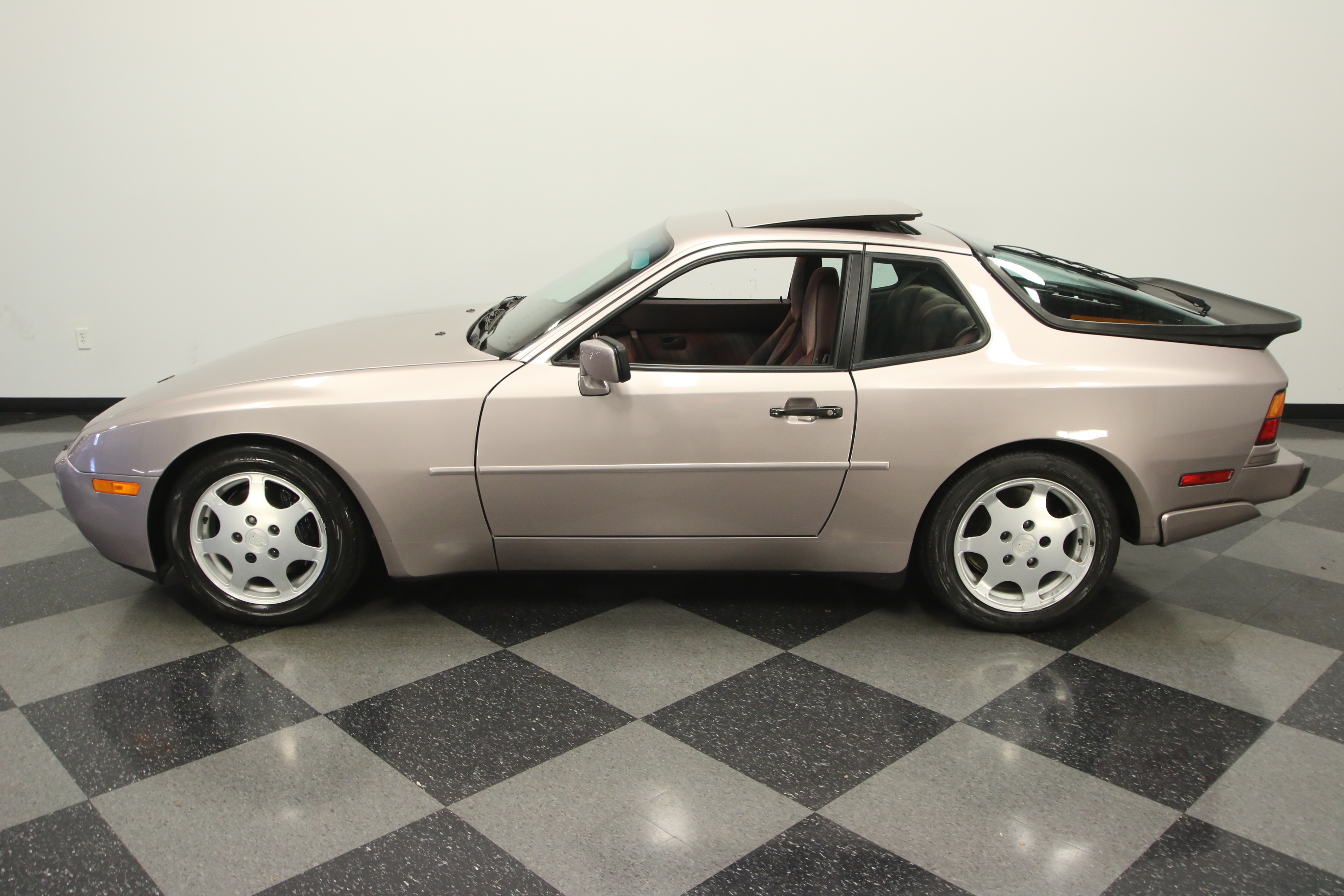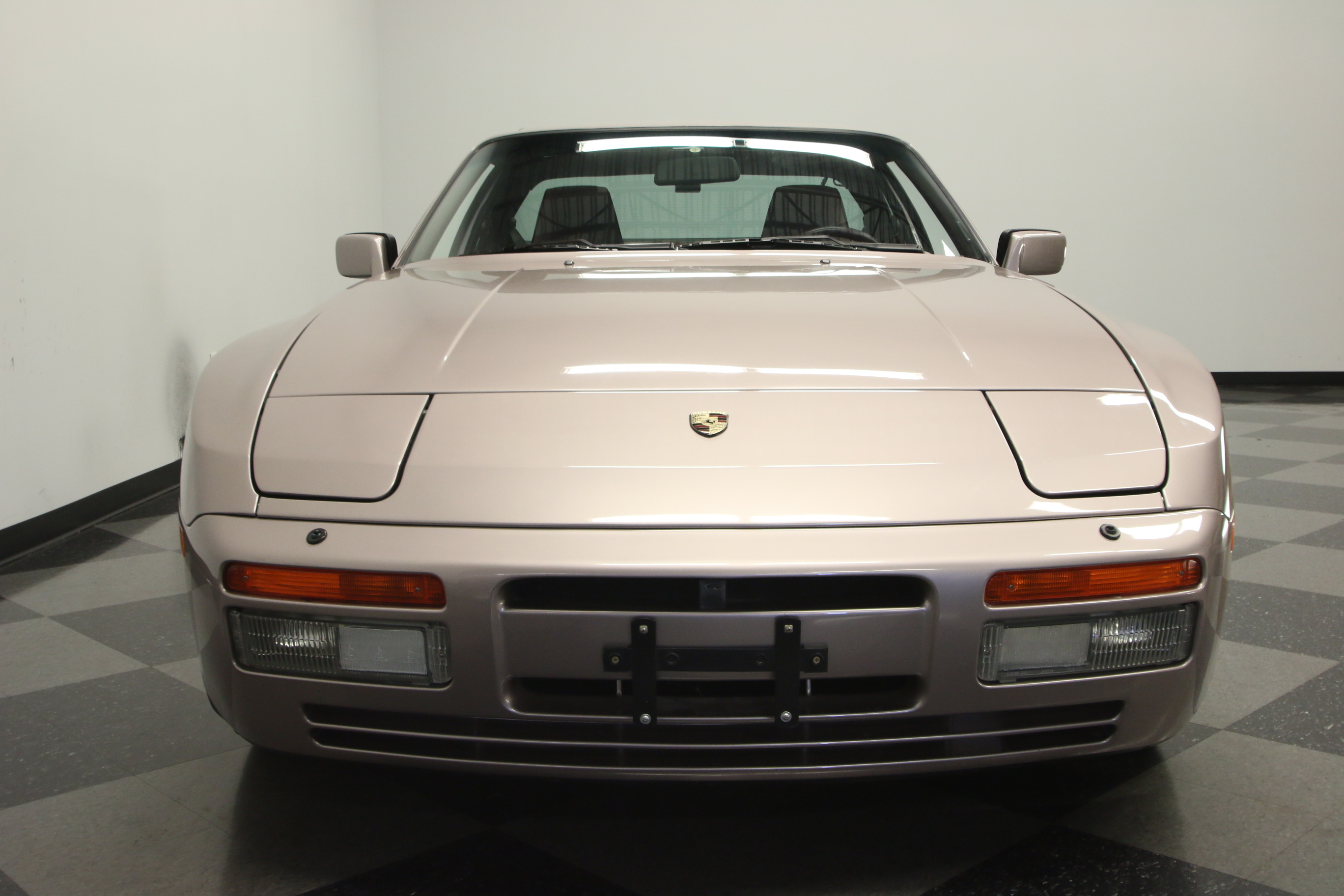 Year: 1988
Model: 944 Turbo S Silver Rose
Engine: 2.5 liter turbocharged inline-4
Transmission: 5-speed manual
Mileage: 16,949 mi
Price: $55,995 Buy It Now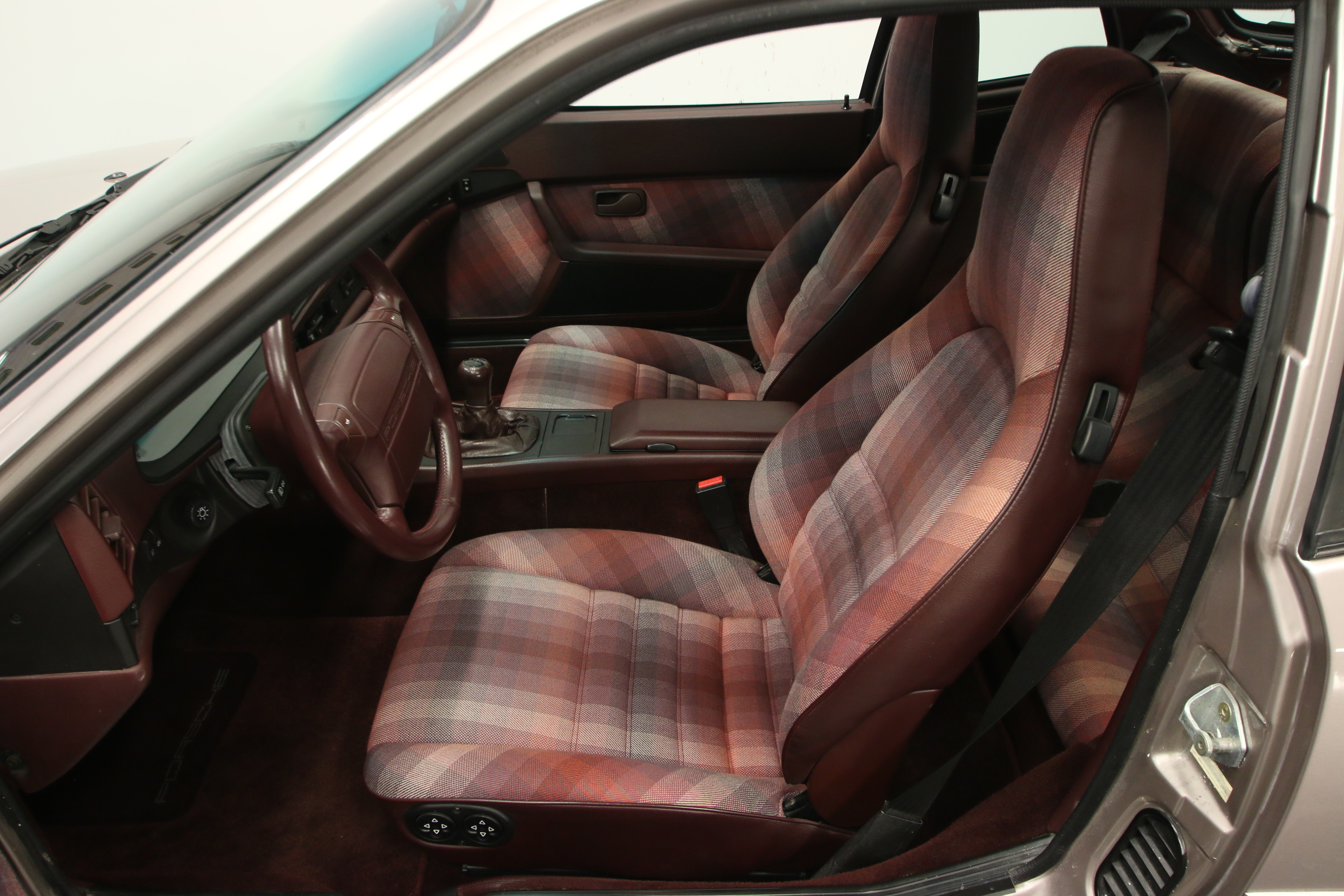 Description

Name another 30-year-old car that can still run with the big dogs both on the street and on the track like this 16,494 actual mileage 1988 Porsche 944 Turbo S. This immaculately maintained coupe was only offered for one year, and so it still commands respect wherever it goes. Which is good, because it's also a blast to drive.

The 944 Turbo S continued Porsche's tradition of building serious driver's cars. The "S" model was a rare upgrade for the 1988 model year, and so that's why you're looking at such a cherished example. The factory-correct Silver Metallic Rose was given a professional respray in 2014 to keep this distinct hue looking its best. In fact, a great color always has extra merit on a 944 Turbo because of its updated styling w/integrated bumper. The practical side of this front fascia carries large fog lamps and extra cooling ducts. Fit and finish are typically Porsche excellent and even the black rubber trim like the rear spoiler and weather stripping is smooth and supple. And because this is the top of the 944 line, Porsche also upgraded the Turbo S with a distinctive set of 16-inch Club Sport wheels.

Not only do we like how distinct the exterior color is, but also the hint of red really looks great against the burgundy plaid interior. The tartan pattern is part of a great performance tradition at Porsche, and so it offers extra distinction to the Turbo S. And with so few miles on this coupe, it remains fantastically well-preserved today. A limited edition also means a loaded vehicle. You get air conditioning, power windows, power locks, power seats, sunroof, cruise control, and the correct Blaupunkt AM/FM/cassette stereo. There's even modern safety with anti-lock brakes and dual front airbags. In fact, the only piece that we can find that's not from the factory is a well-integrated K90 radar detector system. That's just another reminder that Porsche builds performance machines. That's why the steering wheel has the perfect grip; the tach is large and prominent; and the gearstick just seems to be located in the perfect position for your right hand.

What makes the S model so special is this is when Porsche fitted a larger turbocharger to the motor. That means you could get 247 horsepower from just 2.5 liters. The lightweight nature makes these cars a little pocket-rocket. Plus, it was engineered to be a terrific handling machine with the motor canted over at an angle for a lower center of gravity, and the rear-mounted five-speed transmission means that the car has almost ideal 50/50 weight distribution. Plus, the Turbo S fully independent suspension received upgrades from its 928 big brother. Add in features like four-wheel disc brakes, power steering, and Porsche's legendary engineering prowess, and you realize this is blast to drive anytime.

The sale comes with all the right paperwork, including the owner's manual packet, maintenance records folder, title documentation, and a reproduction window sticker. And because this one-owner car has always been babied (even the clutch and flywheel were replaced in 2015) is more proof that the car has led an easy life as a fair-weather toy. So if you're a true connoisseur this pampered Porsche is ready right now. Call today!!!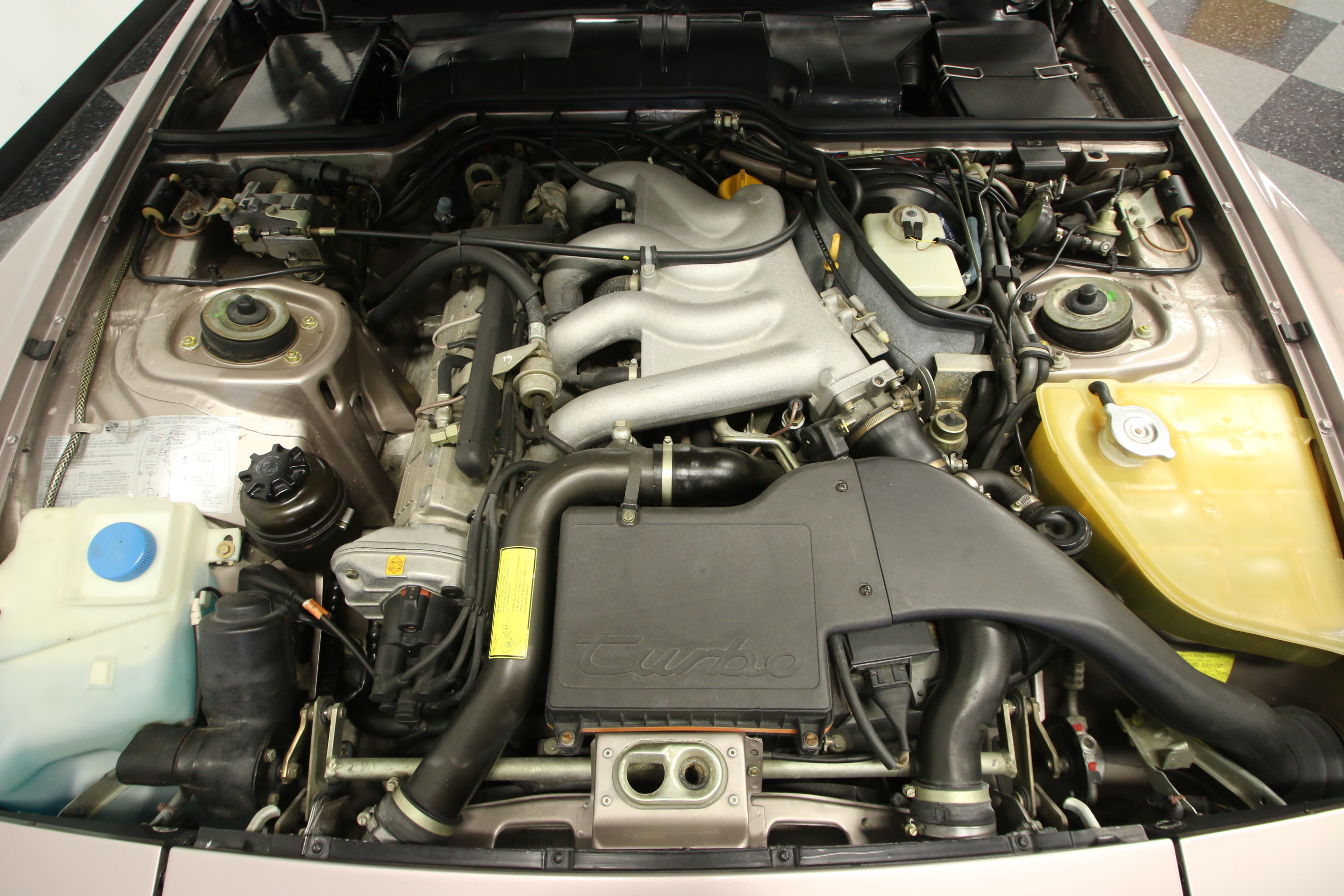 It's pretty amazing that this one has over double the mileage of the first car, yet that number is still well under 20,000. This one isn't quite as original, though, having had a respray along the way, and some of the dealer's model information is a bit off-base. Just like the prior example, though, it's amazingly preserved in original condition yet still has had mechanical upgrades; though, I must admit, I wonder why it needed a clutch at only 16,xxx miles. The price matches the lower-mile example perfectly at $69,995.
Which is the one to buy? Well, immediate reaction probably will reveal most to believe these two are heavily overpriced. However, as I said a few years ago, repeating this collector package with that few miles in all-original condition increases the value substantially for the few that can afford it. In that regard, the lower mile, presumably more original example is the one to get since it's the same price as the repaint. Both are drool-worthy, but both also are outside the realm of possibility for most who would consider the 944 Turbo. Still, when you put this model up against the Quattro or M3s we regularly see trading in that range, again I'm amazed that the market hasn't woken up more to them.
Thank you to our reader Sam for both spots!
-Carter