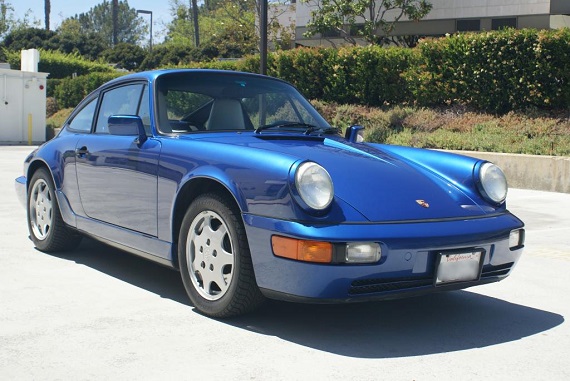 The 964 brought with it numerous changes and innovations and marked the end of the classic 911. The Carrera 4 was first introduced, the body underwent its fist significant redesign in 15 years, and the general feel of the car took on a new level of refinement with such items as ABS, power steering, and climate control all available. There was one other technical innovation: Porsche introduced its Tiptronic transmission as an available option on the 911. While these days almost every manufacturer offers an automatic that allows some freedom to select the gears, back in 1991 this was a rare bird that would further serve to expand the Porsche audience. Though, we should note, Porsche themselves had begun offering a similar sort of system, the Sportomatic, way back in the late '60s, well before anyone else seemed to even consider such a thing. These sorts of transmissions were the wave of the future and, love them or hate them, Porsche was at the forefront of this technology. Here we have a Tiptronic-equipped Cobalt Blue 1991 Porsche 911 Carrera 2 with 39,970 miles.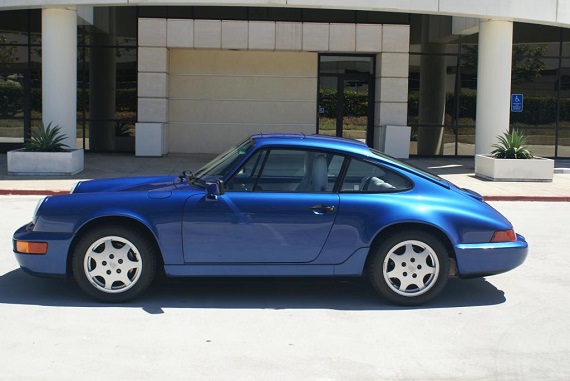 Year: 1991
Model: 911 Carrera 2
Engine: 3.6 liter flat-6
Transmission: 4-speed automatic
Mileage: 39,970 mi
Price: Reserve auction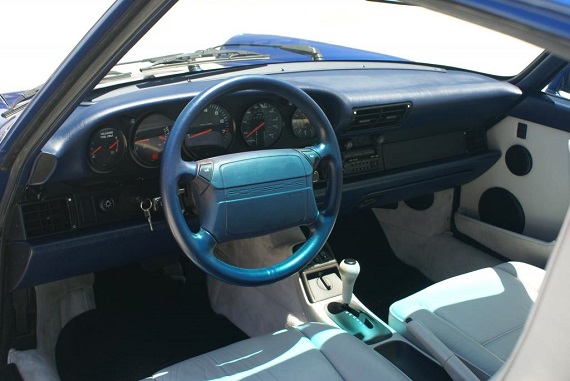 Presented here is my stunning 1991 Porsche 911 Carrera 2 Coupe – a appreciating, classic sports car. This particular vehicle has been fastidiously taken care of, comes with a completely documented history, and includes extensive maintenance records. This is, without a doubt, an extremely rare car in all aspects – year, mileage, and condition. As with any classic car originality is key, and this vehicle is 100% how it came out of the factory in Zuffenhausen. This 911 wears original paint on every panel, still has it's Sigla windshield, and it's factory Blaupunkt Reno 2 radio. Finished off in a stunning and rare color combination, this low mileage 911 is exceptional. Please keep reading as I will try to detail the car as much as possible.

History

· Vehicle was originally delivered to the Porsche dealer on January 7, 1991.
· Vehicle was first sold on June 25, 1992.
· Only 39,9xxx miles from new.
· Always a dry climate vehicle coming from Arizona and California.
· Complete records from new.
· Owner's manuals, tool kit, air compressor, and gloves are included.
· All original with no modifications

Options
249 Automatic transmission
437 Comfort seat left
454 Automatic speed control
494 2 speakers on back shelf
494 Amplifier system
586 Lumbar support – left seat
650 Sunroof
659 Onboard computer
935 Seat cover rear RLL
980 Seat cover – Raff – leather

Exterior

This Porsche 911 Carrera is finished off in Cobalt Blue Metallic. As the pictures will show, exterior is in remarkable condition. After an extensive inspection, it was found to have original paint on all the panels. The paint has a nice shine. There are no noteworthy dents anywhere and the overall condition of the exterior is excellent. The windshield is the original Sigla glass with integrated antenna (excellent) and all of the other glass on the car is original. All of the exterior rubber is nice and supple. The lights and lenses on the entire car are like new and are not stained, leaking, cracked, or discolored. Wheels are D90 16 staggered wheels with very good condition tires.

· Original paint in rare Cobalt Blue Metallic – absolutely stunning
· Original flat style hood emblem
· Power mirrors with nice glass
· No rust
· Original windshield with integrated antenna
· All of the glass is original
· All of the lights and lens are in excellent condition
· All lights work
· Rear power spoiler operational without any noises
· Original wheel locks with key
· Gas struts are operational for trunk and engine lid
· Original option sticker present under hood
· Stunning exterior

Interior

The interior is finished off in Marine Blue and Light Grey. The interior features Light Grey seats, carpets, and door panels. The door tops, dash, and trim pieces are Marine Blue. All of the leather on the interior is original. The seats are in very good condition and the leather is still soft and supple. The dash is very nice and not warped, discolored, or cracked. The steering wheel is not showing any discoloration or any abnormal wear. The vehicle has never been smoked in and there aren't any odors. The interior still features the original carpet in very good shape. There are black floor mats on the interior to protect the original carpet.

The interior has all of the original seat belts without any fraying. The original radio is present (Blaupunkt Reno 2). All of gauges are in excellent condition and feature bright needles. The A/C, heat, cruise control, and radio are completely functional. All of the electronics on the interior are functioning correctly. The interior is consistent with a vehicle only having 39k miles – it is very nice.

· Light Grey and Marine Blue interior
· Seats are upholstered in ruffled light grey leather – very nice
· Leather door panels and handles are very nice
· Door pockets on both sides are nice
· Leather steering wheel
· Sun visors are original and not puffy
· Seat belts are not frayed and retract correctly
· Very cold A/C with functional fan speeds
· Like new cigarette lighter
· Interior lights functional
· Power door locks on both sides functional
· Anti-Theft alarm system
· All electrics are functioning

Mechanics

A full history and careful ownership has kept this car in very good mechanical condition. The engine starts up without hesitation, doesn't smoke, and doesn't leak anything. The oil pressure is very good and the engine never overheats. The power delivery is very responsive with a very linear curve. The transmission shifts nicely and smoothly. The engine and transmission allow you to drive comfortably and without hesitation. A very easy and nice drive.

The suspension is very smooth and doesn't rattle or creak going over any bumps. Coupled with the 16 inch wheels, the ride is sporty. Tires are all in good condition and matching. The brakes are excellent and stop this 911 excellently. The pedal is nice and stiff and that makes progressive braking very easy. The underneath of the engine and the engine bay are very nice. Underneath engine cover is present.

· 3.6L Flat 6-cylinder – doesn't smoke, doesn't leak, makes excellent power
· Engine has excellent oil pressure
· Never overheats
· Tiptronic transmission
· Transmission shifts nicely without any hesitation
· All instruments work
· Brakes are extremely strong and responsive
· Suspension is very compliant, handles bumps nicely, and provides a smooth ride
· Suspension doesn't make any bangs or rattles over bumps
· A very nice driving 911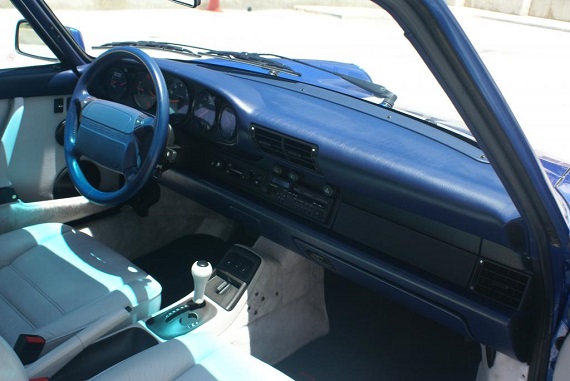 This car isn't what I would consider ultra low mileage, as the seller states, but we'll leave that as a minor quibble since the mileage is pretty low and it really does look fantastic both inside and out. That it comes with a bunch of maintenance records and its manuals is an added plus. Obviously, the Tiptronic is not for everyone, but for someone for whom, perhaps with age or injury, shifting a manual has become more difficult, then a car such as this could make for a great alternative. I don't have a good sense of the market for Tiptronic-equipped 911s, but given the originality, low mileage, and apparent condition I'd suspect this one to fetch a pretty good price. Bidding currently sits at $27,100, with reserve unmet, and were this a manual 964 then that would be quite a steal. For the less desirable Tiptronic, however, perhaps that's the peak?
-Rob