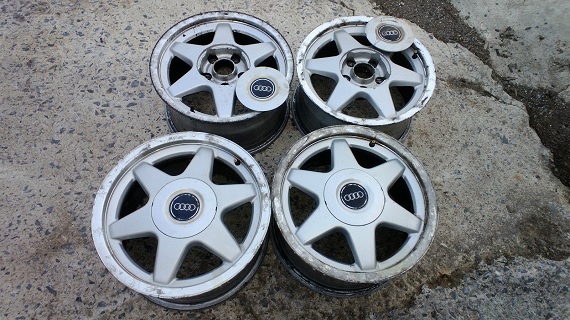 Like yesterday afternoon's B5 optional factory Speedline wheels, today's Speedlines were also optional with all-seasons on the Audi C4 S4 and S6. They weren't often selected as an option over the high-performance 16″ wheels that came standard, and unlike yesterday's wheels these measured in at at full width – prior to 1992, the largest wheel Audi optioned any of their sedans with were the 15 x 7.5 BBSs, and these Speedlines were the same width though slightly higher offset. Take a look at some rare to see Speedlines:
Year: 1992-1995
Model: S4/S6 Speedline Factory Option
Diameter: 15″
Width: 7.5″
Bolt Pattern: 5×112
Offset: ET 40
Condition: Used
Tires: Not Included
Price: $299 Buy It Now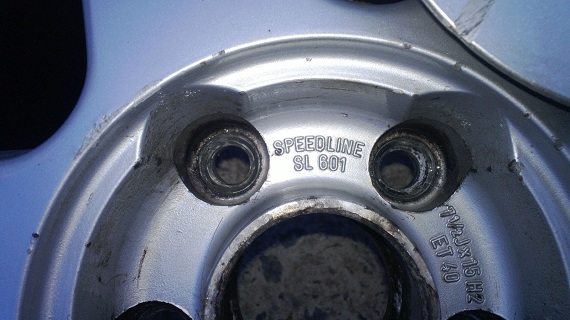 Here for sale is a original OEM set of 4 matching SPEEDLINE SL 601 off of a 1993 Audi S4 Sedan, see picture
These are all in usable condition, all 4 have center caps, but as far as their appearance, that is rough looking
All wheels are straight, but the clear finish is long gone, one is curbed all the way around
All 4 wheels can be used as they are, but these are a rare optional wheel for the early S4 models, and deserved to be restored
Restoring these would not take much work, send them out or do it yourself
You can use a Aircraft paint and finish stripper, smooth out the rough spots, curb rash, and polish them, or re clear them
These were a optional wheel for the winter package, but most of the time, owners used them all the time
These are a good wide wheel, 15×7.5, with a 5×112 bolt pattern, all 4 center caps stay in place, one is scuffed, and the Audi emblem is cracked
These would be a beautiful wheel restored, on a vintage Audi, or Volkswagen, or anything with the same bolt pattern
The car in the picture is the actual car the wheels are off of
Thanks for looking
Check out my other items!
Be sure to add me to your favorites list!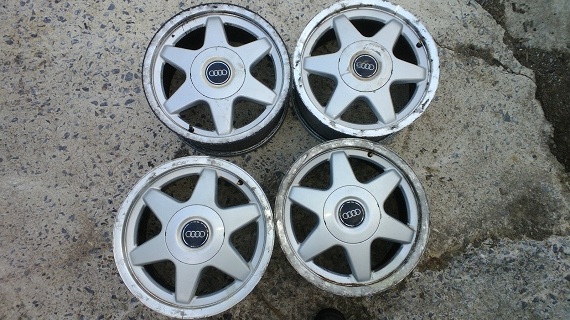 The C4 market has moved pretty solidly into collectable status, though prices are still low. Like yesterday's set, for the person that wants everything that was available from the factory this is a neat and affordable option. These wheels were also quite light, though not as light as the BBS wheels that the 200 and V8 came with. Also unlike yesterday's wheels, these are in a state which will ultimately require refinishing – though the caps are all there and these are one piece wheels, so refinishing shouldn't present too much of an issue. At $299, I think the price is slightly high considering the condition but finding another set won't be easy – they don't often come up for sale!
-Carter