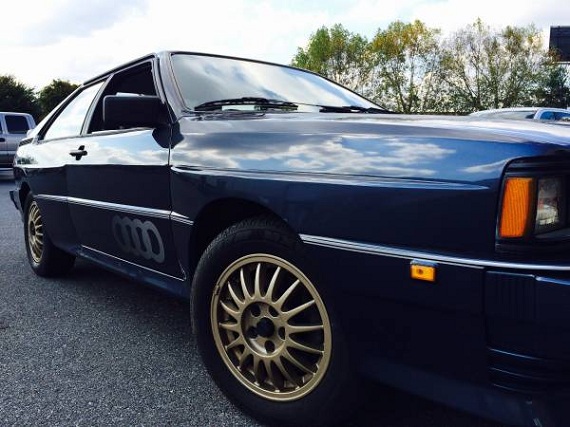 For some time, the Quattro remained an undercover legend amongst enthusiasts. Saddled with an unfair reputation from media hype and enthusiasts' misconceptions, the Quattro was remarkably affordable until very recently – especially so when you consider the ascension of other '80s icons. But Audi's acknowledgement that they built cars prior to the A4, coupled with some star power from the British show Ashes to Ashes and universal acknowledgement of the car's impressive stature in the halls of automotive history mean that it's still a star on the rise – especially in Europe, where the car is seriously coveted. Americans are just catching on in the grand scheme of things – and their delay means that many of these turbocharged all-wheel drive wonders have gone the way of the Dodo. It's not as if there were many to choose from initially, with only around 11,500 of them produced and a majority of those remained in Europe. The U.S. only saw a few years of importation; a reported total of 664 made it here – and though they've maintained a devoted fan following since they were pulled from these shores in 1986, it's nevertheless been difficult to find good examples of these cars today. They've become regarded as quite cool; the mystique of the turbocharged, box-flared World Rally Championship car for the road – the original Quattro is unsurpassed in the realm of cool Audis. Today, we'll look at a mild and modded example and see which is the one to grab: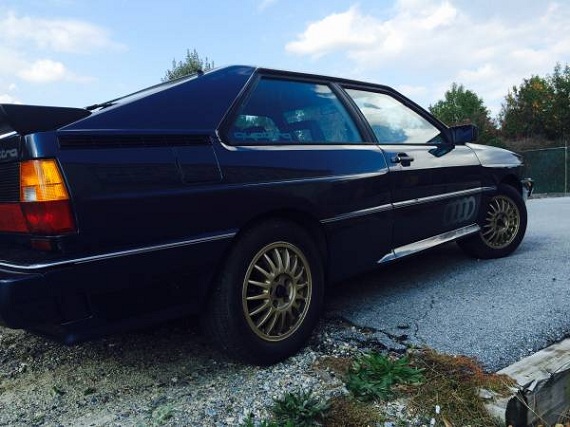 Year: 1983
Model: Quattro
Engine: 2.1 liter inline-5
Transmission: 5-speed manual
Mileage: 83,000 mi
Price: $25,000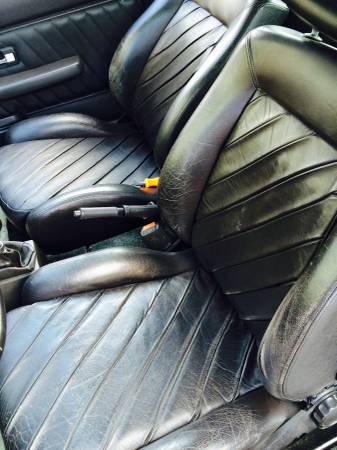 AUDI UR TURBO Coupe QUATTRO 1983 83k mi, Nice
Everything works, No rust ! Clean drive anywhere original unmolested car
see photos, These were sold as the Porsche 911 turbo and priced similar for those who need a back seat and Quattro AWD.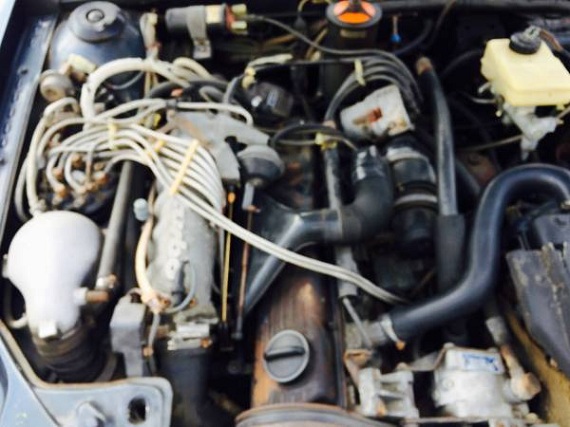 Our readers Dan and Brian both spotted this car and sent it in; this car is an interesting find for sure. It appears to be Helios Blue with the original chocolate leather interior. The wheels and striping aren't original in gold to my knowledge but do give a bit of rally flair to the car – as if it needed more. For such a legendary car, the description is surprisingly short and lacking information. A look at the underhood shot confirms that it appears to be a east coast car; there's plenty of surface rust which is fairly typical. Interestingly, the side radiator hood shroud is in place – it's made of cardboard, basically, so typically has fallen apart. Perhaps that's a sign that the car has been well cared for, but I'd still be pretty concerned about rust lurking underneath the fenders and rockers. This car is priced currently between a condition 1 and 2 car; it's clean, but I'd say from the look it's more a 2-3 car than a near Concours example. That means the price is probably a bit ambitious and should probably fall into the high teens. Perhaps if there was an explanation as to the high price – a full mechanical and suspension/brake rebuild and refresh, for example – it might be justified, but it doesn't appear to be so.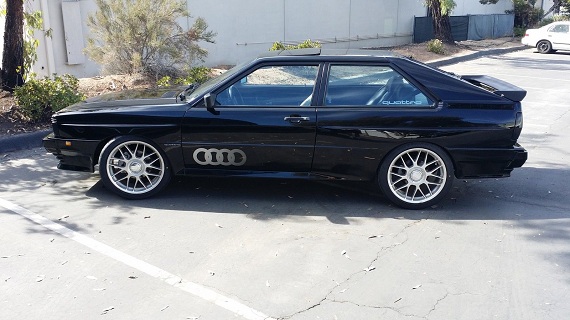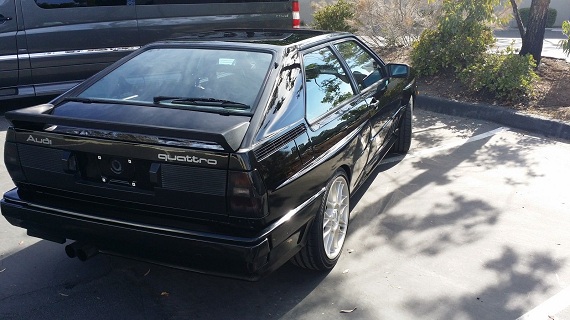 Year: 1983
Model: Quattro
Engine: 2.1 liter turbocharged inline-5
Transmission: 5-speed manual
Mileage: 112,000 mi
Price: $23,500 Buy It Now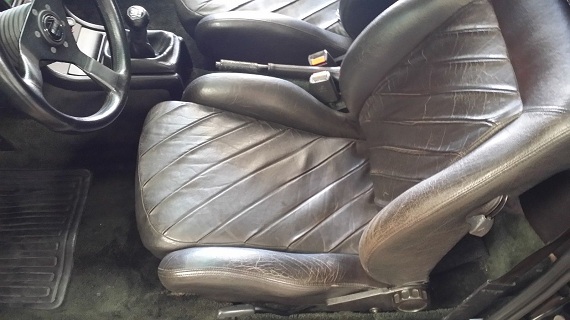 Really nice Audi Quattro. Body panels are nearly flawless, no dents or door dings. Interior is good. Drivers seat is a mildly soft.

Dash and all other interior items are free from cracks etc. Carpets are a bit faded, but in decent condition.

I have recently had the top end overhauled. Car runs and pulls amazing. Very fun to drive.

The upper end work included: new cylinder head, machined, valve stem seals, seats and springs.

intake, exhaust and cylinder head gaskets. Water pump, timing belt and roller and seals.

Alternator, A/C and power steering belt.

New ignition coil, control unit, temp sensor, vacuum switch, and intake boots.

Ignition wires and fluids and filters changed.

Car also has a new set of super sticky bridgestone tires. Handles awesome.

Car has no rust or leaks. Undercarriage is super clean has no signs of abuse such as bottoming etc.

Rims are a bit scruffy. Could use updating or reconditioning as there is some minor curb rash and the brake dust has permeated the

alloy.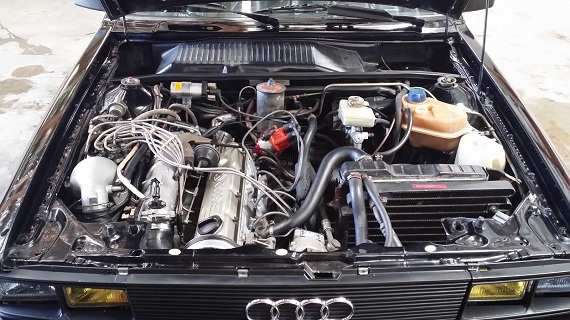 The counterpoint to the Helios Blue car is this black example; if it's original, it appears to be non-metallic Black which is pretty rare. The interior is the same chocolate leather, and despite the higher miles it arguably looks in better condition. The dash in this car has been upgraded to the later post-85 dash which is slightly better looking in my opinion, and the exterior certainly appears to be in great shape. Critically, the car has mechanical work documented and appears to be ready to roll. Under the hood looks much tidier, and despite the long list of NLA parts the top radiator cover is actually something that still can be sourced and isn't all-outdoors. With working A/C, this car certainly looks like a great driver in fantastic shape. The BBS RC wheels good, but they're a bit too new and big in my opinion for the design; some 8″ Ronals would really make this car stand out just as much. At $1,500 less than the Helios example, this car looks to me to be the better proposition of the two. However, I really think in a few years we'll have a M3 moment with these cars, and we'll be regretting not grabbing them at this price point. I recall a super low-mileage example in Mars Red that rolled up to Lime Rock some years ago; at the time, I baulked at the then $15,000 asking price. Turns out it would have been money well spent after all!
-Carter