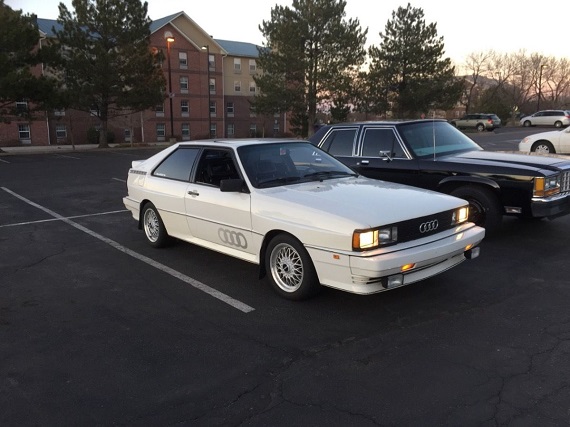 It's a sigh of relief to see a market correction in classic Audi's favor. For such a long time, Audis were simply unappreciated; but innovative designs, great looks and solid build quality mean that those who hung on for the depreciation ride are now smiling a bit more. There's simply more appreciation for the classic Audis now then perhaps ever; even perhaps more than when they were new. That's because back then, no one knew what they were, really – but today, the legend of Quattro has spread and thanks to the proliferation of internet video, we still get to hear the raucous barking and watch the belching flames from the turbocharged inline-5. This past weekend, I took my Coupe GT out for a ride. I grabbed my cousin and we went to look at a new car for him; a 2009 Subaru WRX. Much like a modern interpretation of the original Audis, it's apropos that we arrived in an Audi to take a look at it. What was perhaps more striking, though, was the reaction of the Subaru crowd. We showed up to a Subaru speed shop where the WRX was to be view, and instantly once within earshot, all of the crew at the garage came out to see the approaching Audi. It was a genuine show of respect, smiles, and thumbs up from a crew you wouldn't automatically assume would know their history. Even more shocking, though, was the resounding appreciation they showed for the old car – more than often is seen at Audi-specific events. That's the legend and the importance of the Quattro: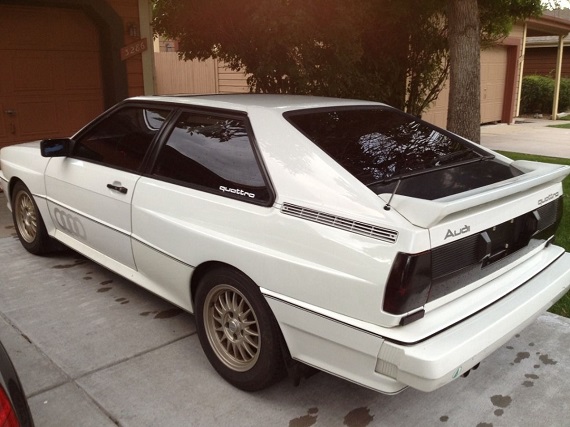 Year: 1983
Model: Quattro
Engine: 2.1 liter turbocharged inline-5
Transmission: 5-speed manual
Mileage: 233,000 mi
Price: No Reserve Auction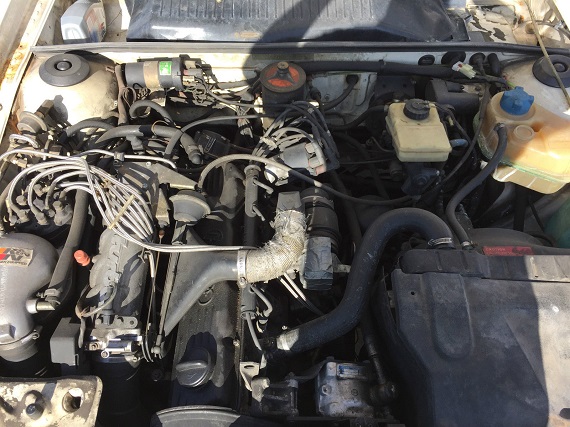 Up for bid is an 1983 Audi quattro, or "UrQuattro". Alpine White with Mocha leather interior. 2.1 liter WX code motor and a K26 turbo with 232k miles.

The car runs and drives extremely well; The mileage is high at first blush, but the car is driven often and meticulously cared for. I drive this car for my commute 2-4 days per week (weather permitting) as well as fun excursions, and it's a blast to drive.

The turbo is good and linear, and comes in strong around 3200 RPM. The car is completely comfortable idling for long periods in traffic. In the years I've owned it, it has not left me walking. The most recent oil change was performed at 231k, and I always use Mobil 1 10w-40 per the manual.

The car has a full prior service history. All records will go with the car and its new owner. Highlights include

-Rebuilt motor at ~100k mi at an expense of ~$5k by John Beckius of Sport wheels, which was a regarded UrQ repair shop in CO in the 1990s. Motor was completely disassembled and rebuilt to spec.

-Most other required services performed by Prestige Porsche Audi in Lakewood, or Eisenbud's in Denver

-Records are varied and cover nearly all repairs be it mechanical, electrical, or body work with receipts in excess of $40,000 over the life of the car.

The paint and exterior are 8/10. There are minor blemishes but nothing egregious. The paint is still shiny and clear, and the front quarters and hood leading edge are protected by 3m clear bra. The car was treated with R2000 paint sealant by a previous owner, and for the most part it has held up extremely well.

The interior is a solid 7.5 out of 10. The Leather is supple but does show a bit of cracking and wear due to age. The dash has some cracking (replacement dash comes with the car, see below)

The windshield is clean and crack free, all interior lights work.

The car has a few modifications. Each one adds to the car's drivability/enjoyability in my opinion, and most are easily reversible with parts included with sale;

-The original radio was swapped out for a Parrot Asteroid Bluetooth receiver. Modern Bluetooth audio is great to have in this car; the original head unit will be included for the next owner, should they want to change back. The car has an Alpine 6 disc changer in the trunk, which is currently disconnected but would be easy to bring back with the old head unit.

-I changed the rear spoiler to an Alpine white rear spoiler. The stock spoiler is black on all US spec cars. I will provide the original black spoiler with the car.

-The car is running a custom exhaust with a magnaflow muffler and sounds fantastic. A catalytic converter may be required in your area. Direct-fit replacements are readily available..

-The suspension includes Eibach Springs running on Bilstein shocks/struts. This is a combo that many Ur owners opt for. I do not have the stock springs.

-The under hood components of the AC system have been removed but all the original parts will be included with the car if you would like to re-install.

-Aftermarket dual gauge pod in the driver's cubby with OEM style VDO engine temp and oil pressure gauges.

-Period correct Bosch driving lights are installed below the bumper, run to a factory front fog lamp switch. One has a cracked lens, but still works fine.

-These cars have a unique dual-filter setup with one large filter for the motor oil and a short individual filter for the turbo. On the last change I purchased a batch of 12 short filters since they aren't readily available at my local parts stores. I have 11 left (new in package) that will come with the car.

As with most older cars there are some quirks and repairs needed.

-The car has a cracked dashboard. I will include a new Coupe GT style dash, binnacle and all switchgear and electrical pigtails in the sale.

-It (like most UrQuattros with CIS) has hot-start issues. Cold starts are fine and effortless however, the injector after-run air pump does run. The car is hard to start for a few hours after it reaches operating temps. The car has always started, just some some patience and finesse is needed when hot.

-My locking diffs are inoperable on the current control panel. When I installed the stereo head unit, I played around with the tail end of the locker switch and my diffs engaged, per the picture above. This leads me to believe I have a faulty diff switch panel. A replacement is included with the vehicle.

-The clutch is high mileage and will need to be replaced in the future. It is completely drivable as-is, but in spirited driving I will occasionally hear noise from the clutch and throwout bearing.

The car will ship with the BBS Basketweave wheels pictured above with good Dunlop summer tires with a few seasons left on them. Buyer to arrange shipping, payment in full due before the truck arrives. Colorado title is clean and in-hand. Car is sold as-is, where-is. Please contact me via ebay if you have any further questions. The vehicle is located in Westminster, CO 80031. I reserve the right to end the auction early, as the vehicle is also advertised locally.

In all, this is a solid driver UrQ which still has a ton of time left on its clock. It presents well, looks fantastic, sounds phenomenal and is really something special to drive and enjoy. Please don't hesitate to send me questions about the car. Good Luck!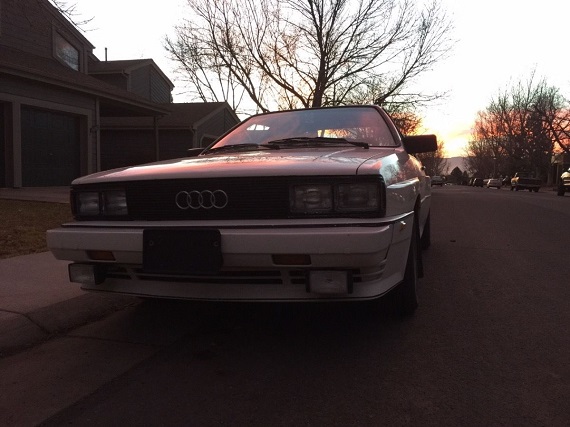 Excusing that this is now a 32 year old car, the condition it's presented in is certainly above average. However, as with many old Audis, there's a list of things that are in need of attention – but many are common problems and the seller is including some spares to help out. There are a few areas where the car differs from stock; the while painted spoiler and blacked-out taillights are indicative of later models, for example, and the car wears 15″x7.5″ BBS RG wheels from the V8/200 20V quattros. They're light and good looking, but a set of 8″ R8s would really pop. Interestingly, the car is shown with what appear to be quite rare 7″ Ronals that aren't included. 1983 models would properly have come with 6″ wheels. The headunit isn't stock either obviously, and looks a bit out of place. But to me those are minor concerns compared to what appears under the hood; from the look of the inner fenders by the shock towers, it looks like there could be rust. Without pulling them apart, it's hard to say exactly what's under there; but the ungalvanized Quattros didn't wear fender liners from the factory, meaning this car has 32 years and 233,000 miles worth of potential rust hiding under there. It's correctable but labor intensive and expensive, so careful scrutiny would be in order before deciding this was the car for you. However, that hasn't stopped active bidding; already past $12,000, probably about double the amount this car would have traded hands for a few years ago. With a few days to go, it will be interesting to see where this car ends, but it appears to be a much stronger market on the Quattros then even a year ago already. Perhaps there finally is respect for the elders!
-Carter