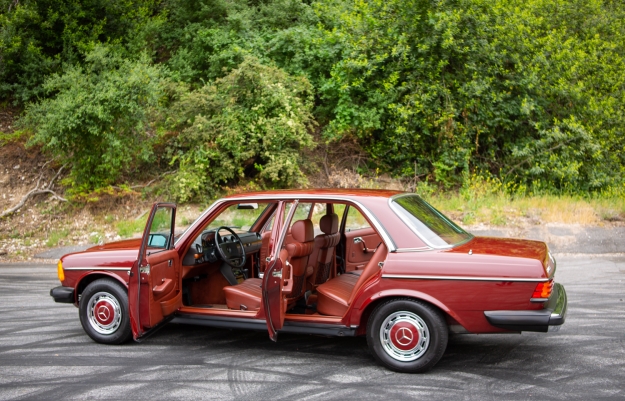 I recently said goodbye to one of the cars in my fleet, a 1983 Mercedes-Benz 240D, that I maintained and cared for since 2016. It was a charming and very satisfyingly car that I'm glad I got to experience, but a prime example it was not. While it was finished in the lovely shade of Labrador Blue with a navy MB-Tex interior, it did have nearly 300,000 miles on the odometer. That meant various dings on every panel, rust scabs in all the wrong places, some suspiciously different-colored body panels, and a non-working air conditioning system. If all that was working, it would be a car to keep nearly forever and enjoy, but it just required too much effort considering the list. If I could buy a perfect example, sure, but at what cost? It still only had 68 horsepower when new and was right on the limit of being dangerously slow while trying to merge on the highways and climb long hills. Well, today we do have a nearly perfect example. But it comes at a very steep cost, as you might have guessed.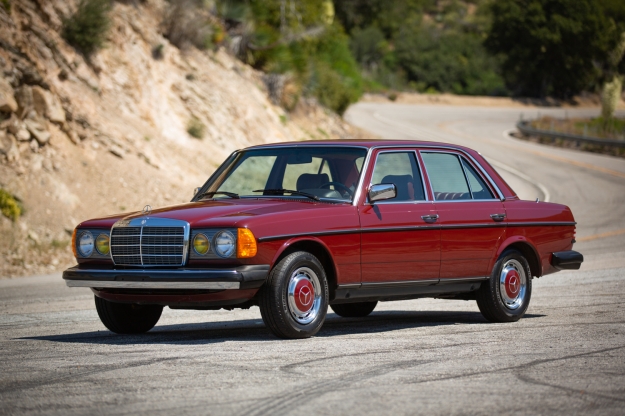 Year: 1983
Model: 240D
VIN: N/A
Engine: 2.4 liter inline-4 diesel
Transmission: 4-speed automatic
Mileage: 63,647
Location: Orcas Island, Washington
Price: $37,500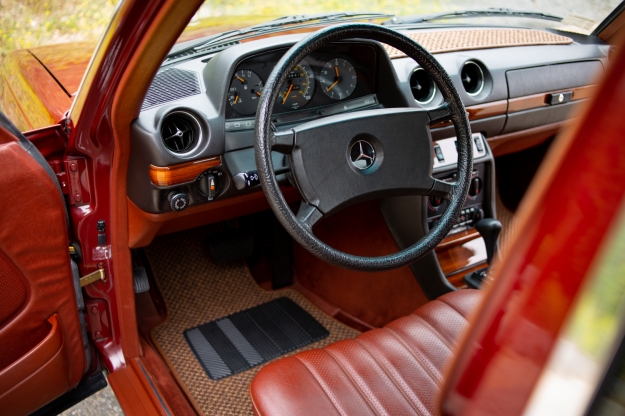 1983 240D Diesel Sedan
EXTREMELY RARE SPECIAL ORDER COLORS CONFIGURATION!
Orient Red exterior — code 501
Henna Red MB-Tex interior — code 157
64,000 extensively documented miles since new
Original books, literature, keys, brochures, window sticker
100% original paint — no rust, no corrosion, no accidents, no dings, no scratches
Automatic transmission, power windows, air conditioning, cruise control, central locking, Becker stereo
Incredible original condition!
For Sale – $37,500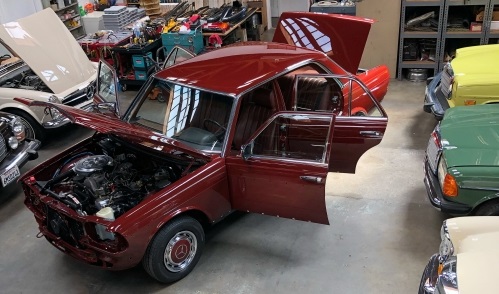 J.G. Francis at Mercedes Motoring did it again with this one – a 1983 finished in Orient Red over a Henna Red interior. It is striking and sophisticated all at the same time. Nearly 64,000 miles are on the clock, but you'd be hard-pressed to find a flaw on it. That is the kind of example you get when you play in this price bracket for cars that can be found for a fraction of the ask on this one. How much? $37,500. That might seem like all the money in the world for a lowly 240D, but these actually have been selling in this ball park recently. I think it is worth every penny – hear me out.
This car would instantly fix every problem my just-sold 240D had. Just like that, a quick wire transfer and everything that bothered me and I couldn't figure out was fixed. No more worrying about why the starter didn't engage some times, no more super hot days with no air conditioning, no more ripped seat I can't find a replacement for – just all fixed. Can you put a price on that? For some, yes. Just give me the best at somewhat of a price that isn't insane and I'll buy it. That is where a percentage of classic car buyers at are right now. That is why cars like this carry so much value. Time is money, and more money can be made. Time? Not yet, at least. Maybe one day, but I think this car will make a much-richer version of me out there very happy.
– Andrew