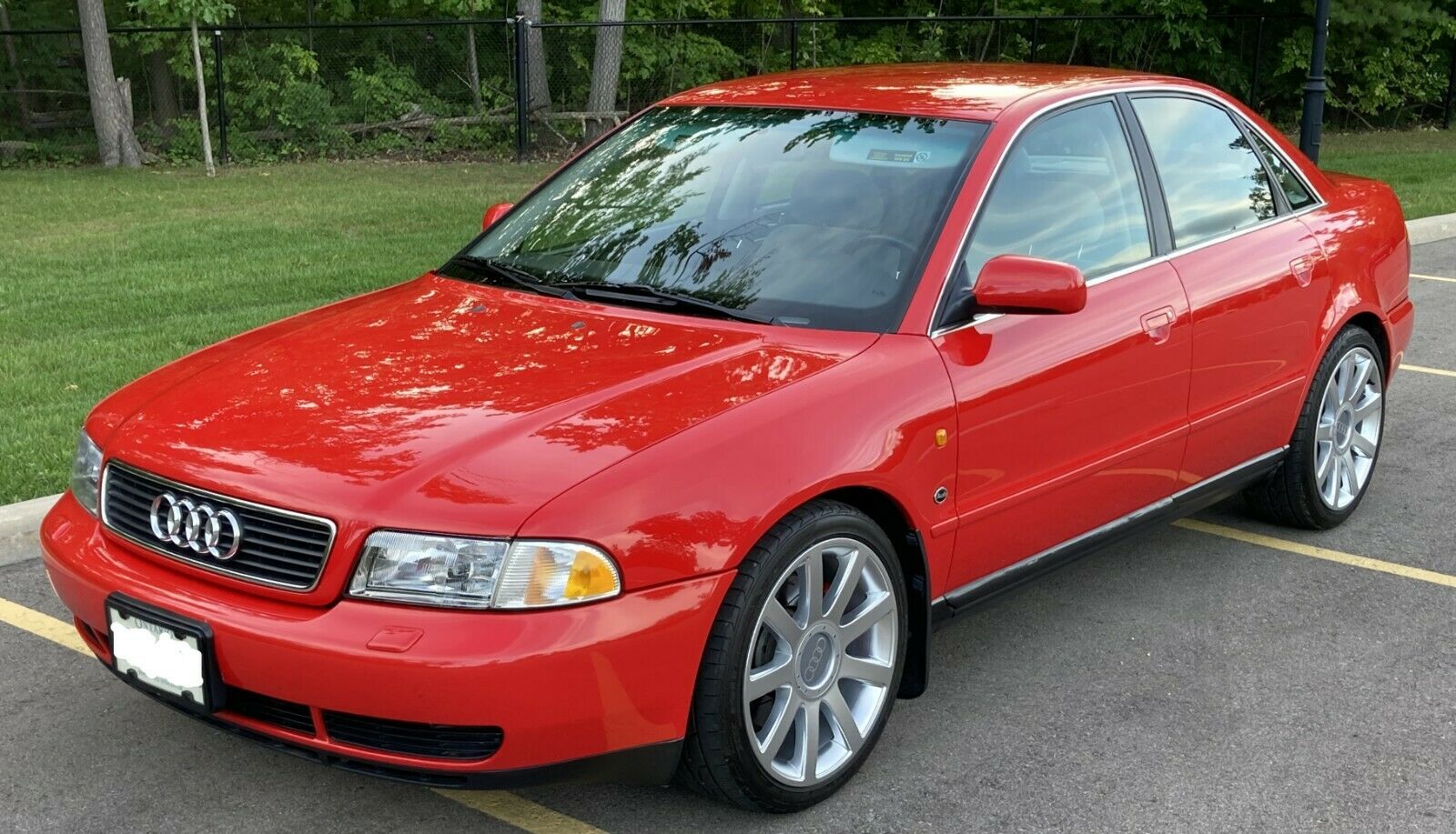 Emerging from the sales slump brought on by the recession and actual fake news, Audi solidified its position in the small executive luxury market with its brand new A4 model in 1996. While in truth the car heavily borrowed from the evolution of the B3/4 series and started life with the same flaccid 12 valve V6 that had replaced the sonorous 7A inline-5 for 1993, the A4 was exactly the model Audi needed to redefine its image.
And redefine it did, going from near zero to hero in just a year's time.

Car and Driver immediately named the A4 one of its "10 Best" cars, a position it would repeat in 1997 and 1998. Okay, maybe it wasn't the perennial favorite as the BMW 3-series was for the magazine, but still, that it was mentioned in the same breath was impressive. New sheetmetal was smooth and tight, full of great angles and well-placed curves. The bumper covers were finally integrated well again – something the U.S. specification B4 had inexplicably failed miserably at. Inside was evolution rather than revolution, but the cabin looked and felt upscale and modern. And the market responded to this instant hit; consider, in 1994 Audi sold 12,575 cars in total. In 1996, some 15,288 of just the A4 models were sold. That was before the many variations and improvements Audi rolled out in the B5, too.
Seemingly every year new changes offered refreshment and redesign to the A4. In late 1995 and 1996, you could only get one specification – the 2.8 either with or without quattro. But '97 saw the introduction of the 1.8T, and the Sport Package got some revisions as well with new Ronal 'Swing' 16″ wheels. Today's Laser Red example has to be one of the better examples out there: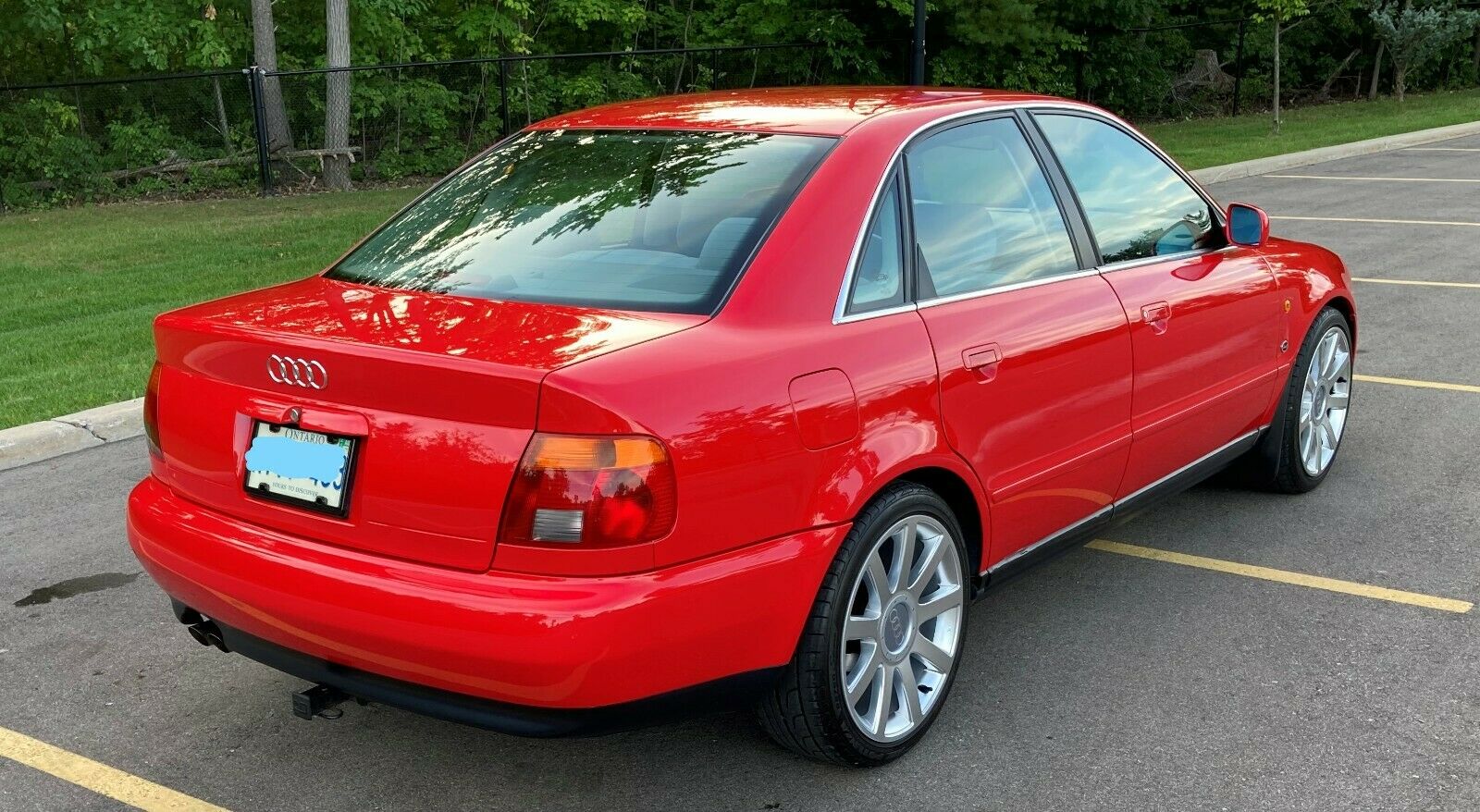 Year: 1997
Model: A4 2.8 quattro
VIN: WAUDA88D7VA174134
Engine: 2.8 liter V6
Transmission: 5-speed manual
Mileage: 109,000 km (67,700 mi)
Location: Oakville, Canada
Price: CAN 8,500 (~$6,800 Buy It Now)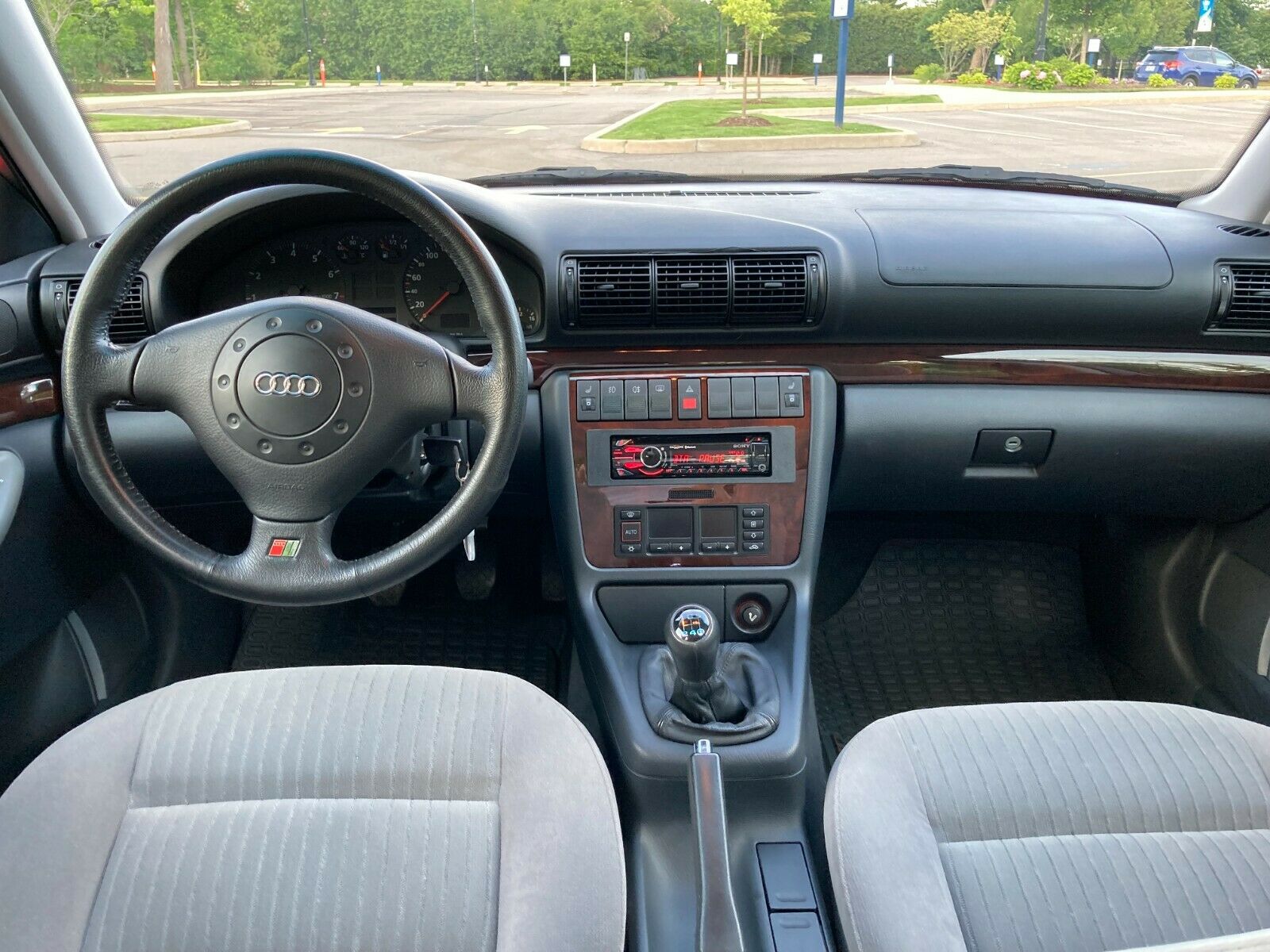 The time has come to pass along my "Studelwagen" to someone else for them to enjoy. Truly one of the cleanest and nicest B5 chassis Audi A4s anywhere. This A4 has been in the family for 22+ years with the seller owning it for the last 17 years. 2.8L V6 engine (AFC engine code, 12 valve) with 5 speed manual transmission. Finished Audi's Laser red over grey velour cloth. 109,160 kilometers. No rust. Paint is original except the trunk lid which was repainted sometime during previous ownership (<22 years ago). Seller is a mature enthusiast. Always well maintained and never abused. Everything works with only known issue is cruise control works intermittently. Recent maintenance: Castrol synthetic oil every 5,000 kms Left front suspension lower control arm (2016) Motor mount (2016) A/C compressor and hoses (2016) Timing belt and tensioner (2016) Water pump and thermostat (2016) Coolant expansion tank and cap (2016) (replaced original stained tank for purely cosmetic reasons) Valve cover gaskets (2019) Radiator and coolant temperature sensor (2019) Serpentine belt and tensioner (2019) Oil cooler (2020) Brake fluid reservoir and brake fluid flush (2020) Some tasteful modifications: Eibach Pro System springs and (Sachs) shocks 18" Audi RS4 wheels (reproductions) with Bridgestone RE760 225/40R18 tires (Original 16" Audi Sport wheels included in sale) Audi A8 brakes (larger OEM caliper brackets with larger slotted rotors) (ECS Tuning braided brakes lines included in sale but not installed) Sony Bluetooth/USB stereo Original owners manual and Audi Factory service manual included in sale. Car has hitch installed for small trailer.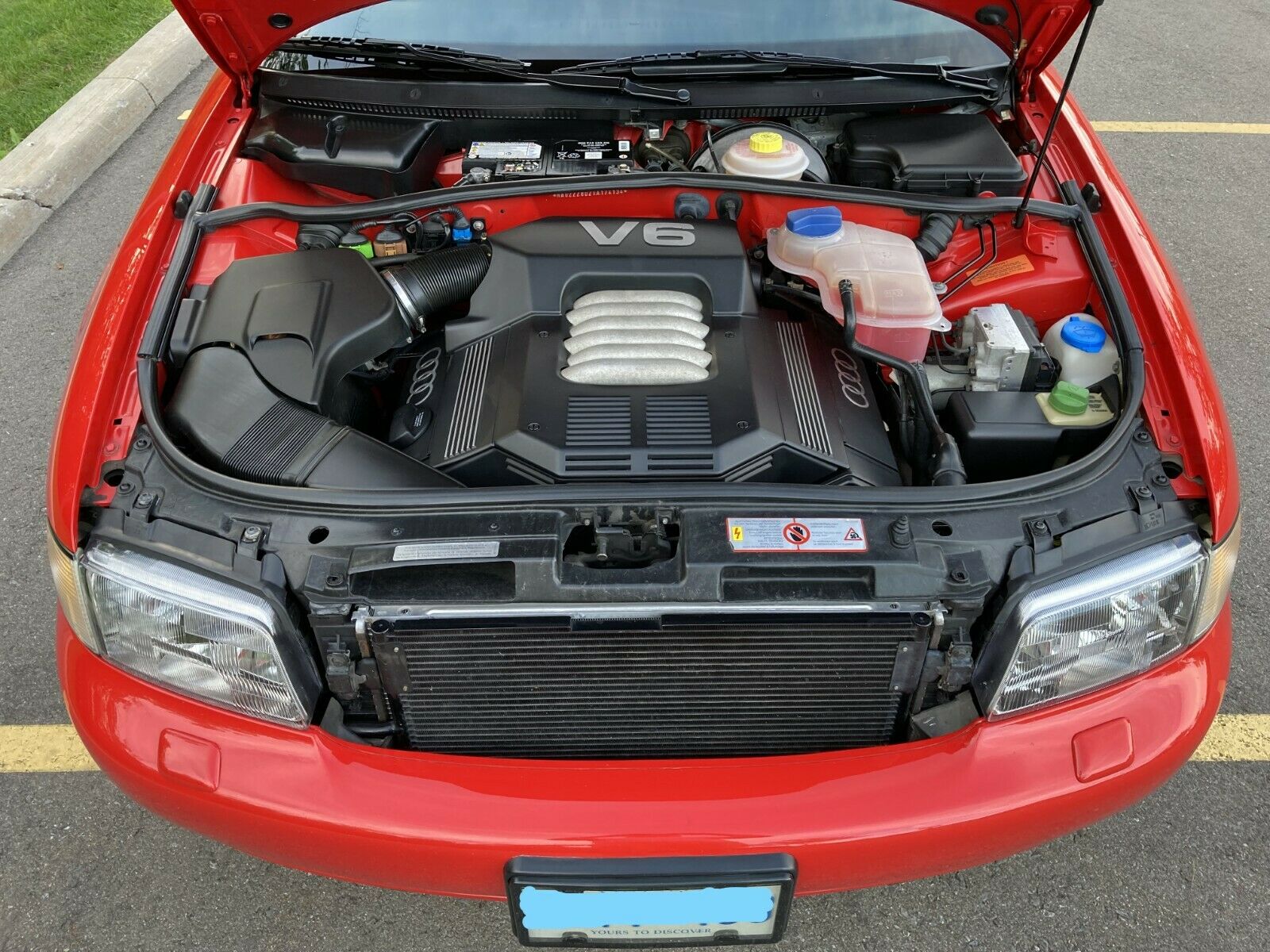 Wow, what an incredibly clean example! There aren't many of these earlier A4s kicking around anymore, it seems, now that they're literally considered 'antique' in some states. This one is an interesting spec with the cloth interior, as many 2.8 quattros were fully loaded, but it looks as fresh as if it were still on the dealer lot. Personally I'd ditch the Celebration reproduction wheels and re-mount those minty Swings, but maybe that's just me. The rest? I'd happily take it. $6,800 will get you into a lot of newer Audis, but there's a semi-old-school charm about the early A4 that has really grown on me. I used to admire these cars but not really seriously consider ownership. Today? I wouldn't mind driving this one around at all!
-Carter