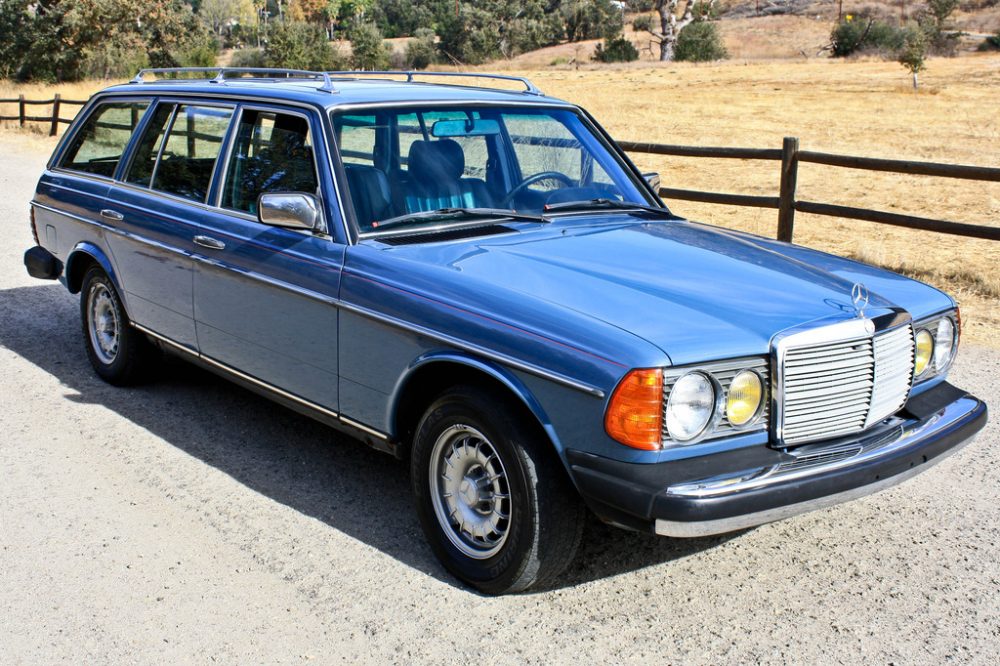 It is amazing what a color can do to a car. You could have identical cars, one with a really desirable color and another with a not-so popular color, and have their values be dramatically different. Today's car, a 1983 Mercedes-Benz 300TD for sale in California, is a perfect example of that. Regardless of color, the W123 300TD is no slouch in terms of desirability and people willing to do anything to keep them on the road. But paint it in a color that everyone loves and suddenly you'll be a little shocked to see what kind of money these can bring on the open market. This 1983 painted in Labrador Blue isn't a perfect example by any means but that is the appeal of an example like this. You can enjoy it without obsessing over every single thing that might happen to it. But seeing as this is a 300TD and it is in Labrador Blue, how high could the price be?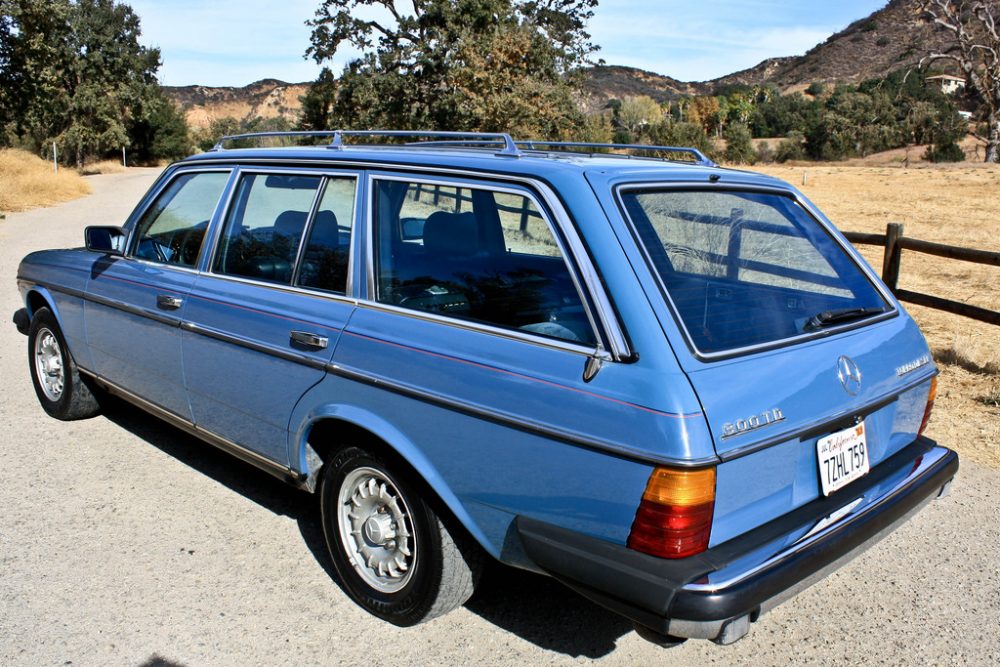 Year: 1983
Model: 300TD
Engine: 3.0 liter turbocharged inline-5 diesel
Transmission: 4-speed automatic
Mileage: 162,742 mi
Price: $16,995 Buy It Now
You are looking at one of the nicest 300TD wagons you will find. Inside & out, the overall impression is excellent- the body is solid and straight. The very rare "Biscayne Blue" paint still shines like new. The only flaws I can find are some small miscellaneous chips, dings, etc; The kind that you only see when under close inspection. I tried to document the few that were most obvious, please see pics below. The bumpers, trim, chrome, etc. all look great. Even the hand painted pinstripe is nearly perfect. The tires are brand new (replaced after photos were taken). The dark blue interior is also very clean. The seats, the carpet, headliner, etc all look great, no tears, rips or stains, etc. The seats are still firm and supportive. The only real flaw in the interior is a crack in the blue dashboard. I keep it covered with a custom fit dash cover.
With only 162K miles, this wagon runs strong. It starts without hesitation, idles smooth and has plenty of power (for a diesel wagon, that is!) . The transmission shifts sure and proper. The climate control (heat & AC) both work. The mechanical condition is very tight. A lot has been done in the last 12 months to bring it back to tip-top shape. Including-

– Full Transmission Rebuild
– Rear hydraulic suspension – air cells replaced
– Front Brakes
– Rear Brakes, Calipers & hoses
– Transmission mounts
– Engine Mounts
– Left Lower ball joint
-Valve Cover gasket
– Fuel Filter- Primary & Secondary
– Air Filter
– Oil Change
– Air Conditioning Service
– All Fluids

This wagon is ready to be enjoyed by the new owner! Please do not hesitate to ask questions or to set up a time to see this beauty in person! I would love to sell it locally, however I am also willing to help with shipping arrangements. Please do your due diligence prior to bidding. Thank you !!!!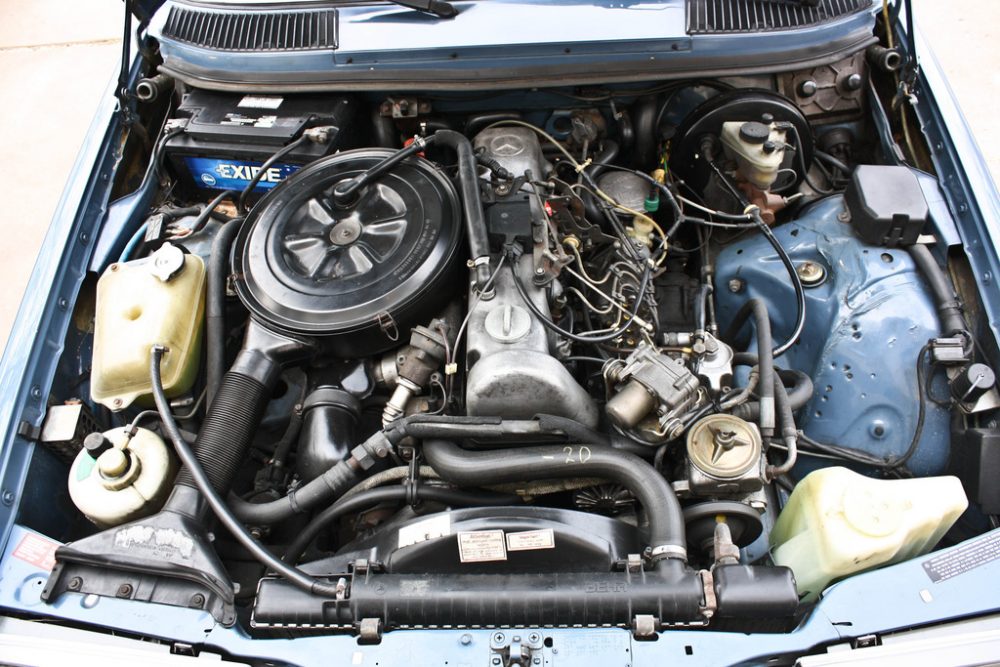 This is a really interesting example to me. Mechanically, it is very well sorted without any major issues at all. You can probably jump in this thing and drive it across the country with any issues at all. 162,000 miles isn't exactly low, but it is a far cry from the 300,000 I am used to seeing on these OM617-powered cars. Cosmetically, this is where it gets interesting. On the outside, it has it's far share of dings, chips and scratches on the body and paint. Don't get me wrong, this is a really nice ten foot car that presents really well, but it has some scars when you look up close. Inside, it's much of the same story. A broad view has everything looking good, but get into the fine details and it is far from perfection. The wood surround has the typical cracks and the dash is cracked, although covered by a nice mat. The rest of the interior does look good with all of the seats looking in above average shape.
So how much? The seller has it running as a reserve auction with an option to buy it now at a hair under $17,000. For a California 300TD, in a rare color and above average shape, that number isn't all that crazy. What is crazy is that if this car wasn't an estate it would probably bring $7,000 but that is the price of utility I guess. Would I pay the $17,000? Probably not. I don't think the W123 market is getting any hotter outside of the really amazing examples that are few and far between. This 1983 will make a really nice daily driver and look great doing it without much stress of worrying about it. I'm curious to see where the bidding stops or if someone just snags it at the $17,000.
– Andrew