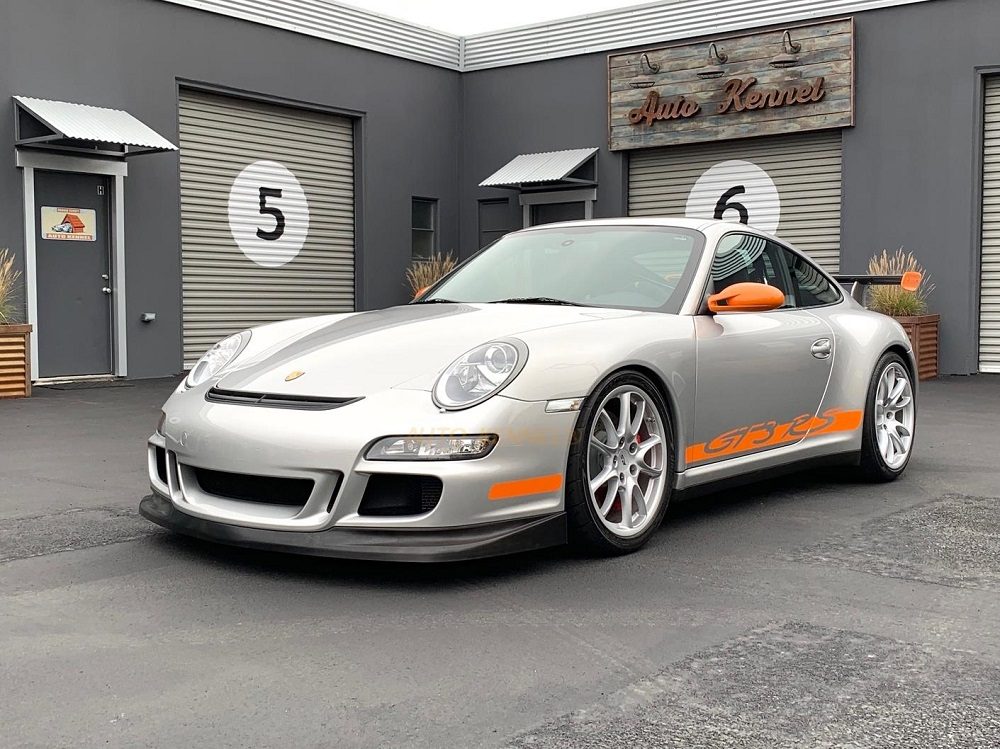 Of the various iterations of the GT3 RS to now exist the 997.1 is the one I most consistently return to in my mind. I think that is in part because it was the first model to make it to our shores, but for me it also is the model that brings everything together in just the right package. The Orange/Black ones remain the 911 I aspire to most. The 997.2 is the better car and some may find the looks better, but they'll cost you a bit more and that nostalgia of being the first still brings me back to the 997.1. They look great, are great performers, and as we'll see with this one can come in at pretty attractive prices.
I featured one a few months back that pretty much is my ideal. Here we have another one though this time in the much less common color combination of Arctic Silver with Orange accents. It currently resides in southern California and sits with about 20,400 miles on it. As an added bonus, for extra cost it'll come with a set of very desirable and fantastic factory GT2 seats.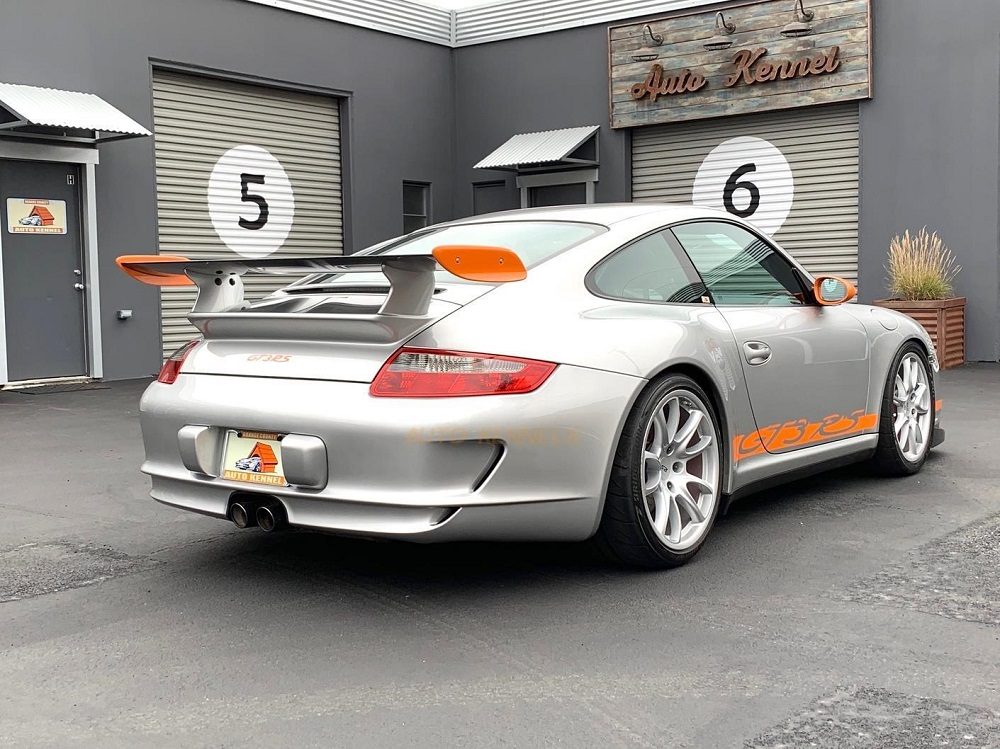 Year: 2008
Model: 911 GT3 RS
VIN: WP0AC29998S792089
Engine: 3.6 liter flat-6
Transmission: 6-speed manual
Mileage: 20,400 mi
Price: $139,990
2008 Porsche 997 GT3 RS Coupe
Fresh Clutch and Limited Slip Diff.
Original Paint/Welded Coolant Pipes

VIN # WP0AC29998S79xxxx
20,400 Miles
Artic Silver Metallic w/Orange Accents on Black Leather
6-Speed Manual Transmission
Clean and Clear California Title
PCA Member Owned
Original Porsche MSRP/Window Sticker
Original Paint/Clean Carfax®

When Porsche finally started delivering the GT3s to the U.S. in 2004, we were ecstatic. However, the big question was when/if we would get the GT3 RS. This pinnacle of development for the famed Mezger motor was on every Porschephile's wish list. Finally, for the 997 model, Porsche announced they would finally grant our wish. However, only 413 RS models were delivered to the U.S. for 2007 and 2008. The RS is a more distilled version of the standard GT3. It is lighter and faster. More importantly, it provides an even further connected feel between the driver and the road. Many enthusiasts have found that this RS was the last of the pure analog driver's 911s that was not just an all-out race car, but something you could use on the street. Silver with the orange trim was reported as the rarest production color.

This RS was built on August 31st, 2007 and sold new by New Country Porsche of Greenwich, CT on September 18th,2007. It was ordered with the following additional factory options:

Arctic Silver Metallic
Bi-Xenon Headlamp Package
Wheels Painted Silver
Sport Chrono Package
Floor Mats in Interior Color
Rear Center Console Painted to Match Exterior Color

The first owner only had the car for a couple years/900-miles. So, he traded it back to the dealer and it was then sold to an active PCA member based in Ohio on February 5th, 2010. This next owner exclusively serviced the car at his local Porsche dealer. Furthermore, he participated in PCA Driver's Education schools/events. This GT3 RS was never abused/damaged, always garaged, and frequently serviced. Highlights of significant maintenance and enhancements include:

Clear bra front of car, mirrors, and front of rear fenders
DAS Sport bolt-in B-hoop roll bar (bolts in factory mount locations)
Rear adjustable TPC Cup toe links
Adjustable front lower control arms
Regular/frequent oil, brake, and minor services
Halon fire extinguisher with Brey Krause mount
Front wheel bearings replaced (@3k-miles on 9/10)
Wevo SS motor mounts (@7k-miles on 9/11)
Guards limited slip rear differential & Motorsports clutch pack (@4k-miles on 11/10)
Upgraded suspension (@4k-miles on 11/10)
Revalving shocks by TPC
Front/rear adjustable sway bars
Corner balance/alignment
Transmission mounts
Major service (@7k-miles on 4/12)
Oil, air, cabin filters
Drive belts
Spark plugs
Re-epoxy (preventative) all external coolant passages by Porsche (@8k-miles on 9/12)
Porsche 4.0L Intake & exhaust manifolds (@10k-miles on 3/13)
Rear main seal, shift cable, and clutch kit (@10k-miles on 5/13)

This owner traded the RS in to his local dealer. It was then serviced once more and sold to the current Orange County, California owner on September 25th, 2013 with 11k-miles. Before purchasing, he had the local Porsche dealer do a pre-purchase inspection and they found the car to be in fantastic condition. This owner is also a long time PCA enthusiast who is very active in the local Porsche scene. I've known him personally for many years and he is incredibly fastidious about maintenance. He primarily used two of the top Orange County independent Porsche specialists for service: Vision Motorsports and Hergesheimer Motorsports. Highlights of his services include the following:

Frequent oil services
Wheel studs with steel lug nuts
Replace TPMS sensors (@11k-miles on 11/13)
Welded coolant pipes/replaced water hoses (@14k-miles on 8/14)
Front brake pads and rotors (@14k-miles on 8/14)
Rebuild differential/new LSD clutch pack (@15k-miles on 12/14)
Suspension upgrades by GMG (@16k-miles on 7/15)
Front sway bar drop links
Front and rear GMG hollow sway bars with bushings
GMG front adjustable thrust arm bushings

It is clear, by the tens of thousands of dollars invested, that the prior owners really enjoyed and cared-for this GT3. We have the complete service history with all receipts going back to new.

The exterior of this GT3 RS looks fantastic with minimal signs of use. The paint is original and verified with a paint meter (see pics). There are some rock chips on the lower front part of the rear fenders, but it appears that it is mostly on the clear bra. The front plastic sacrificial spoiler lip shows some typical damage, however, a brand new one is included with the car. The wheels are in good shape and have just slight curb rash on one wheel (see pic). They are wearing Bridgestone RE-71R tires with just under half-life. The front brakes are new and the rear brakes are at about half-life. The rotors have no lips.

The interior is equally as nice and looks hardly used. This RS comes with the stock sport seats (see pic – not installed). The installed factory GT2 carbon fiber airbag seats are available for an additional fee. Both pairs of seats look near new with no tears or excessive bolster wear. The headliner, carpet, and door panels look new. The dash has no cracks or other blemishes. All the gauges work. All the buttons, windows, A/C, lights, and radio function properly. The car is pre-wired for a Valentine-One radar detector. Also, the radio is wired to connect to an iPhone.

An over-rev/DME report was run both when the current owner purchased the car as well as when he brought it to us to sell. The last registered rev was recorded at 12k-miles/223 hours ago. The report is excellent and reads total combined time for the life of the engine at each level: (1) 1.30 seconds (2) 0.48 seconds (3) 0.15 seconds (4) 0.0 seconds (5) 0.0 seconds (6) 0.0 seconds After review by several Porsche experts/engine builders, these numbers are insignificant and the motor is healthy.

This RS drives fantastic. It starts easily with no excessive smoking. It has a great sound with a bit deeper growl and a wonderful whine through the higher RPMs without any droning. The throttle response is fantastic and it pulls hard through all the gears. The handling is superb. It has a much more planted feeling that inspires confidence, yet it is still supple enough to not beat you up on normal street use. The brakes have a wonderful bite with no fading or pulling. Shifting is very smooth and precise with no slipping or grinding. This example isn't just a raw race car for the street, but a pure joy to drive on the local backroads.

California registration is current through October of 2019 and it passes CA smog/emissions tests with no issues.

This GT3 RS comes with the owner's manuals, extra key, original window sticker, most service records from new, flat repair kit, and tool kit.

*The car comes with the standard sport seats (see pic). The installed GT2 seats are available for an additional fee. The extra set of OZ wheels are available for an additional fee.

**Note: VIN and other numbers withheld to protect against fraud. All numbers including VIN, Engine, and color will be provided to serious buyers.

For tons of photos, go to our store and click on the link to the website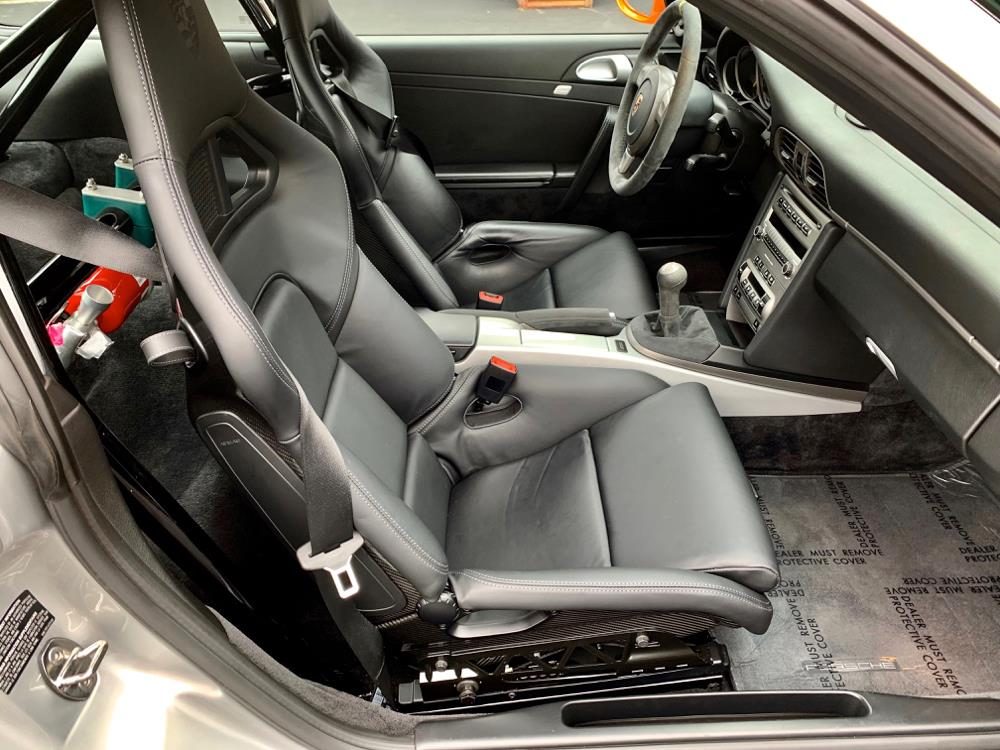 The details on this one are pretty straightforward, but definitely worth reading through. As usual, the seller has provided a nice rundown of its history, recent servicing, and current condition. Those familiar with these cars will note the silver wheels. Those were spec'd from the factory as a replacement for the standard orange wheels. I will admit I like the various painted wheels we've seen on the GT3 RS over the years, but on the silver cars I actually think sticking with silver wheels works better. They aren't as exciting, but there are enough orange accents to break things up as it is. There have been a number of other additions made to the car including a bolt-in roll bar in the rear. The aforementioned GT2 seats are available if a buyer so desires and a set of nearly new original sport seats come with the car.
Overall the condition of everything we see looks quite good. We're shown a little bit of rock chipping to the rear fenders, but it's said to be isolated to the installed clear bra. The front spoiler shows a few scrapes, but a new one is included with the car. This GT3 RS does have 20K miles on it, which isn't exactly a lot over ten years but is more than we see on many others. As such, it does have some blemishes here and there, but I don't see anything that would suggest any neglect of the car. It's also stated to come with full service records and that should provide all the peace of mind a new buyer needs.
I'm also attracted to this one because of the price. Looking around at other available examples currently for sale I can't find one for less money. No it is not entirely original and no it is not perfect. But the flaws are minor, the mileage remains reasonable, and the modifications suit the car. Maybe the silver ones, as uncommon as they are, simply aren't as desirable. I know I'd prefer mine to be orange. But really it comes down to one thing: when I think about which other Porsches I could get for $140K I have a very hard time coming up with one that's better.
-Rob