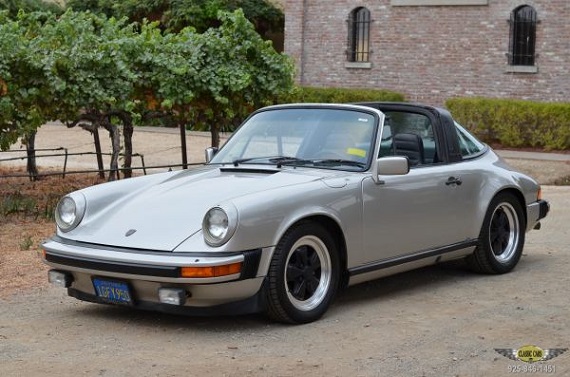 This almost seems sacrilegious to say, but I've found myself frequently attracted to some silver 911s lately. Not all of them, but a few have crossed my path and I have really enjoyed their look. The only caveat is that the attraction seems limited to classic 911s as there hasn't been much from the 964 and later that has caught my eye in silver. The car we see here is one of those that's attracted my gaze: a Pewter Metallic 1983 Porsche 911SC Targa, located in California, with 51,641 miles on it. Properly speaking this isn't silver so perhaps I could rationalize it that way. But it's close enough! Anyway, it is the details of this 911SC that make it even better. It appears to be very well documented and cared for throughout its life and the seller has provided ample description and abundant photos to address most issues buyers may have. I wish more cars were sold this way.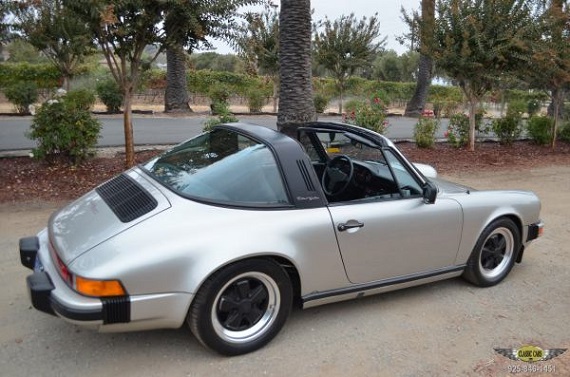 Year: 1983
Model: 911SC Targa
Engine: 3.0 liter flat-6
Transmission: 5-speed manual
Mileage: 51,641 mi
Price: Reserve Auction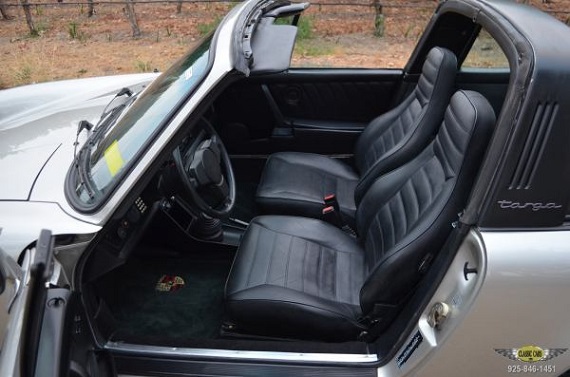 1983 Porsche 911SC

Lifetime California Car Owned by One Family Since New!

51,641 Original Documented Miles Including:
All Original Delivery Documents with Bill of Sale, Keys, Books, Window Sticker, Warranty Booklet, Service Book (Stamped), Tools,
Never Used Jack / Spare, Extended Warranty & MUCH More!

Finished in Striking, Desirable Pewter Metallic with Original Paint

Professionally Maintained by the Porsche Dealer or Specialists Since New
____________________________

NOTE: Our listings are rather lengthy. They not only describe this particular car but also some history of the make & model, some considerations in buying a classic cars, and facts about our firm. We continually hear from out-of-state / out-of- country buyers (many of our clients) that they prefer the level of detail that we provide. However, if you are not prepared to read the full listing, please scan the DETAILS below along with viewing the PHOTOGRAPHS at the bottom. If you'd prefer, please call us at 925-846-1451 and we'll gladly discuss the Porsche and answer any questions over the telephone, including our "Buy it Now" policy. Yes, the Porsche can be purchased prior to the end of the eBay auction.

PHOTOGRAPHS

PLEASE NOTE: EACH TIME WE LIST A VEHICLE ON eBay WE RECEIVE COMMENTS THAT THERE ARE NO PHOTOS OF THE INTERIOR, ENGINE, UNDERCARRIAGE, ETC. OF THE CAR. THERE ARE CLOSE TO 100 PHOTOS OF ALL AREAS OF THIS PORSCHE, BUT WHEN YOU REACH WHAT APPEARS TO BE THE LAST PHOTO, YOU WILL NEED TO SCROLL DOWN ON eBay TO VIEW THE REMAINING PHOTOS. IF YOU ARE STILL UNABLE TO SEE THEM, PLEASE CALL US AT 925-846-1451 AND WE WILL PROVIDE A DIRECT LINK. NOTE: IT IS A VIOLATION OF eBay POLICY FOR US TO LIST THE URL ON THE eBay LISTING. PLEASE LET US KNOW IF YOU WOULD LIKE ADDITIONAL PHOTOS OF ANY PART OF THE PORSCHE. ALL OF OUR PHOTOS ARE TAKEN IN NATURAL LIGHT AND WE DO NOT "PHOTO-SHOP" OR TOUCH-UP THE PHOTOS IN ANY WAY.

INTRODUCTION

This car is offered at a realistic price and, unlike bidding on cars in a fast paced, live auction environment, you will have the benefit of extensive information and history on the car prior to making a buying decision. Equally as important is the fact that Classic Cars Ltd. has been in business for 23+ years and enjoys an excellent national / international relationship with over 900+ positive eBay feedback responses.

Please keep in mind that we will gladly…

1. Answer any questions over the telephone and take the time to guide prospective customers through the buying process (925-846-1451).

2. Assist with locating a quality, suitable transporter at very competitive prices.

3. Provide proof that we are licensed, bonded (for the financial transaction), fully insured, and operate from an established showroom environment.

4. Provide feedback from previous buyers, and specific references for vehicle purchases in your area (we also ask that you view our detailed eBay feedback by clicking on the number to the right of the eBay user name).

5. Offer additional information including specific photographs or clarification of any part of our description of the vehicle.

Thank you again, please let me know if I can be of assistance.

Happy "eBaying"!

Paul R. Wankle, Pres.
Classic Cars Ltd.
Pleasanton, CA
925-846-1451

DETAILS & HISTORY – THIS 1983 PORSCHE 911SC TARGA

In 1965 Porsche began the 911 model line that has become an icon among sports cars. This 1983 Porsche 911SC Targa represents a limited owner, very well cared for example of the highly sought after mid-1980's Porsche 911SC. This Porsche is a highly unique example which will appeal to the enthusiast or collector who has an interest in a fully documented, unmolested 911 that was delivered new within 60 miles of our location and has remained in Northern California since new.

Adding to the cars appeal and rarity, is its one family ownership. Specifically, the car was purchased new on April 1, 1983 and enjoyed by the original owner for 13+ years when it was passed on to a new caregiver, his brother, who registered the Porsche in his and his wife's name on 4/26/96. For the past 20+ years, Mr. H has cherished and cared for the Porsche in the same high quality fashion as his bother ensuring that it received proper maintenance. However, at this time, circumstances require the regrettable sale of this family treasure.

Frankly, the documentation and history of this Porsche 911 simply could not be any better. Virtually every new car delivery document, deposit receipts, repair invoices, owner's manuals, registration slips, and other information will accompany the Porsche. This includes the following comprehensive information:

– Original Sales Invoice dated 4/1/83 (Desirable options shown on invoice and detailed later in this description)

– Receipt from dealer for payment in full by the original buyer

– Copy of the original title showing the original lien-holder

– Small dealer window sticker reflecting additional dealer added options (Still on the car and shown later in this listing) NOTE: Delivered price in 1983 = $36,945.00!

– ORIGINAL window sticker from delivering dealer with all options and vehicle features

– Original Owner's Manual (in original folder) including the following:

– Warranty & Maintenance Booklet (including business card from original salesperson) including:

– Delivery Stamp by Porsche dealer

– Inspection stamps ranging from the delivery inspection on 4/1/83 at 31 miles with stamps for servicing by the delivering Porsche dealer/specialist as follows:

– 1,368 miles – Oil service & complete 2,000 mile service
– 7, 322 miles – Oil service
– 13,276 miles – Oil service, maintenance & emission control service
– 28,776 miles – 30,000 Major service, oil service, emission service

(Compression 160/150/155/155/160/160)
– 34,770 miles – Oil service
– 37,566 miles – Oil service
– 44,470 miles – Oil service

Note: Additional, ongoing maintenance is documented with receipts and summarized under the ‽Vehicle Condition" section

– Original Blaupunkt Monterey SQR22 brochure (still in car and functional)

– Original Porsche key card with factory VIN#'s and numbers for keys

– Clifford alarm documentation including codes and brochure (still installed by not functional)

– Multiple California registration slips dating back to 1984 and as recent as 2017 (Car registered until 4/26/17 for California buyers)

– Original Vehicle Service Contract dated 3/31/83 and valid through 3/31/88 (Unlimited mileage)

– Copy of original Warranty from General Warranty Corporation (5 year warranty purchased at time of sale)

– Unopened tool bag (in the Porsche wrapped exterior plastic bag including the Porsche issued rubber gloves)

– Unused factory spare and jack

– Air pump

– Front Bra / Nose Cover

OVERALL COSMETIC CONDITION

From a cosmetic perspective, this car rates extremely high. The optional Pewter metallic paint is not only totally original, but retains its brilliance and remains in excellent condition as a result of the care the Porsche has received. With the exception of extremely minor touch-ups of small nicks (confined to a few on the front bumper that are well done, match virtually extremely well, and are only visible under close, critical scrutiny). The doors are free from dents as are the other panels on the car. Both the front and rear bumper areas are in excellent condition. The Targa top is in very nice original condition with all seals in place and in good shape. All side and rear glass is excellent, and factory original. The Fuchs wheels are in exceptional condition with no curb rash, or damage. The premium Continental high performance summer tires were replaced within the previous 600 miles at which time an alignment was completed.

The all black interior shows beautifully and is totally stock and correctly configured down to the cars original, functional Blaupunkt radio. The leather seats, carpeting, and door panels are all excellent. The padded dash is free from the typical cracks. The front luggage compartment is also totally original, clean and, most important, removal of the front carpet (refer to photos) reveals a damage free front compartment.

The engine compartment is also all original and has not been over detailed as is often the case. However, with the exception of the expected patina, the Porsche engine bay shows signs of excellent care and the engine is tight, and free from leaks. The underside of the car is not detailed but remains ‽California" clean and reflective of a low, low mileage car. The entire car is rust free and shows absolutely no signs of accident damage. Our inspection and that of an independent source indicates that the car is free from previous or current body, undercarriage or underside damage and retains its original body panels.

With just over 51,000 well maintained miles, this is not a car that has ever been neglected and the low mileage and superb original condition makes it an investment quality example that is certain to continue to appreciate. However, the car is certainly a usable, drivable classic that would make a spectacular first time Porsche, or addition to a collection of Porsche cars. We can't think of a more appropriate adage than ‽A car can be restored over and over again but it is only original once." Original, and in this case; simply stunning!

Of course, the 911 has a clear, transferable California title. The cars history is supported by a totally clean CarFax report showing no accidents or other issues. Additionally, the CarFax report shows 14 detailed records including smog and service history. The current odometer reading is 51,641 and stated as correct by the cars previous owner. The service history and maintenance records support the chronological mileage and the condition of the car certainly suggests that it is accurate. However, considering the age of the Porsche we cannot guarantee the mileage and are classifying it as TMU (Total Miles Unknown) despite our sincere belief and all indications that the car has 51,641 original, one family owner miles.

MAINTENANCE & SERVICE SUMMARY

Since the 911 was delivered new, it has been under the care of a family who ensured that the Porsche received regular, professional service. As is often the case, the car was originally serviced by the dealer who, in the case of this Porsche, performed service in accordance with the recommended factory schedule until approximately 7,500 miles ago. Subsequently, the car was seen by professional Porsche specialists. The following summary represents the ongoing work that has been done to the 911 during the previous few thousand miles:

At 51,471 Miles (170 miles ago)

– Complete oil service
– New oil line pump to thermostat
– New hood shocks
– R&R turn signal switch,
– R&R left cam hose (re-set timing)
– Adjust tire pressures and check all fluids

At 51,435 miles (206 miles ago)

Smog inspection (passed with excellent results)

At 51,069 miles (572 miles ago)

– 4 new Continental radial tires, mount & balance @ 51,069 miles (<500 miles ago) At 51,060 miles (631 miles ago) - Major service including - Spark plugs replaced - New points, rotor, distributor cap - Change brake fluid - Oil service - New fan belts - Fuel filter change - Replace transmission fluid - Complete oil service - Brake fluid change - New fuel filter - Replace spark plugs & tune-up parts - New fan belts Note: Notation made on repair invoice stating: ‽Car runs like a Swiss watch"! (By independent mechanic) At 51,010 miles (631 miles ago) Smog inspection (passed, no problem) At 49,982 miles (1,659 miles ago): - R&R steering wheel and replace steering wheel column bushing At 49,817 miles (1,824 miles ago): Smog inspection (passed no problem) At 49,470 miles: - Adjust clutch - Oil service At 44,995 miles (6,646 miles ago) - Reseal oil leak at oil pressure switch and replace oil pressure switch - New fuel filter - Repair wipers (stuck in on position) - Correct non-working dash lights - Verify all lighting systems, turn signals, and other electrical items - "All OK" At 44,438 miles (7,203 miles ago) Comprehensive Major Service including the following: - Replace all engine gaskets and seals - New oil line right side - New breather gasket - New thermostat O-ring - New clutch and related components - New front brakes (premium pads) - Complete oil service - Replace all drive belts - R-12 refrigerant / check A/C OPTIONS In addition to the extensive list of standard equipment and features on the 1983 Porsche 911SC, this example was upgraded with the following options: • Optional Pewter Metallic Paint (+$645.00) • Forged / staggered Fuchs alloy wheels (+1,580.00) • Monterey Blaupunkt Digital Radio (+795.00) • Leather covered steering wheel (+$40.00) • Automatic speed control (+320.00) • Front fog lights (+150.00) • 88 AMP / HR battery (+$50.00) • Anti-Theft device for wheel (+$50.00) • Windshield Graduated tint ($30.00) ADDED AT TIME OF DELIVERY BY DEALER (And remain in place) • Front Spoiler (+$295.00) • Sport Tune Suspension (+$295.00) • Polycoat protective coating (+$150.00) • European Taillights (+$95.00) MECHANICAL • 3.0 Liter flat 6 cylinder ‽boxer" engine • CIS fuel injection & oxygen sensor • Overhead camshaft engine with timing chain • Dry sump engine oil system w/ separate oil tank • Air cooled • Air Flow Control fuel injection w/ electric pump • 5-speed manual transmission • 4 wheel disc brakes all around w/ power assist • Unitized chassis construction • Independent suspension all around w/ torsion bars for each wheel • Front and rear stabilizer bars • 16-inch (225 rear / 205 front) staggered Fuchs forged alloy wheels • Like new Continental summer performance high performance radial tires • Factory Air Conditioning • Newer battery EXTERIOR • Factory original, optional Pewter Metallic with all original paint • NO rust California car • No accidents or any indication of previous or current body, undercarriage or suspension damage • Very straight body and exterior trim • Precision ‽German quality" fit of all body panels • Excellent factory glass all around (German SIGLA) including original Porsche dealer sticker • Front bumper area and lower valence are very good • Both black rear bumperettes and exterior trim in beautiful condition • Dual factory outside rear view mirrors INTERIOR • Black interior provides a lovely contrast to the Pewter silver exterior • Excellent front leather front seats showing virtually no wear due to low, low mileage (51,000~) • Excellent interior finished in beautiful black leather with matching original Targa top • Rear jump seats w/ folding backs in lovely condition • Factory 3-point front seat belts • Factory 2-point rear seat belts • Color coordinated factory tan carpet in very good condition • Matching tan with darker ‽Porsche" block lettering • Damage / crack free dash • Totally clear gauges • Very nice tan door panels • Excellent warp free sun visors w/ vanity mirrors • Factory leather steering wheel is excellent with no ‽ring marks" / damage • Both doors and front rear compartment lids open/close solidly with perfect gaps • Factory original and fully functional Blaupunkt Monterey radio • Front compartment is clean and has excellent stain free / no damage carpet • Complete set of unused factory tools, including storage pouch • Very clean engine compartment supporting excellent maintenance OTHER • Passed the California required safety inspection for working wipers, turn signals, lights, brakes, etc. • Clear California title and current California registration valid until 4/26/17 for California buyers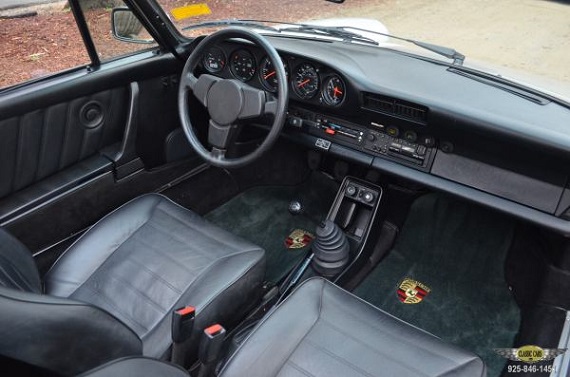 Unlike a few of the 911SC Targas I've featured of late this one is not going to come in at a great value, at least so far as those looking for a driver quality 911 would consider one a great value. Depending on where bidding ends – and it sits at $42,200 now – it may actually end up a reasonable value though given its documentation, condition and mileage. But that's probably a little overly hopeful. If I really wanted to get picky I'd strongly prefer one of the darker tans for the interior as I find it works with these silver exteriors better, but that's related to my own tastes. There's certainly nothing wrong with a black interior. Overall I like this Targa as it looks like a really nice example and comes with enough detailed information that any buyer should feel comfortable in evaluating his decision. I will be curious to see where bidding takes it.
-Rob