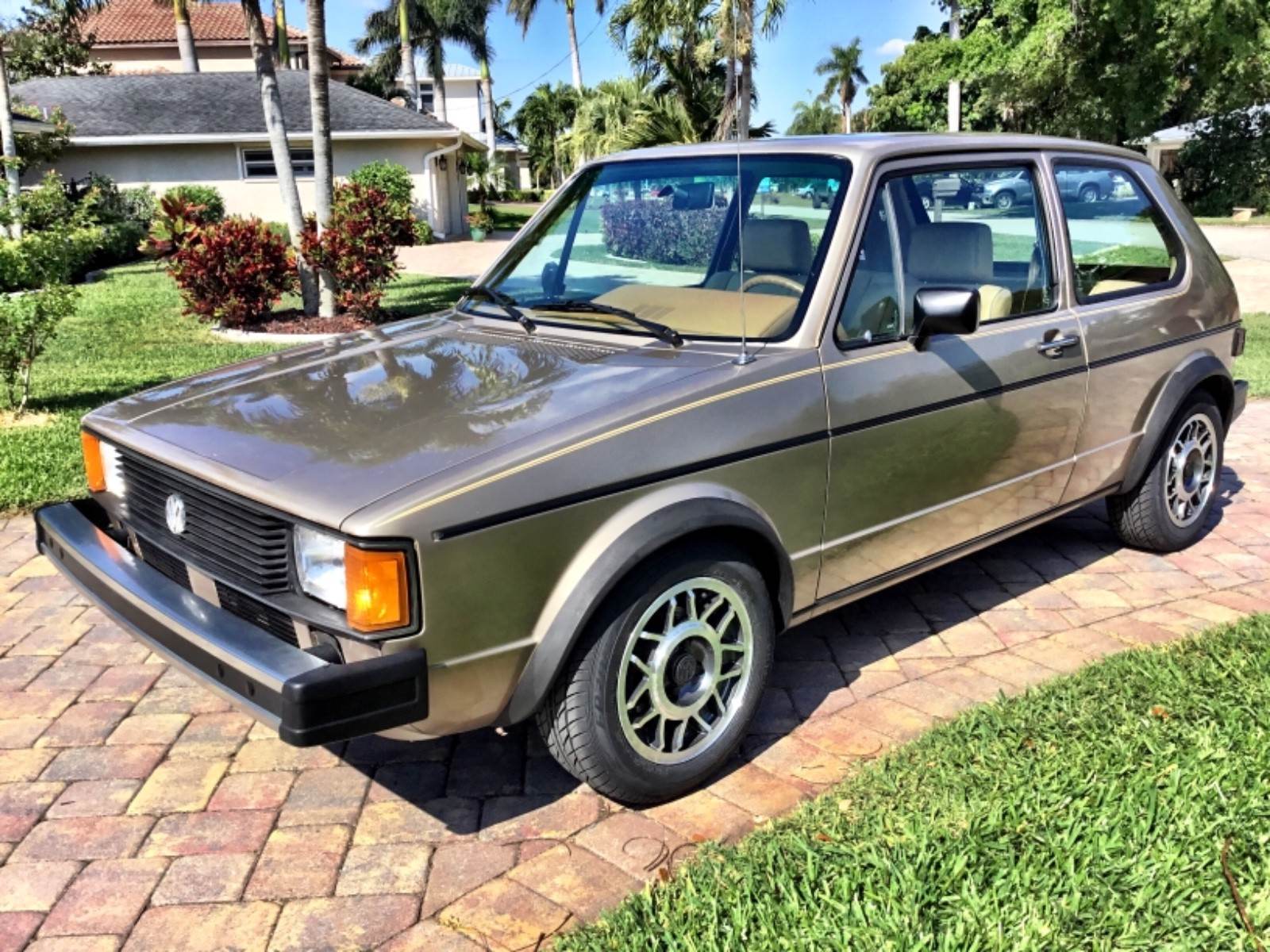 Update 6/1/18: The seller has dropped the price from the original $6,995 asking price to $5,995 today.
Continuing on the Volkswagen theme, and with the Roman Catholic-based holiday also in mind (our Orthodox friends celebrate next week!), let's take a look at Volkswagen's first foray into water-cooled products. The Golf was, of course, not marketed as the Golf in the United States, but the Rabbit. Ostensibly, the 'Golf' name followed in the convention of VW's other wind-based products (Scirocco, Passat and Jetta) since Golf is German word for "Gulf" – it has nothing at all to do with the game, though a set of clubs would fit nicely in the back. But Volkswagen still won't tell anyone why they changed the name to Rabbit in the United States. More concerning, they changed the name to 'Caribe' in Mexico. That's a Piranha. At least our market had a more friendly mascot?
While the Beetle was certainly a tough act to follow be sold alongside of, the modern, convenient and completely practical Rabbit sold in droves at a time when fuel-conscious Americans were looking for solutions to their 19 foot long Lincoln Mk. V's inability to clear 6 mpg. It's 7.5 liter V8 with a 4-barrel carburetor managed to squeeze a massive 208 horsepower out of all that capacity. And that was the optional upgrade engine. Standard was a 6.6 liter version of the Cleveland V8 rated at only 166 horsepower, yet not really getting any better fuel economy. Of course, the Mk.V needed these giant motors as it was itself a giant. Curb weight was close to 5,000 lbs. So while the Rabbit seemed fairly insignificant in its stature by comparison, the reality was that it was a much better choice for most motorists.
To capitalize on the popularity, Volkswagen moved production of Rabbits from Germany to the United States for 1978. The move was signified by a shift towards rectangular square-beam headlights, just as we saw with yesterday's early A2 Golf. Sales soared when gas prices did, too: between 1980 and 1984, Volkswagen sold over 620,000 Rabbits from Westmoreland. The sold a further 77,000 Rabbit Pickups – a creation solely aimed at North America, and now sought by some Europeans.
Because there were a lot of Rabbits produced, finding examples for sale even today isn't all that hard. But low values have meant that restoration is really out of the question unless it's your labor of love. However, things are beginning to change…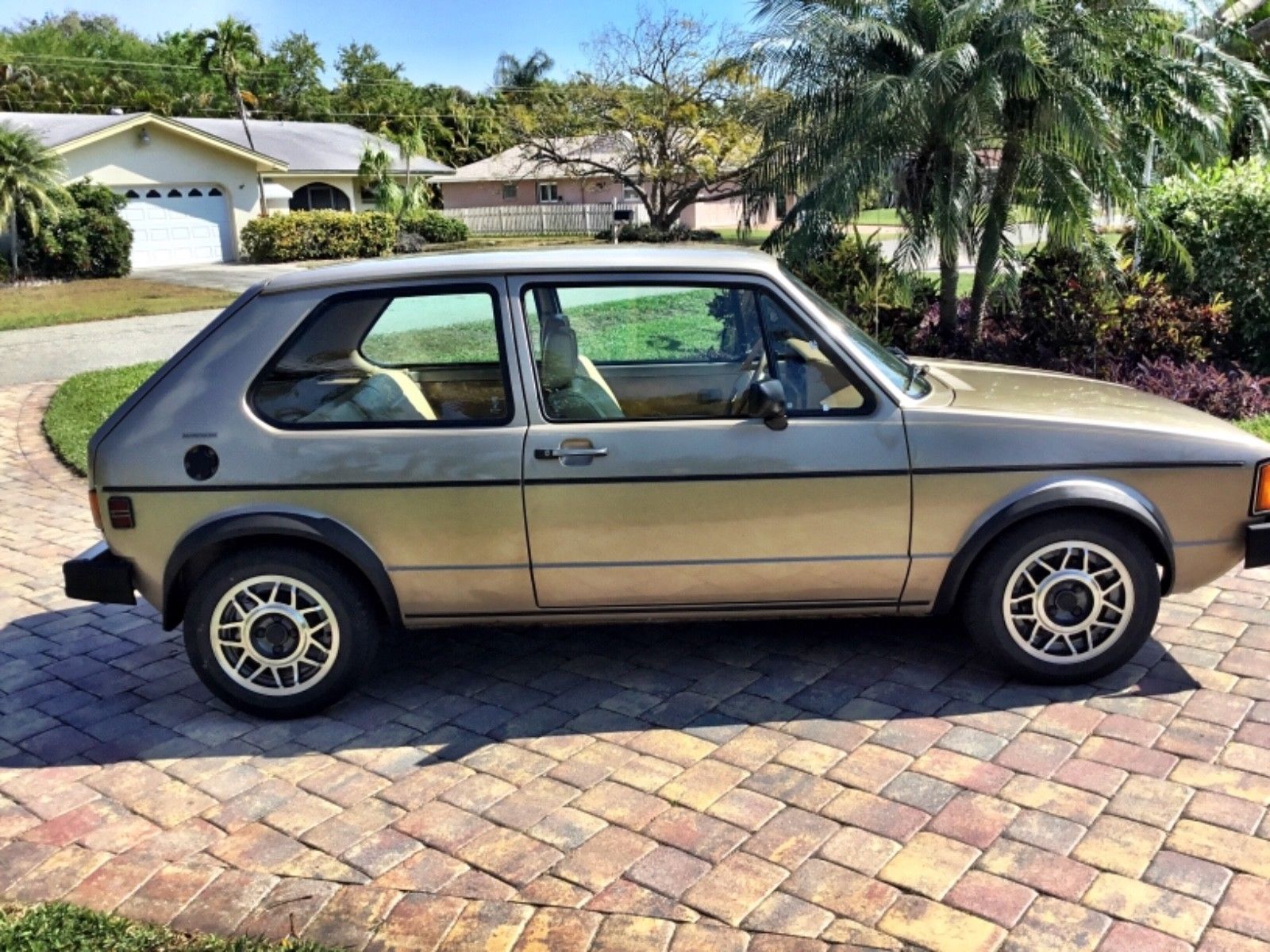 Year: 1983
Model: Rabbit LS
Engine: 1.7 liter inline-4
Transmission: 4-speed manual
Mileage: 130,000 mi
Price: $5,995 Buy It Now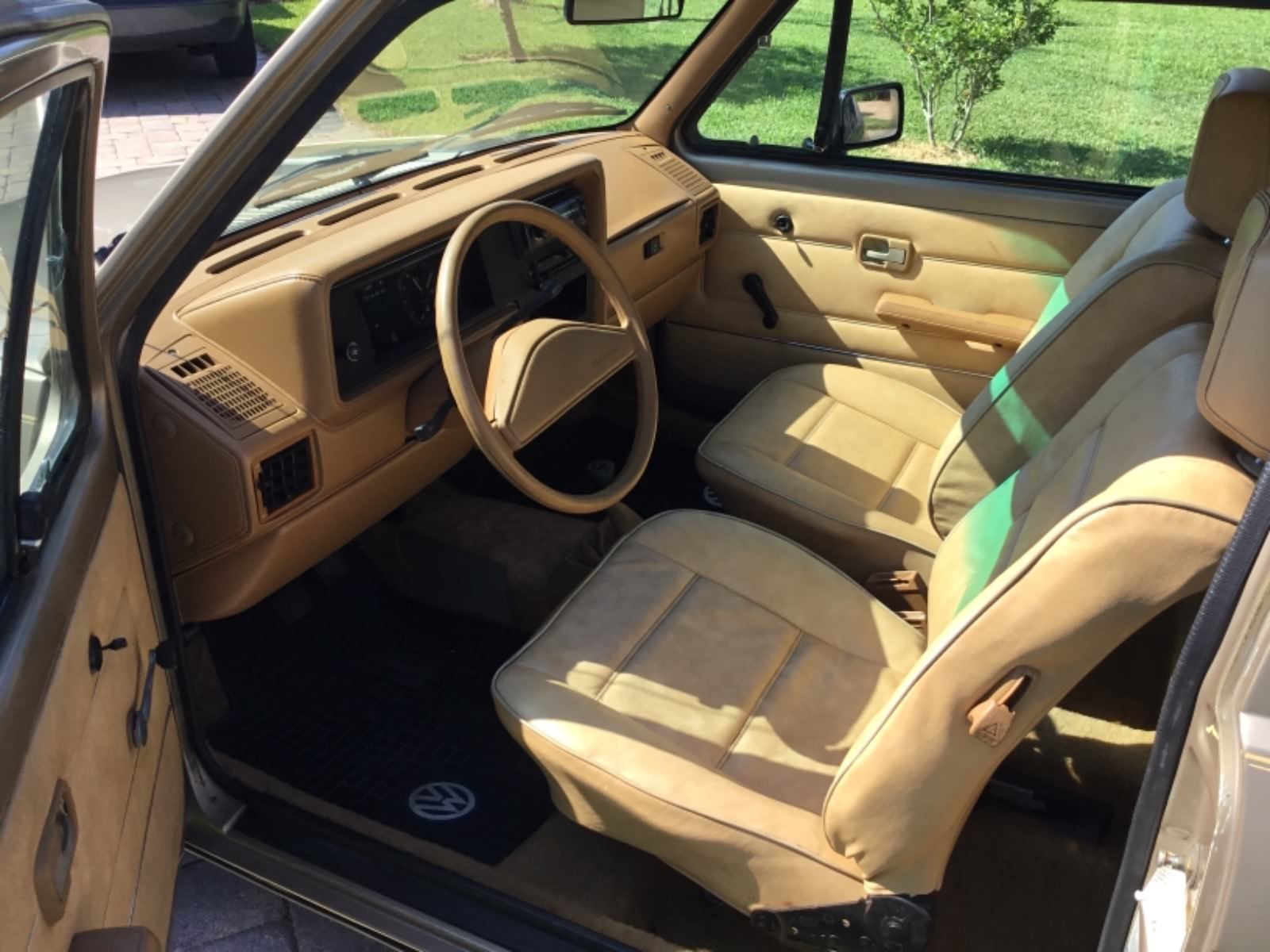 Selling a very clean original 1983 Volkswagen Rabbit. This car is a rust free, original paint example with the exception of the roof – which was repainted due to clearcoat peeling. There are no dents or dings, just a few rock chips and scratches. The car was purchased from a guy in Seattle who said it was the families "go to" car when a second car was needed. If Volkswagen made a gold GTI, this would be what it might look like. I added the fender lips and the black side trim. The wheels are original "snowflakes" which were reconditioned and new tires were mounted. The windshield is also new. The interior was cleaned and the drivers seat reupholstered with material from a donor rear seat. The headliner was completely re-done, and the visors were reconditioned. The dash was replaced with a perfect crack and defect free example. Four new speakers were installed and a new radio was fitted. Mechanically, the injection system was gone through and tuned, timing belt, tensioner, spark plugs, waterpump, and valve cover gasket were replaced. The muffler was replaced with the OEM German part. The timing was set, oil and filter changed and new anti-freeze added. The only non-stock items are the shock absorbers which were replaced with coil-overs for height adjustability. The stock ones will go with the car. Mileage is exempt, the odometer shows a little over 92,500 but actual mileage according to CARFAX is closer to 130,000. The factory delivery sticker is still attached in the drivers door jamb (pictured), the original build sheet was found under the back seat (pictured) and the original never used spare tire is in the trunk with the jack and lug wrench. This Rabbit is an exceptional example. It runs and drives excellent, and it would be hard to find one nicer.

Like all of the vehicles I sell – this is not a PROJECT. I try to go through each car and fix or replace what is needed so that the new owner will be able to enjoy it without worrying about repair bills. If you have any questions, my name is Mark and I can be reached at 239-292-2370.

Here are several recent testimonials:

Mark C.

"I couldn't be happier with the GTI. I have no reservations or regrets after purchase which is a surprise to most people. There's plenty of horror stories out there about people buying cars on eBay or other websites that don't see the car prior to purchase. Mark is different. I feel He's an honest guy and he went out of his way to help me with making it easy."

Reid C.

"It's only been two weeks, but I am very happy with the Cabriolet which I bought for my wife. It had only 40,000 miles (Carfaxed) despite being a 1988, and the interior especially is immaculate. Best of all, Mark has been a great communicator. Any questions I have, he responds promptly. He doesn't just make the sale and then hide with his money. I know I can count on him regarding any questions I have today or six months from now."

Kevin F.

"I have been restoring old Volkswagens to original condition as a hobby for over forty years and have bought cars from many people. I take pride in making sure the cars are right when I am finished with them. I wanted to buy a water cooled Volkswagen that I could just drive and enjoy. The 1993 Volkswagen Cabriolet that I bought from Mark is a wonderful car and it is exactly what he described to me. I have to say that after all these years he is on my gold list of respectable people. These days when so many people are scamming others it is nice to know one who can be trusted and is very honest. Mark made my purchase a pleasure and for the first time I was able to buy a car without any worries!"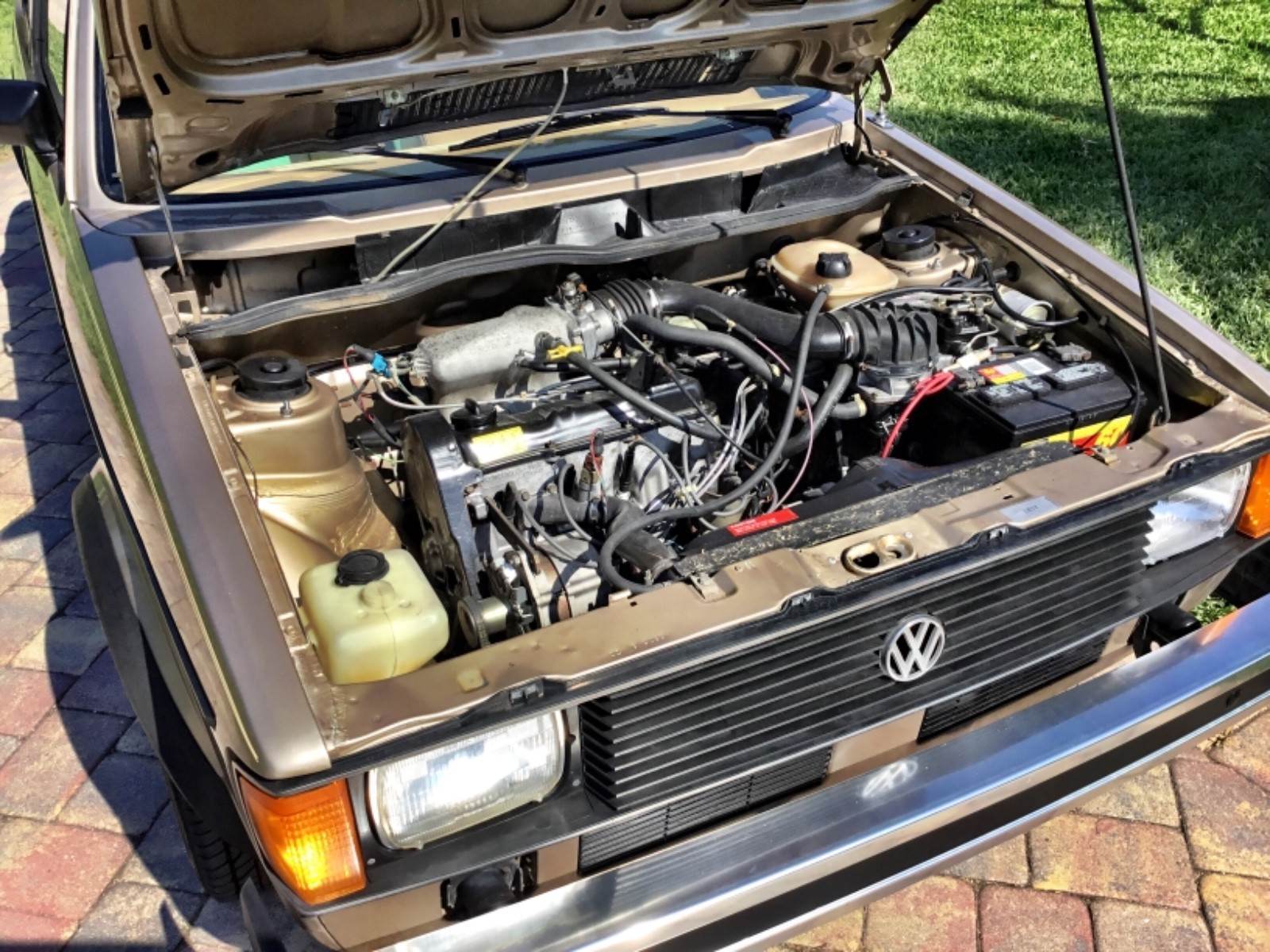 Unlike yesterday's time-warp low-mileage example, this car has been driven and resto-modded. The LS model was mid-range in the lineup. It got you the 74 horsepower 1.7 (diesel was optional) and a 4-speed manual (5-speed was optional), and it was "upgraded" from the base model with things like a glovebox light, dual manual mirrors and a sun visor vanity mirror, wheel trim rings and intermittent wipers. But what it really opened up were more options. The 5-speed manual and 3-speed auto weren't options on the base model, nor were alloy wheels or metallic paint. So the Sandstone Metallic LE1Y shown here could only be opted on higher-spec models like the LS.
Of course, 1983 was more notable for the introduction of the GTI, and this example has mimicked the styling cues of the more famous performance variant with the 14″ Avus (Snowflake, popularly) wheels and fender flares. The ride height appears lower than standard as well. It's neat to see the original build sticker, and there we find out that this was otherwise just a standard Rabbit LS with no real additional options, from what I can see. This seller has fully reconditioned the Rabbit and it looks primed to go, both mechanically and aesthetically. If the shots look familiar, it's because I've previously written up a GTI from him. The testimonials seem to indicate the products delivered are as depicted and promised, and the seller has perfect feedback.
The question then becomes 'Is this car worth $7,000'? While not a GTI, I can see the value here and certainly when you consider the effort the seller has gone through, the pricing doesn't seem outrageous at all. We've seen Rabbits sell for more, but generally not Westmoreland examples – the early German-built Rabbits are generally considered more valuable. Still, you could do a lot worse than this lovely example and it's a lot easier buying it done if you like the look than tearing your hair out trying to source all the bits to make one look like this. I don't think it'd be much cheaper in the long run, either.
-Carter