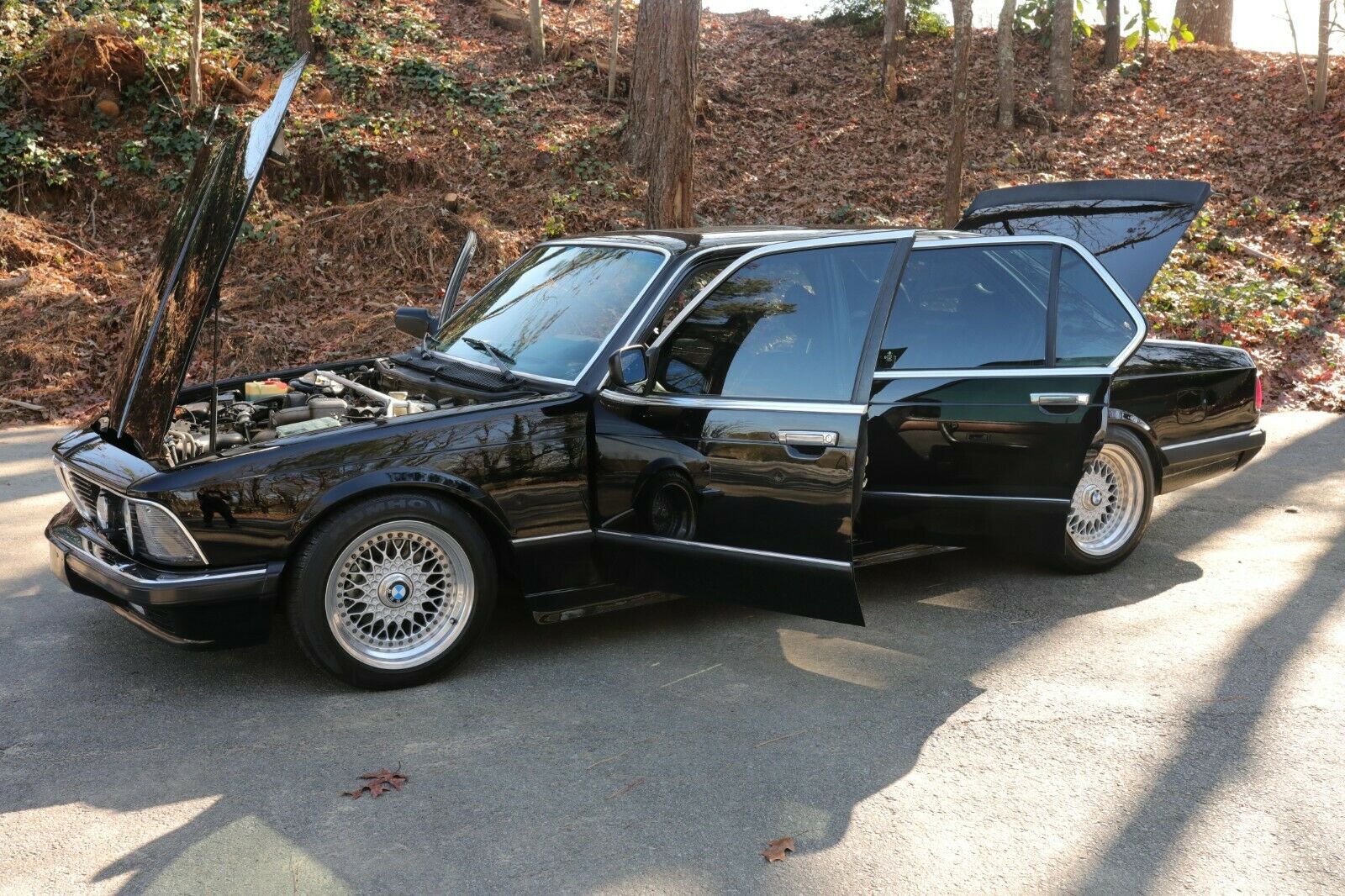 The E23 has always been a design which to me has been quite polarizing. As with the E12 and E24, Paul Bracq was heavily involved in the final design and it shows – in many ways, the E23 looks like a cross between the two that was scaled up 10%. The results of that in my mind weren't always good. Growing up, my father had both E24s and E28s, clean looking, well proportioned designs, and when I first saw an E23 I remember thinking it looked a bit ungainly. In U.S. specification, the bumpers were too big and the wheels were too small, resulting in a car which appeared heavy, sagging and sad. When he's really upset, my son manages to invert his lip and stick it out, tears streaming down his cheeks. It's a look which nearly mimics the U.S. spec front end of the E23 I now recognize. However, in European trim the E23 made more sense – it looked lighter, smaller and better proportioned. While not as stately as the W116, it certainly looked a fair bit sportier outside and more modern. Couple those European-market looks with some great period BBS RS wheels and the look is just about perfect; throw in the turbocharged M106 motor and you've peeked much interest. Of course, unfortunately the M106 was only pared with an automatic transmission – but then, what would happen if you swapped that for a 5-speed?
Year: 1984
Model: 745i
VIN: WBAFJ910508483638
Engine: 3.4 liter turbocharged inline-6
Transmission: 5-speed manual
Mileage: 189,790 mi
Location: Roswell, Georgia
Price: $16,799 Buy It Now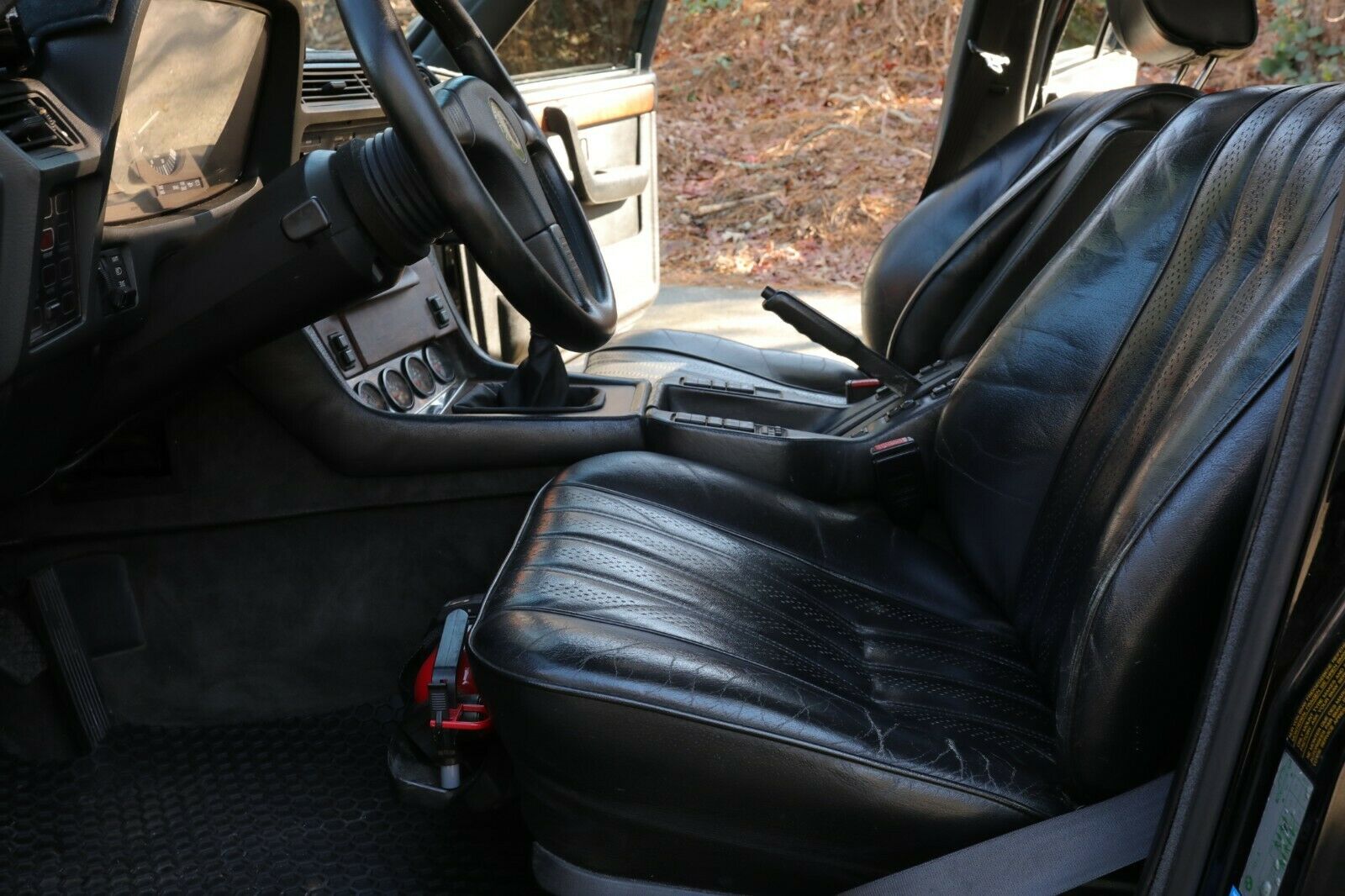 DESCRIPTION:
For sale is a super rare euro BMW 745i Executive with Manual 5 speed transmission (G265/6). There were only about 1000 grey market 745i imported in the 80's and only a handful left today. The 745i came with the glorious 3.4L Turbocharged M106 Straight-Six. This example has been restored in ~2005 by David Harrison when he owned this car (Harrison Motorsports Alpharetta GA) and I purchased it in 2009. This car is in great condition inside and out and no expenses spared in maintenance and upgrades with $45k+ in receipts. The car is in amazing shape for its age, the paint looks good and only has minor flaws that are not really noticeable. Chrome is in excellent shape all around. No rust issues or repairs, other than some minimal rust at the bottom of doors which is common on old BMWs from clogged water drains. Very minimal, does not affect door function or structural rigidity. See pictures.

The vehicles is always garaged and regularly maintained. Last oil change 2k miles ago had Blackstone oil analysis done and report showed healthy motor with only note of "excess silicone" which is due to recent oil pan gasket I had done.

The car has working A/C with R134 conversion done in 2020 which consisted of full flush, new old stock wing cell Behr zinc coated compressor ($1,000), new dryer, pressure switch, and upgraded aux fan. Recent maintenance items in the last 5k miles are rebuilt injectors along with replacing all fuel lines from the tank to the motor and back, and upgraded inline fuel pump with Walbro 255. Stock kkk27 Turbo rebuild and modified with GT35R wheel from ecartoys. Complete suspension overhaul (all new bushings), brake calipers rebuilt, new rotors/pads and front L/R wheel bearing and hub. New power-steering lines, new reservoir and bomb. Clutch was done ~5k miles ago along with new shifter bushings. Oil pan gasket, new belts, plugs & wires.

This is not a regular 745i, it is the very loaded Executive package which consisted of Black Buffalo Hide leather on door, seats and center console, burl walnut wood trim, rear seat control for front passenger seat, as well as rear radio control, and rear heated and reclining seats. Absolutely unheard luxury of in 1984!

The vehicle comes with a clean GA title in my name along with all records dating back from the 90s in an organized binder that is 3" thick. Owners manual in English and German (very rare), Bavarian autosport rubber floor mats, complete tool kit in trunk along with jack and spare, 3 matching keys (same key for door/ignition/trunk) along with magnetic alarm key.

Rare options on this car are: Limited slip differential, Alarm system with Magnetic key, Thermal insulated green glass, Rear window safety glass, Glass electrical roof, Adjustable electric seats with memory, heated seats front and rear, automatic A/C, and cruise control. 


ESSENTIALS:
E23 Euro 745i Executive (only offered in Europe)
Chassis: WBAFJ910508483638
189k Miles Shown
3.4L Turbocharged M106 Straight-Six (350rwtq/272rwhp at 8PSI dynocom)
5 Speed Manual Transmission (G265/6)
Air-Conditioning
Limited Slip Differential
Full Custom 3" Stainless Steel Exhaust
Custom Coiliver suspension fully dialed in corner weighted and alligned by Grand Turismo East
BBS 3 pieces RS 16×9 wheels
Racing dynamics Shift knob, steering wheel, door locks
Euro Bumpers, valance, headlamps, wipers, and no added us compliant side markers that came on a lot of federalized e23

SPECIFICATION:
Driveline:
-Manual 5-speed Transmission (g265/6)
-Clutch Masters Stage 2+-Stainless steel clutch line
-3.27:1 LSD
-m535 diff mount
-AKG solid transmission mounts
-One M Engineering solid shifter mounts-
-X3 shift lever

Engine:
-Team 745i adjustable boost controller installed (8-17PSI)
-Jarmo chip
-Cartech Rising Rate Fuel Pressure Regulator
-Walbro 255 inline fuel pump
-Custom turbo back 3″ exhaust with open wastegate dump
-GT35R wheel in rebuild KKK27
-TiaL 38mm wastegate
-Forge Motorsport Blow-off valve (silent, no chirp or whoosh)

Cooling:
-Low temp aux fan switches
-s38 fan (more blades) on OEM clutch
-1400 CFM Aux Fan

Suspension:
-Custom inverted drift spec coilovers with custom camber plates – 9kg/11kg (500/615)
-Bav auto strut bar
-Motorsport series 3 way adjustable sway bars 29mm/23mm
-Stainless Steel brake lines
-Rebuilt Calipers / Ceramic pads

Wheels:
-16×9 BBS RS 075 ET +8 3 piece wheels 5mm spacers for better stance
-Khumo Ecsta

Interior:
-Racing dynamics steering wheel and matching weighted shift knob
-Auxiliary gauges installed in center console (boost psi, water temp, oil temp, oil pressure)
-Wideband – AEM 6in1 AUGO installed on dash next to drivers side A pillar
-Executive Edition package, with full buffalo hide leather (doors, seats and center console)
-Rubber floor mats from Bavarian Autosport

Exterior:
-Euro bumpers, front valance, headlamps, wipers (non functional) and turn lamps
-Motorsport series side skirts
-Full paint correction and Ceramic coating done in 2020


VIDEOS:
Dyno run:


Walk around and drive by:






TERMS AND SHIPPING:
I can get fair shipping rates (usually less than $1.25 per mile) inside the contiguous USA which I can happily facilitate, but shipping is ultimately the responsibility of the buyer. Message me for more details. I can also chat by phone, message me your number and I will be happy to text or call (whichever you prefer).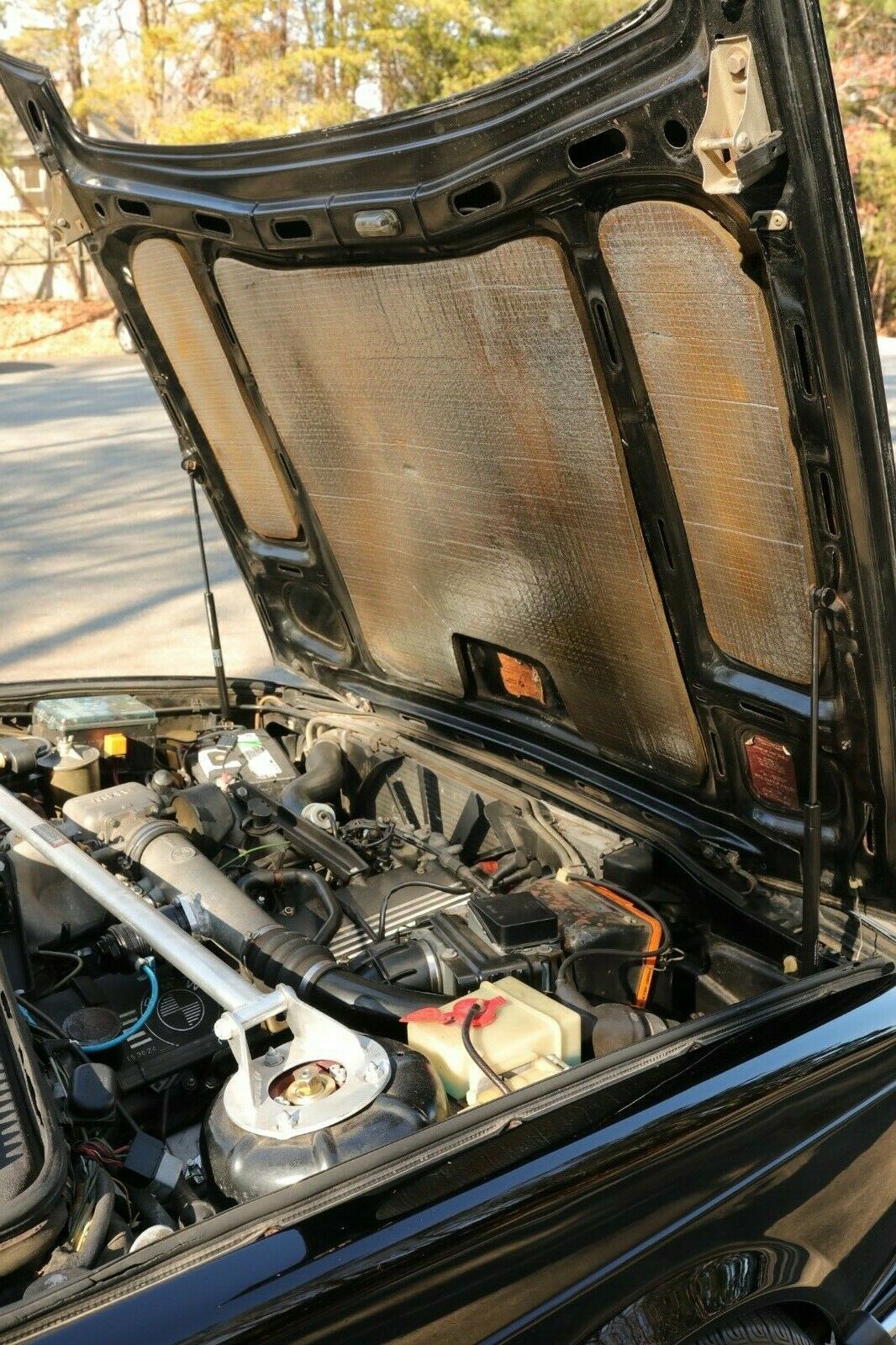 Reading through the spec sheet is pretty impressive for 1984; the E23 was really pretty far ahead of its time. This one has been turned up many notches and certainly seems impressive; the combination of BBS RS wheels, some aftermarket bits, and the European components transform the E23 from the ugly duckling executive from the 80s to Michael Knight's evening transportation when KITT is broken. What a cool car! The seller seems to provide an excuse-free listing as well, which is nice to see on an older car, though there aren't a lot of detailed beauty photos to show off what this car looks like. Luckily, we've looked at it previously:
Back then it was up on a reserve auction with a only few less miles. We don't get to see what the final bid was, but sufficed to say it didn't sell and looks like it was about half the current ask. Nearly four years on, has the market moved forward on E23s? I don't think it has much. These cars have more or less been relegated to the history of the 80s that not many want to relive. Sure, are there occasionally folks that shout about how much they love them? Absolutely! Are they in the market to buy one at $17,000? Probably not. A few really clean low mileage examples have sold over $10,000, but they're rare to find. A modified car like this one will probably appeal to far fewer people as well. Honestly, were I in the market for a manual 80s BMW executive, I'd be going after an E32 – a really impressive one just sold for about $1,300 more than the ask here. But perhaps that's just where my nostalgia lies.
-Carter