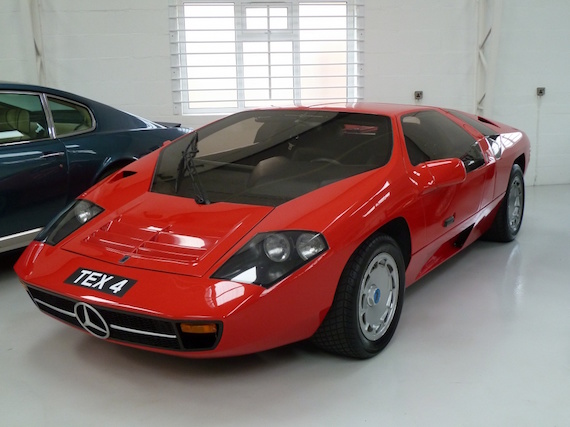 ISDERA, short for Ingenieurbüro für Styling, DEsign und Racing, is a small Germany company that you may have never heard of. They are producers of some low volume sports cars, usually packing Mercedes-Benz power. The Imperator 108i was a sports car that was inspired by the Mercedes-Benz CW311 concept car of 1978 and was in production from 1984 through 1993 with a grand total of 30 units produced. This particular 180i for sale in the United Kingdom was owned by Formula 1 driver Mike Thackwell and could best be classified as a museum piece, with only 3,000 miles on the clock.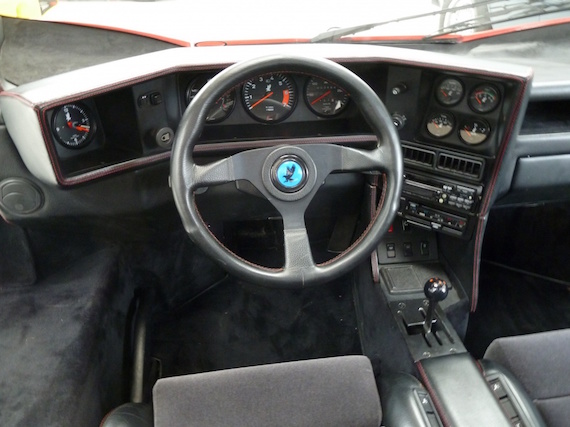 Year: 1984
Model: Imperator 108i
Engine: 5.0 liter V8
Transmission: 5-speed manual
Mileage: 2,414 mi
Price: POR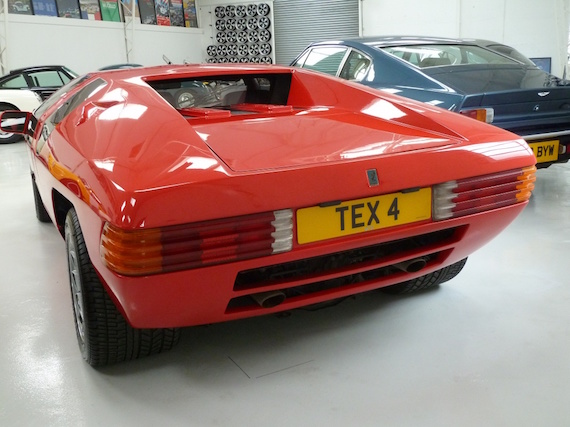 ISDERA, which stands for 'Ingenieurburo fur Styling, Desigh und Racing', was the brainchild of Eberhard Schulz, a clever and determined design engineer with a Porsche and AMG pedigree, plus recognition for work amongst others at Recaro, Pirelli and Sauber too.

This car, a Imperator 108i, can trace its DNA back to the CW311, a project he worked upon in tandem with the German Tuning House, BB (Ranier & Dieter Buchmann) back in 1978, which was the spirtual successor to Mercedes own Wankel-engined C111 of 1969. Taking control of both project and company in 1984, Schulz first introduced the 108i at the Geneva Salon the same year along side his already well received Spyder 033.

At a little under 14ft long, this is not one of those massive and unwieldy cars; (I've included a photo next to the Delorean for size comparison) nor is it a heavy weight, being just 1350 kgs. Power from this 5.0 Litre V8 32 valve unit is 330 bhp which is transferred via the tried and tested ZF 5 Speed gearbox to immense 345/35×15 BBS alloys; we're talkng sub 5 seconds for the 0-60 dash and something approaching a 180 mph top speed, so propelling this car into real super car performance league…now remember this was 32 years ago, quite phenomenal!

Our red car here, TEX 4, was the 17th Imperator built and the first to adopt the 32-valve 5 Litre V8 Mercedes Benz engine. Interestingly, from this first batch, only 3 went for export, one each to Japan and USA and this actual car, being the sole UK market example. After a six month build, # 02017 was delivered and registered in January 1991 to the evidently patient Ex-Formula One Driver Mike Thackwell.

Subsequently disappearing into a private collection, it was not to emerge again until the current owner secured its purchase in 2007. He's a good friend of mine and actively uses his cars, rightly believing its best to drive them as intended and is not one for 'Show Queens', which is endorsed by the 3500 km's on the Isdera odometer, all covered by himself on regular European jaunts.

It has formed part of an eclectic mix of wonderful machinery, including a Dino, an immaculate Elan DHC, a highly original Lotus 47, various early Porsches and a Crayford Riley Elf convertible!! He likes all of his kit to be spot on and so the Isdera returned to the factory for an thorough and expensive recommissioning. Mr Schulz's 25 page invoice (which included an Autobahn road test at 175 mph) and the ensuing 60,000 Euro cost is fully detailed in the large history file, which includes the original UK order and build blueprints.

With just 17 Series one cars built from a total production run of 30 units, these 'hand-made' machines rarely appear for sale. It would be a pleasure to answer any further questions you might have. This ISDERA can be inspected at my Guildford showroom – do please call me directly 07788 865700.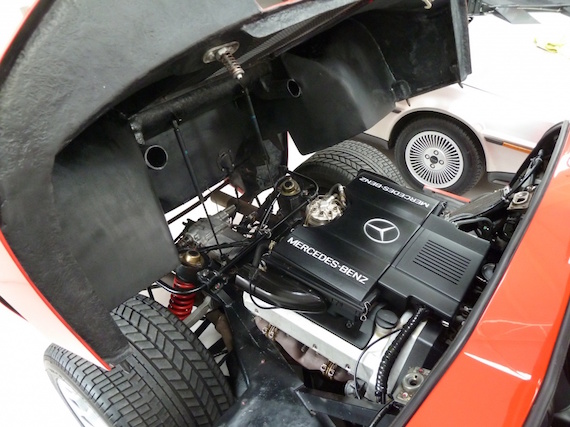 This car is listed as "Price on Request" and to be honest, I have no idea what these Isderas are pulling in the market these days. We saw one come up for sale back in 2010 in Japan that was on offer for around $650,000. My guess is that the low mileage and owner history will probably see a car like this push seven figures, but that is a wild guess. These are seriously cool machines with some impressive hardware backing them up. What looks like a German Vector is so much more and is sure to baffle even the most die hard of German car enthusiasts at a concours.
-Paul