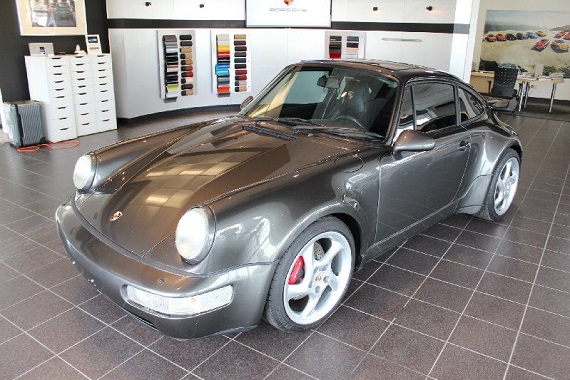 At this point I have featured pretty much every rare 964 variant that exists, and as I've stated previously there were a lot of rare 964s, more so than other 911 models. I'm fairly certain this one will complete the set, even if the Turbo S2 can be argued to be an option package rather than a distinct model. No matter. With only 20 such beasts produced, so as to meet the minimum production numbers for homologation purposes, the Turbo S2 is one of the lowest production 911s we'll find across the entire 911 range. Other parts of the world would receive the 3.3 liter 911 Turbo S, a much lightened higher-horsepower variant that provided a wonderful sendoff for the 3.3 liter turbo that served Porsche so faithfully for much of the 930's life and the early years of the 964 Turbo. For the Turbo S2, modifications were limited to the engine so these aren't as lightweight and hardcore as the Turbo S, but with 381 hp delivered only to the rear wheels via a single turbo the performance would be very brisk and attention holding. For their production Porsche sent 20 US Turbos to Andial where their engines were modified before being delivered to their new US owners. The example here is somewhat peculiar among very rare Porsches: it's been driven! Here we have a Slate Grey Metallic 1992 Porsche 911 Turbo S2, located in Calgary, with 91,100 miles on it.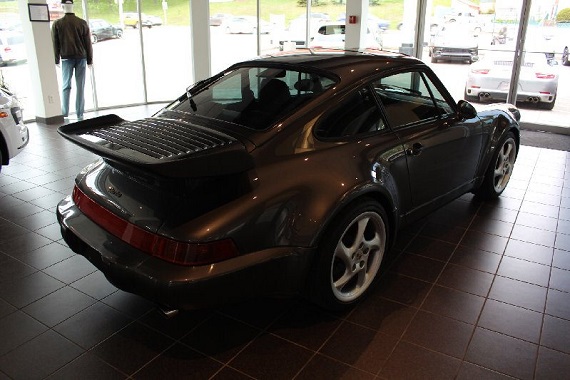 Year: 1992
Model: 911 Turbo S2
Engine: 3.3 liter turbocharged flat-6
Transmission: 5-speed manual
Mileage: 91,100 mi
Price: $150,000 Buy It Now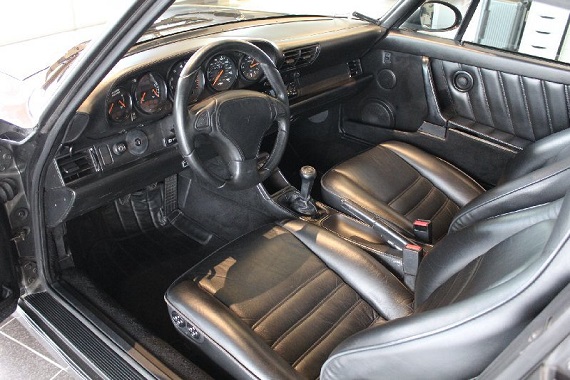 1992 Porsche 964 Turbo S2

Slate Grey Metallic/Q9

Light Grey/Classic Grey Full Leather (TH)

VIN: WP0AA2968NS480224, Engine #: 61N00727 (M30/69), Transmission # 2000810 (G50/52)

Power: 381hp@6,200rpm, Torque: 354 lb/ft @ 4,800rpm Weight 1497kg/3,300lbs

0-60mph: 4.8sec, Top Speed 286km/hr 178mph, ¼ Mile 13.0 sec @110mph (Source Car and Driver)

Production completion date July 30, 1991

What is a 964 Turbo S2?

In America, IMSA had established Bridgestone Supercar Championship for near-production Racing cars based on the Porsche 911 Turbo, Acura NSX, Nissan 300ZX and Lotus Esprit Turbo. Running from 1991 to 1995 at circuits such as Lime Rock, Watkins Glen, Road Atlanta and Laguna Seca, these production-based sports cars were driven by the likes of Hans Stuck, Hurley Haywood, Doc Bundy, David Donohue, Randy Probst and Cass Whitehead. Predictably, Porsche dominated and won most of the races convincingly!

After the 1991 season in which Hurley Haywood was victorious, Porsche introduced the 964 Turbo S at the Geneva Salon. This was a special lightweight version of the 964 Turbo, shedding 420lbs, and fitted with a special engine developing 381hp through the use of a larger Turbo, more efficient intercooler, hotter camshafts, larger exhaust valves, and raised boost pressure to 11.3psi. Torque was up to 361lb/ft @ 4,800rpm. Paul Frere measured 0-100km/hr in 4.5 seconds, and a 180mph top speed. 80 vehicles were produced at 295,000DM, and today they are very expensive.

The 964 Turbo S was never offered in North America because of emissions regulations. However Porsche needed to sell 20 examples of their highest performing 911 Turbo to Homologate it for the Supercup series. So what they did was to take 20 stock 964 Turbos that had landed in the US, and sent them to Andial*, which ran PCNA's Motorsport division, to modify the engines to Turbo S specifications. These 20 cars were sold through US dealers adding the "911 Turbo S2" option and an extra $10,065 to the Window sheets. This option is also listed on the Porsche Certificate of Authenticity (COA), and all factory records of the car. So, unique to these 20 examples, they had the Turbo S engine, but with the standard 964 turbo suspension and interior. This was a great combination for anybody who planned on driving their Turbo on the road, as the European Turbo S had an extremely punishing suspension on all but the smoothest pavement (or Track).

*Some of Andial's major motorsports accomplishments include: The 24-Hours of Daytona saw ANDIAL's engine in the winner's circle from 1983 through 1987 and again in 1989. A note of interest: In 1987, the first through fifth place finishers were in ANDIAL cars. The IMSA Supercar Series Championship in 1992. IMSA-GT Championships in 83, 85, 86, and 87. North American GT-1 Endurance Cup Championship in 1994 and GTS-2 in 1996. SCCA World Challenge – USA in 1994. Class wins Pikes Peak in 94, 96, 97, and 98.

Porsche stated that the engine developed 322hp at 6,200rpm (vs. 315hp for the standard Turbo), but nobody who drove the car believed it. Car and driver tested the car and measured its 100mph-150mph acceleration at 19.7sec vs. 27.7 for the standard car. 0-60mph was achieved in 4.8sec and the quarter mile was covered in 13.0 sec at 110mph. The engine was actually producing the same 381hp as the Turbo S, and had even higher hp than the 1993/94 964 Turbo 3.6 which was rated at 360hp, making it the highest output version of a Single Turbo motor that Porsche made.

An internal memo that Porsche sent to Dealership parts managers on Jan 26, 1993 lists the parts and part #'s that differentiate a 'S2' from the normal 911 Turbo:

Camshaft 4-6 964 105 246 09

Camshaft 1-3 964 105 247 P3

Turbocharger K27 930 123 099 00

Intercooler 930 110 330 P3

Camshaft Drive Adapter 930 105 171 P3

Air Hose 930 110 334 P3

Air Hose Clamp 930 110 336 P3

Pulley bolt M5 N 014 73P 3

Standard equipment for the S2 also included Full Leather, Full Power Seats, Electric Sunroof, integrated central locking with alarm system, and heated and electrically adjustable rear view mirrors.

About this 964 Turbo S2

This S2 has unquestioned provenance with a copy of the Porsche Certificate of Authenticity and the original window sheet listing the important 'S2' option. Of the 20 S2's made, 10 went to Champion Porsche in Florida, who created a 'S2' engine cover badge made out of 928 GTS letters, but this car was sold by Paul Miller Porsche in New Jersey. Options include the Electric Sunroof, CD player, and Bridgestone tires as well as the 'Porsche 911 Turbo S2' option.

A large maintenance file accompanies the vehicle, along with a recent Pre Purchase Inspection. Also included is the Connecticut Title in the name of the previous owner, as well as the importation documentation from when the car sold into Canada in May 2007 with 74,192miles, and a CARFAX report showing no accident history.

Ownership History

The records that are with the car show that the car was first registered on April 7, 1993 in New Jersey.

In June 1999 the car was sold to Thomas Spence from Odessa Florida with 54,710mi by Kennedy Motor Sport in Holly Hill, Florida. Mr. Spence had Kennedy Porsche give the car a major service including a replacement of the steering rack and interior carpets. Also Bilstein shocks, a lowering kit, alignment, and a short shift kit was installed at a total cost of $7,420. Mr. Spense maintained the car at Dave White's Autosports in Tampa, where the car received routine maintenance. In August 1998 the car was taken to Classic Auto Interiors & Accessories in Tampa, FL and the seats were recovered in Black leather (from light Grey), and the Porsche crest was embroidered in the headrests. The rest of the interior was died black. As well all the glass was removed and new seals were installed. The work for this cost $3,949.

The next owner was a Mr. Barry Kelly of East Hartford, CT who purchased the car in 2001 with approximately 62,000miles. In addition to regular maintenance, in May 2001 he ordered a Ruf Steering wheel. In Sept 2001 Mr. Barry purchased 18×8 and 18×10 Porsche 'Turbo Twist' wheels and Bridgestone Pole Position tires from the Tire Rack, at a cost of $2,340. In May of 2002 he had installed a H&R 964 Coil Over Suspension at a cost of $1,836 for parts, and $1,142 in labour. He also spent $1,334 covering the front parts of the car with clear film.

The current owner, a commercial Pilot and Alberta resident, purchased the car from Mr. Barry in May 2007 with 74,192miles, and had the car imported into Canada. The Connecticut Title in Mr. Barry's name remains with the paperwork. The Canadian 'Form 1' and Alberta Registration (Canadian Title) are included in the documentation.

At 74,217miles the steering rack was replaced, again, this time by South Centre Porsche (Now Porsche Centre Calgary), along with an oil service at a cost of $3,084. At 77,990miles, in May 2008, the car was taken to Reigel Tuning to sort out multiple oil leaks. The owner of the shop told the owner that since the engine was being taken out, and many gaskets were being replaced, that he might as well split the case and renew the main and con rod bearings as well. Other than oil leaks, the engine did not have any problems prior to taking it in for service, and the rebuild was 'preventative'. The cylinder barrels, pistons and rings were not changed. This engine seal and bearing replacement was completed at a cost of $16,775. The engine was subsequently dyno'd where it showed 366hp at the rear wheels, with 354 lb/ft of torque – exactly the same number as the factory quoted when new. Other routine maintenance was performed by Reigel Tuning from 2008 to present and includes new brakes, Turbo rebuild, tires, AC service etc. etc. One of the tech's who worked on the car at Riegel, Casey Connor, is now the Service Manager at Porsche Centre Calgary, and remembers the car well. In May 2016 the car was given a PPI at Reigel in anticipation of selling the vehicle and various work was recommended including a new windshield, wiper arm, and misc items. All this work was carried out at a cost of $4,166.

Condition

This Turbo wears its original paint, and the paint meter shows paint depth of between 200-300 micrometers consistently on every panel, only the front bumper cover has been repainted. The car has never been in an accident. The vehicle had an extensive clear vinyl kit installed on several parts of the front clip and the rear quarters, and this is now showing its age, though it has protected the paint underneath. Where not protected by the 3M film, the car has some evidence of gravel rash and stone chips commensurate with its age and mileage. The lower side rocker panels look to be missing a couple of clips, and sit slightly proud of the body in a couple of places. Some of the weather stripping that separates the bumper/lights/sills has shrunk slightly exposing minor gaps. The windscreen is new.

The car has had an interior colour change from Grey to Black. The seats have been recently recovered with correct leather, and look new. There is some evidence of wear to the door panel armrests where some of the dye has light scratches, exposing the light grey underneath. Dash, carpets, headliner, sun visors, console, rear seating area are all very good. The windows have been tinted. There is evidence of previous aftermarket stereo/Alarm wiring which can easily be removed.

The car comes with the 18" wheels/tires which it currently wears and are unscuffed, along with the 17" 'Cup' wheels that were original to it.

Summary

This 964 Turbo S2 presents very well and is a very nice driver, though it is not a show car as it wears its original paint and has had 90,000 miles of careful use. All the service is up to date on the car, and the engine and Turbo have been recently freshened along with the brakes and tires… The car has been regularly driven and carefully maintained without regard for cost by a series of knowledgeable and fastidious owners.

As for a driver, the car wants for nothing, and is ready to be used and enjoyed. For a collector any of the modifications to the car such as the interior, springs, steering wheel and wheels can be reverted back to stock for moderate cost. Most of the 911 Turbos have come to grief at some point during their lives, it is rare for such a powerful car to still wear its original paint.

The 964 S2 is a very rare variant of the 911 Turbo. There were only 20 made, and only 100 3.3 Turbos with the 'Turbo S' 381hp state of tune were ever sold. This is the highest hp single Turbo engine ever offered by Porsche, and the car has a legitimate racing connection to the IMSA Supercar Series which Porsche won. With only 20 of these cars built, and an unknown number remaining, this is a rare opportunity to purchase a significant 911 Turbo.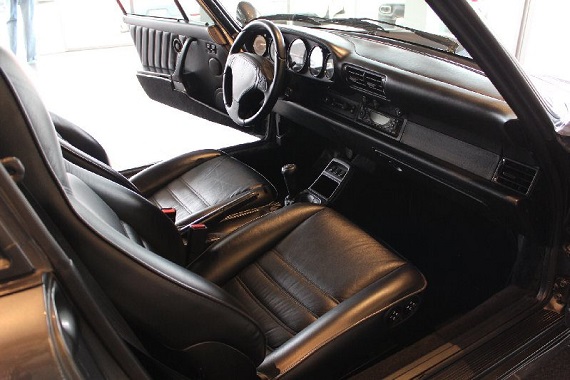 That this S2 has made its way to Canada will cause some minor headaches for potential US buyers, but I'd imagine given its rarity that it shouldn't be enough to fully dissuade interested parties. This is a peculiar S2 though given its mileage and condition and as such coming to grips with a proper value is somewhat tough. The asking price here is far below what we see for examples of the later 3.6 liter 964 Turbo, even though production numbers of the S2 are far lower. That has tended to be the trend with these as prices find their way in between a standard 3.3 liter Turbo and the Turbo 3.6. Whether they always stay that way, I'm not sure, but it's probably safe to say that only the lowest-mileage pristine examples would be the sort to really step up in price. With a $150K asking price I can't help but think the price here is reasonable, but frankly I'm not sure. It feels like a good price, but this S2 almost certainly will need some work. At the end of the day, opportunities to purchase a Turbo S2 will always be fleeting and perhaps for someone who might want to spend some extra time behind the wheel of one, this particular example might be one of the only ones where such mileage will not hamper its value. As such, it presents its own unique opportunity.
-Rob