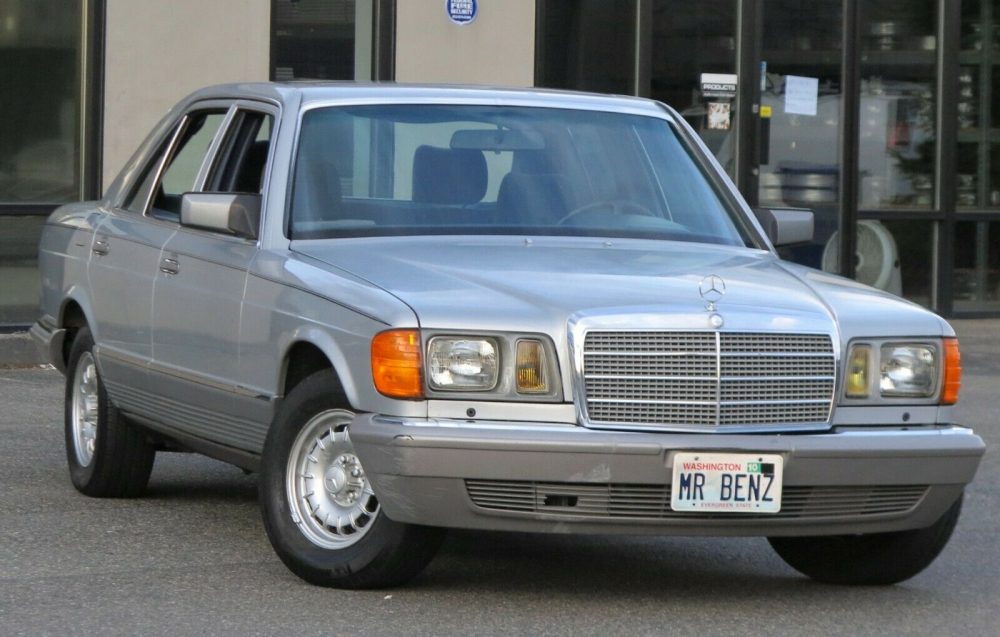 Update 11/17/19: This 280SE sold for ask – $3,692.
For as many really cool cars that I take a look at that have price tags north of $50,000 and a lot of times even $100,000, there are still some cars out there for almost no money at all and not because they've been sitting at a bottom of lake and/or running on two cylinders. Case in point, today's car, a 1984 Mercedes-Benz 280SE. This is a German-market car that was never sold in the US and is as bottom of the range as you can get in the W126 hierarchy. Cloth interior, manual climate control, manual rear windows, and a not-so-powerful (but trusty) inline-six gas engine. Still, this is bottom of the barrel price for what looks like a really clean car. How can you say no?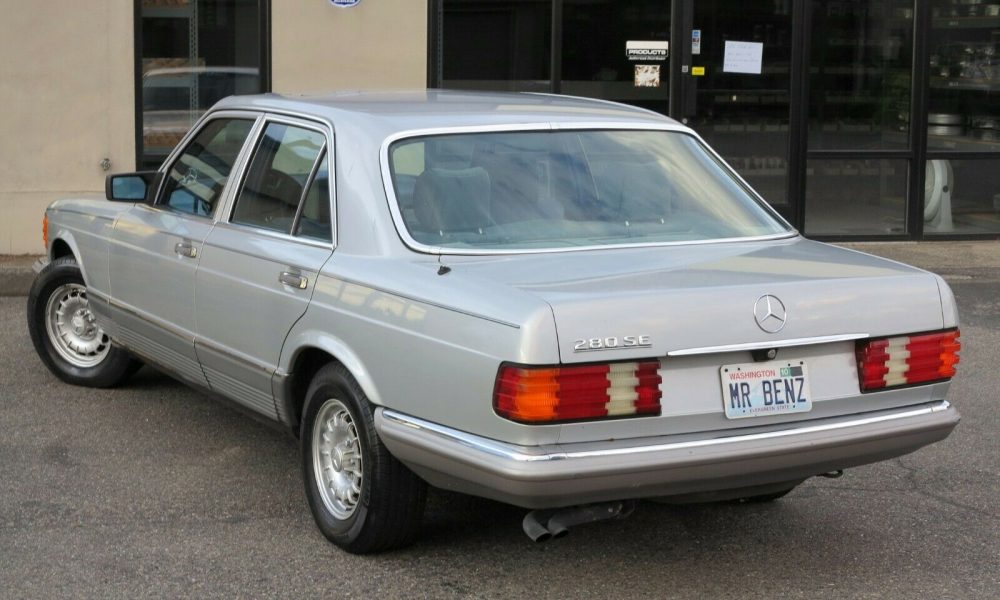 Year: 1984
Model: 280SE
VIN: WDB1260221A013702
Engine: 2.8 liter inline-6
Transmission: 4-speed automatic
Mileage: 114,135 mi
Location: Auburn, Washington
Price: $3,692 Buy It Now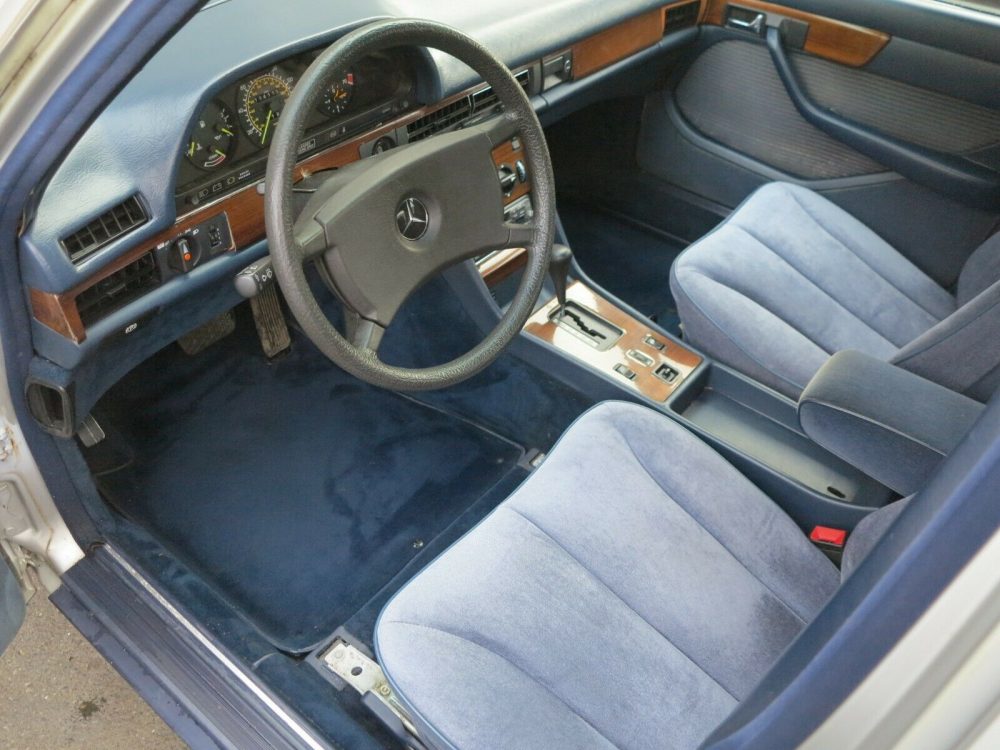 Hereís another great-running & driving, low-mileage Mercedes weíve recently acquired. From the moment I first laid eyes on this unusual sedan, it was obvious that respect and care were given over the years. There arenít many left out there in this condition and brings to mind an old saying from the vintage collector world: ďAny car can be restored, given enough time & money, but it can only be factory original once!Ē

Hereís a little background history weíve uncovered while going over the car:

This 280SE sold new in September, 1983 at L. Gernandt KG in Wetzlar, Germany and was legally imported to the states in the early 1990ís by its second owner. After passing through the Port of New York, it was on to Rhode Island where the Mercedes was sparingly driven only during spring and summer months. Upon his 2003 retirement, the second owner moved here to the Pacific Northwest on picturesque Whidbey Island (an hour north of Seattle) and had the car shipped to his new home. That same year he decided to have a factory new engine installed and spent nearly $8,000 to do so (complete receipts come with the car along with factory books as pictured). Now, due to advancing age, itís time to find the next caretaker.

VEHICLE DESCRIPTION

So, when was the last time you saw, or have ever come across, a European W126 sedan? I highly doubt you can find another like it here in the U.S. with fewer than 114,500 original miles. Iíve always appreciated the appearance of these boulevard cruisers. To be clear, this car is legally titled, having been brought to U.S. specs upon arrival. Standard repair parts and service are easily available, the same as any U.S. version. Iíve got to tell you, having driven the car quite a number of miles over the past few weeks, what a treat! Where else will you find this kind of luxury, vintage style, safety, mechanical reliability, ease-of-maintenance AND power wrapped up in one gorgeous ride? Please feel free to contact me with questions or to make an offer before the auction ends. My name is Mark and my direct phone number is (206) 914-1173. Youíre encouraged to come inspect and test drive the car here at my Auburn warehouse. All photos here on this Ebay listing were taken on 09/13/2019.

Ever driven a Mercedes W126-body with the bullet-proof 2.8-liter DOHC engine? Smooth is the word for sure. Smooth powerful acceleration. Smooth handling in the curves or on the highway, too. Look over the photos and youíve gotta agree with me what a great find this is. Climb over, under and all around this car – I know youíll come up smiling!! What you see is the result of a wash and vacuum only.

CONDITION

In total, this is a clean, original, well-cared-for, smoke-free vehicle. I take pride in what we offer here on Ebay and feel that you should know as much about the Benz as possible. Accordingly, here are my impressions: Hop in, turn the key, even when cold starting, and the powerful in-line six fires immediately every time. The car idles, runs and drives like a Mercedes is supposed to Ė instant, strong oil pressure (consistently high, even at idle) smooth up and down shift, a strong battery and charging system, no overheating, absolutely no brake pull to either side and no perceived alignment or suspension issues. Not many W126 models in the 280SE variant made their way to North America. Occasionally one can be sourced from Benz club members or an overseas contact. Having personally owned more than thirty Mercedes over the years, Iíve developed a great appreciation for their style, mechanical reliability and overall driving experience. THIS CAR RUNS OUT JUST AS IT WAS MEANT TO. I TRULY HAVE NEVER DRIVEN A CLEANER VINTAGE BENZ THAT IíVE LIKED BETTER!! I know youíll be proud to own and drive it as well.

Itís quite obvious the sedan has been continuously garaged as it appears to still be in the original silver metallic paint. Iíd call it 8.5 out of 10. There are certainly no rust issues, having been kept off snowy roads and away from corroding salt. Both front fenders, the four wheel wells and all other major metal surfaces appear solid with NO rust bubbles coming up under the paint as youíll often find on a Midwest or East Coast vehicle. There are a few expected, very small paint chips and dings here and there, but no large dents. The original factory wheels are straight and true. Theyíre wrapped with Michelin radials, each having at least 80% – 90% remaining tread, but are older so Iíd suggest replacement soon.

Take another good look at the interior pics. Hop in and feel comfortable sitting on these firm bucket seats for hours. Over the years Iíve come to appreciate the velour-type fabric used on the Euro-model seats and door panels as it seems to hold up much better than almost all Mercedes leather. The wood trim is good as pictured with one small section missing Thereís no evidence of water leakage on the headliner or original factory carpets. Both the speedo and mileage counters work properly. A/C is a bit of a rarity on European models, but its factory installed on this one! The system is complete, however Iím guessing will need a recharge to function. The heater/defroster are working well, as is the blower fan.

Buyers in Europe back in the 1980ís had more interior configuration choices than American dealers offered. This 280SE has power front windows (the driverís is a bit sticky) and hand-cranks in the rear. The power sunroof opens and closes. It is quite unusual to find a factory Blaupunkt still working and the owner wisely replaced it with a Sony AM-FM years ago. The jack and alloy mounted spare are in the trunk as shown. The original first aid kit still sits safely tucked away unopened in its package shelf storage bin.

Iím always very happy to work with any shipper you choose, and we have experience shipping vehicles all over the world (being an Autobahn cruiser, I wonít be surprised if this nice Mercedes ends up going home to Germany!). If you live in the western hemisphere, you might consider doing what many previous buyers from as far away as Alaska, Arizona, the Midwest, Canada, Florida, New York and even the Mexican Baja have done Ė fly in here to Seattle (Weíll pick you up at Sea-Tac International just a few miles away) and then start a road trip home the same day! As a respected Ebay seller with many satisfied online buyers, I want you to bid with confidence knowing that this Benz runs and drives as it should AND that it is being properly represented to you! Please donít be upset if I miss a minor flaw or some small issue comes up as NO used vehicle is ever perfect. Having said that, I would not hesitate to drive long distance in this Mercedes!

Please check the photos over closely and call me with any questions BEFORE you place a bid! Youíre encouraged to stop by, inspect the car at my Auburn, WA warehouse and take it for a test drive. As always, it is being sold ďas-is, where-isĒ with a clean, free & clear Washington State title. Because of the amount of money involved with a vehicle purchase, I reserve the right to cancel your bid if you have any negative feedback and also ask that potential bidders with a feedback rating of five or fewer Ebay feedbacks contact me before placing their bid. Please do so directly through EBayís message system or, as outlined above, call me at 206/914-1173 anytime.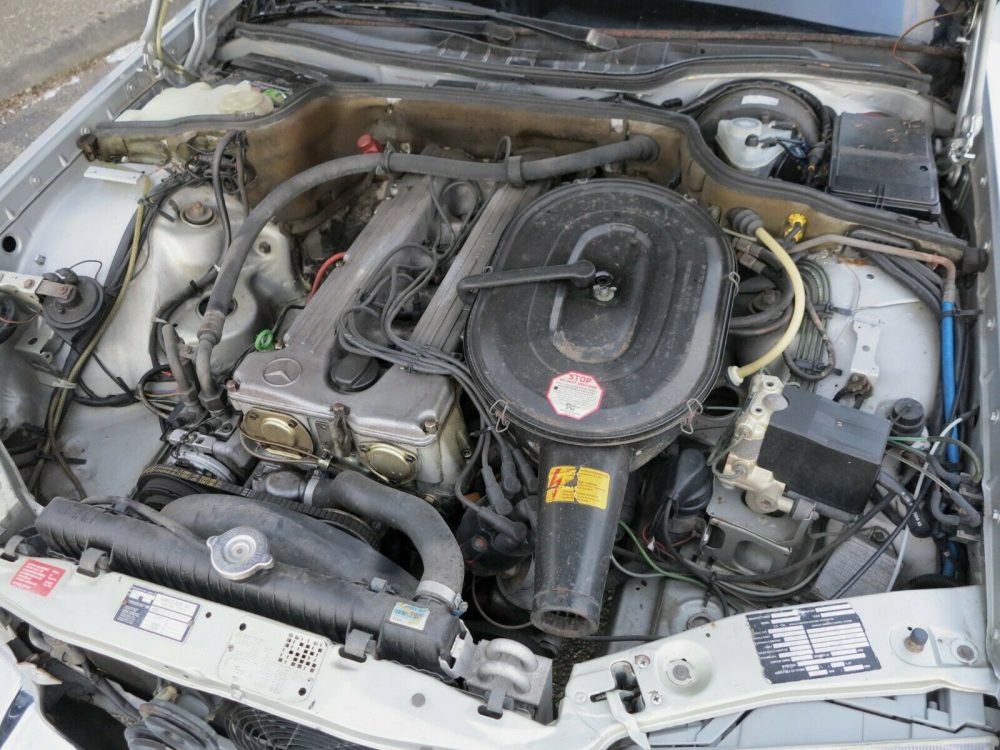 Just a couple things with this one seem a little off. Chief among those are that the front seats, at least the coverings, aren't factory. The pattern should match that of the rear seats and the door panels, but these seem to be a generic fabric. They did do a good job matching the color, and it is easy to be fooled on this one if you don't know what you're looking at. Outside, there are some bumps and bruises on the bumpers and the US-spec headlights are there as this car was imported before the 25-year period of exemption. Under the hood, the seller says that is a replacement M110 which is interesting and probably a plus given the car's age. The rest looks surprisingly intact and doesn't seem to be rusty at all which is probably the most important thing.
I'm really surprised that this car is only $3,700. In a world where dealers try to get every penny from you, this is a good price from a private party, let alone from a business that needs to make money. This could be a solid highway cruiser if you need that in our life or even just a fun car to tinker with and drive around. It isn't going to bankrupt you at all as there really isn't anything all that expensive on this car and it even comes with a nice set of Michelin tires. No qualms on this one, I'd go for it.
– Andrew