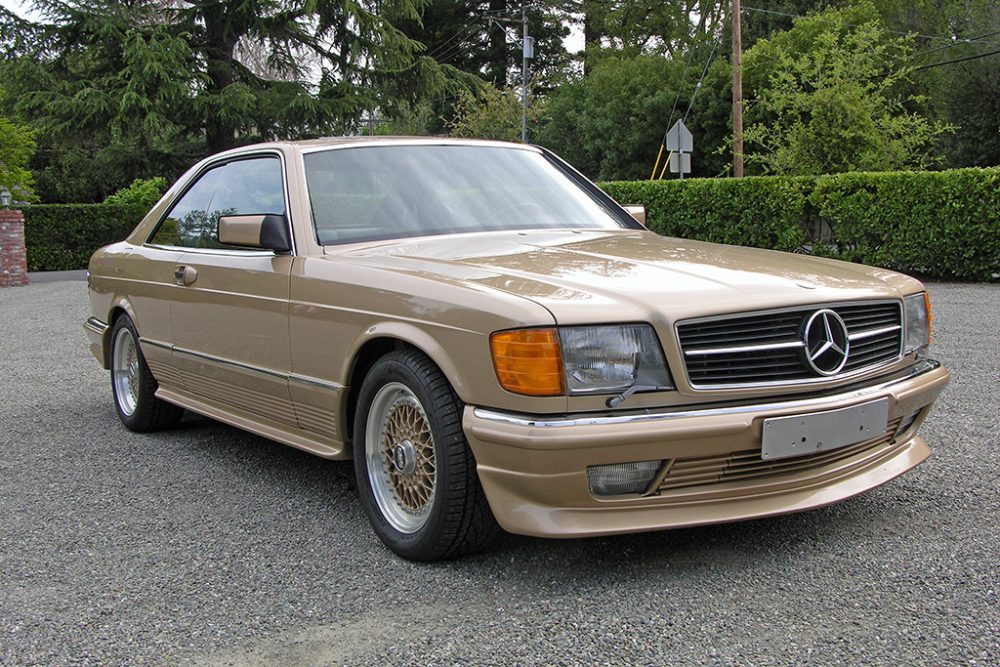 I don't necessarily like gold as a color for cars in general, but today's featured vehicle might be an exception for me. This 1984 Mercedes-Benz 500SEC up for sale in California not only shines from its golden paint, but it's BBS RS wheels get in on the action as well. This European grey-market import has a shockingly low amount of miles in just 22,000 and change that probably explains why the condition is so great. The interesting thing is that I featured another gold SEC coupe with matching wheels a few years ago with a 1983 380SEC but that car wasn't nearly as nice as this one and the price reflected it. The price for this pristine coupe? Probably what you would expect.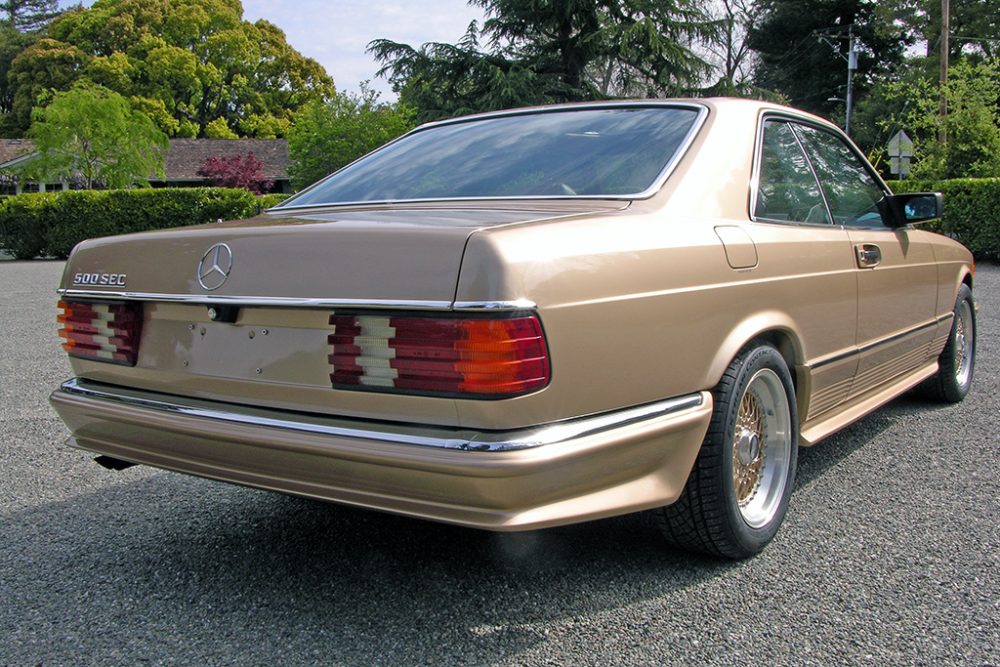 Year: 1984
Model: 500SEC
Engine: 5.0 liter V8
Transmission: 4-speed automatic
Mileage: 22,676 mi
Price: $35,000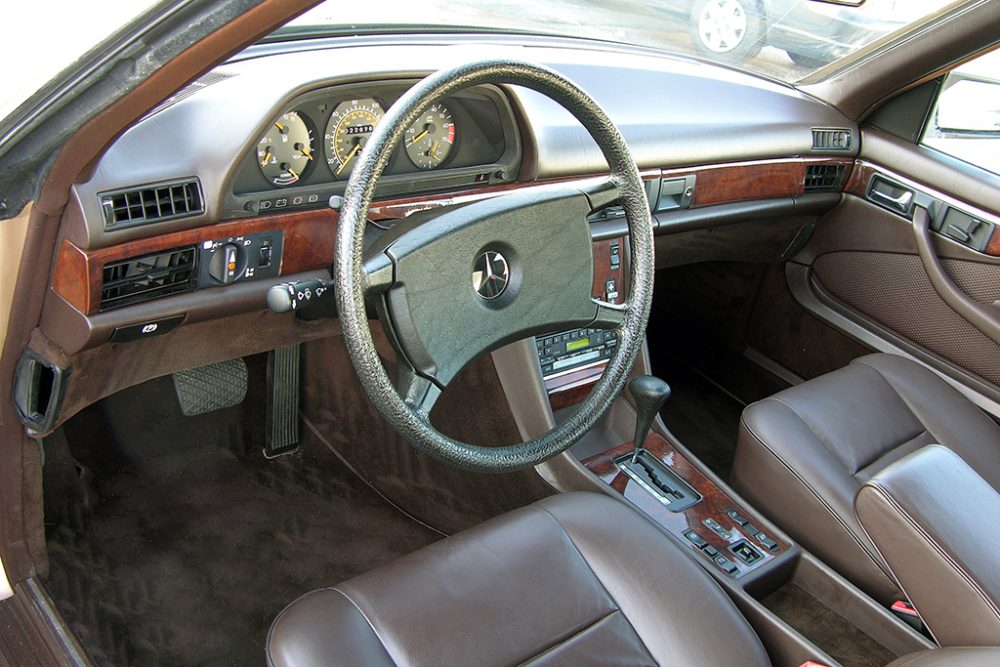 1984 500SEC Euro model – ID# WDB1260441A037649 – Engine # 117953-12-041952 – 22k miles.
473 Champagne/253 Dark Brown leather – Production # 3490499 – Euro bumpers.
Adjustable Euro headlamps w/wipers – Sunroof – Luggage nets – Cruise control – Self leveling rear suspension.
Becker Mexico Cassette – Power antenna – Lighted visors – Front armrest – Rear center console cushion.
Automatic climate control – Tinted glass – Euro emergency triangle – Perfect Euro safety kit.
Original handbook package – BBS center cap removal wrenches – Original and unused spare wheel/tire.
California car from mid-1984 forward.

At 91,410.90 DM this car was the most expensive Mercedes-Benz in 1984.

AMG lower body kit – BBS wheels – Carefully preserved and stored.
Lowered – Exceptionally well preserved car in all respects.

Left the factory on 12-22-1983 – Speedometer converted to English specs May 1984 by Palo Alto Speedometer in CA.
Sold by the original CA owner in 2005 and placed in storage until March 2018.

Unique specifications include: 9.1:1 compression (US: 8.0:1) – 2.24 rear axle ration (US: 2.47) – 231 HP (US: 184 HP)

Exceptional interior materials appearing essentially unused – Perfect Dash pad – Excellent headliner.
Gorgeous supple leather – Lovely Burlwood – Perfect door panels/package panel.
Spotless gauge faces and switch gear labels – Perfect wind lacing.
Superb carpets – Spotless door jambs and shut faces.

Extensive recommissioning includes but is not limited to: Major service – Belts – Fuel pump – Fuel filters.
Fuel tank drained/inspected – Brake rotors/pads front and rear – New tires – Alignment – Serviced instrument cluster.
New power antenna – Ignition wires/rotor/cap/plugs – Differential service – Brake flush – Brake hoses.
Rear suspension accumulators – Rebuilt climate control unit – AC service and rebuilt AC manifold hose.
New lower ball joints and more…

Silky smooth, quiet and quick on the road.
Very sharp handling on the sport springs and 225/50ZR16 Continental tires..

Spotless inner wheel arches with correct factory finishes – Crisp/clean undercarriage with correct factory finished.
Crisp/clean engine area with correct factory finishes.

All images are BEFORE professional detailing. Finished images coming soon.

Roy Spencer 650-343-7980 – Global shipping gladly arranged.

Global references available – Pre-purchase inspections available locally.
Providing exceptional cars to the global Mercedes-Benz community for 26 years.
This SEC can be inspected at my facility in Burlingame, CA – 5 minutes south of SFO.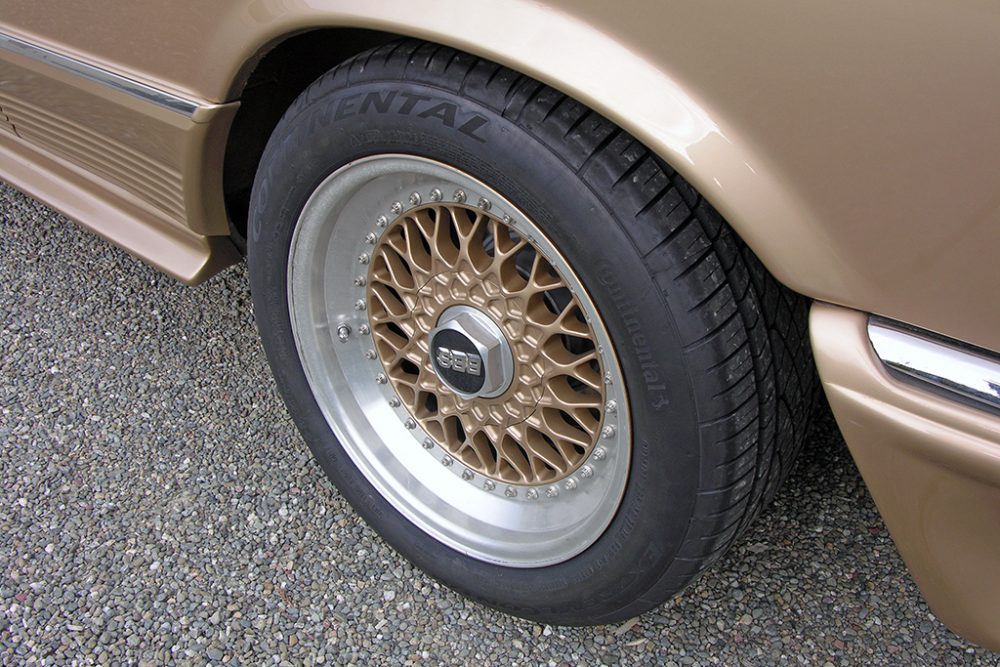 I'm really impressed at how great everything is on this car. The seller's description goes through a laundry list of things that were replaced or reconditioned on this SEC and I'm sure that wasn't an inexpensive process, but it seems to have paid of with how well this car presents. I'm having a tough time finding any flaws at all as even the wheel wells are really clean. I'm not sure why the seller didn't include any photos of the engine and I have to say I'm a little bit skeptical because of this, but for now I'll give this car the benefit of the doubt. The BBS RS wheels fit the car perfectly with just the spokes color matched and I'm really happy to see some modern tires wrapped around this special wheels.
The price of $35,000 is a big ask, but it's hard to argue against it. This is a really low mileage coupe in very good condition that sets itself apart from all the other W126 coupes for sale out there. To drop this kind of coin on this car you'd need to be a big fan of cars like this because as cool as it is to like a 1980s styled car, it's a whole other ball game to plop down the money to actually buy one. I think it will find a home eventually and I'd bet it's with someone who has found memories of the 1980s and also really likes the color gold too.
– Andrew