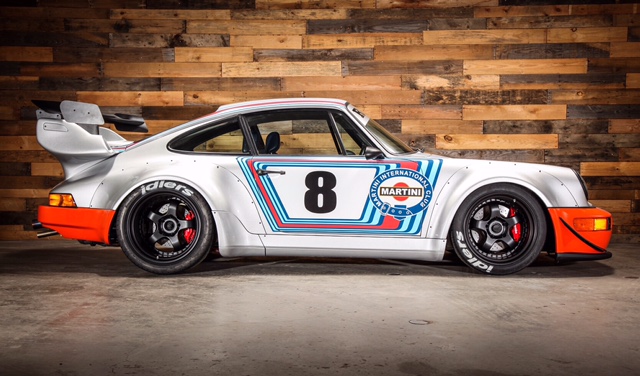 I'm not sure I know where to begin. There is A LOT going on with this 911 and, in this case, that's a good thing. I first saw this 1989 Porsche 911, modified by RAUH-Welt Begriff and Turbo Kraft, on Rennlist near the end of last year. It looked great and I actually thought it might sell pretty quickly even with its very high price. It had all the right attributes to attract the right sort of attention for what is a pretty over-the-top machine. Then I didn't see it for a while so I thought it had sold. Lo and behold it had not sold so this time I wanted to take a closer look.
RAUH-Welt Begriff can be pretty divisive among 911 enthusiasts. Not only are Akira Nakai's designs pretty wild, but many of his creations entirely consist of cosmetic modifications. They are cars that hearken back to many of Porsche's early race cars with huge power, preposterously wide rear fenders, and massive wings all designed to keep the rear tires firmly glued to the ground. That sort of design in a road car isn't always appealing and when there isn't enough grunt to back up the looks the appeal is lessened further. However, there are exceptions; there are builds that possess the wildness of RWB's designs AND the power to go along with it. This RWB is one such machine. The claims: 600 horsepower, 2,400 lbs. I don't think outright performance will be an issue.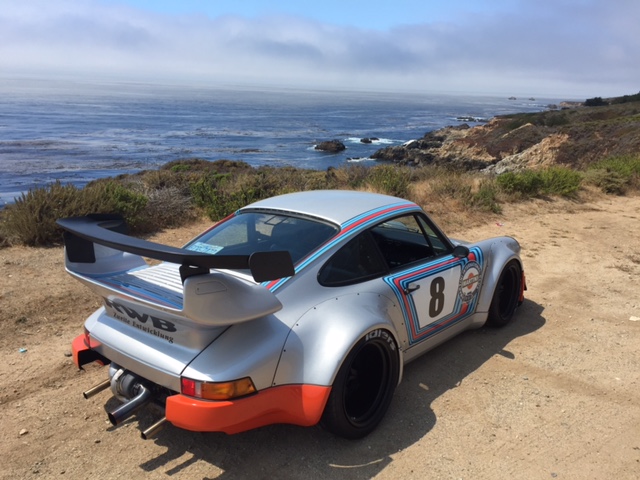 Year: 1989
Model: 911 Turbo
Engine: 3.3 liter turbocharged flat-6
Transmission: 5-speed manual
Mileage: 117,890 mi
Price: Reserve Auction ($195,000 Buy It Now)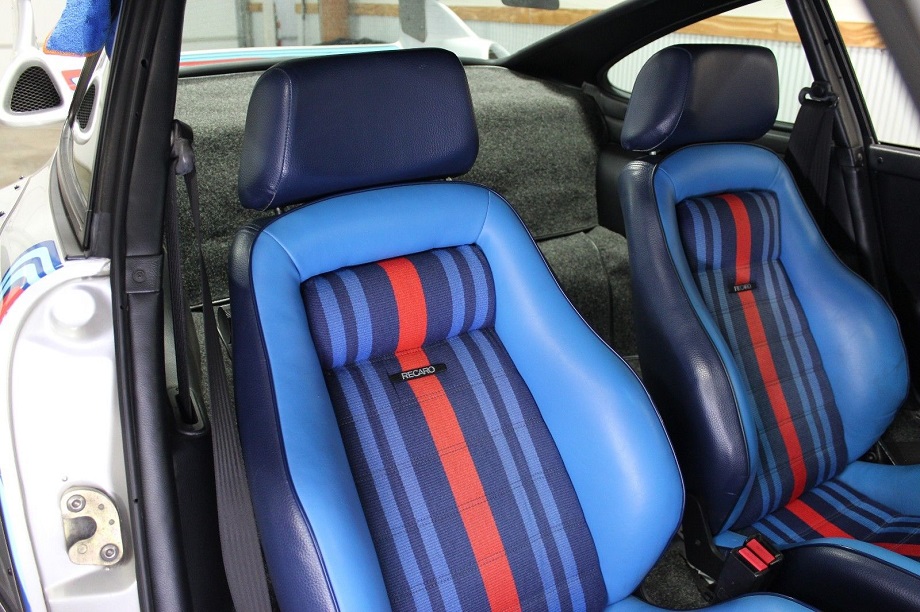 July 2016 3.3L 964 Turbo build (est. 3500 miles) TurboKraft EFI, billet rails, AEM 506 ECU, coil-on-plug, boost control, long-tube headers. Garrett GT3582R turbo, TurboKraft intercooler, dual Turbosmart wastegates, 935-style 2-bar boost gauge and RUF tach. Strengthened G-50, Wevo shifter, RS/GT3 lightweight flywheel, 2 disc clutch kit, GT2 Sachs lightweight pressure plate. Bilstein gusseted front struts, ERP RSR 935 rear spring plates, mono-balls, hollow sway bars, Tarett drop-links, 930 tie-rods, RSR semi-solid upper strut mounts. Brembo GT brake kit, 323×28 drilled and plated rotors. RWB custom fenders, bumper cover, rear wing and rear bumper cover, carbon roof, carbon hood. Cutworm billet center reflector insert, spiked wheel nuts, Ichiban Boshi Work Meister S1 wheels. Mclaren F1 Brilliant Silver by Bryson Richards of Classic Livery and graphic design by Tate Askew. Custom HID lighting, Martini Racing steering wheel, Martini front seats, light weight RS carpet and too much more…

Akira Nakai of RAUH-Welt Begriff chose to name it "The Highest Star". The project began in June of 2016. It started with a 1989 Silver Anniversary Carrera edition. Then came a fresh 3.3L 964 Turbo engine. This RWB is a special collaborative project. Design and project management by Tate Askew of RWB Atlanta, body kit by Akira Nakai of RAWH-Welt Begriff, power by Chris Carroll of Turbo Kraft, touches of style and performance by only top names in the industry. This is a special 911 Turbo that was transformed from visions of the past into experience and technology of today. An amazing build with style and performance that will stand the test time!

This 911 is powered by an air-cooled 3.3L long block engine boosted by a custom-made center mounted turbo system with dual Turbosmart wastegates. The turbocharger is a custom-fit, twin-scroll, Honeywell Garrett unit. The AEM managed EFI power plant, with the right chemistry from Turbo Kraft, achieves 600HP. Inspiration for the turbo design and placement came from the 1974 "Baby Turbo" 2.1. "There is nothing more spectacular than seeing the glow of the turbo and piping as the wastegates throw flames of residual fuel", says Lane Wallace co-owner. "It sounds awesome; it's easy to drive, it makes gobs of power, it's intoxicating", says Urban Outlaw, Magnus Walker.

The weight saving measures bring the car down to a mere 2400lbs, making it a rocket when combined with the awesome power. The 911 utilizes a custom coil-over kit for crisp handling, as well as a set of Brembo brakes to tame the 600 horses. "The Highest Star" wears Work Meister S1 three-piece wheels to go with the look and performance. This Porsche is made and wants to be driven hard! In true raw race car fashion, the Martini RWB is AC and radio delete.

Once you're inside and sitting on the Martini Recaro seats, you will notice the carbon roof, as well as the vintage Martini steering wheel. Nakai's RWB signature can be seen on the dashboard and custom gauges decorate the instrument panel with the RUF tachometer right in the middle. Other details include the Wevo billet aluminum shifter and 911 RS carpets.

Nakai's lightweight handy work is also visible in every corner of the car. The tasteful widebody kit, combined with aero parts at the front, and taller rear wing give the car its recognizable attitude. And of course, the subtle touch of RWB branded headlights are one of many special details.

The most prominent aspect of the Porsche's look, undeniably, is the Martini livery. Tate started with a Mercedes-McLaren silver, a great base to compliment the Martini colors. The branded livery itself is inspired in part by the 1974 "Baby Turbo" 2.1 livery, combined with elements from that of the '73 Targa Florio RSR.

Successfully modifying the magnificent 911 was no easy feat by any means. All told, the Porsche project dubbed RWB's "Highest Star" is amongst the most respectable builds in the country with no expense spared.

Play video: https://www.youtube.com/watch?v=YBTtioeZSiI&feature=youtu.be

Read Article: http://www.speedhunters.com/2017/06/rwb-ichiban-boshi/

Additional pictures available through Dropbox upon request.

Documentation available via pdf upon request.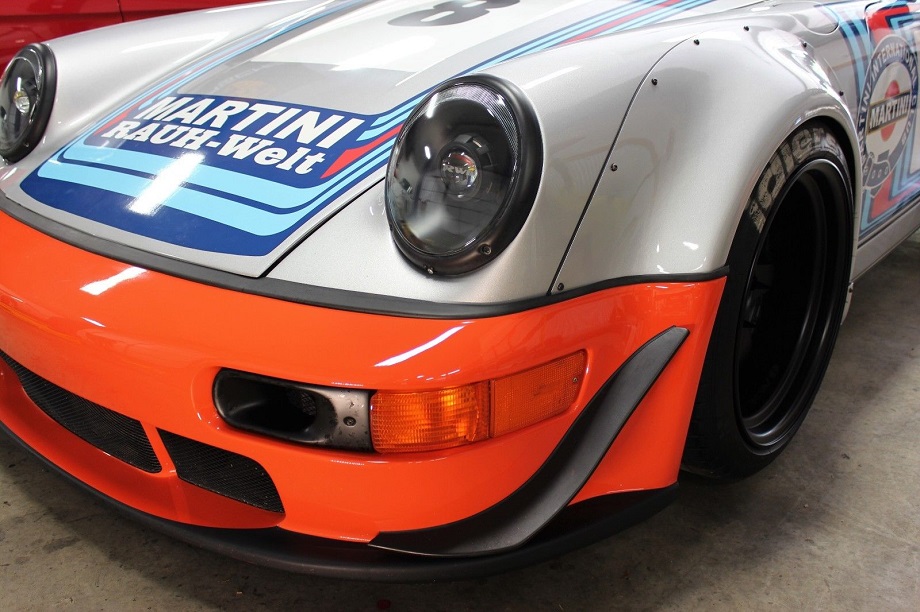 Based on the VIN I don't think this originally was a Turbo, but rather an '89 Carrera Coupe. Its engine has been borrowed from the 964, which of course an upgraded version of the 3.3 liter turbocharged flat-6 from the 930. It's mated to a strengthened G50 5-speed transmission and lightweight flywheel. It's not clear whether the transmission also came from a 964 or whether it is the original G50 from the Carrera. Either way it sounds like it's been modified to handle the additional power of the engine built by Turbo Kraft. The exposed exhaust, turbo, and wastegates are intentional. It may not look very refined with all that hanging out the back, but it definitely looks aggressive. Other cars are likely to shy away.
There also are a whole host of upgrades to the suspension and braking. For the exterior Akira Nakai went to work and the appearance is of the typical RWB variety with wider front and rear fenders, a massive rear wing, and very wide wheels. The end result is an array of scoops and curves with a load of detail. In case this Turbo wasn't attention grabbing as it was it was painted Mercedes-McLaren silver and dressed up with classic Martini livery. Comparatively the interior is quite restrained though a set of vintage Martini Recaro seats immediately attract the eye. A Martini steering wheel completes the interior, but overall this 911 is more about being seen from the outside. There's little inside to distract the driver. And with this much power on tap I'd imagine that lack of distraction is quite welcome.
All RWB builds are expensive. They are typically one-of-a-kind hand-built creations and as such can command high prices. When we add the sort of power available here to go along with those looks the price is raised even more. With an asking price of $195K there is no way this 911 can be considered inexpensive and the market for such a build definitely is limited. You'd be very hard-pressed to replicate it and there's not much else out there that attracts attention like this. It may take a while longer to sell, but the new owner will be getting one heck of a machine.
-Rob